Characterization of Two VAO-Type Flavoprotein Oxidases from
Myceliophthora thermophila
1
Molecular Enzymology, Groningen Biomolecular Sciences and Biotechnology Institute, University of Groningen, 9747AG Groningen, The Netherlands
2
Dupont Industrial Biosciences, 6709PA Wageningen, The Netherlands
*
Author to whom correspondence should be addressed.
Received: 8 December 2017 / Revised: 21 December 2017 / Accepted: 22 December 2017 / Published: 5 January 2018
Abstract
The VAO flavoprotein family consists mostly of oxidoreductases harboring a covalently linked flavin cofactor. The linkage can be either monocovalent at position 8 with a histidine or tyrosine or bicovalent at position 8 with a histidine and at position 6 with a cysteine. Bicovalently bound flavoproteins show a preference for bulkier substrates such as oligosaccharides or secondary metabolites. The genome of the thermophilic fungus
Myceliophthora thermophila
C1 was found to be rich in genes encoding putative covalent VAO-type flavoproteins. Enzymes from this fungus have the advantage of being rather thermostable and homologous overexpression in
M. thermophila
C1 is feasible. Recently we discovered a new and VAO-type carbohydrate oxidase from this fungus: xylooligosaccharide oxidase. In this study, two other putative VAO-type oxidases, protein sequence XP_003663615 (MtVAO615) and XP_003665713 (MtVAO713), were expressed in
M. thermophila
C1, purified and characterized. Enzyme MtVAO615 was found to contain a bicovalently bound FAD, while enzyme MtVAO713 contained a monocovalent histidyl-bound FAD. The crystal structures of both proteins were obtained which revealed atypical active site architectures. It could be experimentally verified that both proteins, when reduced, rapidly react with molecular oxygen, a hallmark of flavoprotein oxidases. A large panel of alcohols, including carbohydrates, steroids and secondary alcohols were tested as potential substrates. For enzyme MtVAO713 low oxidase activity was discovered towards ricinoleic acid.
View Full-Text
►

▼

Figures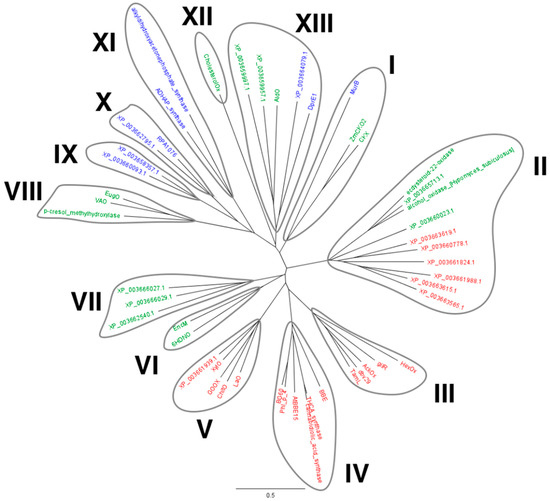 Figure 1
This is an open access article distributed under the
Creative Commons Attribution License
which permits unrestricted use, distribution, and reproduction in any medium, provided the original work is properly cited (CC BY 4.0).

Share & Cite This Article
MDPI and ACS Style
Ferrari, A.R.; Rozeboom, H.J.; Vugts, A.S.C.; Koetsier, M.J.; Floor, R.; Fraaije, M.W. Characterization of Two VAO-Type Flavoprotein Oxidases from Myceliophthora thermophila. Molecules 2018, 23, 111.
Note that from the first issue of 2016, MDPI journals use article numbers instead of page numbers. See further details here.
Related Articles
Comments
[Return to top]