The Effects of Selected Sesquiterpenes from
Myrica rubra

Essential Oil on the Efficacy of Doxorubicin in Sensitive and Resistant Cancer Cell Lines

1

Department of Biochemical Sciences, Faculty of Pharmacy, Charles University, Heyrovského 1203, 50005 Hradec Králové, Czech Republic

2

Department of Chemistry, Faculty of Science, University of Hradec Králové, Hradecká 1285, 50003 Hradec Králové, Czech Republic

*

Author to whom correspondence should be addressed.

Academic Editor: Derek McPhee

Received: 10 May 2017 / Accepted: 16 June 2017 / Published: 20 June 2017
Abstract
β-caryophyllene oxide (CAO), α-humulene (HUM), trans-nerolidol (NER) and valencene (VAL) are constituents of the essential oil of
Myrica rubra
(MEO), which has significant antiproliferative effect in various cancer cell lines. In the present study, we compared the antiproliferative effect of these sesquiterpenes alone and in combination with the cytostatic drug doxorubicin (DOX) in cancer cell lines with different sensitivity to DOX. Two ovarian cancer cell lines (sensitive A2780 and partly resistant SKOV3) and two lymphoblast cancer cell lines (sensitive CCRF/CEM and completely resistant CEM/ADR) were used. The observed effects varied among sesquiterpenes and also differed in individual cell lines, with only VAL being effective in all the cell lines. A strong synergism of DOX with NER was found in the A2780 cells, while DOX acted synergistically with HUM and CAO in the SKOV3 cells. In the CCRF/CEM cells, a synergism of DOX with CAO and NER was observed. In resistant CEM/ADR cells, sesquiterpenes did not increase DOX efficacy, although they significantly increased accumulation of DOX (up to 10-times) and rhodamine-123 (substrate of efflux transporter ABCB1) within cancer cells. In conclusion, the tested sesquiterpenes were able to improve DOX efficacy in the sensitive and partly resistant cancer cells, but not in cells completely resistant to DOX.
View Full-Text
►

▼

Figures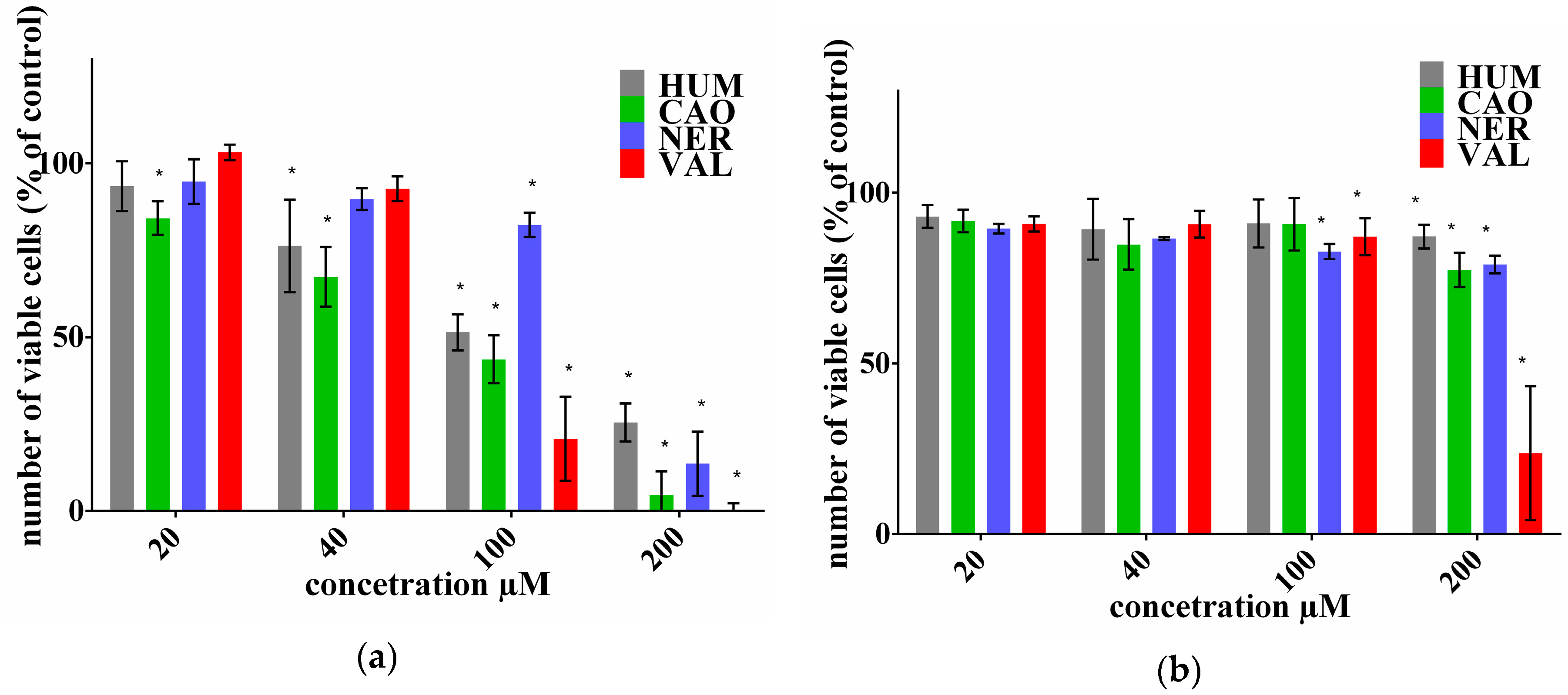 Figure 1
This is an open access article distributed under the
Creative Commons Attribution License
which permits unrestricted use, distribution, and reproduction in any medium, provided the original work is properly cited (CC BY 4.0).

Share & Cite This Article
MDPI and ACS Style
Ambrož, M.; Matoušková, P.; Skarka, A.; Zajdlová, M.; Žáková, K.; Skálová, L. The Effects of Selected Sesquiterpenes from Myrica rubra Essential Oil on the Efficacy of Doxorubicin in Sensitive and Resistant Cancer Cell Lines. Molecules 2017, 22, 1021.
Note that from the first issue of 2016, MDPI journals use article numbers instead of page numbers. See further details here.
Related Articles
Comments
[Return to top]