Investigation of the Anti-
Leishmania

(Leishmania)

infantum

Activity of Some Natural Sesquiterpene Lactones

1

Department of Biology, Chemistry, Pharmacy, Freie Universität Berlin, 14195 Berlin, Germany

2

Centre for Parasitology and Mycology, Instituto Adolfo Lutz (IAL), Av. Dr. Arnaldo, 351, CEP 01246-900 São Paulo, SP, Brazil

3

Instituto de Medicina Tropical, Universidade de São Paulo, Av. Dr. Enéas de Carvalho Aguiar, 470, CEP 05403-000 São Paulo, SP, Brazil

4

AsterBioChem Research Team, Laboratory of Pharmacognosy, School of Pharmaceutical Sciences of Ribeirão Preto, USP, Av. do Café s/n, 14040-903 Ribeirão Preto, SP, Brazil

5

Institute of Pharmaceutical Biology and Phytochemistry (IPBP), University of Münster, PharmaCampus, Corrensstraße 48, 48149 Münster, Germany

*

Authors to whom correspondence should be addressed.

Academic Editor: Derek J. McPhee

Received: 28 March 2017 / Revised: 19 April 2017 / Accepted: 19 April 2017 / Published: 25 April 2017
Abstract
Leishmaniases are neglected infectious diseases caused by parasites of the 'protozoan' genus
Leishmania
. Depending on the parasite species, different clinical forms are known as cutaneous, muco-cutaneous, and the visceral leishmaniasis (VL). VL is particularly fatal and the therapy presents limitations. In the search for new anti-leishmanial hit compounds, seven natural sesquiterpene lactones were evaluated against promastigotes and intracellular amastigotes of
Leishmania
(Leishmania)
infantum
, a pathogen causing VL. The pseudoguaianolides mexicanin I and helenalin acetate demonstrated the highest selectivity and potency against intracellular amastigotes. In addition, promastigotes treated with helenalin acetate were subject to an ultrastructural and biochemical investigation. The lethal action of the compound was investigated by fluorescence-activated cell sorting and related techniques to detect alterations in reactive oxygen species (ROS) content, plasma membrane permeability, and mitochondrial membrane potential. Helenalin acetate significantly reduced the mitochondrial membrane potential and the mitochondrial structural damage was also confirmed by transmission electron microscopy, displaying an intense organelle swelling. No alteration of plasma membrane permeability or ROS content could be detected. Additionally, helenalin acetate significantly increased the production of nitric oxide in peritoneal macrophages, probably potentiating the activity against the intracellular amastigotes. Helenalin acetate could hence be a useful anti-leishmanial scaffold for further optimization studies.
View Full-Text
►

▼

Figures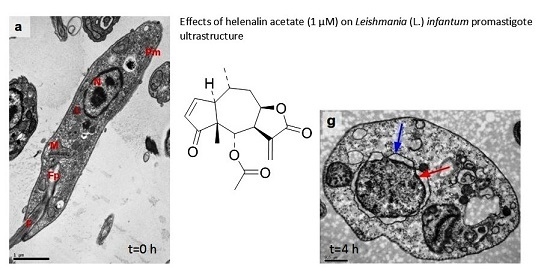 Graphical abstract
This is an open access article distributed under the
Creative Commons Attribution License
which permits unrestricted use, distribution, and reproduction in any medium, provided the original work is properly cited (CC BY 4.0).

Share & Cite This Article
MDPI and ACS Style
Wulsten, I.F.; Costa-Silva, T.A.; Mesquita, J.T.; Lima, M.L.; Galuppo, M.K.; Taniwaki, N.N.; Borborema, S.E.T.; Da Costa, F.B.; Schmidt, T.J.; Tempone, A.G. Investigation of the Anti-Leishmania (Leishmania) infantum Activity of Some Natural Sesquiterpene Lactones. Molecules 2017, 22, 685.
Note that from the first issue of 2016, MDPI journals use article numbers instead of page numbers. See further details here.
Related Articles
Comments
[Return to top]