Open Access This article is
freely available
re-usable
Review
Na/K Pump and Beyond: Na/K-ATPase as a Modulator of Apoptosis and Autophagy
1
Laboratório de Imunofarmacologia, Instituto Oswaldo Cruz, FIOCRUZ, Rio de Janeiro RJ CEP 21040-900, Brazil
2
Laboratorio de Imunofarmacologia, Departamento de Bioquímica, Universidade Federal do Estado do Rio de Janeiro, Rio de Janeiro RJ CEP 20211-010, Brazil
3
Laboratório de Enzimologia e Sinalização Celular, Departamento de Biologia Celular e Molecular, Instituto de Biologia, Universidade Federal Fluminense, Niterói RJ CEP 24020-141, Brazil
†
These authors contributed equally to this work.

Academic Editor: Diego Muñoz-Torrero
Received: 21 February 2017 / Accepted: 29 March 2017 / Published: 21 April 2017
Abstract
:
Lung cancer is a leading cause of global cancer deaths. Na/K-ATPase has been studied as a target for cancer treatment. Cardiotonic steroids (CS) trigger intracellular signalling upon binding to Na/K-ATPase. Normal lung and tumour cells frequently express different pump isoforms. Thus, Na/K-ATPase is a powerful target for lung cancer treatment. Drugs targeting Na/K-ATPase may induce apoptosis and autophagy in transformed cells. We argue that Na/K-ATPase has a role as a potential target in chemotherapy in lung cancer treatment. We discuss the effects of Na/K-ATPase ligands and molecular pathways inducing deleterious effects on lung cancer cells, especially those leading to apoptosis and autophagy.
Keywords:
Na/K-ATPase; non-small cell lung cancer; cardiotonic steroids; apoptosis; autophagy
1. Introduction
Many new cancer treatments have arisen, but the search for a suitable drug that acts on cancers that are chemo-resistant to common cancer drugs remains a huge challenge. Lung cancer is one of the most common cancers and remains a leading cause of global cancer deaths. The highly invasive phenotype, rapid progression, and resistance to chemotherapy of lung cancer contribute to its poor prognosis [
1
]. In 1957, when Skou described Na/K-ATPase and its primary function, he probably could not imagine that years later this pump would be shown to play a role in cell signalling and be considered a target for cancer treatment. Epidemiological data indicate that samples of breast cancer tissue from patients with congestive heart failure treated with cardiac glycosides exhibit more benign features than tissue samples from control cancer patients who were not treated with cardiac glycosides [
2
]. A recent systematic review, however, reported a 34% increase in breast cancer risk with the use of cardiac glycosides, but it is unclear whether this association reflects a confounding or causal relationship [
3
]. The anticancer effects of cardiac glycosides have also been examined in cancers other than breast cancer, including leukaemia and tumours of the kidney/urinary tract [
4
]. In addition, the use of digoxin can prevent prostate cancer [
4
].
Cardiotonic steroids (CS), when bound to Na/K-ATPase, trigger several cell-signalling pathways, resulting in the proliferation, differentiation and promotion of autophagy or apoptosis. These effects vary depending on the cell type as well as the type and concentration of CS. In addition, through enzyme inhibition, CS may also elicit changes in the response of kinases to changes in ATP and calcium. Interestingly, normal and tumour cells express different pump isoforms, and Na/K-ATPase acts as a CS receptor. Thus, the pump is a powerful target for antitumor molecules, and molecules targeting Na/K-ATPase are currently being tested in clinical trials.
Na/K-ATPase has been studied as a target for cancer treatment. CS trigger intracellular signalling upon binding to Na/K-ATPase. Thus, Na/K-ATPase is a powerful target for lung cancer treatment. We argue that Na/K-ATPase has a role as a potential target in chemotherapy in lung cancer treatment. Here, we discuss the effects of Na/K-ATPase ligands and the molecular pathways inducing deleterious effects on lung cancer cells, especially those leading to apoptosis and autophagy.
3. Na/K-ATPase
Na/K-ATPase is a heteromeric protein complex located on the plasma membrane of eukaryotic cells that uses ATP to transport sodium ions out of the cell and potassium ions into cells [
19
,
20
,
21
,
22
,
23
]. Na/K-ATPase is a member of the P-type ATPase class, with intermediate participation of the pump in the phosphorylated form. During phosphorylation, the protein undergoes a conformational transition from helix to beta sheet [
24
]. This transition results in the phosphorylation of the enzyme by ATP in the presence of Mg
2+
and Na
+
ions and dephosphorylation in the presence of K
+
ions [
19
,
25
]. Na/K-ATPase functions in cellular electrochemical gradient maintenance, osmotic balance, conductivity in nerves and muscles, cell adhesion and motility [
23
,
26
,
27
], and triggering of intracellular signalling [
28
]. Na/K-ATPase is composed of three subunits, α-subunit, β-subunit and γ-subunit. The α-subunit has four isoforms (α1, α2, α3 and α4), the beta subunit has three isoforms (β1, β2 and β3), and the gamma subunit has seven isoforms (FXYD1–7) [
29
,
30
]. The combination of isoforms most common in tissues is α1β1; the diverse distribution of different subunits in organs and tissues has been reviewed in Mijatovic et al. 2012 [
31
] (
Figure 1
).
3.1. α-Subunit
The α-subunit consists of 10 transmembrane helices (M1–M10) with a total molecular mass of 110 kD. The
N
- and
C
-termini are located in the cytosol, and the majority of the segments are located in the intracellular space [
32
,
33
]. The binding sites for ATP and Mg
2+
, cardiac glycosides as well as Na
+
and K
+
ions are all located in the α-subunit, which is considered the catalytic subunit [
19
,
20
]. The four α-subunit isoforms are expressed differently in different tissues throughout the development of the organism. The α1-isoform is expressed in several cell types and is predominant in the kidneys and liver. Importantly, the α1-subunit is up-regulated in certain cancer types, including NSCLC [
34
], renal cell carcinoma [
35
], glioma [
36
] and melanoma [
37
]. The α2-isoform is present mostly in the brain, heart muscle, and skeletal muscle. The α3-isoform, by contrast, is found in the central nervous system, cardiac muscle, skeletal muscle and placental tissue, whereas the α4-isoform is restricted to the testes [
29
,
33
,
38
].
3.2. β-Subunit
The β-subunit is formed by a transmembrane segment with a molecular weight of 55 kD. The
N
-terminus is located in the cytoplasm, whereas the
C
-terminus (glycosylated) is located in the extracellular medium [
33
]. This glycoprotein is considered regulatory and is involved in the stabilization of the enzymatic complex in the plasma membrane, the affinity of the pump for potassium and sodium ions, and adhesion processes through
E
-cadherin [
39
,
40
,
41
,
42
]. Three β-subunit isoforms (β1, β2 and β3) have been identified. Isoforms β1 and β2 are present predominantly in mammalian cells. The β1-isoform is distributed throughout all tissues, whereas the β2-isoform is concentrated in nervous tissue, heart, cartilage and erythrocytes. The β3-isoform is found predominantly in nerve tissue, as well as in skeletal muscle and the lung [
29
,
33
,
34
].
3.3. γ-Subunit
The γ-subunit has only one transmembrane domain and a molecular mass of 15 kD. Seven isoforms of the γ-subunit have been described (FXYD1–7) [
29
,
30
,
42
]. The γ-subunit is a proteolipid present in different tissues such as kidney tissues, cardiac tissues and skeletal muscle and belongs to the FXYD family. The seven isoforms differ in the amino acid residues in the
N
-terminal domain [
29
,
42
]. Its function seems to be associated with the modulation of the enzyme affinity for different ligands, with a direct and positive effect on the maximum rate of adenosine triphosphate (ATP) hydrolysis, and thus the γ-subunit is considered regulatory in addition to the β-subunit (
Figure 2
) [
43
,
44
].
4. Na/K-ATPase: Expression in Cancer and Potential of Cardiotonic Steroids
Several changes in the expression of Na/K-ATPase have been observed in cancer cells, such as elevation of activity during the transformation of malignant cells. Roles in cell survival, proliferation, adhesion and migration have also been described [
45
,
46
,
47
]. In this context, variations in the expression of the different subunits of the enzyme compared to normal tissues have been described, including in renal carcinoma cells, NSCLC, and glioma, where there is an elevation of α1-isoform expression. In colon carcinoma, there is an elevation of the α3-isoform, and in prostate carcinoma, there is a decrease in α1-isoform expression (reviewed in [
31
]).
Although the distribution of the different isoforms under pathological conditions such as cancer is not completely clear, the α-subunit is considered a target for new anticancer therapies. In general, in tumours, the α1-isoform is highly expressed in the early stages of tumorigenesis, with low expression in later stages in favour of an elevation of α3-isoform expression [
42
,
48
,
49
]. Thus, the pump may have a role not only as a biological marker but also as a therapeutic target for cancer. In this context, studies have evaluated the therapeutic potential of Na/K-ATPase modulators, such as cardiotonic steroids. Different molecules such as ouabain, exhibit activity against numerous types of cancer cells acting on the induction of apoptosis, cell cycle arrest or even autophagy [
42
,
50
,
51
].
5. Cardiotonic Steroids
Cardiac glycosides or cardiotonic steroids (CS) are a group of compounds isolated from plants and animals. The main structural feature of CS is the central steroid nucleus, in which an unsaturated lactone ring replaces the D-ring at C-17. CS are classified as cardenolides and bufadienolides depending on the nature of the lactone. The most well-known CS are the cardenolides digoxin, digitoxin, ouabain and oleandrin and the bufadienolides bufalin and hellebrin. These CS have been used for years in the treatment of heart failure and arrhythmia [
34
,
52
,
53
]. Na/K-ATPase inhibition causes an elevation of intracellular sodium, activating the Na
+
/Ca
2+
-exchanger and consequently resulting in increased intracellular calcium and increased cardiac muscle contractility [
54
]. Endogenously produced CS have been detected in the blood, adrenal gland, and hypothalamus but do not inhibit Na/K-ATPase; these endogenous CS are associated with cardiovascular and renal disease [
55
,
56
]. The stability of the CS complex with a Na/K-ATPase and the inhibitor potency depends on the stereochemistry of the sugar [
20
,
38
]. Most cardenolides show higher affinity for the α2- and α3-isoforms [
20
]. Bufadienolides, however, have a higher affinity for the α1-isoform.
The effects of CS in cancer cells include but are not limited to apoptosis sensitization and anoikis, affecting chemo-resistant cells as well [
45
,
57
].
Thus, CS have been considered excellent anticancer substances, even at very low concentrations. Drugs such as huachansu, digoxin, and Anvirzel are in phase II trials as anticancer agents for various types of cancer, including NSCLC. They may represent an alternative for tumours resistant to the usual chemotherapeutic agents. Several mechanisms of CS-mediated anticancer activity were postulated by Mijatovic et al. in 2008 [
58
]. The two classes of CS and their mechanisms of action are briefly discussed below.
5.2. Bufadienolides
The name bufadienolide is derived from the toad genus
Bufo
, which produces this class of substances used for many years in Chinese medicine for the treatment of cardiac disorders [
72
]. CS, as well as bufalin, exhibit anticancer activity mediated by the induction of apoptosis and autophagy in several tumours, such as glioma and hepatocellular carcinoma [
73
,
74
].
Hellebrin is a bufadienolide extracted from the plant
Helleborus niger
that exhibits greater affinity to the α1-isoform. It exhibits antitumor potential against cells that present MDR (multiple drug resistance) [
75
].
Bufadienolides exhibit antiproliferative behaviour in several human cancer cell lines by inducing death and cell cycle arrest, indicating its potential for use in anticancer therapy with effects similar to those of cardenolides.
6. Role of Na/K-ATPase in the Lung
Na/K-ATPase as a Modulator of Apoptosis and Autophagy in Non-Small Cell Lung Cancer
Examples describing the involvement of intracellular signalling proteins and mutations in different types of cell death caused by CS and related Na/K-ATPase effects on the signalosome as targets are described below.
Acknowledgments
This work was supported by grants from Universidade Federal Fluminense (FOPESQ/UFF), FIOCRUZ, CNPq and FAPERJ. H.C.C.F.N. received support from the Programa de Produtividade Científica da Universidade Estácio de Sá.
Author Contributions
C.F.G.-d.A., A.R.S., C.I.d.S., H.C.C.-F.-N. and P.B. wrote the manuscript; P.B. gave final approval.
Conflict of interest
The authors declare no conflict of interest.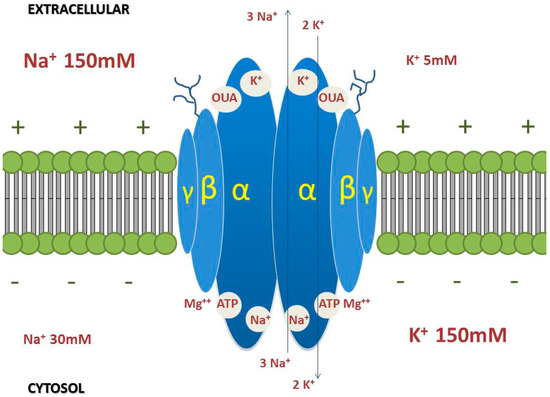 Figure 1. Scheme of the insertion of Na/K-ATPase into the plasma membrane. Ionic transport is accomplished by ATP hydrolysis and also depends on the physiological concentrations of the ions inside and outside the cell. The α-subunits (with sites for Na, K, ATP, and cardiac glycosides: OUA (ouabain)), β-subunits (glycoprotein) and γ subunits are shown.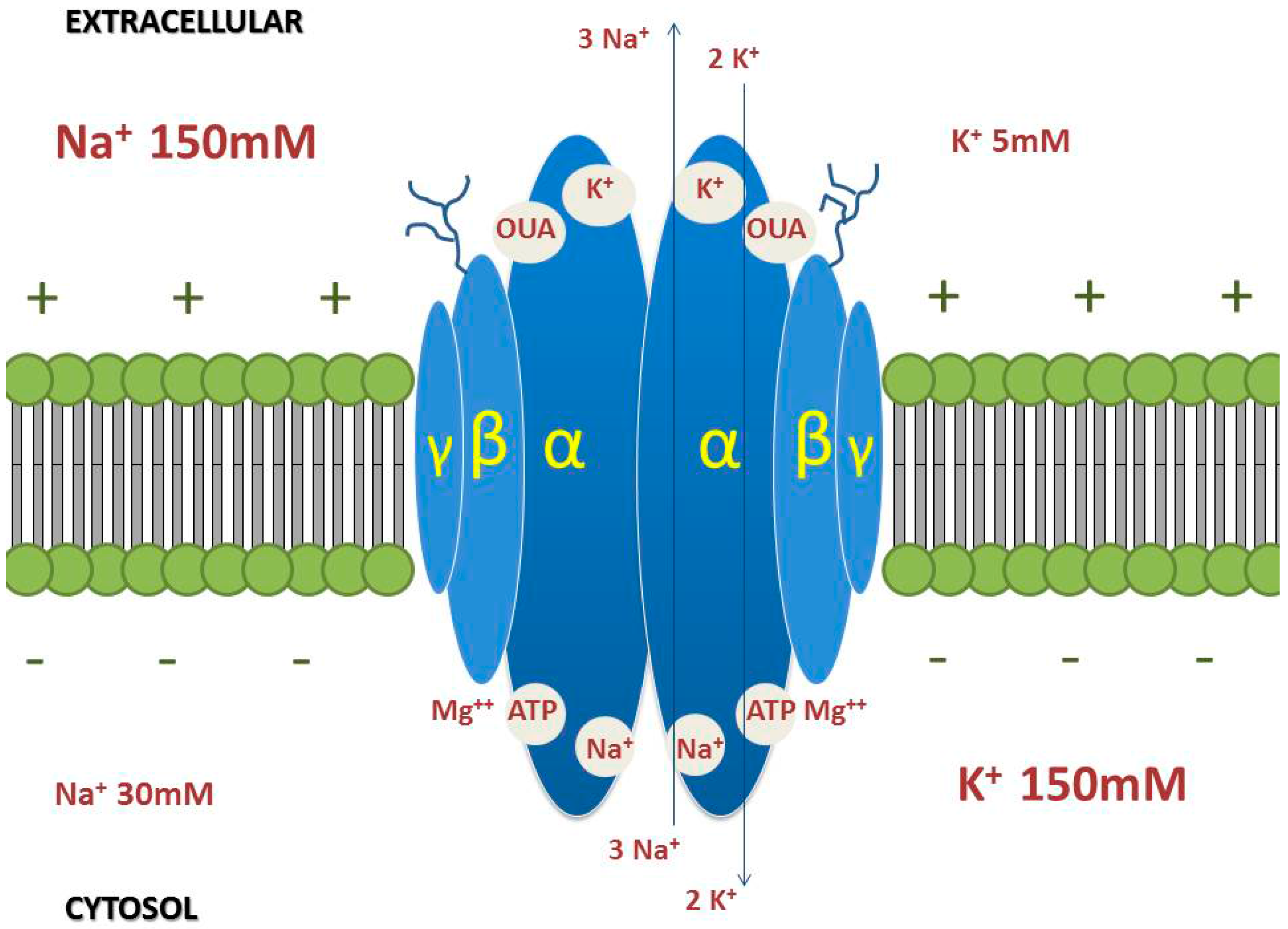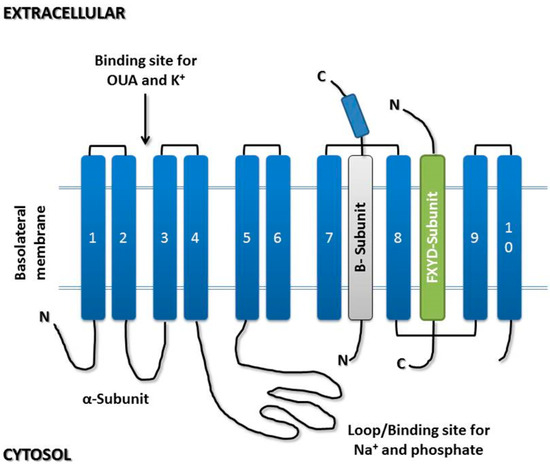 Figure 2. Schematic representation of the subunit domains of Na/K-ATPase, which is composed of a catalytic α-subunit (blue), a glycosylated β-subunit (grey), and, in some tissues, a single transmembrane span containing an extracellular invariant FXYD sequence (green).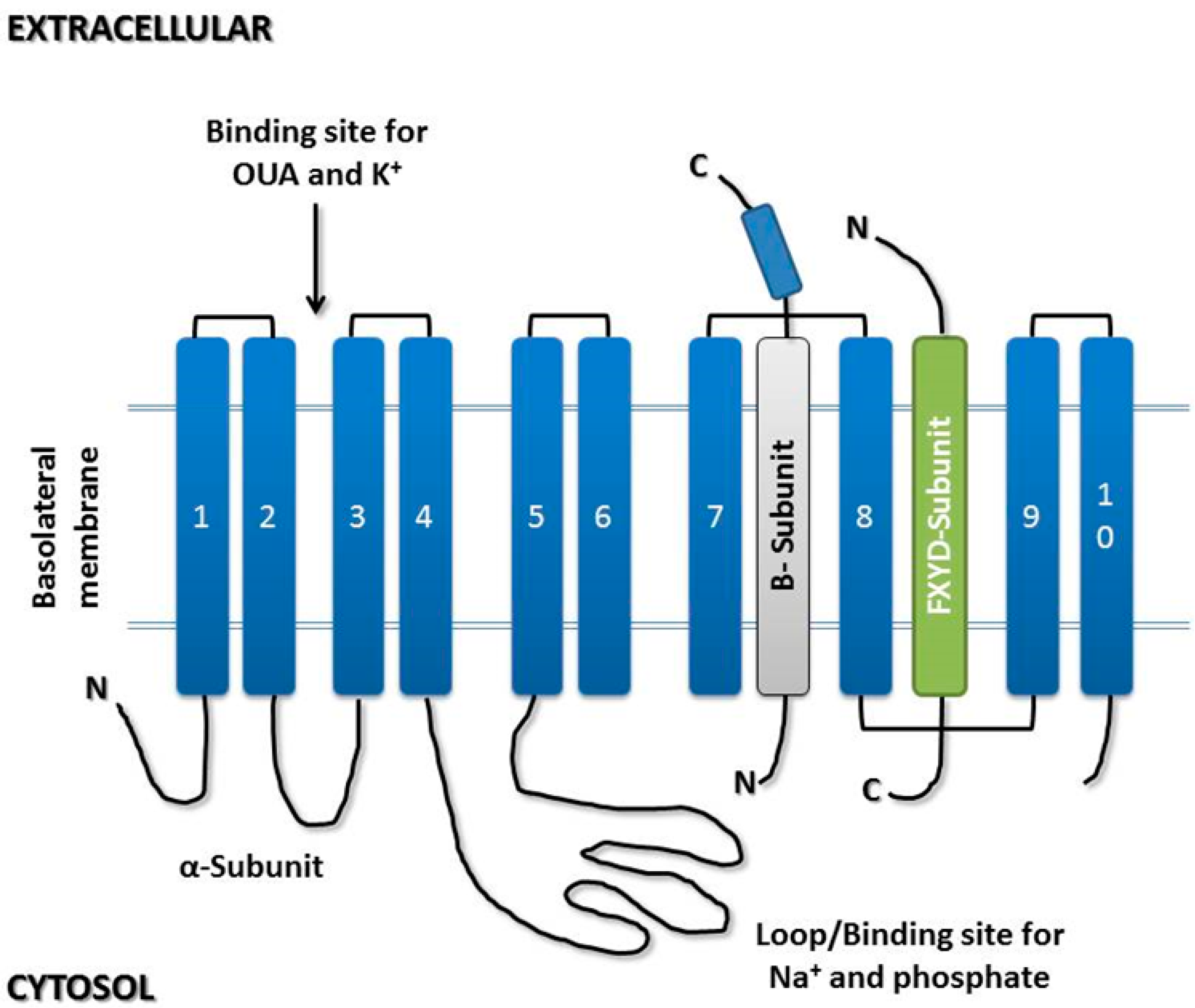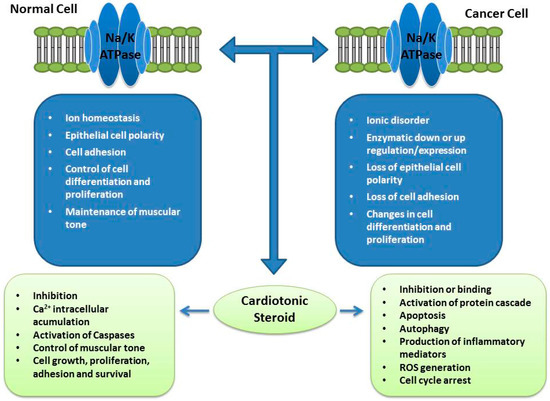 Figure 3. Functions of Na/K-ATPase enzymes in normal and cancer cells and their interaction with cardiotonic steroids. In normal cells, this pump is responsible for several functions, such as maintenance of ion homeostasis; maintenance of epithelial cell polarity; participation in the process of cell adhesion; control of cell differentiation and proliferation and maintenance of muscular tone. Its interaction with cardiotonic steroids results in enzymatic inhibition; Ca2+ intracellular accumulation; activation of caspases; control of muscle tone; cell growth, proliferation, adhesion and survival via signalling pathways. In cancer cells, there are several changes in Na/K-ATPase that result in ionic disorder; enzymatic down- or up-regulation of expression; loss of epithelial cell polarity and cell adhesion; changes in cell differentiation and proliferation. Interaction with cardiotonic steroids may result in inhibition; activation of protein cascade; apoptosis; autophagy; production of inflammatory mediators; reactive oxygen species (ROS) generation and cell cycle arrest. Most of these phenomena are linked to intracellular signalling mediated by the enzyme.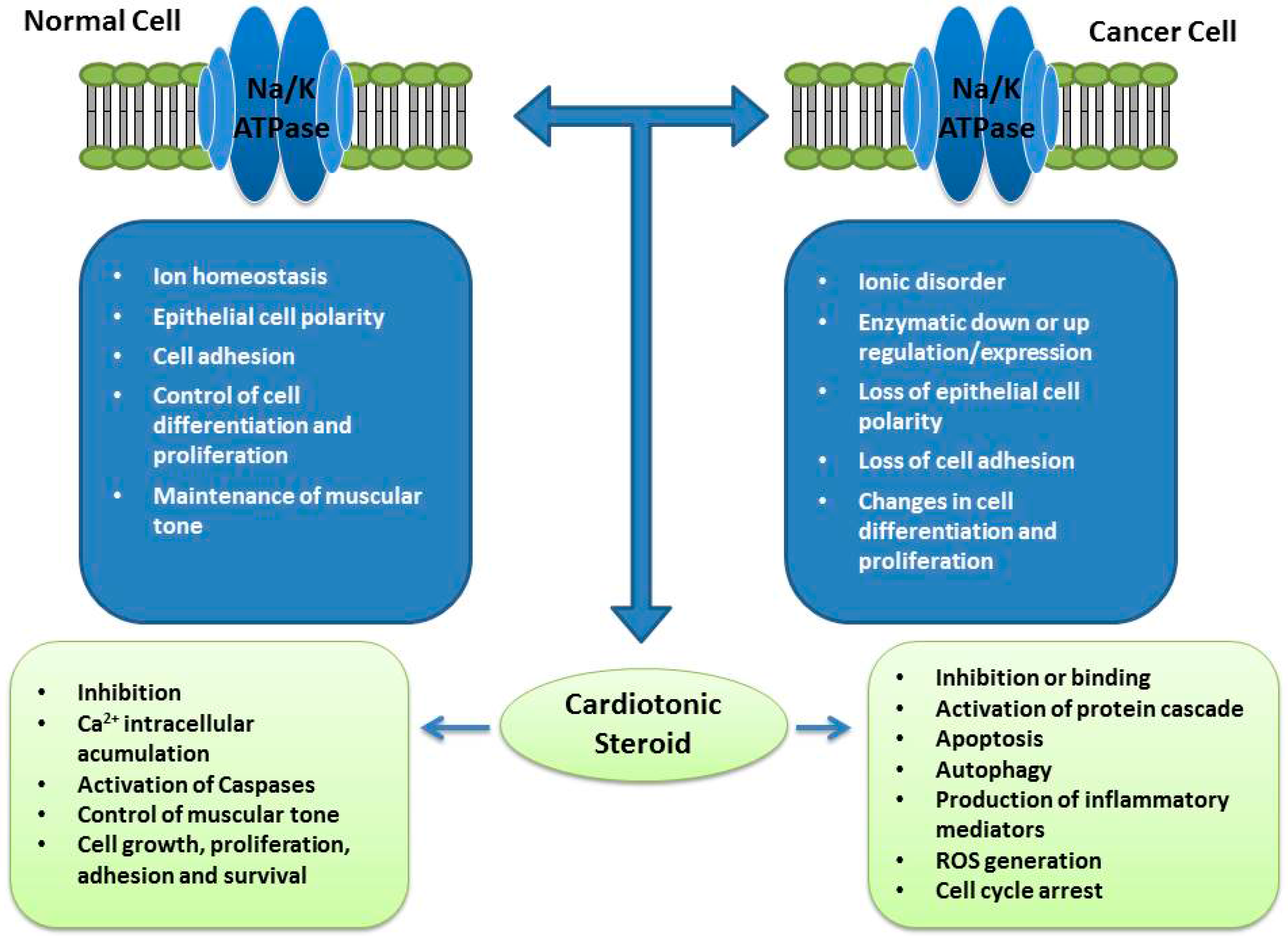 Figure 4. Structure of the alveolar–capillary barrier in the intact lung and Na/K-ATPase signalosome. Alveolar type I and II cells form the alveolar barrier and present the Na+ channel, Na/K-ATPase (NKA) and aquaporin 5. Endothelial cells form the capillary wall (A); Signalosome of Na/K-ATPase (B); Binding of cardiotonic steroids to Na/K-ATPase triggers a cascade of events starting with activation and phosphorylation of Src and caveolin-1, which leads to the transactivation of the epidermal growth factor receptor (EGFR). Activation of the Ras-Raf-MAPK cascade increases cytoplasmic Ca2+ and activates the production of reactive oxygen species (ROS) by the mitochondria. Augmented Ca2+ activates NFκB, leading to immune system activation, cellular proliferation or apoptosis. Other recruited proteins include PLC (not shown) and PI3K. The downstream effects are various and include inhibition of the cytoprotective effects of NF-kB and Akt and the activation of AP-1 and Erk1/2, leading eventually to cell death via apoptosis and autophagy. However, the type of response depends on the cell type, glycoside concentration and exposure time. ENaC—Epithelial sodium channel; CFTR—Cystic fibrosis transmembrane conductance regulator; EGFR—Epidermal growth factor receptor; NFκB—Nuclear factor kappa-light-chain-enhancer of activated B cells; PLC—Phospholipase C; PI3K—Phosphoinositide 3-kinase; Akt—Protein kinase B; AP-1—Activator protein 1; Erk—Extracellular signal-regulated kinases.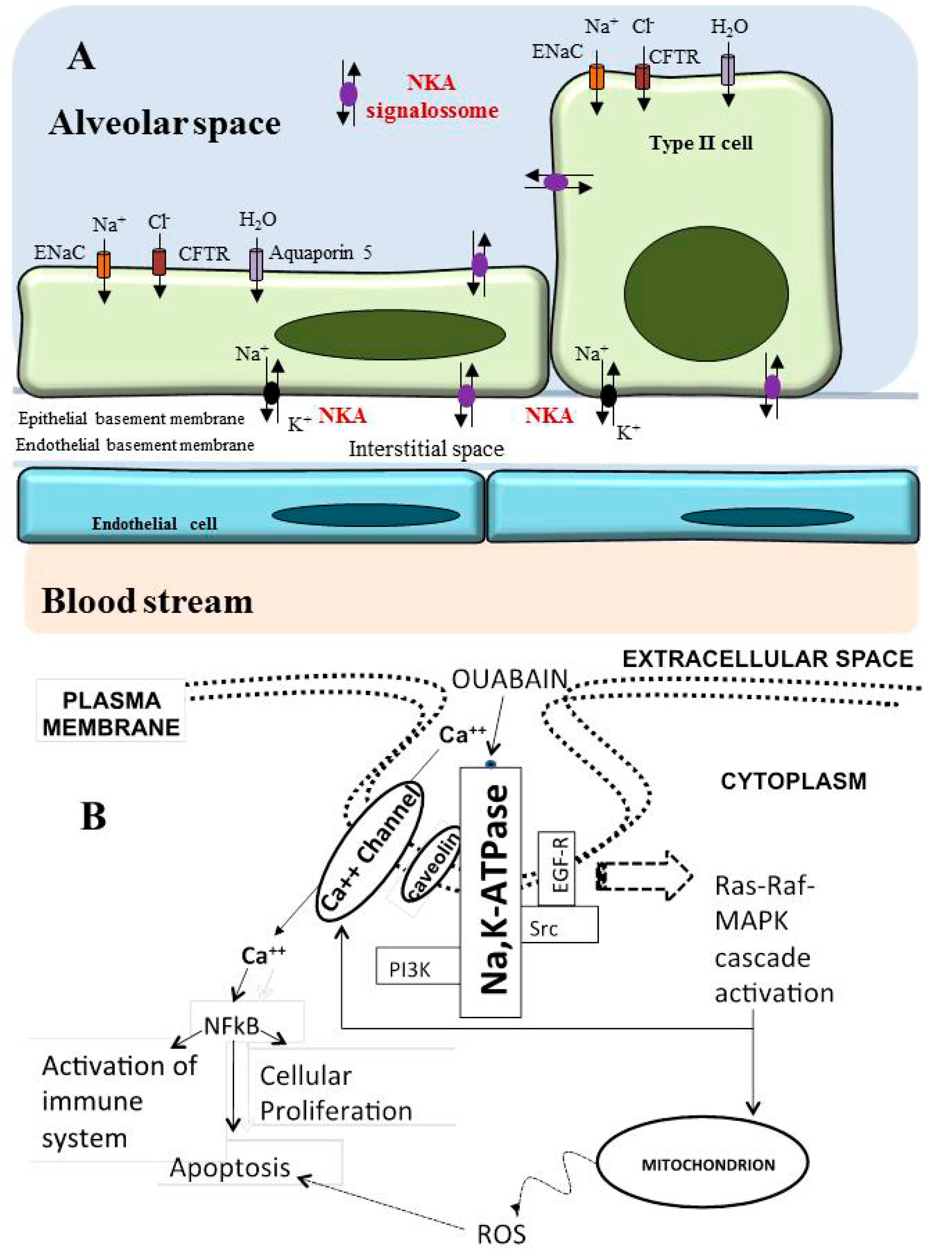 © 2017 by the authors. Licensee MDPI, Basel, Switzerland. This article is an open access article distributed under the terms and conditions of the Creative Commons Attribution (CC BY) license (http://creativecommons.org/licenses/by/4.0/).