(
R

)-(−)-Aloesaponol III 8-Methyl Ether from

Eremurus persicus

: A Novel Compound against Leishmaniosis

1

Department of Drug Sciences, Medicinal Chemistry and Pharmaceutical Technology Section, University of Pavia, Viale Taramelli 12, 27100 Pavia, Italy

2

Department of Science-Chemistry, University of Garmian, Kalar 46021, Kurdistan Region, Iraq

3

Istituto Scientifico Romagnolo per lo Studio e la Cura dei Tumori (IRST) Srl—IRCCS Via Piero Maroncelli, 40, 47014 Meldola (FC), Italy

4

Dipartimento di Medicina Molecolare e Traslazionale, Università di Brescia, Viale Europa 11, 25123 Brescia, Italy

5

Centro Grandi Strumenti, University of Pavia, Via Bassi 21, 27100 Pavia, Italy

6

Department of Earth and Environmental Sciences, University of Pavia, Via S. Epifanio 14, 27100 Pavia, Italy

7

CESPU, Instituto de Investigação e Formação Avançada em Ciências e Tecnologias da Saúde, 4585-116 Gandra PRD, Portugal

8

CIBIO-UP, Centro de Investigação em Biodiversidade e Recursos Genéticos, Universidade do Porto, InBIO, 4485-661 Vairão, Portugal

9

Faculty of Pharmacy, University of Coimbra, Pólo das Ciências da Saúde, Azinhaga de Santa Comba, 3000-548 Coimbra, Portugal

10

CNC—Center for Neurosciences and Cell Biology, University of Coimbra, Rua Larga Faculty of Medicine, Pólo I, 3004-504 Coimbra, Portugal

*

Authors to whom correspondence should be addressed.

Academic Editors: Diego Muñoz-Torrero and Kelly Chibale

Received: 15 February 2017 / Revised: 14 March 2017 / Accepted: 20 March 2017 / Published: 24 March 2017
Abstract
Leishmaniosis is a neglected tropical disease which affects several millions of people worldwide. The current drug therapies are expensive and often lack efficacy, mainly due to the development of parasite resistance. Hence, there is an urgent need for new drugs effective against
Leishmania
infections. As a part of our ongoing study on the phytochemical characterization and biological investigation of plants used in the traditional medicine of western and central Asia, in the present study, we focused on
Eremurus persicus
root extract in order to evaluate its potential in the treatment of leishmaniosis. As a result of our study, aloesaponol III 8-methyl ether (ASME) was isolated for the first time from
Eremurus persicus
root extract, its chemical structure elucidated by means of IR and NMR experiments and the (
R
) configuration assigned by optical activity measurements: chiroptical aspects were investigated with vibrational circular dichroism (VCD) and electronic circular dichroism (ECD) spectroscopies and DFT (density functional theory) quantum mechanical calculations. Concerning biological investigations, our results clearly proved that (
R
)-ASME inhibits
Leishmania infantum
promastigotes viability (IC
50
73 µg/mL), inducing morphological alterations and mitochondrial potential deregulation. Moreover, it is not toxic on macrophages at the concentration tested, thus representing a promising molecule against
Leishmania
infections.
View Full-Text
►

▼

Figures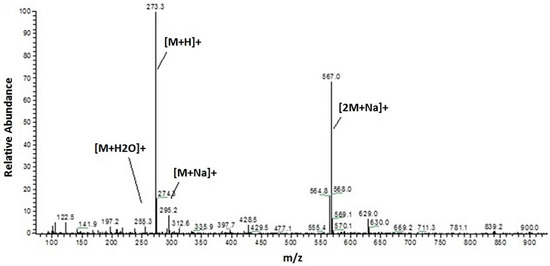 Figure 1
This is an open access article distributed under the
Creative Commons Attribution License
which permits unrestricted use, distribution, and reproduction in any medium, provided the original work is properly cited (CC BY 4.0).

Share & Cite This Article
MDPI and ACS Style
Rossi, D.; Ahmed, K.M.; Gaggeri, R.; Della Volpe, S.; Maggi, L.; Mazzeo, G.; Longhi, G.; Abbate, S.; Corana, F.; Martino, E.; Machado, M.; Varandas, R.; Sousa, M.D.C.; Collina, S. (R)-(−)-Aloesaponol III 8-Methyl Ether from Eremurus persicus: A Novel Compound against Leishmaniosis. Molecules 2017, 22, 519.
Note that from the first issue of 2016, MDPI journals use article numbers instead of page numbers. See further details here.
Related Articles
Comments
[Return to top]