Substitution at the C-3 Position of Catechins Has an Influence on the Binding Affinities against Serum Albumin
1
Graduate School of Agricultural Science, Kobe University, 1-1 Rokkodai, Nada-ku, Kobe, Hyogo 657-8501, Japan
2
National Agriculture and Food Research Organization, National Food Research Institute, Tsukuba, Ibaraki 305-8642, Japan
3
Department of Bioscience, Nagahama Institute of Bio-Science and Technology, 1266 Tamura-cho, Nagahama, Shiga 526-0829, Japan
4
Department of Organic Fine Chemicals, The Institute of Scientific and Industrial Research, Osaka University, 8-1, Mihogaoka, Ibaraki, Osaka 567-0047, Japan
5
Department of Bioscience and Engineering, College of Systems Engineering and Science, Shibaura Institute of Technology, 307 Fukasaku, Minuma-ku, Saitama 337-8570, Japan
*
Author to whom correspondence should be addressed.
Academic Editor: Thomas J. Schmidt
Received: 29 December 2016 / Revised: 15 February 2017 / Accepted: 16 February 2017 / Published: 18 February 2017
Abstract
It is known that catechins interact with the tryptophan (Trp) residue at the drug-binding site of serum albumin. In this study, we used catechin derivatives to investigate which position of the catechin structure strongly influences the binding affinity against bovine serum albumin (BSA) and human serum albumin (HSA). A docking simulation showed that (−)-epigallocatechin gallate (EGCg) interacted with both Trp residues of BSA (one at drug-binding site I and the other on the molecular surface), mainly by π–π stacking. Fluorescence analysis showed that EGCg and substituted EGCg caused a red shift of the peak wavelength of Trp similarly to warfarin (a drug-binding site I-specific compound), while 3-
O
-acyl-catechins caused a blue shift. To evaluate the binding affinities, the quenching constants were determined by the Stern–Volmer equation. A gallate ester at the C-3 position increased the quenching constants of the catechins. Against BSA, acyl substitution increased the quenching constant proportionally to the carbon chain lengths of the acyl group, whereas methyl substitution decreased the quenching constant. Against HSA, neither acyl nor methyl substitution affected the quenching constant. In conclusion, substitution at the C-3 position of catechins has an important influence on the binding affinity against serum albumin.
View Full-Text
►

▼

Figures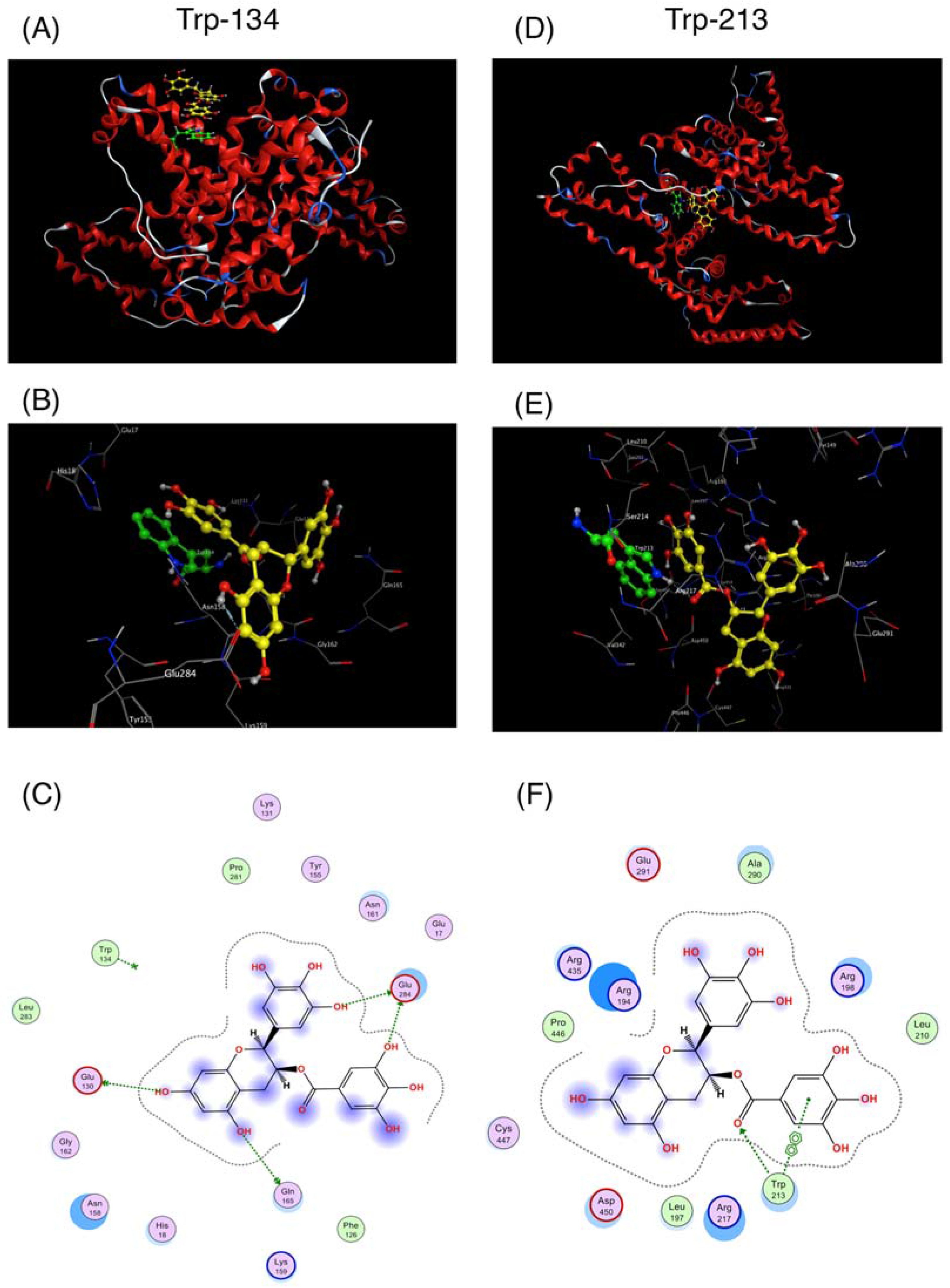 Figure 1
This is an open access article distributed under the
Creative Commons Attribution License
which permits unrestricted use, distribution, and reproduction in any medium, provided the original work is properly cited (CC BY 4.0).

Share & Cite This Article
MDPI and ACS Style
Ikeda, M.; Ueda-Wakagi, M.; Hayashibara, K.; Kitano, R.; Kawase, M.; Kaihatsu, K.; Kato, N.; Suhara, Y.; Osakabe, N.; Ashida, H. Substitution at the C-3 Position of Catechins Has an Influence on the Binding Affinities against Serum Albumin. Molecules 2017, 22, 314.
Note that from the first issue of 2016, MDPI journals use article numbers instead of page numbers. See further details here.
Related Articles
Comments
[Return to top]