Influence of Weak Base Addition to Hole-Collecting Buffer Layers in Polymer:Fullerene Solar Cells
1
Organic Nanoelectronics Laboratory and KNU Institute for Nanophotonics Applications (KINPA), Department of Chemical Engineering, School of Applied Chemical Engineering, Kyungpook National University, Daegu 41566, Korea
2
Advanced Composites Materials Technical Center, Toray Advanced Materials Korea, Gumi-Si, Gyeongbook 39422, Korea
3
Priority Research Center, Research Institute of Advanced Energy Technology, Kyungpook National University, Daegu 41566, Korea
*
Author to whom correspondence should be addressed.
Received: 13 January 2017 / Accepted: 4 February 2017 / Published: 9 February 2017
Abstract
We report the effect of weak base addition to acidic polymer hole-collecting layers in normal-type polymer:fullerene solar cells. Varying amounts of the weak base aniline (AN) were added to solutions of poly(3,4-ethylenedioxythiophene):poly(styrenesulfonate) (PEDOT:PSS). The acidity of the aniline-added PEDOT:PSS solutions gradually decreased from pH = 1.74 (AN = 0 mol% ) to pH = 4.24 (AN = 1.8 mol %). The electrical conductivity of the PEDOT:PSS-AN films did not change much with the pH value, while the ratio of conductivity between out-of-plane and in-plane directions was dependent on the pH of solutions. The highest power conversion efficiency (PCE) was obtained at pH = 2.52, even though all devices with the PEDOT:PSS-AN layers exhibited better PCE than those with the pristine PEDOT:PSS layers. Atomic force microscopy investigation revealed that the size of PEDOT:PSS domains became smaller as the pH increased. The stability test for 100 h illumination under one sun condition disclosed that the PCE decay was relatively slower for the devices with the PEDOT:PSS-AN layers than for those with pristine PEDOT:PSS layers.
View Full-Text
►

▼

Figures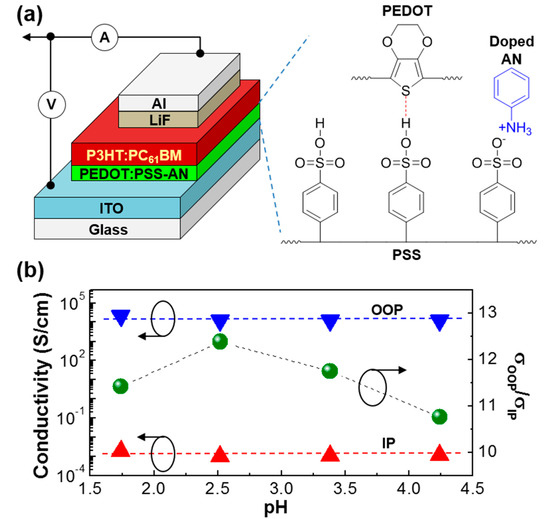 Figure 1
This is an open access article distributed under the
Creative Commons Attribution License
which permits unrestricted use, distribution, and reproduction in any medium, provided the original work is properly cited (CC BY 4.0).

Share & Cite This Article
MDPI and ACS Style
Seo, J.; Park, S.; Song, M.; Jeong, J.; Lee, C.; Kim, H.; Kim, Y. Influence of Weak Base Addition to Hole-Collecting Buffer Layers in Polymer:Fullerene Solar Cells. Molecules 2017, 22, 262.
Note that from the first issue of 2016, MDPI journals use article numbers instead of page numbers. See further details here.
Related Articles
Comments
[Return to top]