Trypanocidal Activity of Quinoxaline 1,4 Di-
N

-oxide Derivatives as Trypanothione Reductase Inhibitors

1

Departamento de Inmunología, Escuela Nacional de Ciencias Biológicas, Instituto Politécnico Nacional, Prolongación de Carpio y Plan de Ayala, s/n, 11340 Ciudad de México, México

2

Departamento de Parasitología, Escuela Nacional de Ciencias Biológicas, Instituto Politécnico Nacional, Prolongación de Carpio y Plan de Ayala, s/n, 11340 Ciudad de México, México

3

Centro de Biotecnología Genómica, Instituto Politécnico Nacional, Boulevard del Maestro, s/n, Esq. Elías Piña, 88710 Reynosa, México

4

Center of Biochemistry, Heidelberg University, Im Neuenheimer Feld 328, 69120 Heidelberg, Germany

5

Department of Pharmacy and Biotechnology, University of Bologna, Via Belmeloro 6, 40126 Bologna, Italy

6

Neglected Diseases Section, Drug R&D Unit, Center for Applied Pharmacobiology Research, University of Navarra, 31008 Pamplona, Spain

*

Author to whom correspondence should be addressed.

Received: 16 November 2016 / Accepted: 13 January 2017 / Published: 1 February 2017
Abstract
Chagas disease or American trypanosomiasis is a worldwide public health problem. In this work, we evaluated 26 new propyl and isopropyl quinoxaline-7-carboxylate 1,4-di-N-oxide derivatives as potential trypanocidal agents. Additionally, molecular docking and enzymatic assays on trypanothione reductase (TR) were performed to provide a basis for their potential mechanism of action. Seven compounds showed better trypanocidal activity on epimastigotes than the reference drugs, and only four displayed activity on trypomastigotes;
T-085
was the lead compound with an IC50 = 59.9 and 73.02 µM on NINOA and INC-5 strain, respectively. An in silico analysis proposed compound
T-085
as a potential TR inhibitor with better affinity than the natural substrate. Enzymatic analysis revealed that
T-085
inhibits parasite TR non-competitively. Compound T-085 carries a carbonyl, a CF3, and an isopropyl carboxylate group at 2-, 3- and 7-position, respectively. These results suggest the chemical structure of this compound as a good starting point for the design and synthesis of novel trypanocidal derivatives with higher TR inhibitory potency and lower toxicity.
View Full-Text
►

▼

Figures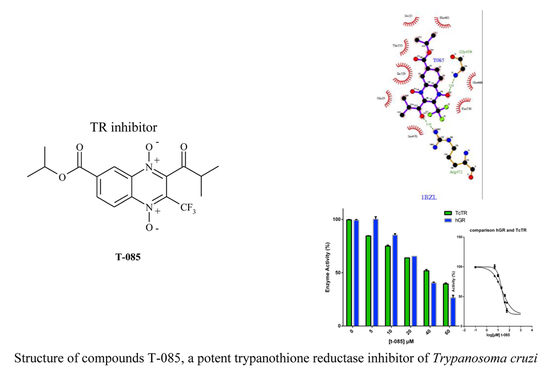 Graphical abstract
This is an open access article distributed under the
Creative Commons Attribution License
which permits unrestricted use, distribution, and reproduction in any medium, provided the original work is properly cited (CC BY 4.0).

Share & Cite This Article
MDPI and ACS Style
Chacón-Vargas, K.F.; Nogueda-Torres, B.; Sánchez-Torres, L.E.; Suarez-Contreras, E.; Villalobos-Rocha, J.C.; Torres-Martinez, Y.; Lara-Ramirez, E.E.; Fiorani, G.; Krauth-Siegel, R.L.; Bolognesi, M.L.; Monge, A.; Rivera, G. Trypanocidal Activity of Quinoxaline 1,4 Di-N-oxide Derivatives as Trypanothione Reductase Inhibitors. Molecules 2017, 22, 220.
Note that from the first issue of 2016, MDPI journals use article numbers instead of page numbers. See further details here.
Related Articles
Comments
[Return to top]