Open Access This article is
freely available
re-usable
Review
PP2A as the Main Node of Therapeutic Strategies and Resistance Reversal in Triple-Negative Breast Cancer
1
Department of Pathophysiology, Dalian Medical University, Dalian 116044, China
2
Kamp Pharmaceutical Co. Ltd., Changsha 410008, China
3
College of Pharmacy, Dalian Medical University, Dalian 116044, China
*
Correspondence: Tel.: +86-411-8611-0419 (X.S.)
†
These authors contributed equally to this work.

Received: 3 November 2017 / Accepted: 19 December 2017 / Published: 20 December 2017
Abstract
:
Triple negative breast cancer (TNBC), is defined as a type of tumor lacking the expression of estrogen receptor (ER), progesterone receptor (PR) and human epidermal growth factor receptor 2 (HER2). The ER, PR and HER2 are usually the molecular therapeutic targets for breast cancers, but they are ineffective for TNBC because of their negative expressions, so chemotherapy is currently the main treatment strategy in TNBC. However, drug resistance remains a major impediment to TNBC chemotherapeutic treatment. Recently, the protein phosphatase 2A (PP2A) has been found to regulate the phosphorylation of some substrates involved in the relevant target of TNBC, such as cell cycle control, DNA damage responses, epidermal growth factor receptor, immune modulation and cell death resistance, which may be the effective therapeutic strategies or influence drug sensitivity to TNBCs. Furthermore, PP2A has also been found that could induce ER re-expression in ER-negative breast cancer cells, and which suggests PP2A could promote the sensitivity of tamoxifen to TNBCs as a resistance reversal agent. In this review, we will summarize the potential therapeutic value of PP2A as the main node in developing targeting agents, disrupting resistance or restoring drug sensitivity in TNBC.
Keywords:
breast cancer; TNBC; PP2A; resistance reversal; molecular targets
Acknowledgments
The work was supported by the grants from National Natural Science Foundation of China (Nos. 81450016 and 81672945), and the Science Project of Liaoning Province (No. 201602234).
Author Contributions
H.Z., D.L., B.Z., Y.Q., Y.D., Y.Z. and X.S. wrote the paper.
Conflicts of Interest
The authors declare no conflict of interest.
Figure 1. Diagram representing the PP2A Ser/Thr phosphatase complex. Regulatory subunits confer substrate specificity to the core enzyme.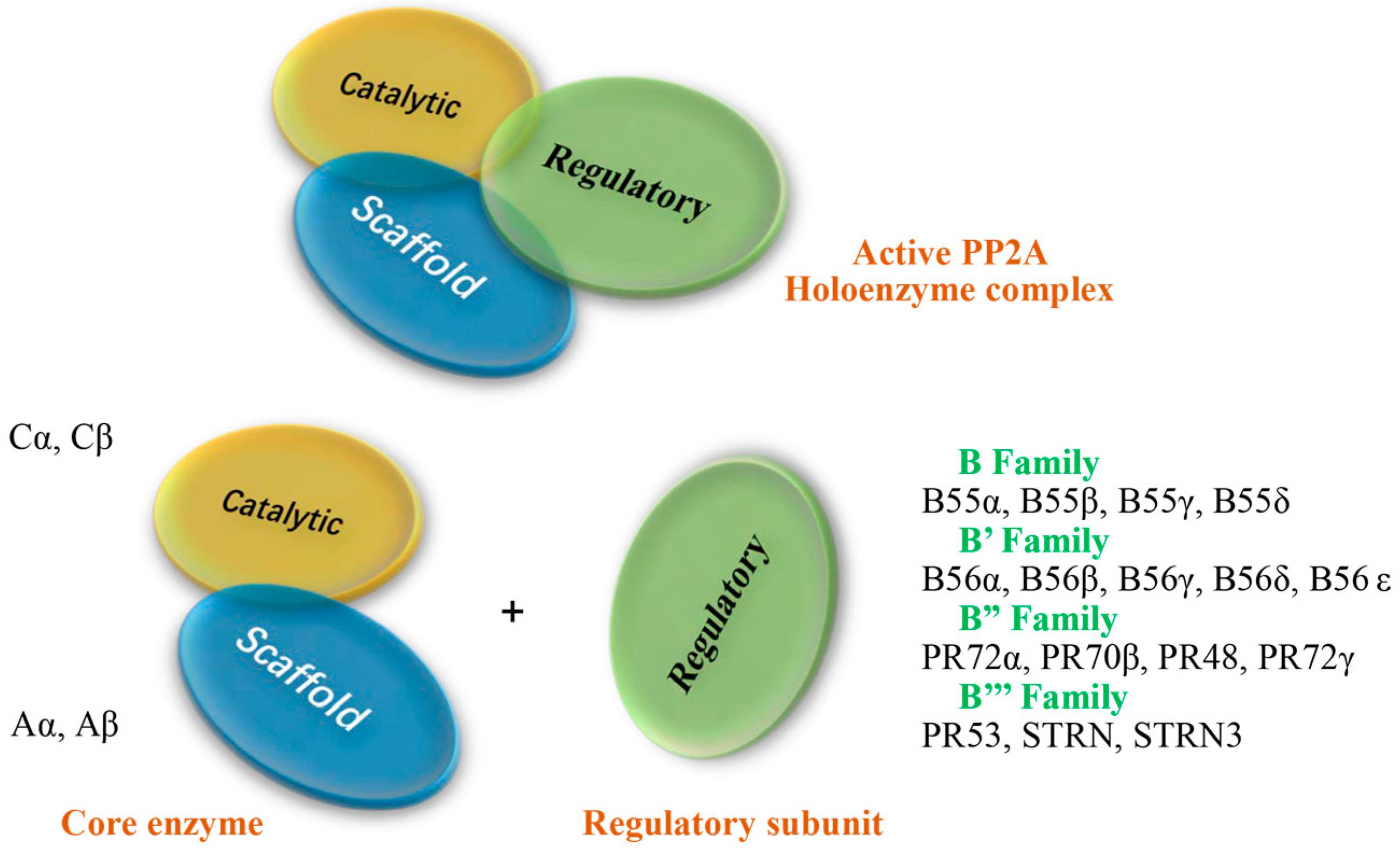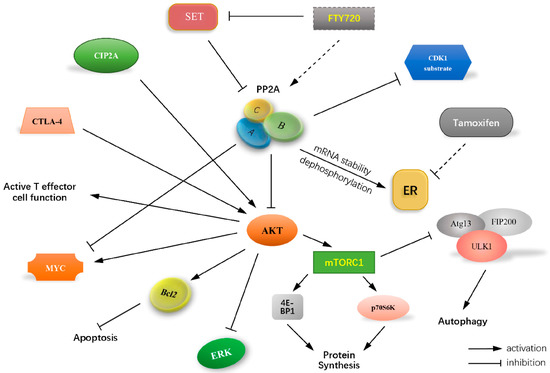 Figure 2. Role of PP2A regulating potential therapeutic targets for TNBCs. PP2A is widely involved in regulating most current developments in targeted therapeutic strategies for TNBCs, including cell cycle, DNA damage, EGFR degradation, immune responses, cell death resistance and ER or AR regulation. A better understanding of the structure of PP2A and its interactions with associated signaling pathways can give us a great appreciation of the crucial roles these phosphatases play in adapted therapeutic approaches for each type of TNBC and even resistance reversal as an importantly main node.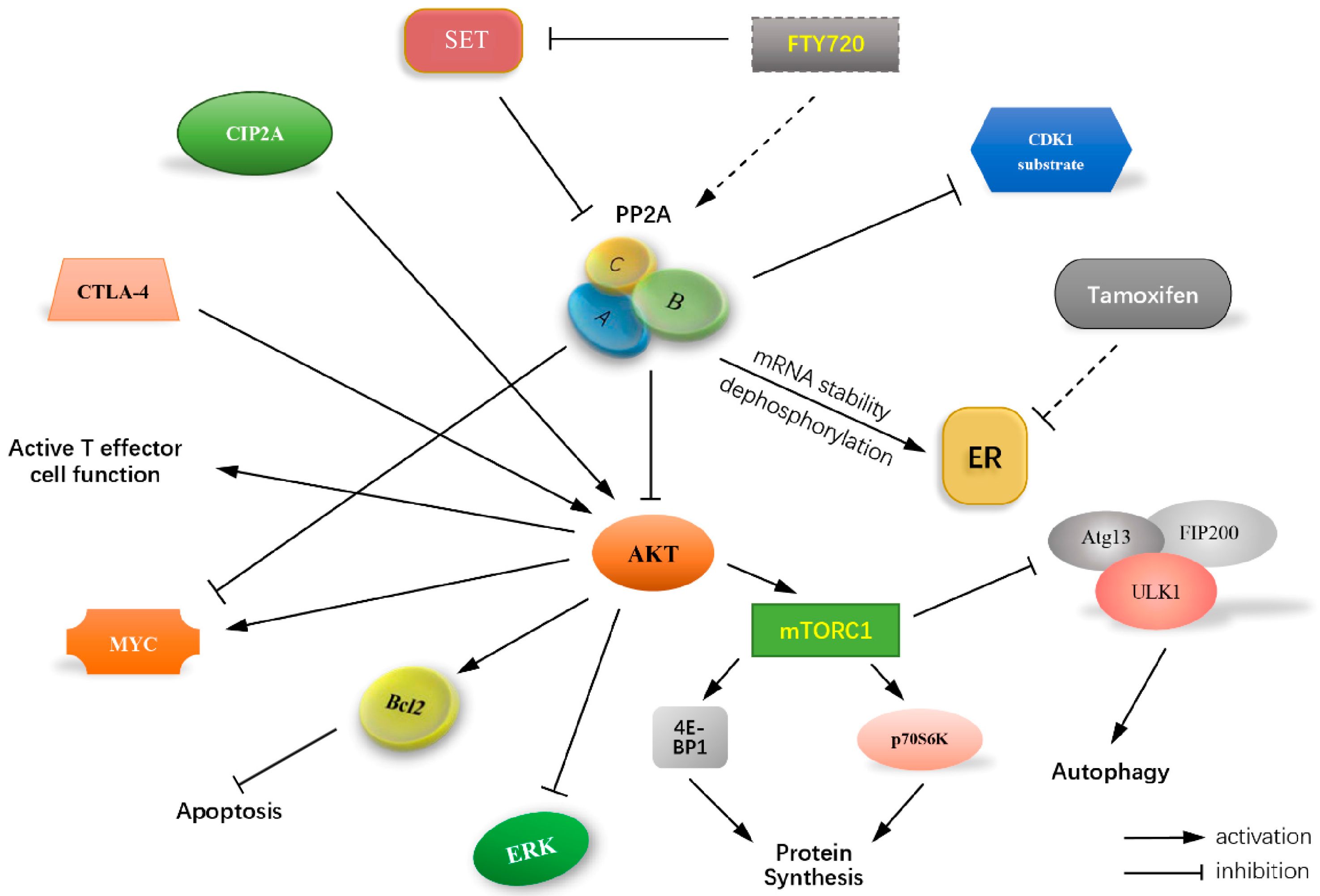 © 2017 by the authors. Licensee MDPI, Basel, Switzerland. This article is an open access article distributed under the terms and conditions of the Creative Commons Attribution (CC BY) license (http://creativecommons.org/licenses/by/4.0/).