Plants of the Genus
Zingiber

as a Source of Bioactive Phytochemicals: From Tradition to Pharmacy

1

Department of Medical Parasitology, Zabol University of Medical Sciences, Zabol 61663335, Iran

2

Department of Biomedical, Surgical and Dental Sciences, Milan State University, 20133 Milan, Italy

3

Zabol Medicinal Plants Research Center, Zabol University of Medical Sciences, Zabol 61615585, Iran

4

Phytochemistry Research Center, Shahid Beheshti University of Medical Sciences, Tehran 11369, Iran

5

Department of Chemistry, Richardson College for the Environmental Science Complex, The University of Winnipeg, 599 Portage Avenue, Winnipeg, MB R3B 2G3, Canada

6

Department of Food Science, Rutgers University, New Brunswick, NJ 08901, USA

7

Department of Pharmacognosy, School of Pharmacy, Shahid Beheshti University of Medical Sciences, Tehran 11369, Iran

8

Department of Medicinal Chemistry, School of Pharmacy, Shahid Beheshti University of Medical Sciences, Tehran 11369, Iran

9

Food Microbiology and Biotechnology Laboratory, 171 Carver Hall, College of Agriculture and Environmental Sciences, North Carolina A & T State University, Greensboro, NC 27411, USA

10

Faculty of Agricultural Engineering and Veterinary Medicine, Lebanese University, Dekwaneh, Beirut 6573, Lebanon

11

Department of Biomedical Sciences, Faculty of Medicine and Health Sciences, Universiti Putra Malaysia, Serdang 43400, Selangor, Malaysia

12

Integrative Pharmacogenomics Institute (iPROMISE), Level 7, FF3 Building, Universiti Teknologi MARA, Puncak Alam 42300, Selangor, Malaysia

13

Department of Range and Watershed Management, Faculty of Natural Resources, University of Zabol, Zabol 98615538, Iran

14

Department of Botany, Lahore College for Women University, Jail Road Lahore 54000, Pakistan

15

Department of Agricultural and Environmental Sciences, Milan State University, 20133 Milan, Italy

16

Department of Biological Sciences—Plant Biology Section, University of Naples "Federico II", 80126 Naples, Italy

17

Department of Pharmacy, University of Naples Federico II, via D. Montesano 49, 80131 Naples, Italy

*

Authors to whom correspondence should be addressed.

Received: 15 November 2017 / Revised: 23 November 2017 / Accepted: 28 November 2017 / Published: 4 December 2017
Abstract
Plants of the genus
Zingiber
(Family Zingiberaceae) are widely used throughout the world as food and medicinal plants. They represent very popular herbal remedies in various traditional healing systems; in particular, rhizome of
Zingiber
spp. plants has a long history of ethnobotanical uses because of a plethora of curative properties. Antimicrobial activity of rhizome essential oil has been extensively confirmed in vitro and attributed to its chemical components, mainly consisting of monoterpene and sesquiterpene hydrocarbons such as α-zingiberene, ar-curcumene, β-bisabolene and β-sesquiphellandrene. In addition, gingerols have been identified as the major active components in the fresh rhizome, whereas shogaols, dehydrated gingerol derivatives, are the predominant pungent constituents in dried rhizome.
Zingiber
spp. may thus represent a promising and innovative source of natural alternatives to chemical food preservatives. This approach would meet the increasing concern of consumers aware of the potential health risks associated with the conventional antimicrobial agents in food. This narrative review aims at providing a literature overview on
Zingiber
spp. plants, their cultivation, traditional uses, phytochemical constituents and biological activities.
View Full-Text
►

▼

Figures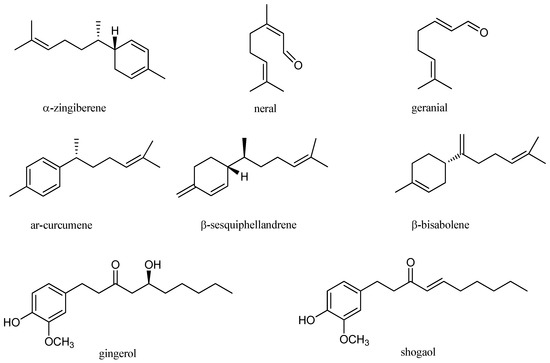 Figure 1
This is an open access article distributed under the
Creative Commons Attribution License
which permits unrestricted use, distribution, and reproduction in any medium, provided the original work is properly cited (CC BY 4.0).

Share & Cite This Article
MDPI and ACS Style
Sharifi-Rad, M.; Varoni, E.M.; Salehi, B.; Sharifi-Rad, J.; Matthews, K.R.; Ayatollahi, S.A.; Kobarfard, F.; Ibrahim, S.A.; Mnayer, D.; Zakaria, Z.A.; Sharifi-Rad, M.; Yousaf, Z.; Iriti, M.; Basile, A.; Rigano, D. Plants of the Genus Zingiber as a Source of Bioactive Phytochemicals: From Tradition to Pharmacy. Molecules 2017, 22, 2145.
Note that from the first issue of 2016, MDPI journals use article numbers instead of page numbers. See further details here.
Related Articles
Comments
[Return to top]