Open Access This article is
freely available
re-usable
Article
Inhibition by Commercial Aminoglycosides of Human Connexin Hemichannels Expressed in Bacteria
1
Department of Cell Physiology and Molecular Biophysics, and Center for Membrane Protein Research, Texas Tech University Health Sciences Center, Lubbock, TX 79430-6551, USA
2
Honors College, McClellan Hall, Box 41017, Texas Tech University, Lubbock, TX 79409-1017, USA
*
Correspondence: Tel.: +1-806-743-2531
†
These authors contributed equally to this work.

Received: 4 October 2017 / Accepted: 23 November 2017 / Published: 25 November 2017
Abstract
:
In addition to gap junctional channels that mediate cell-to-cell communication, connexins form hemichannels that are present at the plasma membrane. Since hemichannels are permeable to small hydrophilic compounds, including metabolites and signaling molecules, their abnormal opening can cause or contribute to cell damage in disorders such as cardiac infarct, stroke, deafness, skin diseases, and cataracts. Therefore, hemichannels are potential pharmacological targets. A few aminoglycosides, well-known broad-spectrum antibiotics, have been shown to inhibit hemichannels. Here, we tested several commercially available aminoglycosides for inhibition of human connexin hemichannels using a cell-based bacterial growth complementation assay that we developed recently. We found that kanamycin A, kanamycin B, geneticin, neomycin, and paromomycin are effective inhibitors of hemichannels formed by connexins 26, 43, and 46 (Cx26, Cx43, and Cx46). Because of the >70 years of clinical experience with aminoglycosides and the fact that several of the aminoglycosides tested here have been used in humans, they are promising starting points for the development of effective connexin hemichannel inhibitors.
Keywords:
gap junction; channel; Cx26; Cx43; Cx46; screening; LB2003; antibiotic; cell-based assay; transport
Acknowledgments
This work was supported by National Institutes of Health grants R01GM79629, 3R01GM079629-03S1, and R01GM097159; American Heart Association Texas Affiliate Inc. grant 14GRNT18750014; Welch Foundation grant BI-1757; and a TTUHSC Preliminary Data.
Author Contributions
M.C.F, S.K., L.G.C., and G.A.A. conceived and designed the experiments; M.C.F., S.K., and A.K. performed the experiments; M.C.F., S.K., A.K., L.G.C., and G.A.A. analyzed the data and wrote the paper.
Conflicts of Interest
The authors declare no conflict of interest.
Sample Availability: Not available.

Figure 1.
Connexins, gap-junction channels, and hemichannels. Schematic representation of a connexin subunit (monomer), an hemichannel (HC) formed by six connexins, and a gap-junctional channel (GJC) formed by two HCs docked head to head. The cyan rounded rectangles in the connexin denote transmembrane helices. EC: extracellular; IC: intracellular. In the HCs and GJC each subunit is illustrated as a cylinder. Adapted from reference [
14
]; reproduced with permission from the American Society for Biochemistry and Molecular Biology.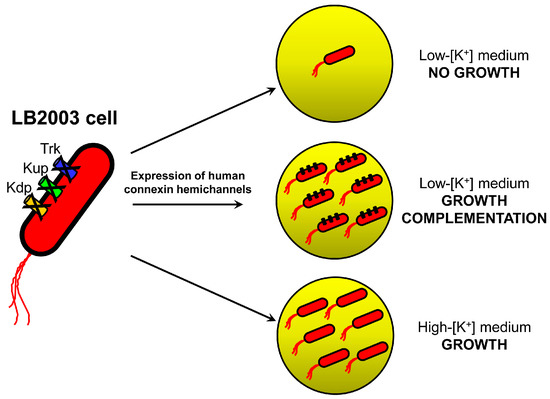 Figure 2.
Schematic representation of the growth complementation assay used to assess the function of recombinant human hemichannels expressed in LB2003 cells. Adapted from reference [
22
] with permission from SAGE Publications.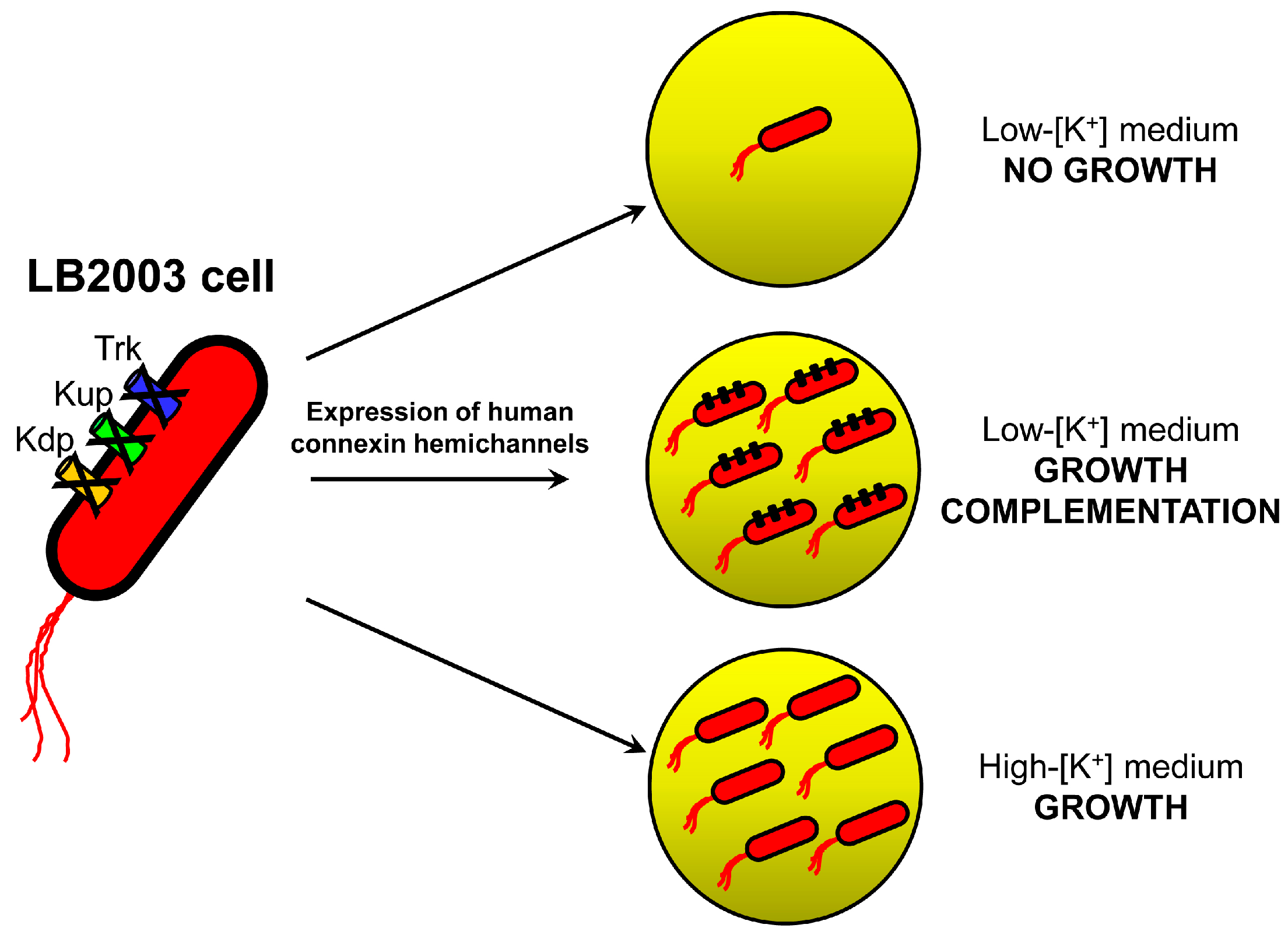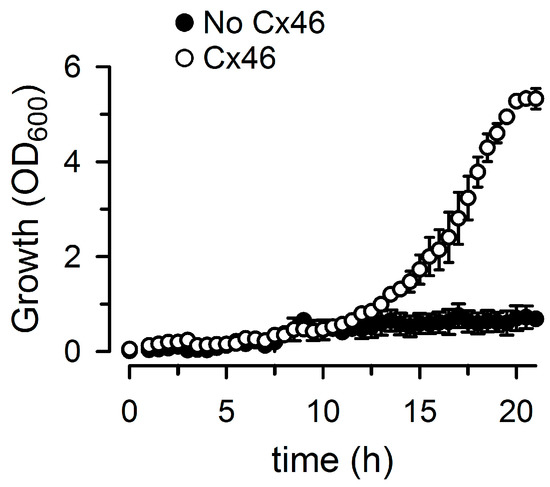 Figure 3.
Growth complementation by Cx46. Time course of the growth complementation by Cx46. LB2003 cells were grown at 30 °C in Na
+
liquid medium (NLM) with 16 mM K
+
and 10 μM isopropyl-β-
d
-thiogalactopyranoside (IPTG). No Cx46: cells transformed with the empty plasmid pQE60; Cx46: cells transformed with the human Cx46 into pQE60. OD
600
: absorbance measured at 600 nm. Data are means ± standard error (SEM) from three independent experiments. SEM smaller than the size of the symbols are not shown.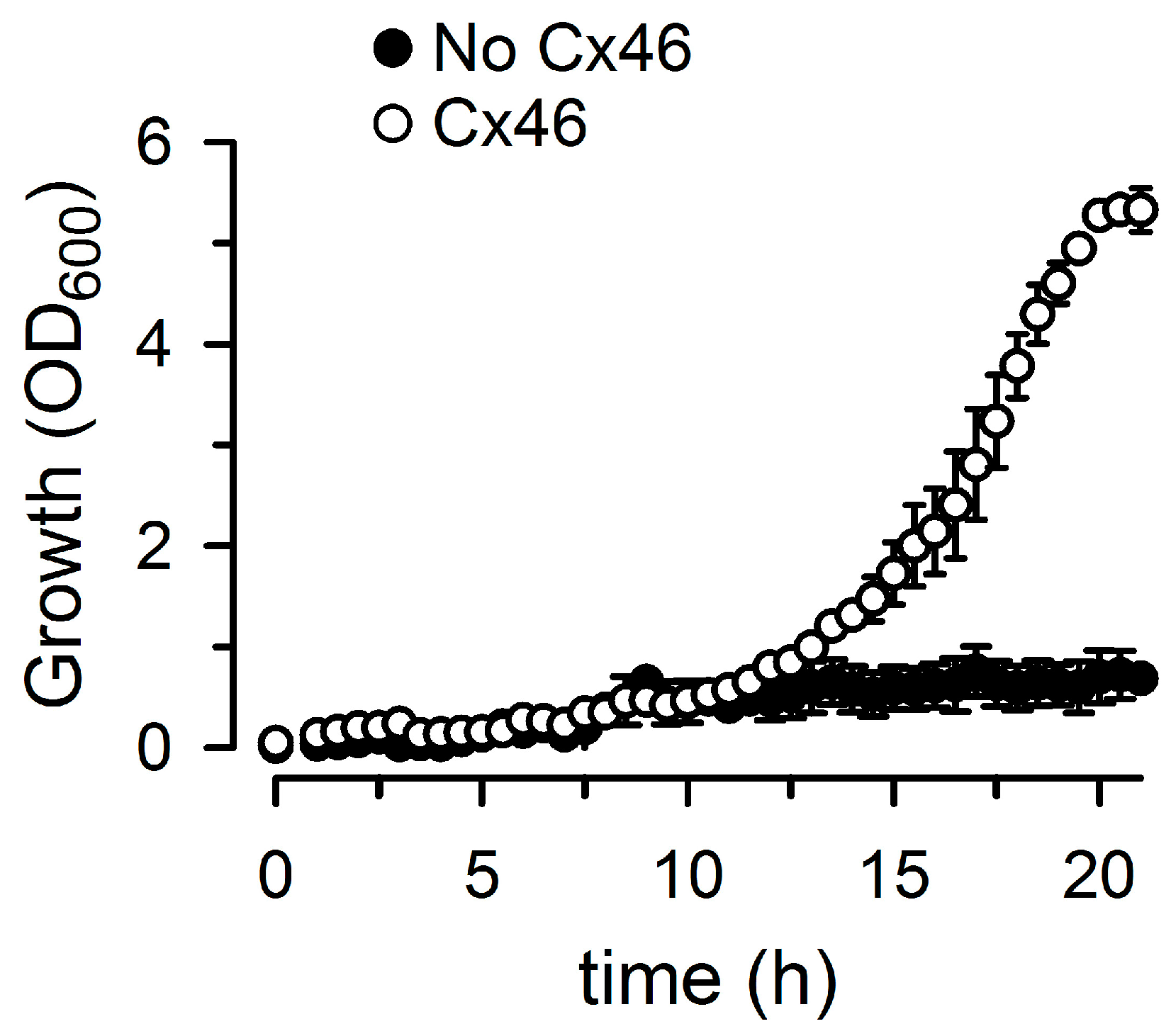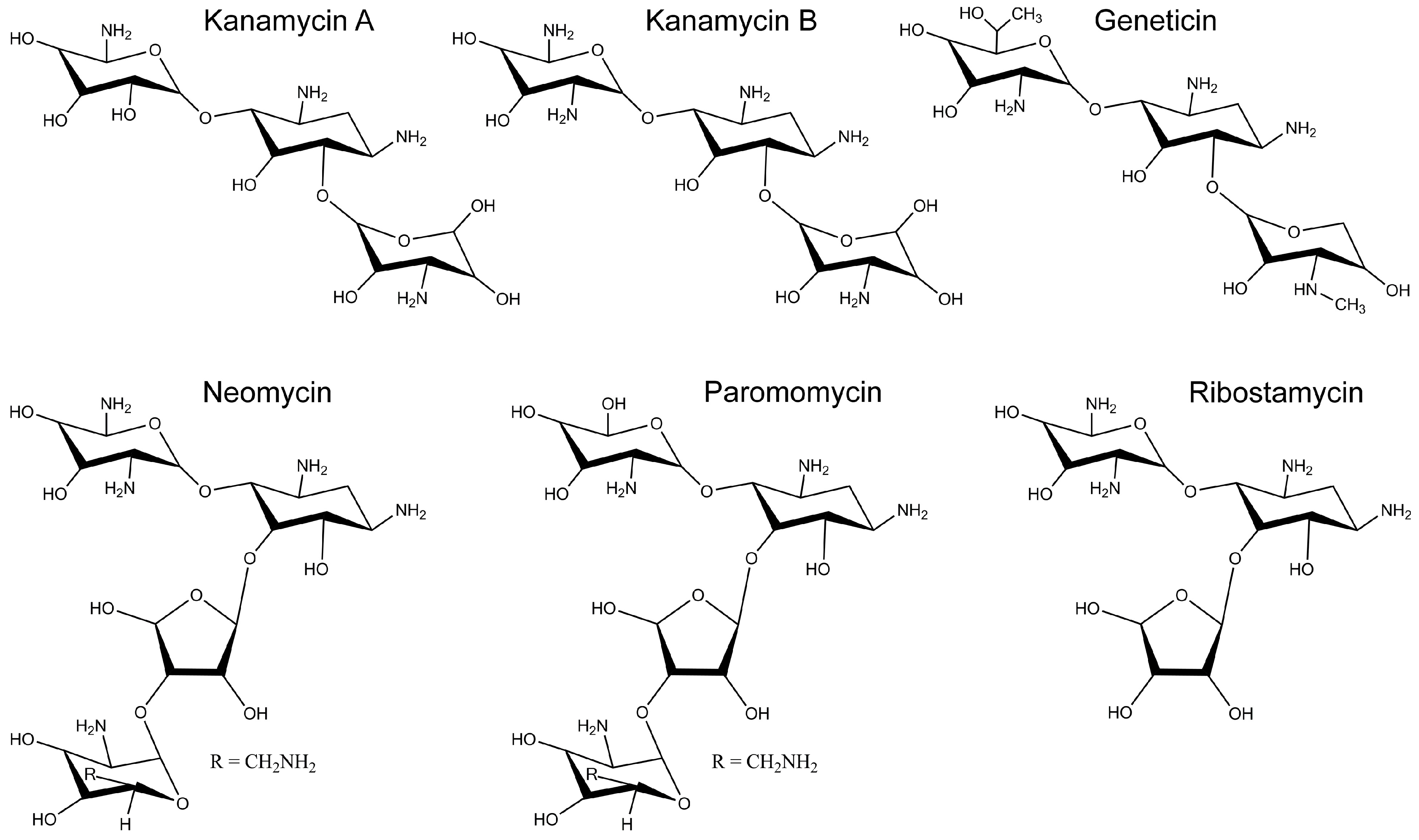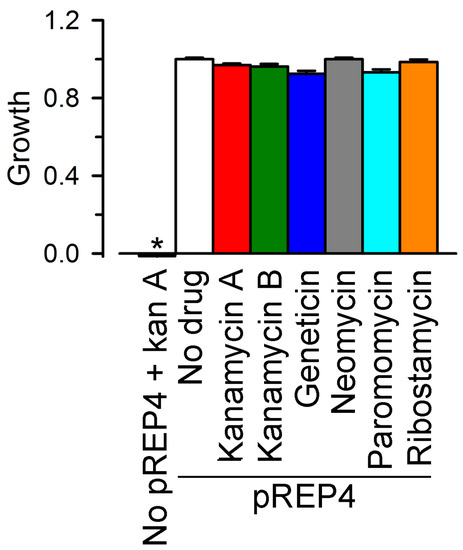 Figure 5.
Absence of aminoglycoside (AG) antibiotic effect in LB2003 cells transformed with the pREP4 plasmid. All drugs were used at a concentration of 100 μM. The cells were grown in K
+
liquid medium (KLM). The pREP4 plasmid carries the neomycin phosphotransferase gene. No pREP4 + kan A: effect of kanamycin A in AG-sensitive cells; all other bars correspond to AG-resistant cells containing the pREP4 plasmid, in the absence (no drug) or presence of the indicated AGs. Data were normalized to the OD
600
of LB2003-pREP4 cells in the absence of drug (5.7 ± 0.1). Data are means ± SEM of three independent experiments (in triplicate) per condition. * denotes a
p
< 0.001 vs. all other groups.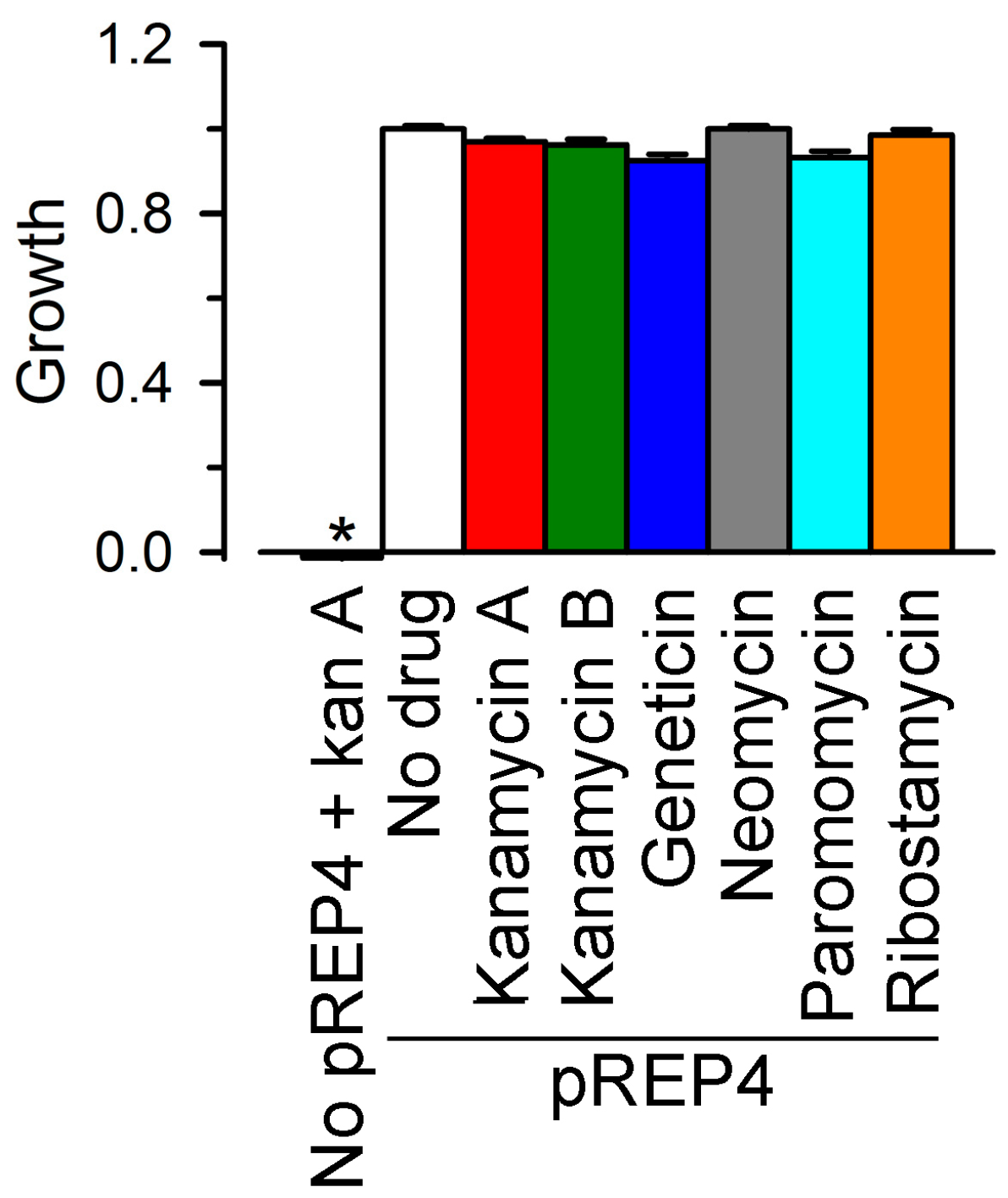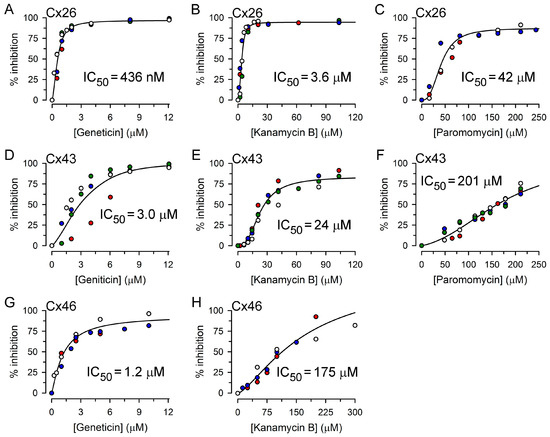 Figure 6.
Inhibition of connexin-dependent growth complementation by kanamycin B, geneticin and paromomycin. (
A
–
C
) Effects on Cx26-dependent complementation. (
D
–
F
) Effects on Cx43-dependent complementation. (
G
,
H
) Effects on Cx46-dependent complementation. Each symbol denotes the average of a triplicate measurement, and each color corresponds to an independent experiment. The lines represent fits of Hill's equation to the data. In all cases, growth inhibition was significant, with a
p
of at least 0.01 vs. growth in the absence of drug.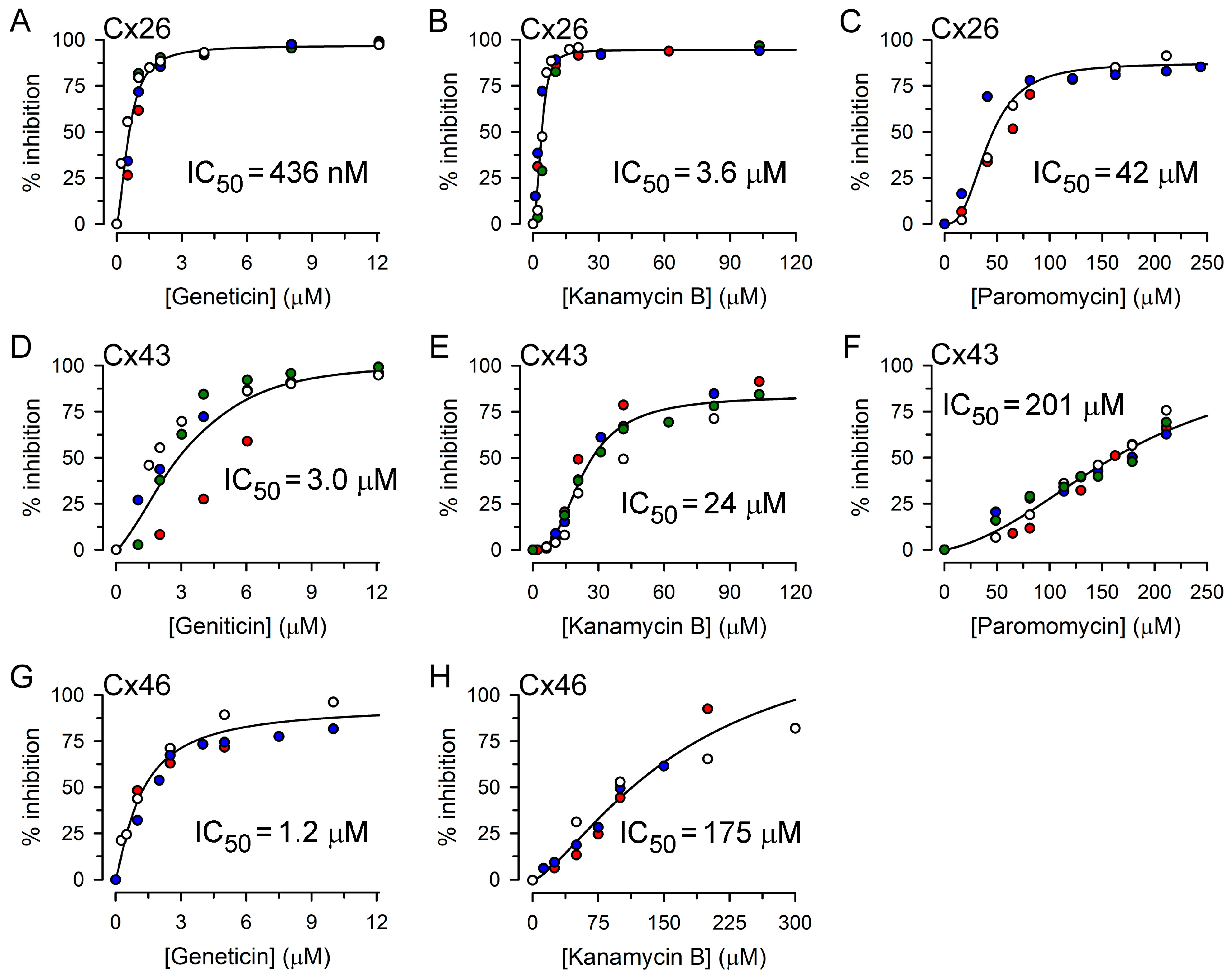 Table 1. Aminoglycoside concentration needed to inhibit growth complementation by 50% (IC50).
Aminoglycoside
Growth Complementation Dependent on
Cx26
Cx43
Cx46
Kanamycin A
11.5 ± 1.8 μM (3)
48 ± 2 μM (4)
112 ± 5 μM (3)
Kanamycin B
3.6 ± 0.9 μM (4)
24 ± 2 μM (4)
175 ± 9 μM (3)
Geneticin
0.44 ± 0.06 μM (5)
3.0 ± 0.8 μM (4)
1.2 ± 0.2 μM (3)
Neomycin
7.4 ± 1.3 μM (5)
45 ± 9 μM (4)
16 ± 2 μM (3)
Paromomycin
42 ± 9 μM (3)
201 ± 17 μM (4)
>200 μM (3)
IC50s were calculated from fittings of Hill's equation to the data. For each group, means ± standard error (SEM) were calculated from triplicate averages of 3–5 independent experiments (in parenthesis). The inhibition of growth complementation was essentially complete (93 ± 3%). Hill coefficients were not statistically different between groups, with a mean ± SEM of 2.1 ± 0.2.

© 2017 by the authors. Licensee MDPI, Basel, Switzerland. This article is an open access article distributed under the terms and conditions of the Creative Commons Attribution (CC BY) license (http://creativecommons.org/licenses/by/4.0/).