Multicenter (FX)n/NH3 Halogen Bonds (X = Cl, Br and
n

= 1–5). QTAIM Descriptors of the Strength of the X∙∙∙N Interaction

1

Laboratorio de Estructura Molecular y Propiedades (LEMYP), Departamento de Química, Facultad de Ciencias Exactas y Naturales y Agrimensura, Universidad Nacional del Nordeste, Avenida Libertad 5460, Corrientes 3400, Argentina

2

Grupo de Investigación en Química Teórica y Experimental (QUITEX), Departamento de Ingeniería Química, Facultad Regional Resistencia, Universidad Tecnológica Nacional, French 414, Resistencia 3500, Argentina

3

Instituto de Química Básica y Aplicada del Nordeste Argentino (IQUIBA-NEA), UNNE-CONICET, Avenida Libertad 5460, Corrientes 3400, Argentina

*

Author to whom correspondence should be addressed.

Received: 10 October 2017 / Revised: 14 November 2017 / Accepted: 14 November 2017 / Published: 22 November 2017
Abstract
In the present work an in depth deep electronic study of multicenter XBs (FX)
n
/NH
3
(X = Cl, Br and n = 1–5) is conducted. The ways in which X∙∙∙X lateral contacts affect the electrostatic or covalent nature of the X∙∙∙N interactions are explored at the CCSD(T)/aug-cc-pVTZ level and in the framework of the quantum theory of atoms in molecules (QTAIM). Calculations show that relatively strong XBs have been found with interaction energies lying between −41 and −90 kJ mol
−1
for chlorine complexes, and between −56 and −113 kJ mol
−1
for bromine complexes. QTAIM parameters reveal that in these complexes: (i) local (kinetics and potential) energy densities measure the ability that the system has to concentrate electron charge density at the intermolecular X∙∙∙N region; (ii) the delocalization indices [δ(A,B)] and the exchange contribution [
V
EX
(X,N)] of the interacting quantum atoms (IQA) scheme, could constitute a quantitative measure of the covalence of these molecular interactions; (iii) both classical electrostatic and quantum exchange show high values, indicating that strong ionic and covalent contributions are not mutually exclusive.
View Full-Text
►

▼

Figures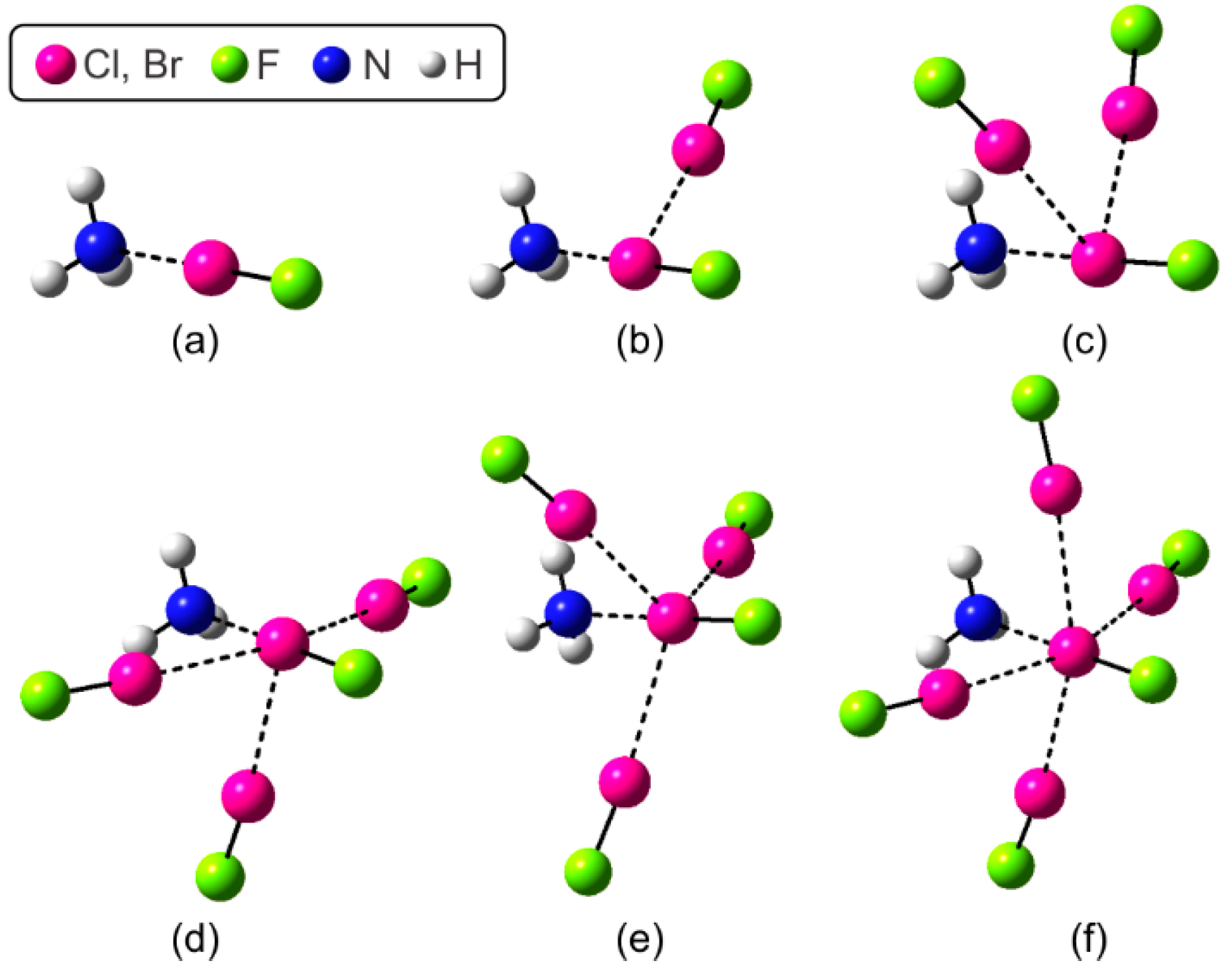 Figure 1
This is an open access article distributed under the
Creative Commons Attribution License
which permits unrestricted use, distribution, and reproduction in any medium, provided the original work is properly cited (CC BY 4.0).

Share & Cite This Article
MDPI and ACS Style
Buralli, G.J.; Petelski, A.N.; Peruchena, N.M.; Sosa, G.L.; Duarte, D.J.R. Multicenter (FX)n/NH3 Halogen Bonds (X = Cl, Br and n = 1–5). QTAIM Descriptors of the Strength of the X∙∙∙N Interaction. Molecules 2017, 22, 2034.
Note that from the first issue of 2016, MDPI journals use article numbers instead of page numbers. See further details here.
Related Articles
Comments
[Return to top]