Open Access This article is
freely available
re-usable
Article
Detection of Rare Somatic
GNAS
Mutation in McCune-Albright Syndrome Using a Novel Peptide Nucleic Acid Probe in a Single Tube
1
Division of Pediatric Endocrinology & Genetics, Chang Gung Memorial Hospital, Linkou, Taoyuan 333, Taiwan
2
School of Medicine, College of Medicine, Chang Gung University, Taoyuan 333, Taiwan
3
Molecular Medicine Research Center, College of Medicine, Chang Gung University, Taoyuan 333, Taiwan
4
Department of Medical Biotechnology and Laboratory Science, College of Medicine, Chang Gung University, Taoyuan 333, Taiwan
5
Department of Thoracic Medicine, Chang Gung Memorial Hospital, Linkou, Taoyuan 333, Taiwan
*
Author to whom correspondence should be addressed.
Received: 29 August 2017 / Accepted: 30 October 2017 / Published: 1 November 2017
Abstract
:
McCune-Albright syndrome (MAS) is characterized by the triad of precocious puberty, café au lait pigmentation, and polyostotic fibrous dysplasia (FD) of bone, and is caused by post-zygotic somatic mutations—R201H or R201C—in the guanine nucleotide binding protein, alpha stimulating (
GNAS
) gene. In the present study, a novel peptide nucleic acid (PNA) probe with fluorescent labeling was designed to detect trace amounts of somatic mutant
GNAS
in a single tube reaction. The method was applied to screen
GNAS
mutations in six patients with MAS/FD. The results showed that the PNA probe assay could detect low abundant mutants in 200-fold excess of wild-type alleles. The
GNAS
mutation was found in three patients with severe disease (MAS) by using the assay. The other three patients with mild disease (having only FD) showed a wild-type result. This study has provided a simple method to detect trace amounts of
GNAS
mutants with high sensitivity in large amounts of wild-type DNA.
Keywords:
peptide nucleic acid probe; sensitive detection; McCune-Albright syndrome;
GNAS
mutation
2. Results
2.1. Assay Design
The PNA probe assay for
GNAS
mutation contained a pair of hybridization probes and a pair of PCR primers. A PNA oligomer was labeled with a fluorescein, and served as both PCR clamp and sensor probe. A DNA oligomer was labeled with a Bodipy 630/650, and served as an anchor probe. The pair of primers generated an amplicon of 284 base pairs (
Figure 1
). The PNA sequence was designed according to the wild-type
GNAS
; hence, it is perfectly complementary to the wild-type allele but has a mismatch to the mutant allele of
GNAS
.
The assay procedure included a PCR program and a melting analysis program on a capillary PCR instrument with a fluorescent detector. During the PCR program, the PNA bound tightly to the wild-type template and hindered its amplification. On the other hand, because of the existence of a mismatch, the PNA bound to the mutant template much more loosely and allowed its amplification. As a consequence, the PNA served as a PCR clamp for wild-type templates, which enriched the mutant products in PCR. During the melting analysis program, the fluorescein on the PNA sensor probe could undergo Forster resonance energy transfer (FRET) with the Bodipy on the DNA anchor probe when both probes were annealed to the
GNAS
fragment. Measuring the FRET fluorescence along with temperature change revealed the association–dissociation status between the PNA sensor probe and the
GNAS
sequence. Further, plotting the negative derivative of the fluorescence over temperature (-dF/dT) against temperature generated melting peaks (as shown in
Figure 2
). The PCR products derived from mutant templates had a lower melting temperature (mutant
T
m
) than that from wild-type templates (wild-type
T
m
), so mutation can be identified through the existence of the mutant melting peak. Therefore, the assay can be completed in a single tube without the need for further manipulation.
In a preliminary experiment using control templates, the wild-type DNA generated a peak at 75 °C, and the mutant DNA at 60 °C. Rare mutant alleles could reveal a mutant peak even in a 200-fold excess of wild-type alleles. In addition, the size of the mutant peak was positively correlated with the amount of mutant allele present. Hence, the assay was also semi-quantitative (
Figure 2
A). To demonstrate the assay specificity, blood samples from 20 healthy individuals were analyzed, and they all showed wild-type results (
Figure 2
B).
2.2. Genotypes Detected by the PNA Probe Assay
DNA samples from six patients with MAS/FD were analyzed for
GNAS
mutation by the PNA probe assay. The existence of mutation was determined through the melting peak profile. The PNA probe assay identified three patients with mutant
GNAS
(
Table 1
). To further demonstrate that the mutant melting peaks came from a disease-causing genotype, the PCR products were sent to Sanger sequencing analysis (shown as "clamping PCR" in
Figure 3
), which confirmed that these "expected mutants" had a point mutation at codon 201. For comparison, the samples were also amplified with conventional PCR without the PNA probe (conventional PCR). Sequencing of the conventional PCR products detected no mutation in the samples.
Figure 3
shows the melting and sequencing results from three of the patients. In this figure, Patients 1 and 3, but not Patient 4, have an R201 mutation. Of the six samples, three (Patients 1–3) from patients with more severe symptoms (having both precocious puberty and FD) had a mutant
GNAS
. Clinical features of Patient 1 are shown in
Supplemental Figure S1
. The other three (Patient 4–6) from patients with mild symptoms (only having FD) showed wild-type results (
Table 1
and
Supplemental Figure S2
).
4. Materials and Methods
4.1. Design of Probes and Primers
A forward primer and a reverse primer were designed to amplify
GNAS
fragments in exon 8. The sensor probe covering the variable region is a 16-mer PNA labeled with a fluorescein at the N-terminus (equivalent to the 5′-end of a DNA oligomer). The anchor probe is a 40-mer DNA labeled with fluorescent dye Bodipy 630/650 at the 3′-end via an OO linker. The design of the primers and the probes were according to a guideline described elsewhere [
14
]. PCR primers and the anchor probe were provided by TIB MOLBIOL (Berlin, Germany). PNA was provided by Applied Biosystems (Forster City, CA, USA). Sequences of primers and probes used in this study are listed in
Table 2
.
4.2. Patients
This study was approved by the Institutional Review Board of Chang Gung Memorial Hospital (with approval number 101-0650A3). After obtaining informed consent, three patients with MAS and three with only FD of bone were screened for mutations of
GNAS
gene in blood. Patients with MAS have characteristics of precocious puberty, café au lait pigmentation, and polyostotic fibrous dysplasia of bone. Patients with only FD of bone do not show precocious puberty. Clinical characteristics of the three patients with MAS are summarized in
Supplemental Materials Table S1
.
4.3. Preparation of Template DNA
Sample DNA was extracted from 200-μL aliquots of whole blood (with EDTA as anticoagulant) using a QIAamp DNA-blood-mini kit (Qiagen). One hundred ng of the eluted DNA was used as PCR template. The control templates were plasmids with the wild-type or the mutant DNA fragment as an insert. Mutant plasmid DNA (0.1 pg) was added into different amounts of wild-type plasmid DNA, generating 100–500 fold wild-type backgrounds. The assay was performed under the conditions described below.
4.4. Detection of GNAS Mutation
The PCR mixture (20 μL) contained 50 mM Tris (pH 8.5), 3 mM MgCl2, 500 μg/mL BSA, 200 μM of each deoxyribonucleoside triphosphate, 0.2 μM forward, 1 μM reverse primers, 0.5 μM PNA sensor probe, 0.5 μM DNA anchor probe, 0.5 U Platinum
Taq
(ThermalFisher Scientific), and templates. The assay was performed on a LightCycler 1.5 or 2.0 (Roche Diagnostics, Mannheim, Germany). The thermal program contained an amplification step and a melting step. The amplification step started with a 3-min denaturation at 95 °C, then ran for 55 cycles as follows: 95 °C for 5 s, 53 °C for 3 s, and 60 °C for 20 s. The melting step was performed after a 30 s denaturation at 95 °C and then decreasing the temperature to 40 °C at ramp rate 0.7 °C/s. The fluorescent signal was detected in channel F2 for the BODIPY labeled probes. To confirm results and determine specific mutation types, PCR products were separated on a 2% agarose gel, eluted, and then sequenced by an automated DNA sequencer.
5. Conclusions
Our study indicated that PNA was not only a good clamp in PCR for enriching rare mutants but also a superior sensor probe for genotyping. Both features make it possible to create a simple and sensitive method to detect trace amounts of
GNAS
mutants in a large amount of wild-type DNA. This method has great potential for the screening of diseases with
GNAS
mutation.
Supplementary Materials
The following are available online. Table S1 Clinical and laboratory findings of three patients with McCune-Albright syndrome. Figure S1 Features of Patient 1. Figure S2 Melting curves of all patients.
Acknowledgments
This study was supported by the grant CMRPG4C0011 from Chang Gung Memorial Hospital, Taoyuan, Taiwan.
Author Contributions
F.-S.L. designed the experiments, collected samples, made the clinical implication of the data, and prepared part of the manuscript. T.-L.C. conducted the experiments and prepared the figures in the manuscript. C.-C.C. designed the experiments and wrote the paper.
Conflicts of Interest
The authors declare no conflict of interest. The founding sponsors had no role in the design of the study; in the collection, analyses, or interpretation of data; in the writing of the manuscript, and in the decision to publish the results.
Sample Availability: Not Available.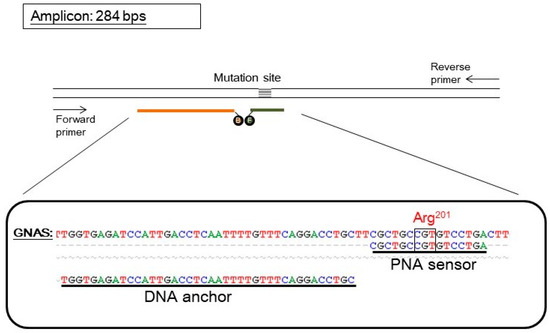 Figure 1.
The design of a PNA probe assay for detecting
GNAS
mutation. The upper part shows the scheme of oligonucleotides. The parallel lines represent a double-stranded DNA fragment of the
GNAS
gene. The pair of arrows represents the forward and reverse primers used in PCR that amplified the
GNAS
gene and generated an amplicon of 284 base pairs (bps). The probe set consisted of a PNA sensor probe (orange line) which covered the mutation site and was labeled with a fluorescein (represented by an "F") and a DNA anchor probe (dark green line) labeled with Bodipy 630/650 (represented by a "B"). The two fluorophores can undergo Foster resonance energy transfer when both probes anneal on the same target
GNAS
fragment. The lower part shows the sequence alignment of wild-type
GNAS
, the PNA sensor probe, and the DNA anchor probe. The mutation site (arg201) is also indicated. For simplicity, the fluorophores are not shown.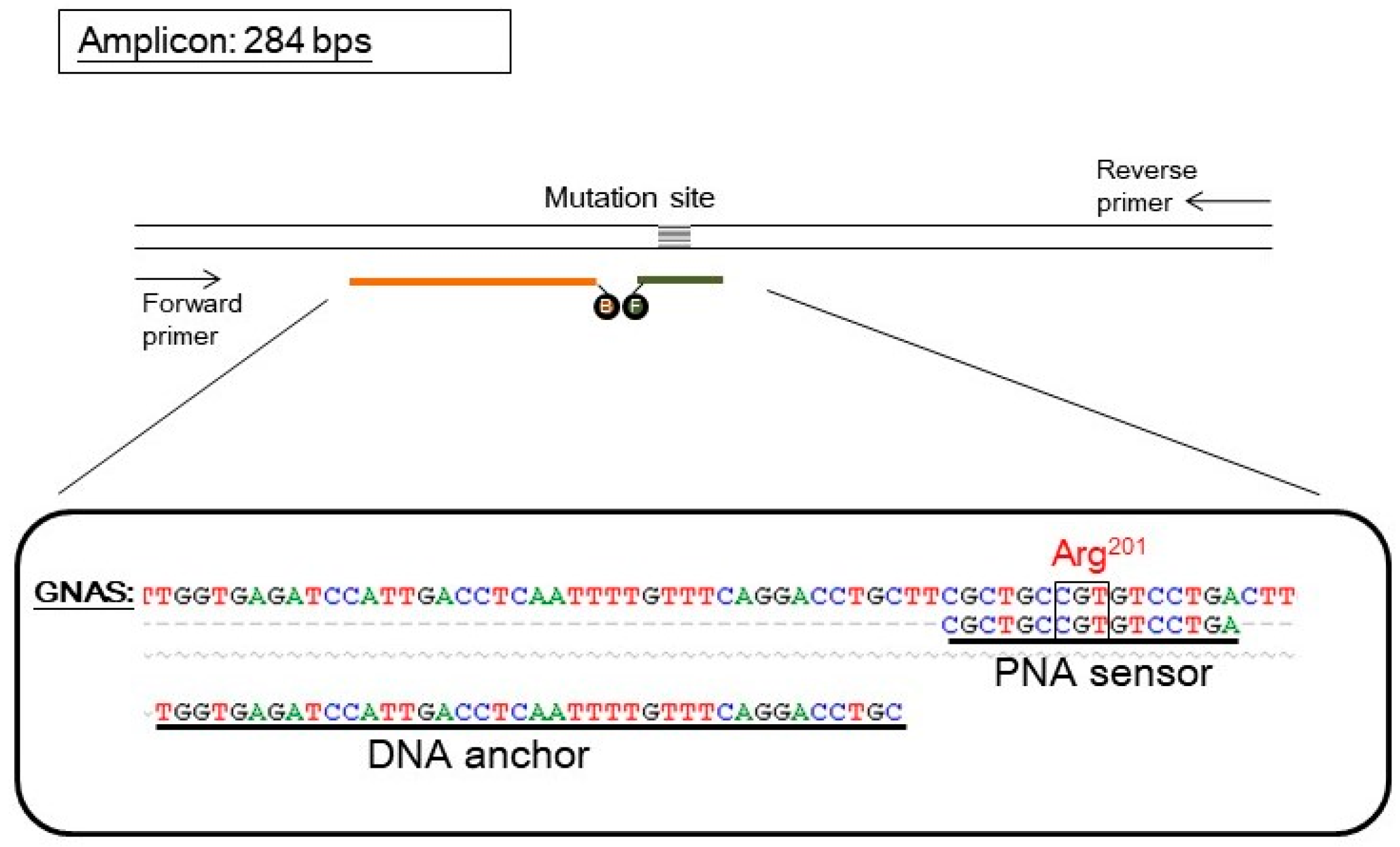 Figure 2.
Performance of the PNA probe assay. The assay generated melting peaks of the PNA/
GNAS
duplex. The PNA probe was perfectly matched with the wild-type
GNAS
, and hence had a peak at higher melting temperature (
T
m
) than the peak from the mismatched mutant
GNAS.
(
A
) Assay sensitivity was determined using control templates. The indicated ratio of mutant and wild-type plasmid DNA were mixed, and the mutant was detected by PNA probe assay. The filled arrowhead indicates the wild-type peak; the open arrowhead indicates the mutant peak; (
B
) Specificity of the assay. DNA (100 ng) from peripheral blood of 20 individuals without McCune–Albright syndrome/fibrous dysplasia (MAS/FD) were analyzed by the PNA probe assay. Only wild-type melting peaks were observed in these samples (green lines). The control reactions were conducted using either 10 pg wild-type plasmid DNA (blue line), 0.1 pg mutant plasmid DNA (red line), or no template (black line). Mut: mutant; NTC: no template control; WT: wild-type.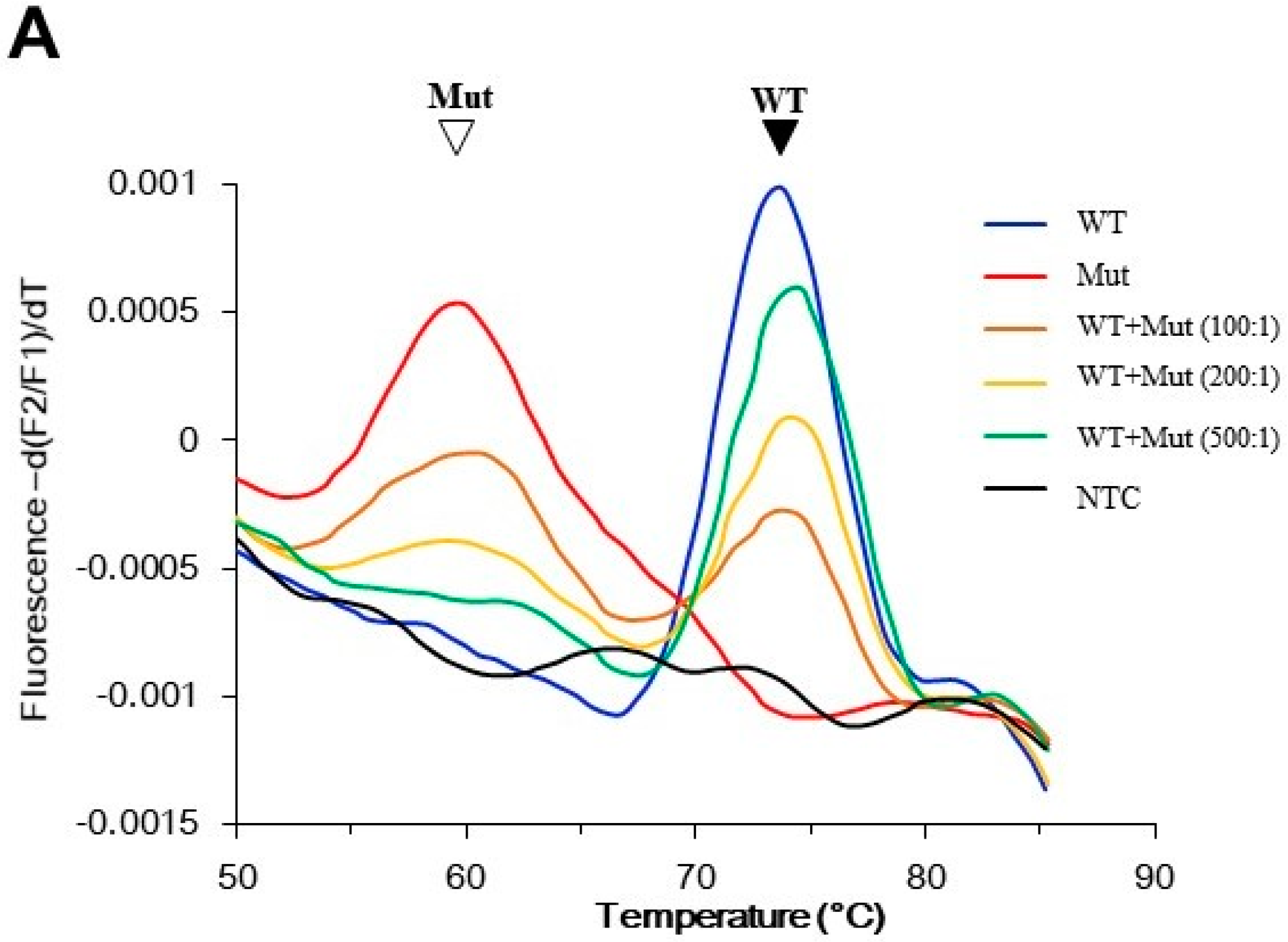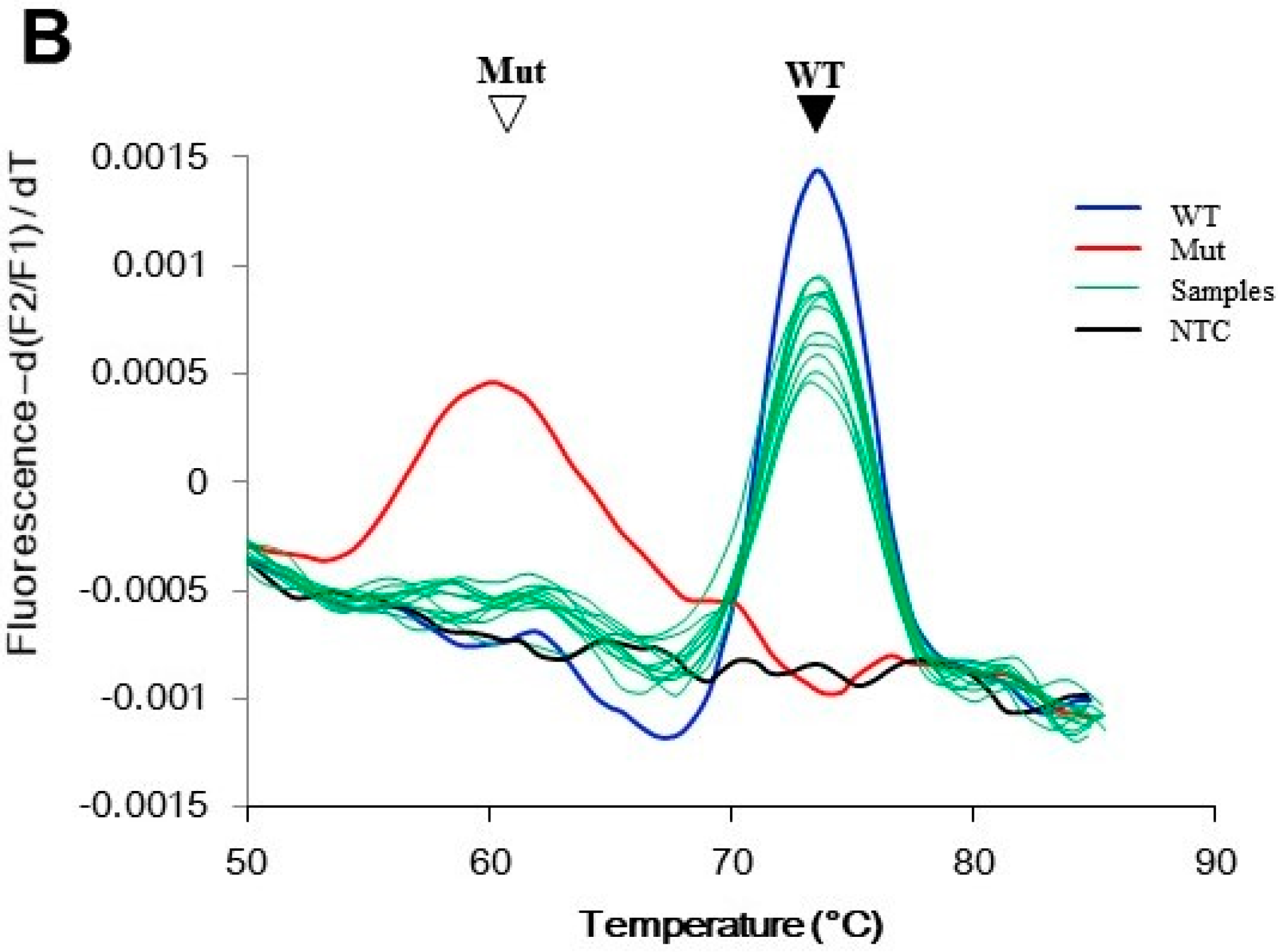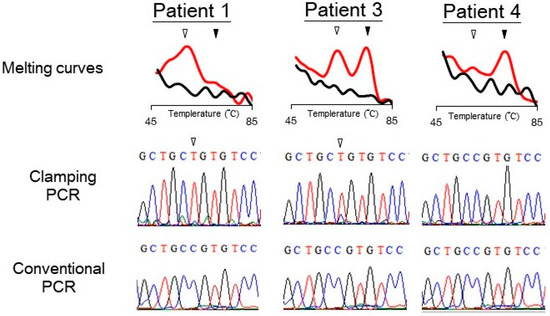 Figure 3.
Typical results of detecting
GNAS
mutation in three patients with suspect McCune–Albright syndrome or fibrous dysplasia. The PNA probe assay generated melting curves of PCR products of the samples (top). The PCR products (marked as clamping PCR) were analyzed by Sanger sequencing (middle). For comparison, sequencing results from PCR products without using PNA probe (marked as conventional PCR) are also shown (bottom). Open arrowheads indicate the position of mutant bases or mutant peaks; filled arrowheads indicate the wild-type peaks.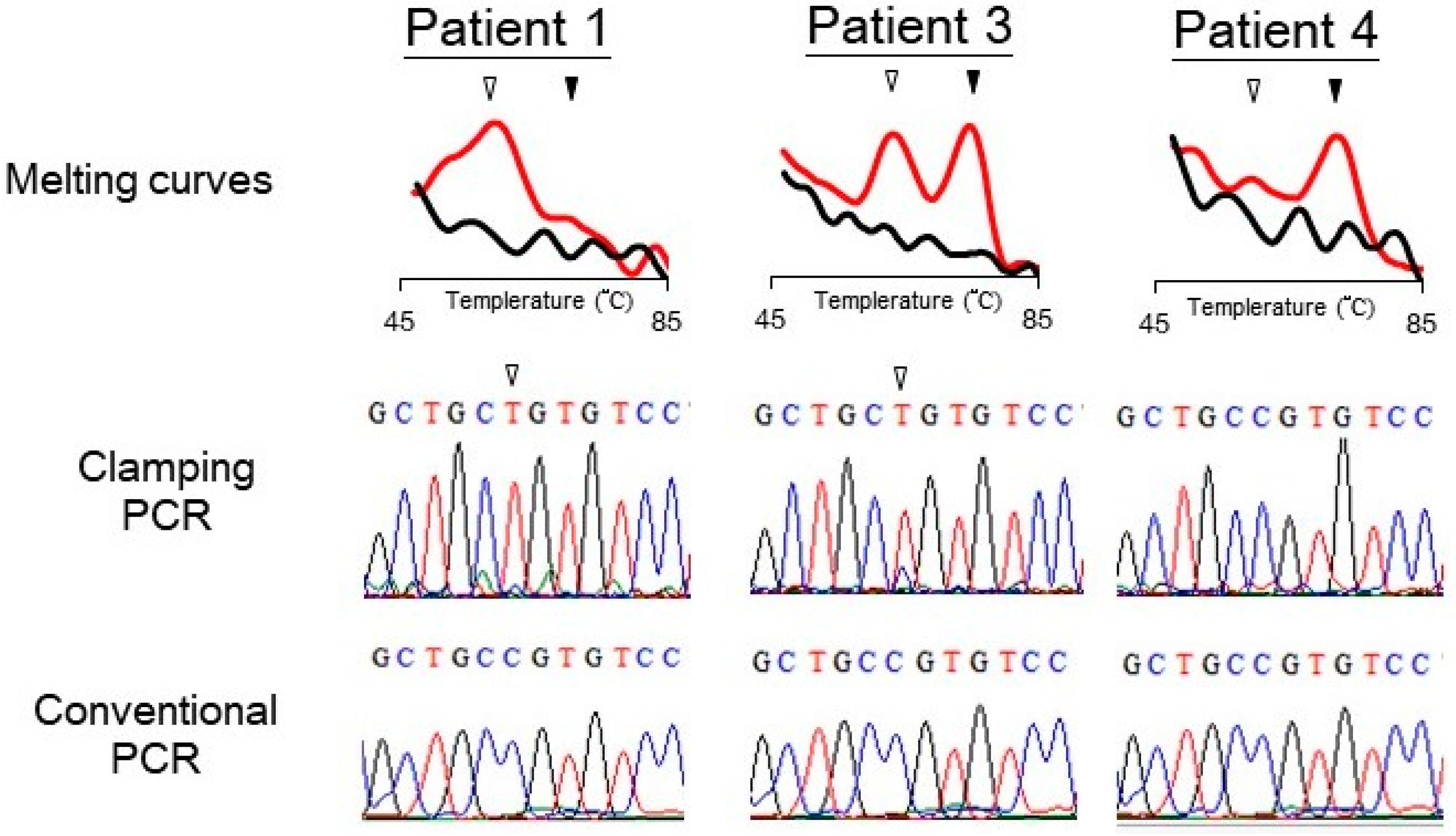 Table 1. Clinical characteristics of six patients with MAS or FD.
Patient
Sex
Age (Year)
PP 1
Café-au-lait Spots
BFD 2

GNAS

Mutations
1
twin A
Female
0.39
+
+
+
+
2
twin B
Female
7.83
+
−
+
+
3
Female
5.28
+
−
+
+
4
Female
11.95
−
+
+
−
5
Male
12.05
−
−
+
−
6
Male
6.25
−
−
+
−
1 PP: precocious puberty; 2 BFD: bone fibrous dysplasia.
Table 2. Primers and probes used in this study.

| Name | Sequence (5′-3′ for DNA or N Terminal to C Terminal for PNA) | Length |
| --- | --- | --- |
| Primers | | |
| Forward | AACTACTCCAGACCTTTGCTTTAGAT | 26 |
| Reverse | CAGCTGGTTATTCCAGAGGGAC | 22 |
| Probes | | |
| PNA sensor | (Fluorescein)-OO-CGCTGCCGTGTCCTGA | 16 |
| DNA anchor | TGGTGAGATCCATTGACCTCAATTTTGTTTCAGGACCTGC-(Bodipy630/650) | 40 |
© 2017 by the authors. Licensee MDPI, Basel, Switzerland. This article is an open access article distributed under the terms and conditions of the Creative Commons Attribution (CC BY) license (http://creativecommons.org/licenses/by/4.0/).