Open Access This article is
freely available
re-usable
Communication
Biophysical Properties and Antiviral Activities of Measles Fusion Protein Derived Peptide Conjugated with 25-Hydroxycholesterol
1
Instituto de Medicina Molecular, Faculdade de Medicina, Universidade de Lisboa, Av. Prof. Egas Moniz, 1649-028 Lisbon, Portugal
2
Center for Host-Pathogen Interaction, Columbia University Medical Center, 701 W. 168th St., New York, NY 10032, USA
3
Department of Pediatrics, Columbia University Medical Center, 701 W. 168th St., New York, NY 10032, USA
*
Authors to whom correspondence should be addressed.
Received: 13 July 2017 / Accepted: 26 October 2017 / Published: 31 October 2017
Abstract
:
Measles virus (MV) infection is re-emerging, despite the availability of an effective vaccine. The mechanism of MV entry into a target cell relies on coordinated action between the MV hemagglutinin (H) receptor binding protein and the fusion envelope glycoprotein (F) which mediates fusion between the viral and cell membranes. Peptides derived from the
C
-terminal heptad repeat (HRC) of F can interfere with this process, blocking MV infection. As previously described, biophysical properties of HRC-derived peptides modulate their antiviral potency. In this work, we characterized a MV peptide fusion inhibitor conjugated to 25-hydroxycholesterol (25HC), a cholesterol derivative with intrinsic antiviral activity, and evaluated its interaction with membrane model systems and human blood cells. The peptide (MV–HC) has a 90% inhibitory concentration (IC
90
) several logs more advantageous than the equivalent peptide bearing a polyethylene glycol (PEG)-cholesterol moiety. In membrane interaction studies, MV–HC shows a preference for pure 1-palmitoyl-2-oleoyl-
sn
-glycero-3-phosphocholine (POPC) monolayers and membranes rich in sphingomyelin, and interacts less with POPC:cholesterol membranes. MV–HC tends to self-aggregate in aqueous solution, in a concentration-dependent manner. Our results suggest that increased membrane interaction dynamicity results from 25HC conjugation, with a concomitant increase in peptide antiviral efficacy.
Keywords:
measles virus; fusion; peptide; 25-hydroxycholesterol
4. Material and Methods
4.1. Reagents
MV–HC (Ac–PPISLERLDVGTNLGNAIAKLEDAKELLESSDQILR–GSGSG–C–25HC) was obtained by custom synthesis (American Peptide Company, Sunnyvale, CA, USA). HEPES, NaCl and DMSO were from Merck (Darmstadt, Germany). POPC (1-palmitoyl-2-oleoyl-
sn
-glycero-3-phosphocholine) and SM (egg sphingomyelin), were purchased from Avanti Polar Lipids (Alabaster, AL, USA), while cholesterol (Chol) and Pluronic F-127 were from Sigma (St. Louis, MO, USA). Biacore sensor chip regeneration reagents, namely, 3-[(3-cholamidopropyl)dimethylammonio]-1-propanesulfonate (CHAPS) and methanol, were also purchased from Sigma. The fluorescent probes 8-anilino-1-naphthalenesulfonic acid (ANS) and 4-(2-[6-(dioctylamino)-2-naphthalenyl]ethenyl)-1-(3-sulfopropyl)pyridinium inner salt (di-8-ANEPPS) were from Merck (Darmstadt, Germany) and Invitrogen (Carlsbad, CA, USA), respectively. Lymphoprep was from Axis-Shield (Oslo, Norway).
The genes of MV IC323 wt H and wt F were codon optimized, synthesized and subcloned into the mammalian expression vector pCAGGS. The construct for SLAM was commercially acquired.
4.2. Sample Preparation
The lyophilized peptide was solubilized in DMSO up to 40 mg/mL, sonicated in a water bath for 5 min, and stored at −20 °C. Working peptide samples at defined final concentrations were solubilized from stock solutions in 10 mM HEPES 150 mM NaCl buffer, pH 7.4. The final DMSO content was maintained at 2% (
v
/
v
) in all experiments. Working peptide samples were sonicated in an ultrasonic bath for 2 to 5 min before use.
Small unilamellar vesicles (SUV) were prepared as previously described [
81
]. The lipid mixture was first solubilized in chloroform in a round-bottom flask. The solvent was evaporated under nitrogen flow until a thin lipid film was formed on the flask wall. The lipid film was further dried under vacuum overnight. A multilamellar vesicles (MLV) suspension was obtained after rehydration with the sample buffer and a series of 10 freeze–thaw cycles. The MLV suspension was extruded through a 50 nm-pore-size Nuclepore polycarbonate membrane purchased from Whatman/GE Healthcare (Maidstone, UK) using a LiposoFast-Basic plus Stabilizer setup from Avestin (Mannheim, Germany). This allowed the reorganization of MLVs into SUV. POPC, POPC:Chol (2:1), and POPC:Chol:SM (1:1:1) mixtures were prepared.
4.3. Surface Plasmon Resonance
For surface plasmon resonance (SPR) measurements, 10 mM HEPES 150 mM NaCl, pH 7.4, with 2% (
v
/
v
) DMSO was used as running buffer to match the peptide and lipid sample buffer composition. Experiments were performed in a GE Healthcare Biacore X100 (GE Healthcare Life Sciences, Buckinghamshire, UK). The system was primed at least three times with running buffer before starting an experiment. L1 sensor chips, designed for lipid binding assays, were used in all experiments. Immediately before each assay, the sensor chip surface was rinsed with three injections of 20 mM CHAPS. To prepare the lipid surface, a 1 mM POPC, POPC:Chol (2:1) or POPC:Chol:SM (1:1:1) SUV sample was injected over the sensor chip at a 2 µL/min flow speed for 2400 s (40 min). Loosely bound vesicles were removed with a 36 s injection of 10 mM NaOH, at 50 µL/min. MV–HC samples, with concentrations between 1 and 30 µM, were injected over the deposited lipid surface at a 5 µL/min flow speed during 200 s. Each sample was allowed a 600 s (10 min) unbinding time after injection stopped. After each run, the sensor chip surface was regenerated with sequential injections of 20 mM CHAPS (5 µL/min for 60 s), 0.5% (
w
/
v
) SDS (5 µL/min for 60 s), 10 mM NaOH with 20% (v/v) methanol (50 µL/min for 36 s), and 10 mM NaOH (50 µL/min for 36 s). Response values were monitored to ensure effective surface regeneration. To analyze the SPR membrane interaction data, the SUV deposition on the sensor chip surface and the response values for peptide binding to lipid were converted into units of moles per area and used to calculate the respective peptide-to-lipid molar ratio. To perform these calculations, we considered 1 response unit (RU) to be approximately 1 pg/mm
2
of peptide or lipid, as previously described [
82
].
4.4. Membrane Dipole Potential Assessment with Di-8-ANEPPS
Human blood samples were obtained from healthy volunteers, with their previous written informed consent, at Instituto Português do Sangue (Lisbon, Portugal), as approved by the joint Ethics Committee of Faculdade de Medicina da Universidade de Lisboa and Santa Maria Hospital. Isolation of erythrocytes and peripheral blood mononuclear cells (PBMC), as well as the labeling of these cells with di-8-ANEPPS, were performed as previously described [
66
,
67
]. In the case of erythrocyte isolation, blood samples were centrifuged at 1200×
g
during 10 min to remove plasma and the buffy-coat. Erythrocytes were washed twice with the working buffer and then incubated at a 1% suspension in buffer supplemented with 0.05% (
m
/
v
) Pluronic F-127 (Sigma) and di-8-ANEPPS 10 µM. PBMC were isolated by density gradient using Lymphoprep and counted in a MOXI Z Mini Automated Cell Counter (Orflo Technologies, Ketchum, ID, USA). They were then incubated at a density of 3000 cells/mL in Pluronic-supplemented buffer with di-8-ANEPPS. Cells were incubated with the fluorescent probe during 1 h at room temperature, with gentle agitation, protected from light. Unbound probe was washed with Pluronic-free buffer on two centrifugation cycles.
4.5. ANS Fluorescence Studies
For the peptide aggregation studies, a 12.8 μM 8-anilinonaphthalene-1-sulfonic acid (ANS) solution was titrated with the MV–HC peptide up to final concentrations between 0 and 40 μM. For each sample, fluorescence emission spectra were collected between 400 and 600 nm (excitation wavelength = 369 nm) in a Varian Cary Eclipse fluorescence spectrophotometer (Mulgrave, Australia). Excitation and emission slits were 5 and 10 nm, respectively. A 10 min incubation time was allowed before each measurement. The fluorescence emission intensity values were corrected for dilution and background noise. The maximum emission wavelength, λ
max
, and the spectrum integral, [
I
F
(λ)], were determined for each spectrum.
4.6. Dynamic Light Scattering
For dynamic light scattering (DLS), MV–HC peptide solutions with concentrations ranging from 1 to 30 μM were prepared as described above and incubated at 25 °C for 5 min before each measurement of particle size. Measurements were performed on a Malvern Zetasizer Nano ZS (Malvern Instruments, Malvern, UK) and consisted of 15 individual runs, each corresponding to an averaged autocorrelation curve obtained from at least 12 repeated sample scans. The diffusion coefficient (D) values were calculated from autocorrelation curves using a CONTIN-based method [
85
]. D values were used to determine averaged hydrodynamic diameter (D
H
) profiles through the Stokes–Einstein equation [
86
].
4.7. Cells
293T cells (human kidney epithelial cells) were grown in Dulbecco's modified Eagle's medium (DMEM) (GIBCO; Invitrogen, Carlsbad, CA, USA) supplemented with 10% fetal bovine serum and antibiotics, in 5% CO2. The Vero-SLAM culture medium was supplemented with geneticin.
4.8. Transient Expression of H and F Genes
Transfections were performed in 293T cells according to the Lipofectamine 2000 manufacturer's protocols (Invitrogen, Carlsbad, CA, USA).
4.9. β-Galactosidase Complementation-Based Fusion Assay
4.10. Data Analysis
The fitting of the experimental data with the equations mentioned in this article was done by non-linear regression using Prism 5 (GraphPad Software, La Jolla, CA, USA). Error bars on data presentation represent the standard error of mean (SEM).
Acknowledgments
This work was supported by Fundação para a Ciência e Tecnologia—Ministério da Ciência, Tecnologia e Ensino Superior (FCT-MCTES, Portugal) grant PTDC/BBB-BQB/3494/2014, and NIH AI119762, AI121349, and NS091263 to M.P. B.G. also acknowledges FCT-MCTES fellowship SPRH/BD/52431/2013.
Author contributions
B.G. conducted the biophysical experiments, analyzed the results, and wrote the manuscript. M.P. conducted the fusion assay. N.C.S. and M.P. conceived the idea for the project and wrote the manuscript with B.G. All authors contributed for the final version of the manuscript.
Conflicts of Interest
The authors declare no conflict of interest.
Sample Availability: Samples of the compounds are not available from the authors.
Figure 1.
Proposed fusion inhibition mechanism of the MV–HC peptide. Peptides derived from the HRC domain of F can potently inhibit MV infection by binding to the HRN domain, after the fusion peptide inserts into the target cell, preventing the fusion between viral and cell membranes (adapted from [
37
,
53
]). For the sake of simplicity, the H protein is not represented in the diagram. The HRN and HRC domains, as well as the MV–HC peptide, are not represented up to scale relative to the full length of the protein or the thickness of the bilayer.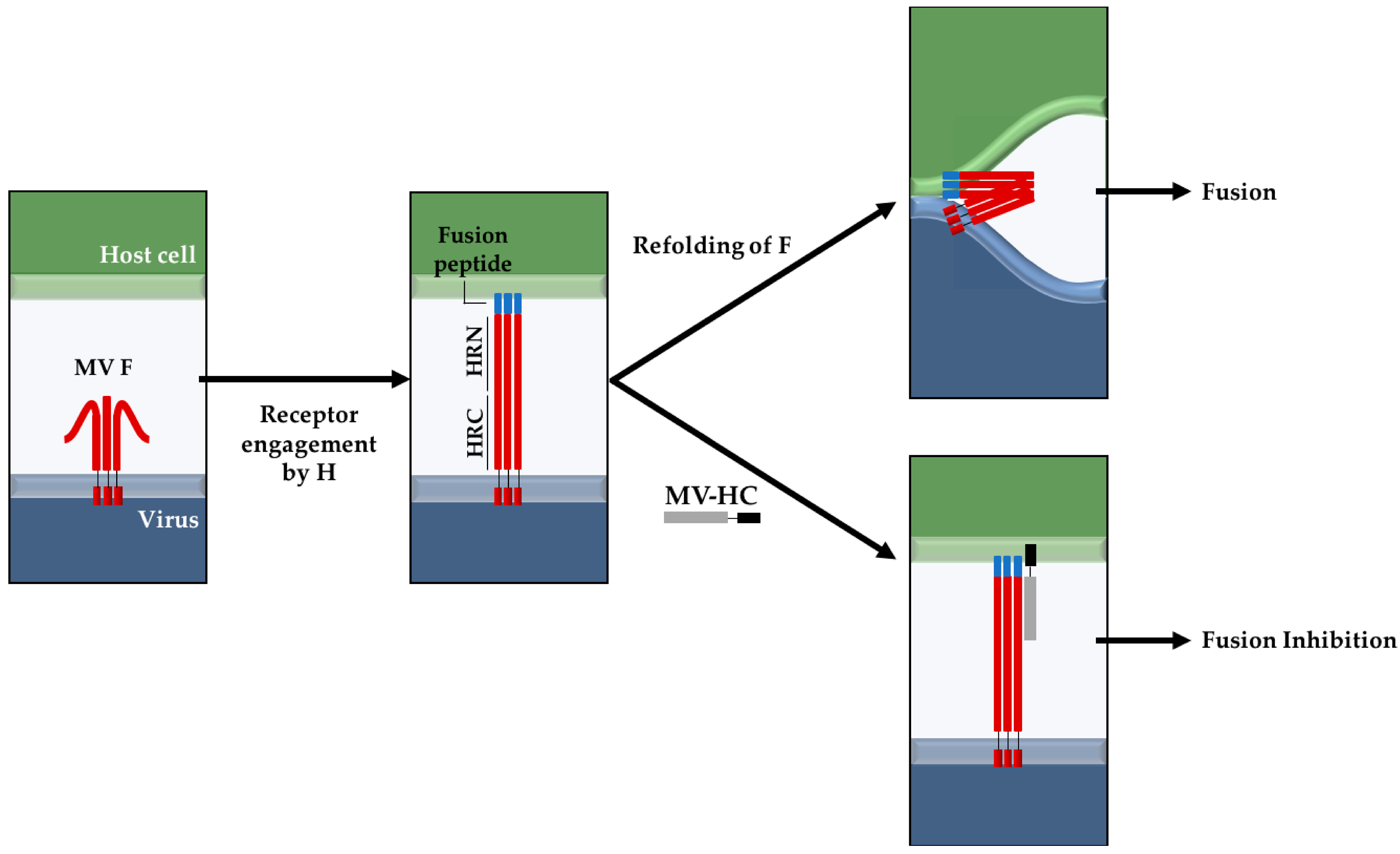 Figure 2. Evaluation of MV–HC peptide interaction with membranes. SPR sensorgrams obtained for MV–HC in the presence of POPC, POPC:Chol = 2:1 or POPC:Chol:SM = 1:1:1 membranes (1 mM). A range of peptide concentrations (1–30 µM) was injected over the deposited vesicles.

Figure 3.
Average peptide-to-lipid ratios (mol(P)/mol(L)). The ratios were calculated using the sensorgrams' maximum binding response, as a function of peptide concentration, for its interaction with deposited POPC (solid circles), POPC:Chol (2:1) (solid triangle) and POPC:Chol:SM (1:1:1) (open circle) SUV. Peptide binding and SUV capture response values were retrieved from individual sensorgrams at specific reporting time points. Molar ratio values were calculated based on the relationship 1 RU to 1 pg/mm
2
of bound peptide or lipid [
65
].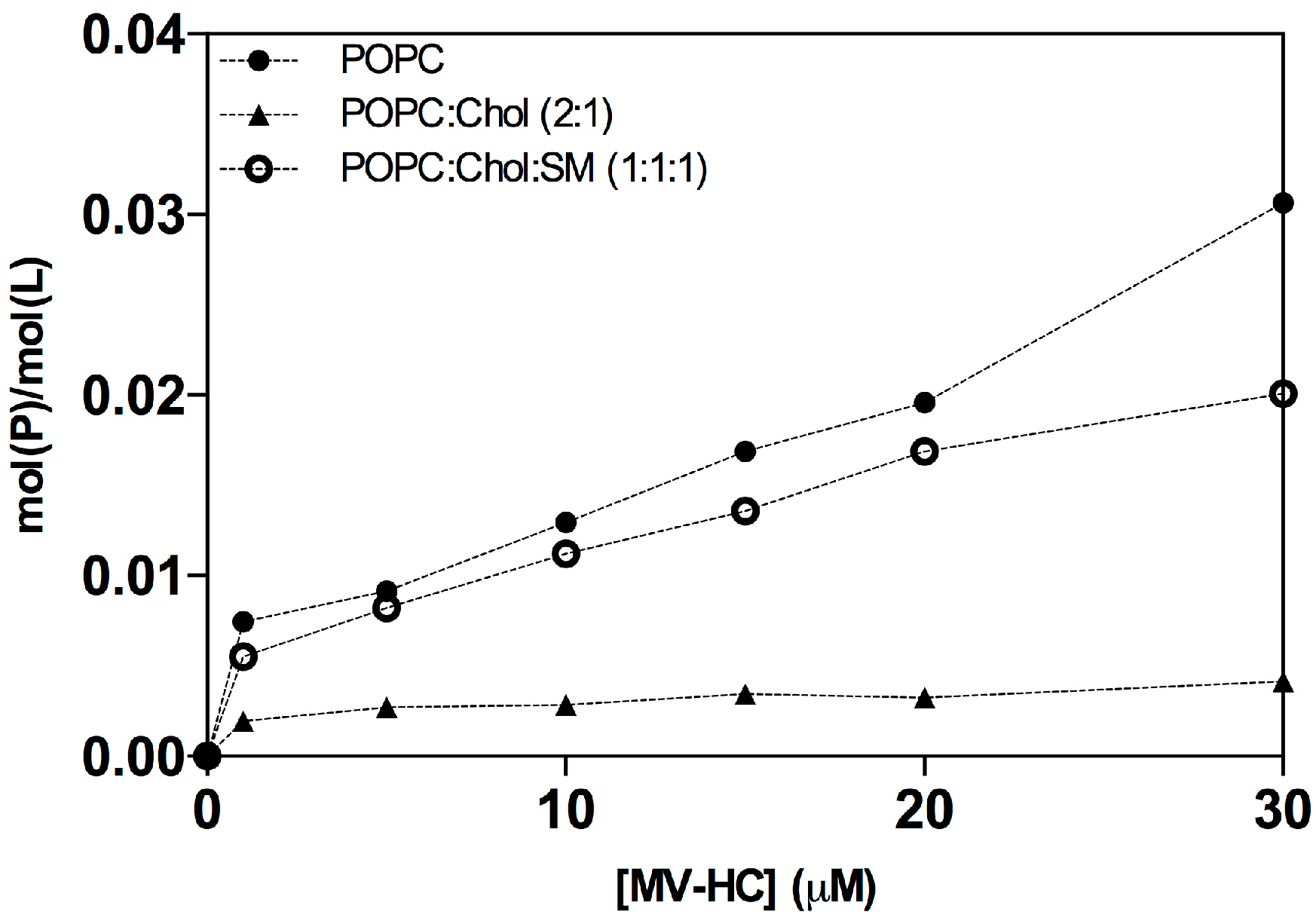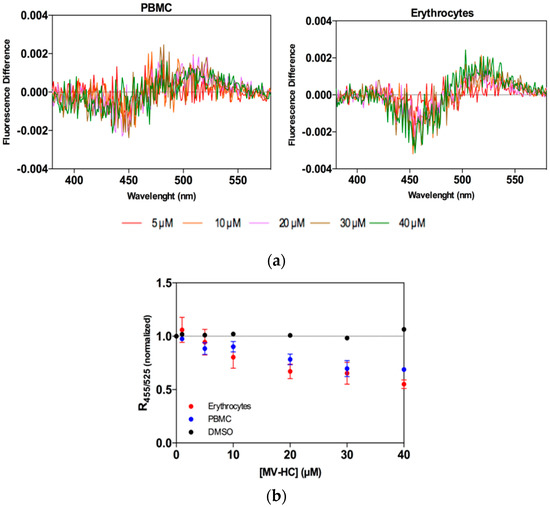 Figure 4. Peptide affinity towards erythrocytes and PBMC assessed by di-8-ANEPPS fluorescence: (a) Differential spectra of di-8-ANEPPS bound to cells in the presence of a range of concentrations of MV–HC. Spectra were obtained by subtracting the excitation spectrum (normalized to the integrated areas) of labeled cells in the absence of peptide from those in its presence (different concentrations); (b) Binding profiles of MV–HC to erythrocytes and PBMC, obtained by plotting the di-8-ANEPPS excitation ratio, R455/525, normalized to the initial value, as a function of the peptide concentration.
Figure 5. Aggregation of MV–HC evaluated by ANS fluorescence properties. The fluorescence emission maximum wavelength (λmax) (a); and the fluorescence intensity spectrum integral (Σ [IF(λ)]) (b) were plotted as a function of MV–HC concentration.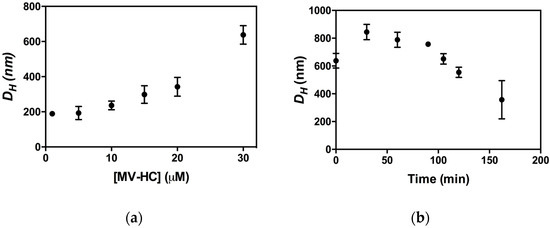 Figure 6. Aggregation of MV–HC evaluated by DLS: (a) average hydrodynamic diameter (DH) of the aggregates obtained at different MV–HC concentrations (time = 0 min); and (b) DH values of MV–HC 30 μM followed over time.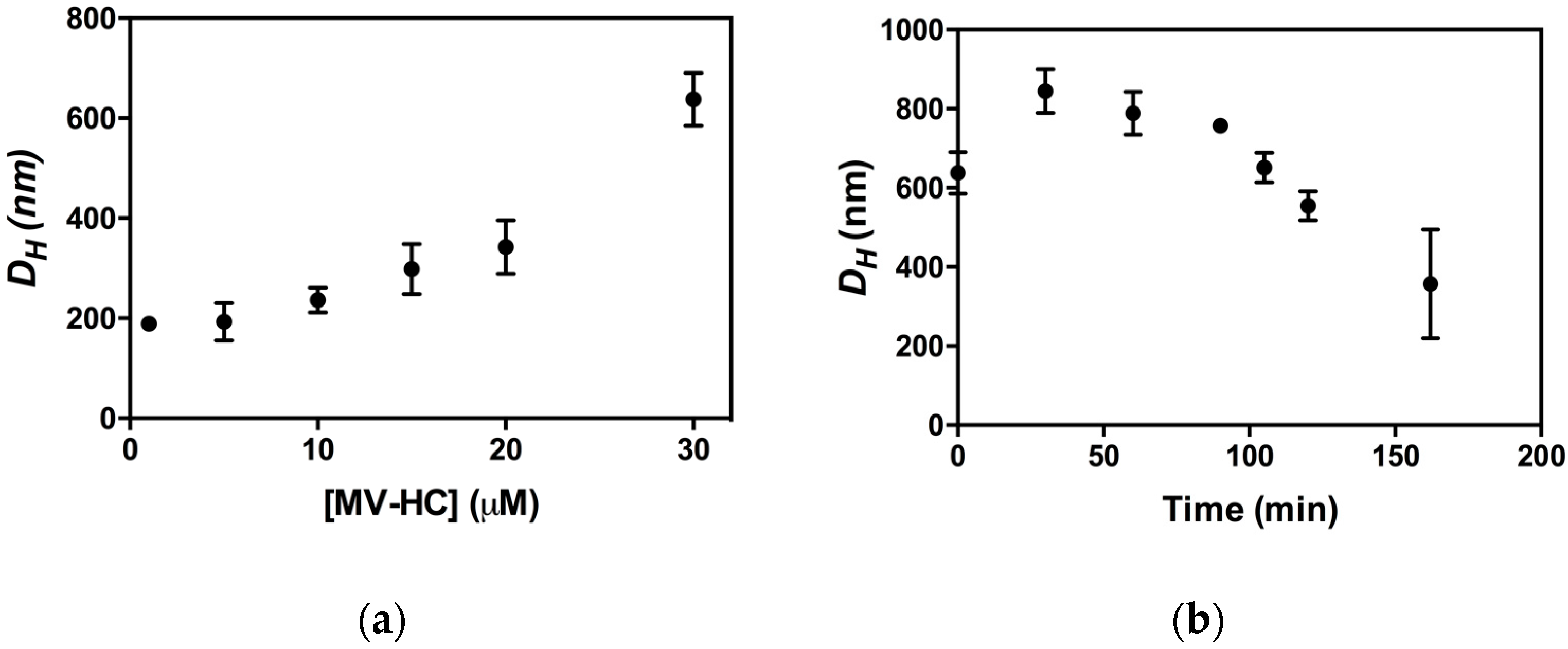 Table 1. Sequences and modifications of MV HRC derived peptides.

| Peptide | Sequences and Modifications |
| --- | --- |
| MV HRC1 a | Ac–PPISLERLDVGTNLGNAIAKLEDAKELLESSDQILR-GSGSG–C–(CH2CONH2) |
| MV HRC2 a | Ac–PPISLERLDVGTNLGNAIAKLEDAKELLESSDQILR–GSGSG–C–(PEG4–Chol) |
| MV–HC | Ac–PPISLERLDVGTNLGNAIAKLEDAKELLESSDQILR–GSGSG–C–(25HC) |
Table 2. Fusion inhibition activity, at 24 h, of MV HRC derived peptides.
Peptide
Fusion Inhibition
IC50 (μM)
IC90 (μM)
MV HRC1 a
>10
>10
MV HRC2 a
0.05 ± 0.01
~10
MV–HC
0.07 ± 0.005
~0.3
© 2017 by the authors. Licensee MDPI, Basel, Switzerland. This article is an open access article distributed under the terms and conditions of the Creative Commons Attribution (CC BY) license (http://creativecommons.org/licenses/by/4.0/).