Open Access This article is
freely available
re-usable
Review
How Signaling Molecules Regulate Tumor Microenvironment: Parallels to Wound Repair
1
Department for Biomedical Research, East-Slovak Institute of Cardiovascular Diseases, Inc., 040 11 Košice, Slovakia
2
Department of Pharmacology, Faculty of Medicine, Pavol Jozef Šafárik University, 040 11 Košice, Slovakia
3
Department of Pharmacognosy and Botany, Faculty of Pharmacy, Comenius University, 832 32 Bratislava, Slovakia
4
Institute of Anatomy, 1st Faculty of Medicine, Charles University, 128 00 Prague, Czech Republic
5
Department of Otorhinolaryngology and Head and Neck Surgery, 1st Faculty of Medicine, Charles University and University Hospital Motol, 150 06 Prague, Czech Republic
6
BIOCEV, 252 50 Vestec, Czech Republic
*
Authors to whom correspondence should be addressed.
Received: 21 September 2017 / Accepted: 20 October 2017 / Published: 26 October 2017
Abstract
:
It is now suggested that the inhibition of biological programs that are associated with the tumor microenvironment may be critical to the diagnostics, prevention and treatment of cancer. On the other hand, a suitable wound microenvironment would accelerate tissue repair and prevent extensive scar formation. In the present review paper, we define key signaling molecules (growth factors, cytokines, chemokines, and galectins) involved in the formation of the tumor microenvironment that decrease overall survival and increase drug resistance in cancer suffering patients. Additional attention will also be given to show whether targeted modulation of these regulators promote tissue regeneration and wound management. Whole-genome transcriptome profiling, in vitro and animal experiments revealed that interleukin 6, interleukin 8, chemokine (C-X-C motif) ligand 1, galectin-1, and selected proteins of the extracellular matrix (e.g., fibronectin) do have similar regulation during wound healing and tumor growth. Published data demonstrate remarkable similarities between the tumor and wound microenvironments. Therefore, tailor made manipulation of cancer stroma can have important therapeutic consequences. Moreover, better understanding of cancer cell-stroma interaction can help to improve wound healing by supporting granulation tissue formation and process of reepithelization of extensive and chronic wounds as well as prevention of hypertrophic scars and formation of keloids.
Keywords:
tissue repair; cancer; stem cell; galectin; cytokine
1. Introduction
The main reason of limited efficiency of conservative treatment of advanced malignancies is based on the elimination of quickly proliferating cancer cells [
1
,
2
] and/or decrease of tumor invasiveness [
3
]. However, by using this approach we are not able to attack slowly dividing progenitors and cancer stem cells protected by a niche that is called the tumor microenvironment (TME). Although, a growing body of evidence has revealed that the TME differs distinctly from the corresponding normal tissue stroma, remarkable similarities between the connective tissue reaction in wounds and in tumors have been reported by Harold Dvorak's article "Tumors: wounds that do not heal" published already 30 years ago [
4
]. Further studies comparing tissue repair and regeneration with aspects of malignancy revealed that these two process cascades do have even more in common (
Table 1
) [
5
,
6
,
7
].
However, a healing wound represents an exact opposite biological situation. Lack of stem cells and premature differentiation of stem cells present in wounds extends the healing period and in several cases, may lead to extensive scar formation. Furthermore, chronic wounds are characterized by a deficiency of growth factors, thus an optimal treatment should convert the wound environment from a chronic to an acute state [
8
]. Therefore, the therapeutic strategy of both pathologies calls for a complex approach including modulation of the wound/tumor microenvironments.
Hence, in this review an attempt was made to identify factors associated with tumor growth and spreading with potential implications in wound healing management. In this aspect, it is well known that fibroblasts play the key role in the formation of tumor stroma and/or granulation tissue [
5
,
9
,
10
,
11
]. Remarkable is their ability to differentiate into myofibroblasts, which play an important role in wound contraction [
12
] and significantly modulate biological properties of tumors [
11
]. Although, fibroblasts secrete several growth factors (e.g., insulin-like growth factor 2, bone morphogenetic protein 4), cytokines (e.g., interleukin 6), chemokines (e.g., chemokine (C-X-C motif) ligand 1 (CXCL1), interleukin 8 (IL-8)) as well as important structural macromolecules (collagen, fibronectin, tenascin) forming the extracellular matrix (ECM), existing anti-tumor therapies are mainly focused on the possibility to modulate the incipient cancer cells which has not resulted in significantly improved survival [
2
,
6
].
2. Tumor Microenvironment
The TME contributes to the development and metastasis of tumors and thus has become a new emerging concept in tumor research and therapeutic strategy (
Table 2
). TME is composed of cellular (
Figure 1
) and non-cellular components, i.e., the ECM [
13
]. Multiple different cell types comprise the cellular compartment of the TME: (i) cells that are present in the normal tissue before tumor development; (ii) cells that are recruited to the tumor-associated stroma from distal sites (i.e., the circulation or bone marrow cells).
The first type is largely comprised of local mesenchyme as one of sources of cancer-associated fibroblasts (CAFs) and endothelial cells (ECs), whereas the second type of cells is largely comprised of immune/inflammatory cells, including T- and B-cells, macrophages, neutrophils, mast cells, and other bone marrow-derived cells including mesenchymal stem cells [
7
,
14
]. A growing body of evidence has revealed that the TME differs distinctly from the corresponding normal stroma. Rather than a "bystander", the TME acts as an active participant in a constant conversation with the tumor. Evidence suggests that there is close link between tumor cells and their TME. Macrophages, CAFs, ECs, and other types of stromal cells control and alter the TME by inducing changes facilitating the tumor cells' local and distant dissemination. Moreover, these non-neoplastic cells can change their phenotype upon soluble or physical contact-mediated stimulation by tumor cells towards a tumor-promoting one [
15
,
16
,
17
].
Apart from CAFs, ECM matrices induce multiple dynamic interactions with endothelial cells and stimulate the transduction of signals by cross-linking integrin receptors on endothelial cells. Initially viewed as merely a physical barrier, the ECM is now recognized as having a profound effect on the angiogenic phenotype. However, the integrated regulatory mechanism of microvascular endothelial cell response to ECM and angiogenic factors is poorly defined [
52
,
53
,
54
]. Alteration of ECM composition and architecture is a hallmark of tumor stroma and/or wound healing.
3. Wound/Keloid Scar Microenvironment and Its Similarity to TME
Wound healing includes an orchestrated cascade of biological processes following injury by which tissue (e.g., skin) repairs itself. This process runs in four basic steps: blood clotting, inflammation, proliferation, and maturation/remodeling. In particular, the proliferation phase of wound healing is accompanied by production of granulation tissue which architecture is very similar to that of a tumor stroma (
Figure 1
). Here, fibroblasts produce several cytokines/chemokines and growth factors that on the one hand stimulate angiogenesis and on the other hand support the process of reepithelization [
55
,
56
,
57
,
58
]. Comparing both processes, i.e., cancer growth and wound repair, granulation tissue and tumor stroma have strong supporting roles in maintaining poorly differentiated epithelial cells to proliferate [
59
]. On the other hand, there exist several differences between tumors and wounds, for instance platelets, which play critical roles in hemostasis seem not to participate to any great extent in the stroma generation of solid tumors [
60
].
In addition, the normal course of healing can be under not very well understood circumstances terminated by the formation of a pathologic hypertrophic and keloid scars as a result of immature collagen overproduction [
61
]. However, hypertrophic scars do not extend beyond the initial site of injury and may partially regress over time, keloids extend beyond the original wound area with thicker collagen bundles and do not regress spontaneously [
62
]. Of note, keloids may in some cases also result in local functional limitations, but mostly represent only a cosmetic issue. In this context it is interesting that some similarities between tumors and scars have been noted [
63
] including positive role of inflammation supporting micromilieu of keloid origin and progression [
64
,
65
]. In this context fibroblast activation protein alpha (FAP-α) and dipeptidyl peptidase IV (DPPIV) are proteases located at the plasma membrane promoting cell invasiveness, tumor growth, and keloid scar formation. It has also been shown that normal adult tissues are generally FAP-α negative. Therefore, inhibiting FAP-α/DPPIV activity may represent a novel way to prevent keloid scaring [
66
]. From this point of view, targeting fibroblasts, including CAFs, by a monoclonal antibody against FAP (e.g., sibrotuzumab) could have beneficial effects in modulating the TME and in such a way increasing the survival rates of patients. However, clinical trials running in small cell lung cancer and colorectal cancer suffering patients has not resulted in success [
67
]. Since the tissue distribution of FAP-specific monoclonal antibody was encouraging, investigators have suggested their use as effective vehicles of other therapeutics to the tumor site.
4. Roles of Cytokines/Chemokines and the Immune System in the Tumor/Wound Microenvironment Formation
5. Roles of Growth Factors in the Tumor/Wound Microenvironment Formation
Furthermore, CAFs secrete several regulators of angiogenesis, including vascular endothelial growth factor (VEGF), TGF-β, hepatocyte growth factor (HGF), epidermal growth factor (EGF), or fibroblast growth factor (FGF). Among the most potent proangiogenic growth factors belong VEGF, which is up-regulated in many tumors and plays a critical role in tumor stroma. CAFs also express receptors such as platelet-derived growth factor receptor alpha (PDGFRα) and platelet-derived growth factor receptor beta (PDGFRβ) [
87
,
88
]. Furthermore, CAFs play an important role in remodeling of the ECM by expressing a wide variety of matrix-components and matrix-remodeling enzymes such as neuron glial antigen (NG2), tenascin C, type I collagen, fibronectin, or matrix metalloproteinase 1/stromelysin-1 [
89
,
90
]. Research over the last years has provided a body of evidence that CAFs play an important role in controlling tumor fate. The pro-tumorigenic activity of CAFs includes strong paracrine effects impacting on different cell types present in the tumor. Direct stimulation of cancer cells by CAF-derived signals promotes, e.g., cancer cell proliferation [
91
], migration, invasion [
92
], and the adoption of a cancer stem cell phenotype by inducing the epithelial to mesenchymal transition (EMT) [
93
,
94
].
In this context, VEGF-A monoclonal antibody (Bevacizumab) was the first anti-angiogenic drug approved by the Food and Drug Administration (FDA) in 2004. Bevacizumab has shown clinical activity in different solid tumor types resulting in approval by the FDA for treatment of metastatic colorectal cancer, non-small cell lung cancer, renal cell carcinoma, glioblastoma multiforme, ovarian cancer and metastatic cervical cancer. Next to VEGF, anti-neoplastic strategies have focused also on blocking tyrosine kinases. In this context, PDGFR, c-KIT, and VEGF receptor (VEGFR) are the most commonly inhibited kinases. The FDA has approved over 19 oral kinase inhibitors for the treatment of malignancies in hematology/oncology [
95
]. In contrast, it is well known that diabetic skin ulcers are difficult to heal due to reduced levels and/or activity of endogenous growth factors. It has been shown that direct delivery of VEGF and basic fibroblast growth factor (bFGF) at the wound site in a sustained and controllable way has enhanced granulation tissue formation and collagen deposition in diabetic mice [
96
]. Moreover, treatment with human recombinant PDGF has revealed its efficiency in both acute wounds [
97
] and lower extremity diabetic ulcers [
98
]. Similarly, intralesional EGF administration three times a week has been shown effective for treatment of diabetic foot ulcers [
99
].
It has also been revealed that at different wound repair stages different set of specific cytokines and growth factors are required [
100
]. However, topically administered growth factors, in particular in chronic wounds, have shown limited success which may be a result of several biological events. Firstly, proteases activated at the injury site are able to degrade both endogenous and exogenous growth factors and other signaling molecules [
101
]. Secondly, the skin layer surrounding the lesion forms a strong barrier protecting the organism from hydrophilic molecules. Finally, derived molecules are rapidly eliminated by the production of wound exudates [
102
]. Therefore, higher doses and/or repeated administrations over a longer time periods are inevitable which can lead to serious side effects including carcinogenesis.
6. Roles of Galectins in the Tumor/Wound Microenvironment Formation
Acknowledgments
The present study was supported in part by the Grant Agency of Ministry of the Education, Science, Research and Sport of the Slovak Republic (VEGA-1/0299/13, VEGA-1/0404/15, and VEGA-1/0048/15), the Agency for Science and Research (under the contract No. APVV-0408-12, APVV-14-0731, APVV-16-0446 and APVV-16-0207), the Charles University in Prague (project PROGRES Q28, University Center of Excelence 204013 and project for support of Specific University Research), Ministry of Health of the Czechs Republic (project No. 15-28933A), by the Ministry of Education, Youth and Sports of CR within the National Sustainability Program II (Project BIOCEV-FAR reg. No. LQ1604), and by the project BIOCEV (project No. CZ.1.05/1.1.00/02.0109).
Author Contributions
P.G., L.V., L.F., Š.N., P.S., P.Mi., A.M., P.Mu., K.S. performed literature review, analysis and contributed to paper writing, P.G. finalized the manuscript; P.G., P.Mu. and K.S. provided financial support. All authors have read and approved the final version of the manuscript.
Conflicts of Interest
All authors contribute no conflict of interest.

Figure 1. Schematic comparison of wound/tumor microenvironment created by cells located in the granulation tissue/tumor stroma (GT/TS), respectively (interleukin 6/8 (IL-6/-8); insulin-like growth factor 2 (IGF-2); bone morphogenic protein 4 (MBP4); chemokine (C-X-C motif) ligand 1 (CXCL1).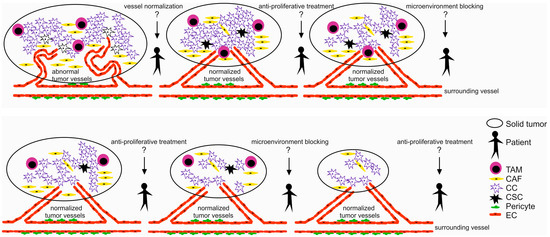 Figure 2. Proper scheduling of solid tumor treatment? Anti-cancer therapy should involve combination of anti-angiogenic (vessel normalization), anti-TME (eliminating cancer stem and progenitor cells) and anti-proliferative therapies (eliminating quickly dividing cancer cells). However, an optimal scheduling of combination therapies is still not known since a complex treatment strategy could result in an improved patient survival (tumor-associated macrophage (TAM), cancer-associated fibroblast (CAF), cancer cell (CC), cancer stem cell (CSC), endothelial cell (EC).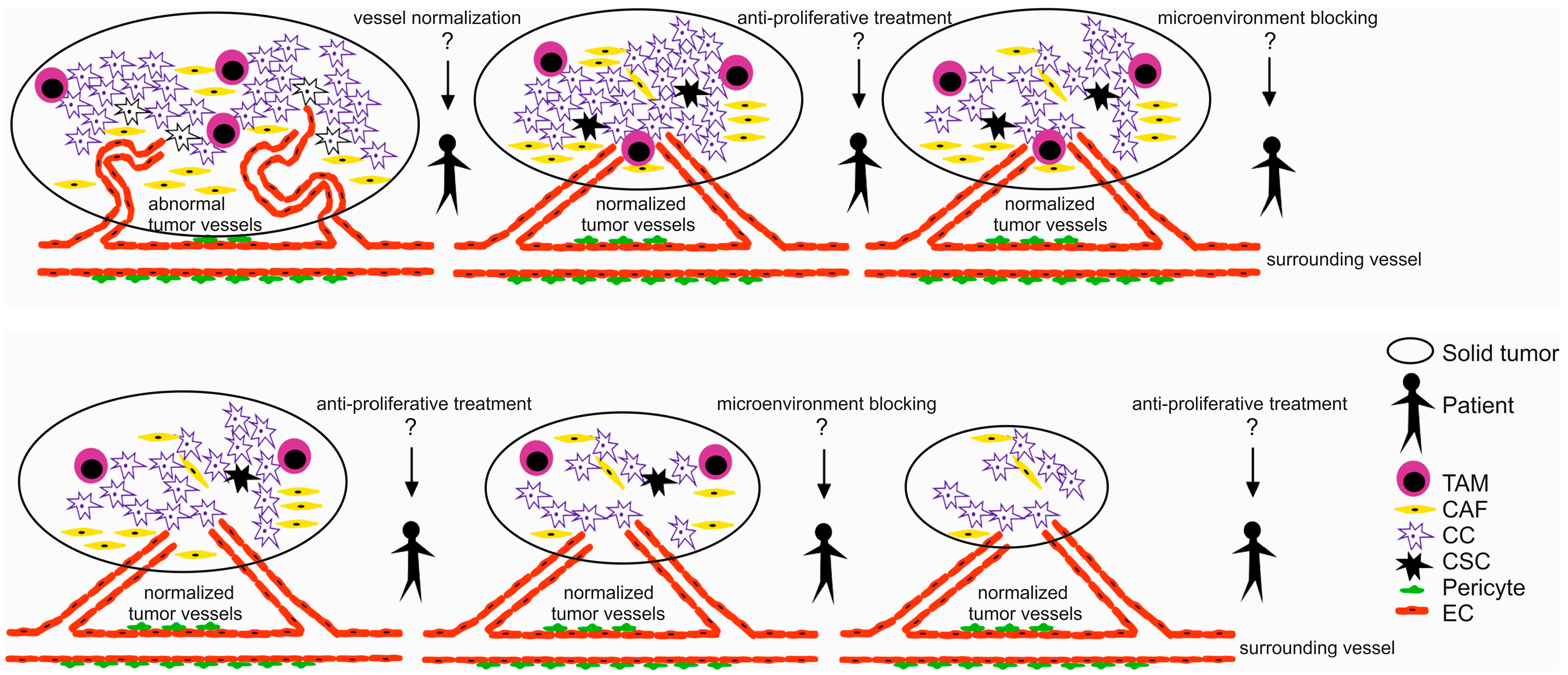 Table 1. Comparison of wound healing and squamous/basal cell carcinoma (extracellular matrix (ECM), epithelial to mesenchymal transition (EMT); granulation tissue (GT)) [4,5,6,7].
Event
Wound
Squamous/Basal Cell Cancer
Infiltration by leukocytes
Wound bed, GT/Transitory
Stroma and between cancer cells/Continuous
Accumulation of fibroblasts
GT/Transitory
Stroma/Continuous
Production of ECM
New capillaries formation
Myofibroblast formation
Secretion of proteases from fibroblasts/myofibroblasts
ECM of GT remodelation/Transitory
Stroma remodelation/Continuous
Proliferation of epithelial cells
Reepithelisation/Transitory
Tumor growth/Continuous
EMT
Reepithelisation/Transitory
Locally aggressive growth and metastazing/Continuous
Table 2. Overview of currently tested drugs modulating the Tumor Microenvironment (TME).
TME Targets
Strategy
Target + Drugs (Examples)
References
ECM
Inhibition of ECM degradation
MMP inhibitors
Andecaliximab (GS-5745) (anti-MMP-9 monoclonal antibody)
[18]
Neovastat (

shark cartilage extract AE-941

)
[19]
Growth factors and signalling pathways
Inhibiotion of kinases and kinase receptor activity
Inhibition of kinases and kinase receptor activity
Genistein (protein-tyrosine kinase inhibitor, antioxidant)
[20]
Plitidepsin 171 (VEGF and VEGFR1 inhibitor, marine invertebrate compound)
CAFs
Direct targeting of CAFs
FAP-α antibodies
Sibrotuzumab
[21]
Lu-labeled ESC11; Lu-labeled ESC14
[22]
Vaccines targeting FAPα
[23]
CAF-epithelial interaction
HGF-Met signalling
NK4 (HGF antagonist)
[24]
YYB-101 (monoclonal anti-HGF antibody)
[25]
NF-κB and STAT3 signaling pathway
EC-70124 (multikinase inhibitor)
[26]
CXCL12/SDF-1
NOX-A12 (L-stereoisomer RNA aptamer (Spiegelmer))
[27]
CXCR4
BL-8040 (CXCR4 inhibitor)
[28]
Plerixafor (CXCR4 antagonist)
[29]
PDGF-R
Nilotinib (PDGF-R tyrosine kinase inhibitor)
[30]
Olaratumab (IMC-3G3) (anti-PDGFR-α monoclonal antibody
[31]
Crenolanib (inhibitor of receptor tyrosine kinases PDGFRα, -β; FLT3)
[32]
TGF-β ligand inhibitors
Fresolimumab (GC1008) (human anti-TGF-β monoclonal antibody)
[33]
TGF-β receptor inhibitor
Galunisertib TGF-βRI (TGF-beta receptor I kinase inhibitor)
[34]
CAF-ECM interaction
Hyaluronan
rHuPH20 (recombinant human hyaluronidase enzyme)
[35]
CAF-endothelial interaction
PDGF-B
E10030 (Fovista) RNA-based anti-PDGFR aptamer
[36]
CAF—inflammatory immune cell interactions
IL-6
Siltuximab (anti-IL-6 monoclonal antibody)
[37]
TNF
Inflinximab and Etanercept (TNF inhibitors)
[38]
Angiogenesis
Growth factors
Bevacizumab (VEGF-A antibody); Aflibercept (chimeric soluble receptor); VEGF-trap; Thalidomide; Lenalidomide; IMC-18F1 (VEGFR-1 signaling); Ramucirumab (VEGFR-2 signaling)
[39,40,41]
Small molecules tyrosine kinase inhibitors
Sunitinib; Sorafenib; Pazopanib; Axitinib; Vandetanib; Regorafenib; Cabozantinib; Motesanib; Cediranib; Tivozanib
[42]
Intergrin inhibitors
MEDI-522 (Vitaxin); Cilengitide (EMD 121974); Volociximab (chimeric monoclonal antibody)
[43,44]
mTOR
Everolimus
[45]
Human antiangiogenic factors
Endostatin
[46]
Thrombospondin-1
[47]
Angiopoietin
Trebananib AGM 386 (angiopoietin-1/-2-neutralizing peptibody)
[48]
Immune system
CSF-1
RG7155 (monoclonal antibody against CSF-1 receptor activation)
[49]
CTLA-4
Ipilimumab (CTLA-4 monoclonal antibody)
[50]
Galectins
Galectin-3
GR-MD-02
[51]
Abbreviations: matrix metalloproteinase (MMP); interleukin 6 (IL-6); vascular endothelial growth factor (VEGF); VEGF receptor (VEGFR); cancer-associated fibroblast (CAF); fibroblast activation protein (FAP); colony stimulating factor (CSF); cytotoxic T-lymphocyte-associated protein 4 (CTLA-4); mechanistic target of rapamycin (mTOR); transforming growth factor beta (TGF-β); platelet derived growth factor (PDGF); PDGF receptor (PDGFR); chemokine receptor type 4 (CXCR4); hepatocyte growth factor (HGF); hepatocyte growth factor receptor (Met); tumor necrosis factor (TNF); chemokine (C-X-C motif) ligand 12 (CXCL12); stromal cell-derived factor 1 (SDF-1).
© 2017 by the authors. Licensee MDPI, Basel, Switzerland. This article is an open access article distributed under the terms and conditions of the Creative Commons Attribution (CC BY) license (http://creativecommons.org/licenses/by/4.0/).