Open Access This article is
freely available
re-usable
Communication
Cadmium Disrupts Subcellular Organelles, Including Chloroplasts, Resulting in Melatonin Induction in Plants
Department of Biotechnology, Bioenergy Research Center, College of Agriculture and Life Sciences, Chonnam National University, 77 Yongbong-ro, Buk-gu, Gwangju 61186, Korea
*
Author to whom correspondence should be addressed.
Received: 13 September 2017 / Accepted: 21 October 2017 / Published: 23 October 2017
Abstract
:
Cadmium is a well-known elicitor of melatonin synthesis in plants, including rice. However, the mechanisms by which cadmium induces melatonin induction remain elusive. To investigate whether cadmium influences physical integrities in subcellular organelles, we treated tobacco leaves with either CdCl
2
or AlCl
3
and monitored the structures of subcellular organelles—such as chloroplasts, mitochondria, and the endoplasmic reticulum (ER)—using confocal microscopic analysis. Unlike AlCl
3
treatment, CdCl
2
(0.5 mM) treatment significantly disrupted chloroplasts, mitochondria, and ER. In theory, the disruption of chloroplasts enabled chloroplast-expressed serotonin
N
-acetyltransferase (SNAT) to encounter serotonin in the cytoplasm, leading to the synthesis of
N
-acetylserotonin followed by melatonin synthesis. In fact, the disruption of chloroplasts by cadmium, not by aluminum, gave rise to a huge induction of melatonin in rice leaves, which suggests that cadmium-treated chloroplast disruption plays an important role in inducing melatonin in plants by removing physical barriers, such as chloroplast double membranes, allowing SNAT to gain access to the serotonin substrate enriched in the cytoplasm.
Keywords:
aluminum; cadmium; chloroplasts; rice; tobacco
Acknowledgments
This research was supported by grants (2010-0020141 and NRF-2017R1A2A2A05069235) from the Basic Science Research Program of the National Research Foundation of Korea, funded by the Ministry of Education, Republic of Korea.
Author Contributions
H.-Y.L. performed the experiments. K.B. analyzed the data and wrote the manuscript. All authors read and approved the final manuscript.
Conflicts of Interest
The authors declare no conflict of interest.
Sample Availability: Samples of the compounds are available from the authors.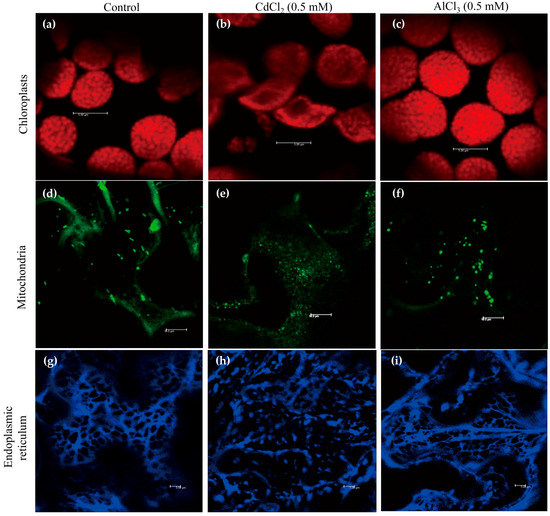 Figure 1. Effects of cadmium and aluminum on the structures of subcellular organelles as shown by confocal microscopy. (a–c) Structures of chloroplasts: (a) Control; (b) Cadmium treatment; (c) Aluminum treatment; (d–f) Structures of mitochondria: (d) Control; (e) Cadmium treatment; (f) Aluminum treatment; (g–i) Structures of ER: (g) Control; (h) Cadmium treatment; (i) Aluminum treatment. Tobacco leaves were infiltrated with heavy metals (0.5 mM) for 4 h and subjected to confocal microscopic analysis. Bars = 10 µm (chloroplasts and mitochondria), 5 µm (ER).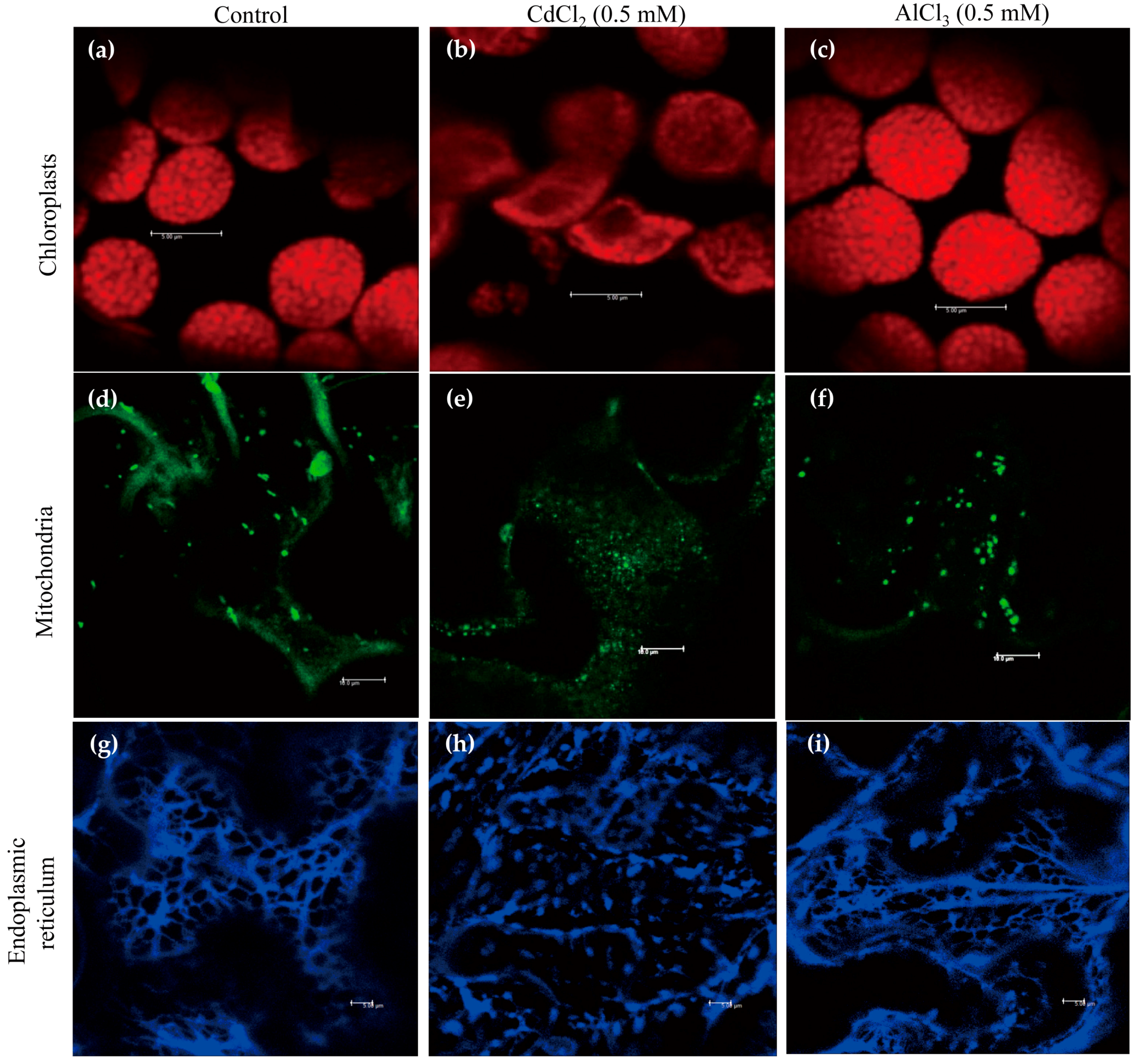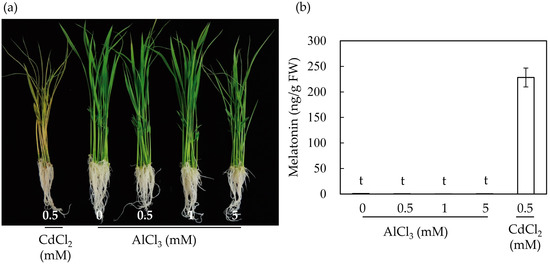 Figure 2.
Induction of melatonin in response to cadmium and aluminum treatments in seven-day-old rice seedlings. (
a
) Phenotypes of rice seedlings upon cadmium and aluminum treatments; (
b
) Quantification of melatonin by HPLC. Data represent mean ± standard error of the mean,
n
= 3. Rice seedlings grown for seven days were challenged with cadmium (0.5 mM) or aluminum of varying concentrations for three days under continuous light. FW, fresh weight; t denotes 1 ng/g FW.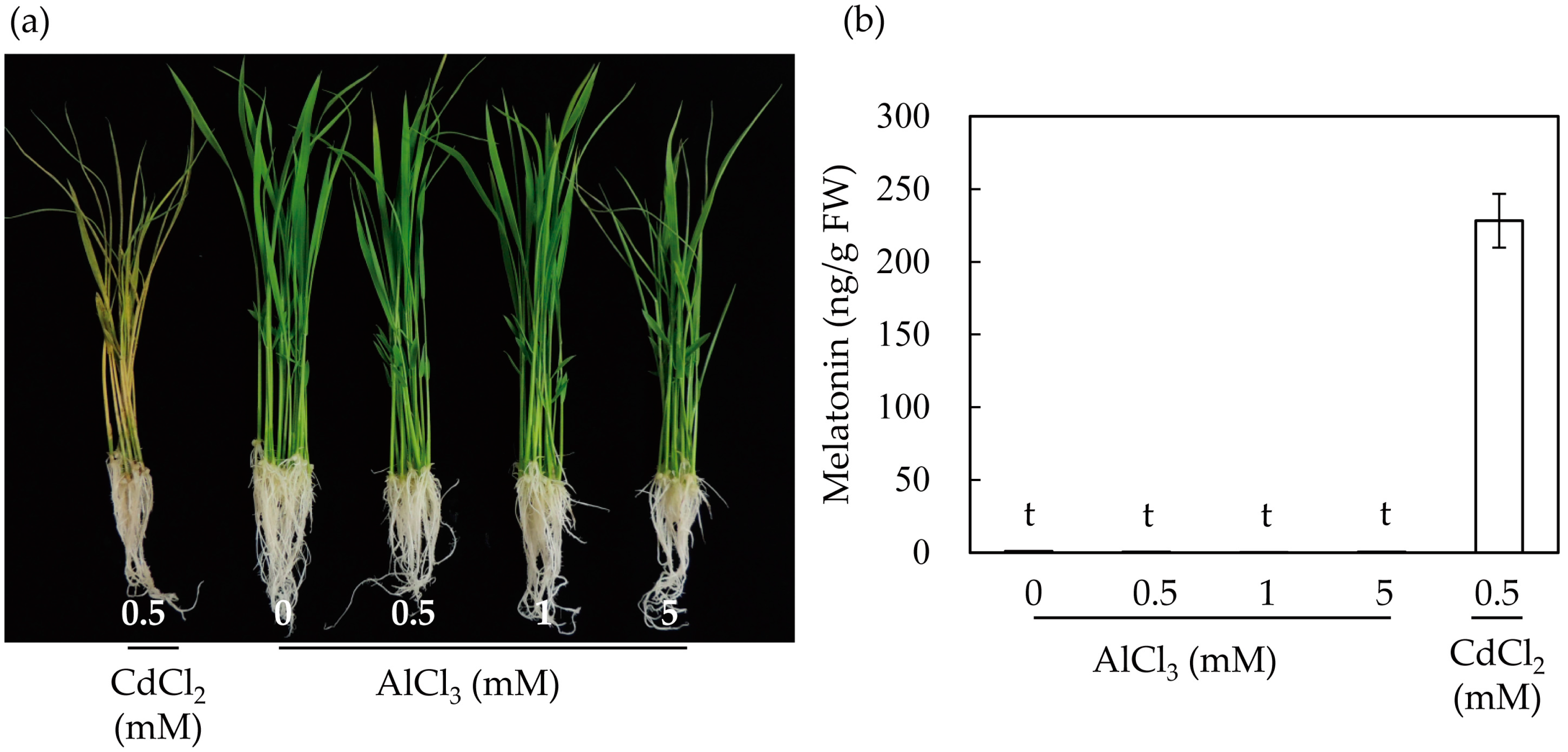 © 2017 by the authors. Licensee MDPI, Basel, Switzerland. This article is an open access article distributed under the terms and conditions of the Creative Commons Attribution (CC BY) license (http://creativecommons.org/licenses/by/4.0/).