Open Access This article is
freely available
re-usable
Review
Synthesis and Properties of MQ Copolymers: Current State of Knowledge
1
Enikolopov Institute of Synthetic Polymer Materials of Russian Academy of Sciences Profsoyuznaya st. 70, Moscow 117393, Russia
2
Nesmeyanov Institute of Organoelement Compounds of Russian Academy of Sciences Russia, Vavilova St., 28, GSP-1, V-334, Moscow 119991, Russia
*
Author to whom correspondence should be addressed.
Received: 21 September 2017 / Accepted: 15 October 2017 / Published: 23 October 2017
Abstract
:
In this review, we discuss currently available studies on the synthesis and properties of MQ copolymers. The data on methods of producing hydrolytic and heterofunctional polycondensation of functional organosilanes as well as the obtaining MQ copolymers based on silicic acids and nature silicates are considered. The ratio of M and Q monomers and the production method determine the structure of MQ copolymers and, accordingly, their physicochemical characteristics. It is shown that the most successful synthetic approach is a polycondensation of organoalkoxysilanes in the medium of anhydrous acetic acid, which reduces the differences in reactivity of M and Q monomers and leads to obtaining a product with uniform composition in all fractions, with full absence of residual alkoxy-groups. The current concept of MQ copolymers is that of organo-inorganic hybrid systems with nanosized crosslinked inorganic regions limited by triorganosilyl groups and containing residual hydroxyl groups. The systems can be considered as a peculiar molecular composites consisting of separate parts that play the role of a polymer matrix, a plasticizer, and a nanosized filler.
Keywords:
organosiloxanes; MQ copolymers; MQ resin; polycondensation; hybrid organo-inorganic material
1. Introduction
MQ copolymers, often called MQ resins, consisting of mono- (M) and tetra- (Q) functional siloxane units that occupy an important place among organosiloxane polymers. Such copolymers have been known for a very long time, the simplicity of their synthesis immediately led to their widespread use as modifying additives in various polymer compositions, so the production of such objects has existed and expanded for more than 50 years. From 1946 to the present, MQ-resins and methods for their production have been patented by various companies: General Electric [
1
,
2
,
3
,
4
], Dow Corning [
5
,
6
,
7
,
8
,
9
], Toray Silicone [
10
,
11
], Shin-Etsu Chemical [
12
], Wacker Chemie AG [
13
], and many others [
14
,
15
,
16
,
17
,
18
,
19
,
20
]. The number of patent literature on these objects is very large, and we give only the most significant of them. The peculiarity of these systems is a complete absence of insoluble crosslinked structures even after prolonged high-temperature condensation although their average functionality is usually higher than 2.5, and they have good solubility both in organic solvents and in polydimethylsiloxanes (PDMS). This feature makes it possible to use them widely in compositions with PDMS as reinforcing additives and fillers [
21
,
22
], curing catalysts and crosslinking agents [
23
], additives for production of pressure sensitive adhesives [
24
], durable coating films, components of sealants and casting compounds, and binding components for production of a new generation of composite materials for various purposes [
25
,
26
,
27
]. It can be argued that MQ-resins are an almost universal modifier for silicone polymers that improves the properties of all formulations. In each case, the role of such additives varies from reinforcement of elastomers to detackification for pressure sensitive adhesives and imparting new properties to release coatings.
The specific structure of the macromolecules—the presence of an inorganic component SiO4/2 and an organic component in the R3SiO1/2 unit—makes it possible to classify these compounds as hybrid nanosized organo-inorganic materials. Аt the present time, the interest in such objects is increasing due to the expanding needs for high quality composite materials. A possibility of introducing various organic alkyl and aryl substituents into the triorganosiloxane unit extends the range of possible structures, including latent functional groups (vinyl, silanol, hydridsilyl), which determine a possibility of further modification.
At present, we can say that the period of empirical selection of reaction conditions for obtaining the necessary technical parameters of MQ systems has come to an end. Investigations of the last decade are mainly aimed at studying the structure of MQ copolymers in relation with their physical characteristics as well as on the study of synthetic approaches that make it possible to obtain the necessary architectural forms of MQ systems purposefully.
An ideal structure of MQ copolymer at a ratio of M:Q = 1:1 corresponds to a cubane with M units in the corners, but the actual structure certainly corresponds to more complex and defective structures (
Figure 1
) [
28
] with a molecular weight from 1000 to 10,000, which was unambiguously shown in spectroscopic studies and will be considered below.
Methods of obtaining MQ copolymers are very diverse and evolve throughout their lifetimes. First, MQ resins were prepared by a simple cohydrolysis of a mixture of tetra- and monofunctional chloro- or alkoxysilanes [
1
,
5
]. Currently, there are three synthetic approaches to the production of such systems: hydrolytic- and heterofunctional polycondensation of organosilicon monomers of M and Q types and trimethylsilylation of silicic acids and natural silicates.
2. Results
2.1. Obtaining of MQ Copolymers by Hydrolytic Polycondensation
Further elaborated technologies of MQ copolymers production mainly used the process of copolycondensation of alkoxy-functional monomers often in the presence of HCl as a catalyst.
2.2. Obtaining of MQ Copolymers by Heterofunctional Polycondensation
Heterofunctional polycondensation of organosilanes can also be a method for obtaining MQ copolymers (
Scheme 2
).
In early studies, the corresponding tetra(triorganosiloxy)silanes were synthesized by the reaction of sodium triorganosilanolate with silicon tetrachloride [
42
,
43
,
44
], but the yield of the product was low. For example, it was only 18% for tetra(trimethylsiloxy)silane. Later, the authors [
45
] obtained tetra(trimethylsiloxy)silane by heterofunctional condensation of Si(OC
2
H
5
)
4
with trimethylacetoxysilane with a yield up to 80%, and a similar result was achieved by the interaction of Si(OC
2
H
5
)
4
and trimethyliodosilane [
46
].
A method of synthesis of liquid oligotrimethylsiloxysilanes by heterofunctional polycondensation of trimethylsilyl sulfate with Si(OC
2
H
5
)
4
or products of its partial condensation in the presence of hexamethyldisiloxane has been patented [
47
].
The described method of heterofunctional polycondensation of M and Q type monomers was limited by the formation of low-molecular oligomers, and this fact hindered further development and application of this process.
2.3. Obtaining of MQ Copolymers Based on Silicic Acids and Silicates
2.4. Obtaining of MQ-Copolymers by Polycondensation in Active Medium
Analysis of the available data on the processes of obtaining MQ copolymers allowed us to state that the method of hydrolytic polycondensation is the most universal and in demand. Currently, the most effective way to carry out such a chemical process is a polycondensation of alkoxy-functional silanes of M and Q type in a so-called "active medium" corresponding to anhydrous acetic acid that acts as a reagent and a solvent simultaneously [
57
]. In this case, water is not introduced into the initial reaction mixture, but the process goes on as a hydrolytic polycondensation due to water release during the reaction. The process is a cascade of interrelated reactions of acidolysis, hydrolysis, and condensation (
Scheme 5
).
The limiting stage is the interaction of acetic acid and alcohol released during acidolysis of alkoxysilane, with forming without exuding into a separate phase water consumable in situ for hydrolysis of acetoxysilanes.
The overall scheme of the process looks the classical way (
Scheme 6
).
Such technique is an effective and universal method of polycondensation ensuring complete homogeneity of the reaction mass throughout the process, at the same time quantitative conversion of alkoxysilyl groups is achieved, differences in the reactivity of the organoalkoxysilanes used are neutralized, which ensures high homogeneity of the resulting product [
58
]. In order to obtain MQ copolymers, reducing differences in reactivity of monomers M and Q is essential, which leads to obtaining a product with a ratio of M and Q units corresponding completely to the initial amounts introduced and maintained this ratio in all fractions of the copolymer [
59
].
2.5. Structure and Properties of MQ Copolymers
Based on the data obtained, a model describing the MQ-copolymer system as a molecular composite, as a material of complex organization, and of completely uniform composition, where individual fractions are mixed with each other without any restrictions, was proposed. In this system, the most high-molecular formations with a rigid inorganic core play the role of a filler, the middle fractions play the role of a polymer matrix, and the low-molecular copolymers play the role of an effective plasticizer.
Acknowledgments
This work was supported by the Russian Science Foundation (grant No. 16-13-10521).
Author Contributions
Elena Tatarinova—syntheses of MQ copolymers and the writing of the review; Nataliya Vasilenko—investigation of polycondensation of alkoxysilanes in an active medium and the writing of the review; Aziz Muzafarov—head of research and writing of the review.
Conflicts of Interest
The authors declare no conflicts of interest.
Sample Availability: Samples of the MQ copolymers are available from the authors.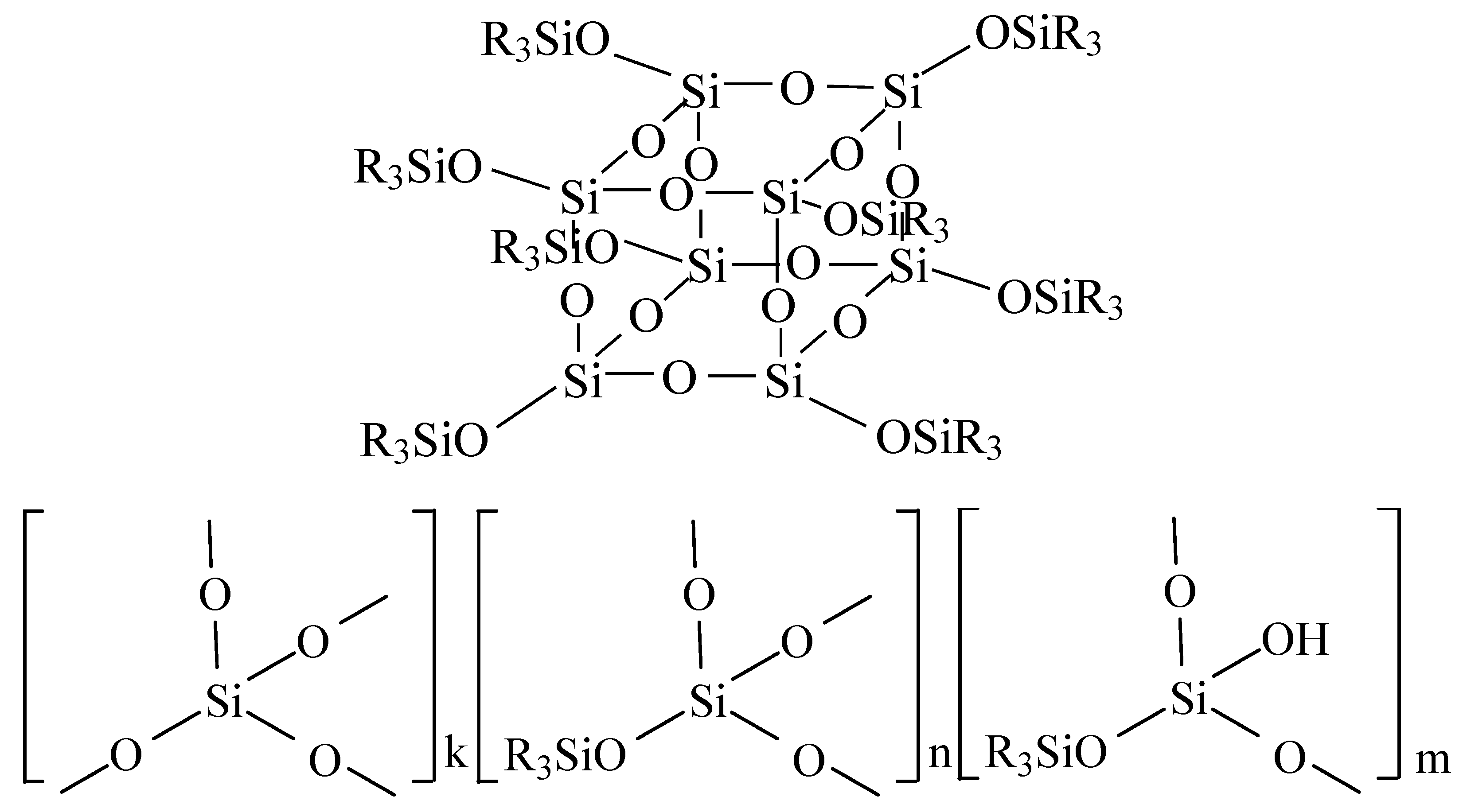 where X = -ONa; -OCOCH3; -J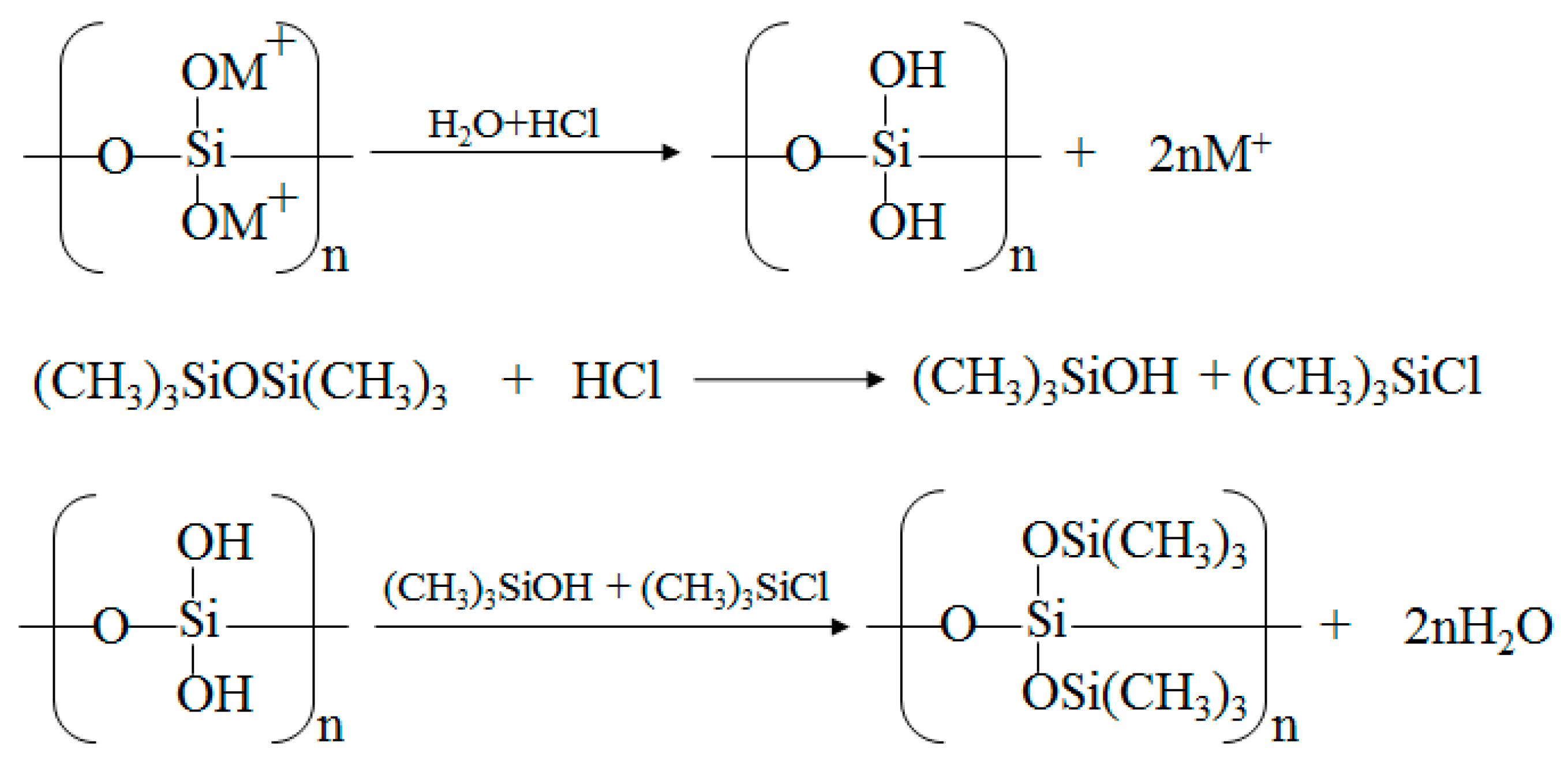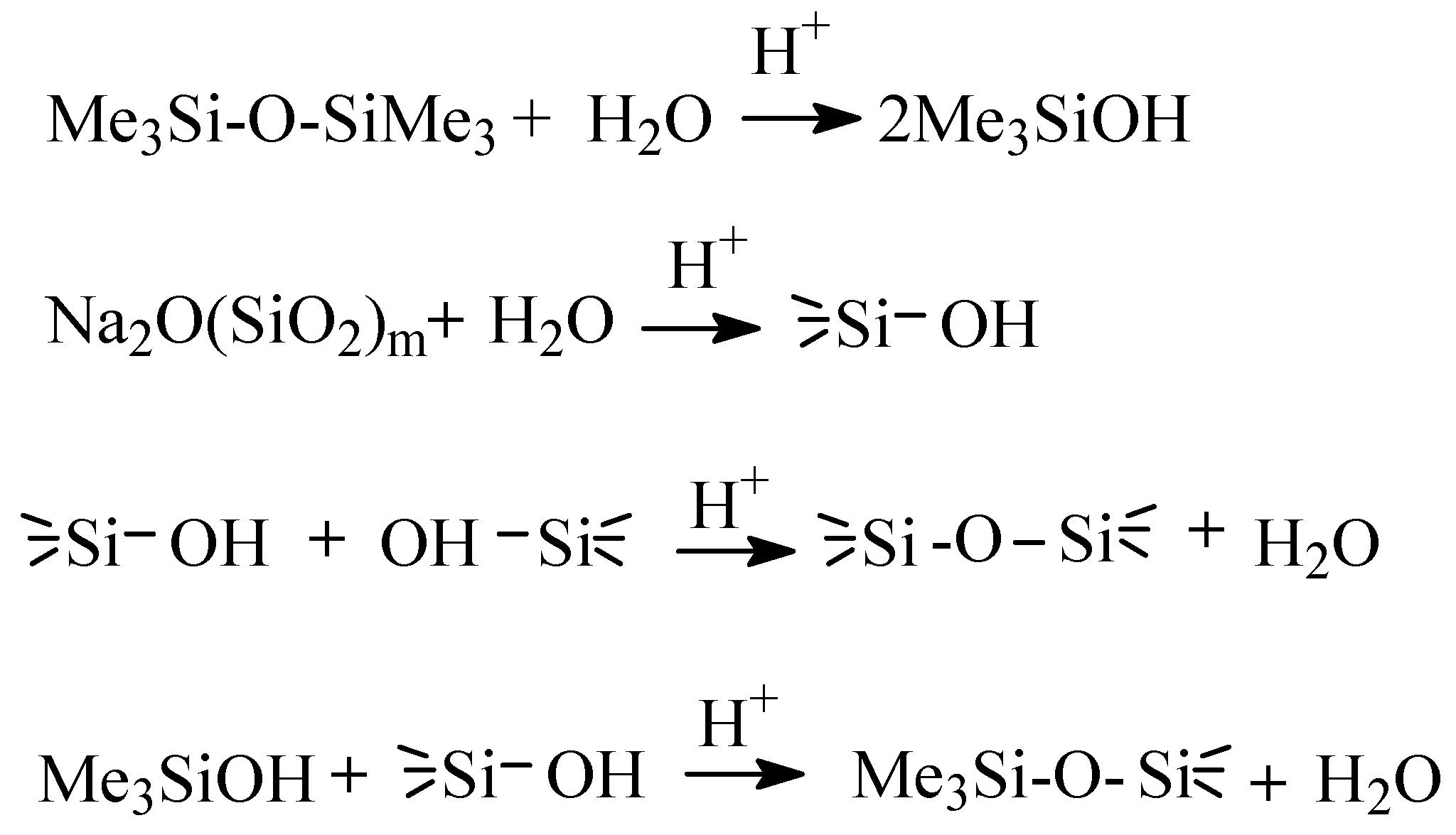 Scheme 5. The cascade of reactions of organoalkoxysilane polycondensation in anhydrous acetic acid medium.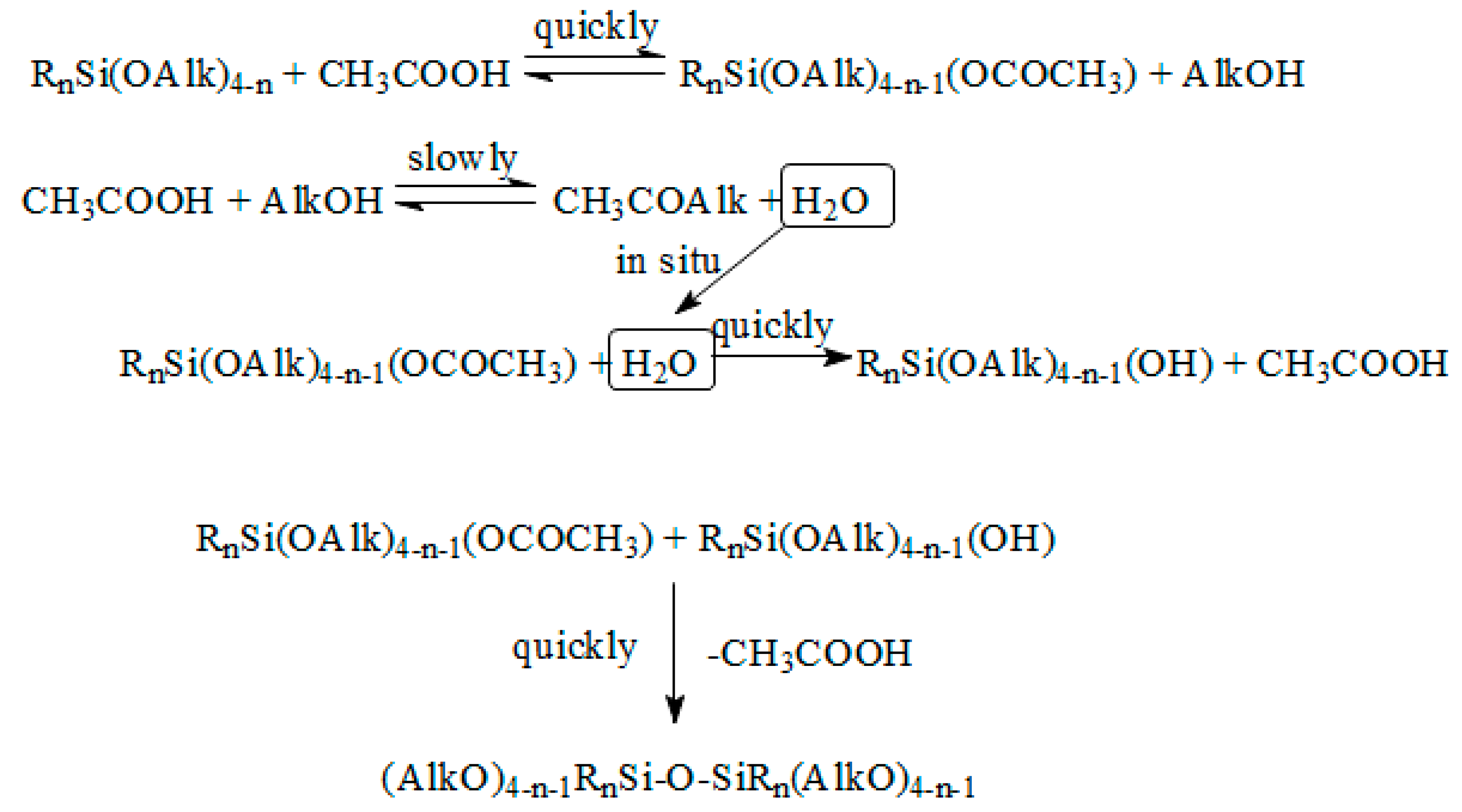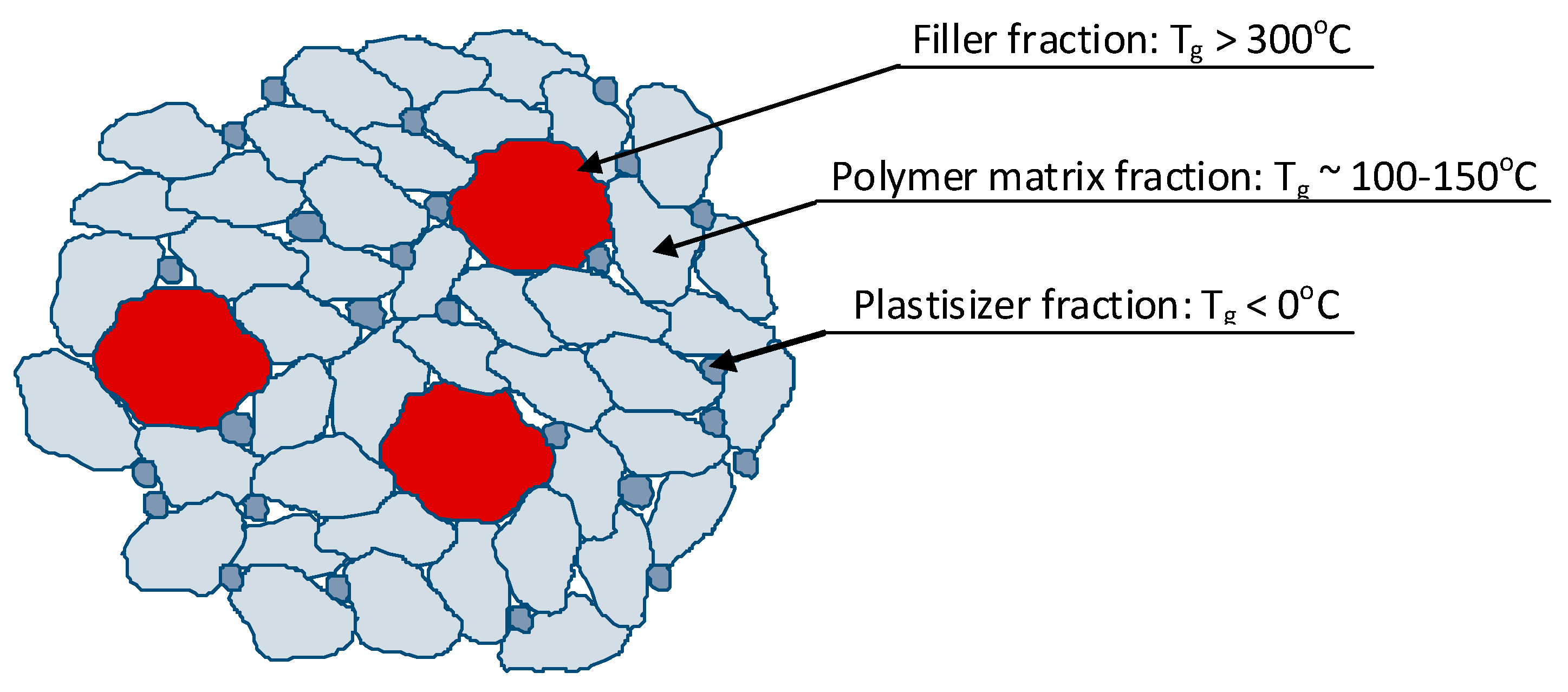 Table 1. Main characteristics of MQ copolymers.

| Sample, No. | M × 10−3 (GPC) | Content of OH-Groups, % Mass | Rhydr, nm (GPC) | Tg, °C | η, Pa·s |
| --- | --- | --- | --- | --- | --- |
| MQ1 | 3.5 | 2.26 | 1.30 | 55 | 1.2 × 106 |
| MQ2 | 1.5 | 0.97 | 0.80 | 10 | 1.0 × 102 |
| MQ3 | 3.5 | 2.7 | 1.30 | 61 | 1.5 × 105 |
| MQ4 | 1.7 | 1.4 | 0.86 | 34 | 5.6 × 103 |
| MQ5 | 3.5 | 2.8 | 1.30 | 46 | 4.7 × 104 |
| MQ6 | 3.5 | 0 | 1.30 | 71 | 1.4 × 106 |
Table 2. Properties of variants of MQ copolymers.
Fraction Yield%
MM, GPC
Tg °C
MQ1
Fr. 1
28
7600
>Tdecomp.*
Fr. 2
44
3900
160
Fr. 3
28
2000
−26
MQ2
Fr. 1
11
5400
319
Fr. 2
39
2700
78
Fr. 3
50
1500
38
MQ3
Fr. 1
20
5800
>Tdecomp.
Fr. 2
45
3000
110
Fr. 3
35
1500
−10
MQ4
Fr. 1
19
5300
273
Fr. 2
39
3000
110
Fr. 3
42
1500
−28
MQ5
Fr. 1
21
11,000
>Tdecomp.
Fr. 2
45
3900
180
Fr. 3
34
1200
−24
* decomposition temperature of the material below the glass transition temperature.
© 2017 by the authors. Licensee MDPI, Basel, Switzerland. This article is an open access article distributed under the terms and conditions of the Creative Commons Attribution (CC BY) license (http://creativecommons.org/licenses/by/4.0/).