Characterization, Function, and Transcriptional Profiling Analysis of 3-Hydroxy-3-methylglutaryl-CoA Synthase Gene (
GbHMGS1

) towards Stresses and Exogenous Hormone Treatments in

Ginkgo biloba

College of Horticulture and Gardening, Yangtze University, Jingzhou 434025, Hubei, China

*

Author to whom correspondence should be addressed.

Received: 26 August 2017 / Accepted: 8 October 2017 / Published: 12 October 2017
Abstract
3-Hydroxy-3-methylglutaryl-CoA synthase (HMGS) is one of the rate-limiting enzymes in the mevalonate pathway as it catalyzes the condensation of acetoacetyl-CoA to form 3-hydroxy-3-methylglutaryl-CoA. In this study, A
HMGS
gene (designated as
GbHMGS1
) was cloned from
Ginkgo biloba
for the first time.
GbHMGS1
contained a 1422-bp open-reading frame encoding 474 amino acids. Comparative and bioinformatics analysis revealed that GbHMGS1 was extensively homologous to HMGSs from other plant species. Phylogenetic analysis indicated that the GbHMGS1 belonged to the plant HMGS superfamily, sharing a common evolutionary ancestor with other HMGSs, and had a further relationship with other gymnosperm species. The yeast complement assay of GbHMGS1 in
HMGS
-deficient
Saccharomyces cerevisiae
strain YSC6274 demonstrated that
GbHMGS1
gene encodes a functional HMGS enzyme. The recombinant protein of GbHMGS1 was successfully expressed in
E. coli
. The in vitro enzyme activity assay showed that the
k
cat
and
K
m
values of GbHMGS1 were 195.4 min
−1
and 689 μM, respectively.
GbHMGS1
was constitutively expressed in all tested tissues, including the roots, stems, leaves, female flowers, male flowers and fruits. The transcript accumulation for
GbHMGS1
was highest in the leaves. Expression profiling analyses revealed that
GbHMGS1
expression was induced by abiotic stresses (ultraviolet B and cold) and hormone treatments (salicylic acid, methyl jasmonate, and ethephon) in
G. biloba
, indicating that
GbHMGS1
gene was involved in the response to environmental stresses and plant hormones.
View Full-Text
►

▼

Figures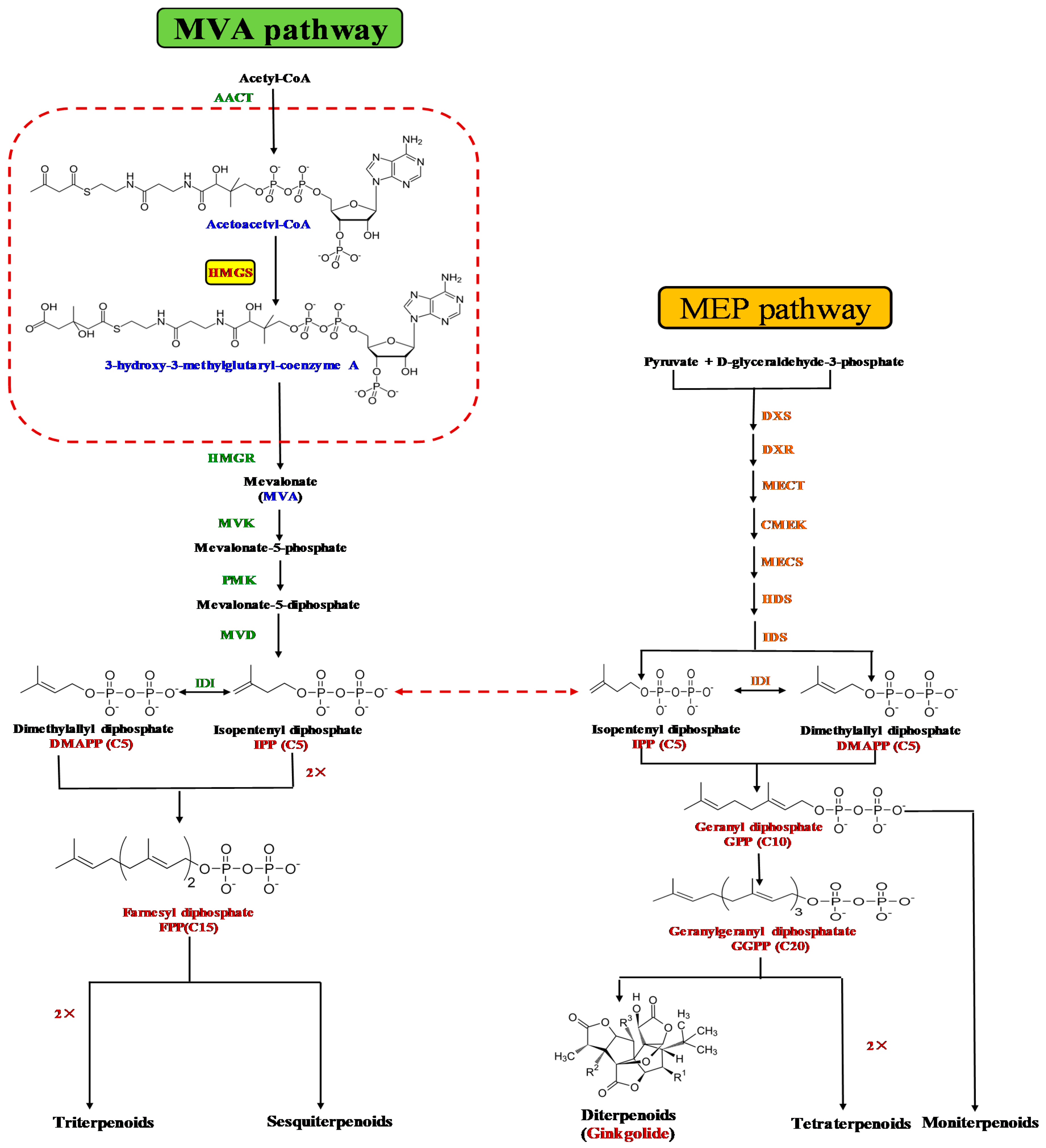 Figure 1
This is an open access article distributed under the
Creative Commons Attribution License
which permits unrestricted use, distribution, and reproduction in any medium, provided the original work is properly cited (CC BY 4.0).

Share & Cite This Article
MDPI and ACS Style
Meng, X.; Song, Q.; Ye, J.; Wang, L.; Xu, F. Characterization, Function, and Transcriptional Profiling Analysis of 3-Hydroxy-3-methylglutaryl-CoA Synthase Gene (GbHMGS1) towards Stresses and Exogenous Hormone Treatments in Ginkgo biloba. Molecules 2017, 22, 1706.
Note that from the first issue of 2016, MDPI journals use article numbers instead of page numbers. See further details here.
Related Articles
Comments
[Return to top]