Synthesis of Novel Glycerol-Derived 1,2,3-Triazoles and Evaluation of Their Fungicide, Phytotoxic and Cytotoxic Activities
1
Graduate Program in Agrochemistry, Universidade Federal do Espírito Santo, Alto Universitário, S/N, Guararema, Alegre ES 29500-000, Brazil
2
Graduate Program in Plant Production, Universidade Federal do Espírito Santo, Alto Universitário, S/N, Guararema, Alegre ES 29500-000, Brazil
3
Graduate Program in Biotechnology, Universidade Federal do Espírito Santo, Alto Universitário, S/N, Guararema, Alegre ES 29500-000, Brazil
4
Department of Biology, Universidade Federal de Lavras, Lavras MG 37200-000, Brazil
5
Departament of Chemistry, Universidade Federal de Viçosa, Av. P.H. Rolfs, S/N, Viçosa MG 36570-900, Brazil
6
ersidade Federal de São Carlos, Campus Lagoa do Sino, Buri SP 18290-000, Brazil
*
Author to whom correspondence should be addressed.
Received: 1 September 2017 / Revised: 29 September 2017 / Accepted: 3 October 2017 / Published: 7 October 2017
Abstract
The synthesis of a series of 1,2,3-triazoles using glycerol as starting material is described. The key step in the preparation of these triazolic derivatives is the copper(I)-catalyzed azide-alkyne cycloaddition (CuAAC), also known as click reaction, between 4-(azidomethyl)-2,2-dimethyl-1,3-dioxolane (
3
) and different terminal alkynes. The eight prepared derivatives were evaluated with regard to their fungicide, phytotoxic and cytotoxic activities. The fungicidal activity was assessed in vitro against
Colletotrichum gloeosporioides
, the causative agent of papaya anthracnose. It was found that the compounds 1-(1-((2,2-dimethyl-1,3-dioxolan-4-yl)methyl)-1
H
-1,2,3-triazol-4-yl)-cyclo-hexanol (
4g
) and 2-(1-((2,2-dimethyl-1,3-dioxolan-4-yl)methyl)-1
H
-1,2,3-triazol-4-yl)propan-2-ol (
4h
) demonstrated high efficiency in controlling
C. gloeosporioides
when compared to the commercial fungicide tebuconazole. The triazoles did not present any phytotoxic effect when evaluated against
Lactuca sativa
. However, five derivatives were mitodepressive, inducing cell death detected by the presence of condensed nuclei and acted as aneugenic agents in the cell cycle of
L. sativa
. It is believed that glycerol derivatives bearing 1,2,3-triazole functionalities may represent a promising scaffold to be explored for the development of new agents to control
C. gloeosporioides
.
View Full-Text
►

▼

Figures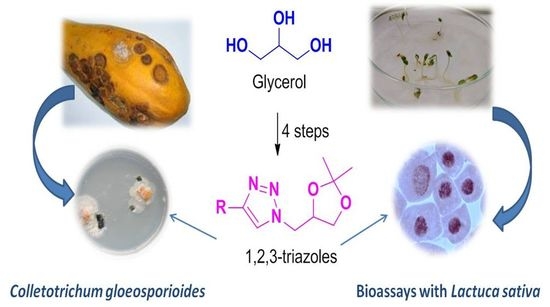 Graphical abstract
This is an open access article distributed under the
Creative Commons Attribution License
which permits unrestricted use, distribution, and reproduction in any medium, provided the original work is properly cited (CC BY 4.0).

Share & Cite This Article
MDPI and ACS Style
Costa, A.V.; Oliveira, M.V.L.; Pinto, R.T.; Moreira, L.C.; Gomes, E.M.C.; Alves, T.A.; Pinheiro, P.F.; Queiroz, V.T.; Vieira, L.F.A.; Teixeira, R.R.; Júnior, W.C.J. Synthesis of Novel Glycerol-Derived 1,2,3-Triazoles and Evaluation of Their Fungicide, Phytotoxic and Cytotoxic Activities. Molecules 2017, 22, 1666.
Note that from the first issue of 2016, MDPI journals use article numbers instead of page numbers. See further details here.
Related Articles
Comments
[Return to top]