Open Access This article is
freely available
re-usable
Review
Versatile Chemical Derivatizations to Design Glycol Chitosan-Based Drug Carriers
1
Department of Orthopedic Surgery and Rare Diseases Institute, Korea University Medical College, Guro Hospital, Seoul 08308, Korea
2
Department of Food Science and Engineering, Ewha Womans University, Seoul 03760, Korea
3
Department of Systems Biotechnology, College of Biotechnology and Natural Resources, Chung-Ang University, Gyeonggi-do 17546, Korea
*
Authors to whom correspondence should be addressed.
Received: 8 August 2017 / Accepted: 2 October 2017 / Published: 5 October 2017
Abstract
:
Glycol chitosan (GC) and its derivatives have been extensively investigated as safe and effective drug delivery carriers because of their unique physiochemical and biological properties. The reactive functional groups such as the amine and hydroxyl groups on the GC backbone allow for easy chemical modification with various chemical compounds (e.g., hydrophobic molecules, crosslinkers, and acid-sensitive and labile molecules), and the versatility in chemical modifications enables production of a wide range of GC-based drug carriers. This review summarizes the versatile chemical modification methods that can be used to design GC-based drug carriers and describes their recent applications in disease therapy.
Keywords:
glycol chitosan; chemical derivatizations; nanoparticles; drug carriers; disease therapy
1. Introduction
Advanced nanotechnologies have greatly contributed to the development of various types of nanodrug carriers, including liposomes, polymeric nanoparticles, and inorganic nanovehicles [
1
]. These drug carriers sufficiently accumulate in diseased tissues where there is leaky vasculature and poor lymphatic drainage (termed enhanced permeability and retention (EPR) effects) [
2
]. Through passive tumor-homing based on EPR effects, systemically-delivered drug carriers can ferry various types of drugs including small drugs, peptides/proteins, and nucleic acids and are highly effective in enhancing the therapeutic efficacies of drugs while reducing their side effects [
3
,
4
]. Additionally, nano-sized drug carriers with signal emitters (e.g., fluorophores, isotopes, and magnetic nanoparticles) can be used to sense pathophysiological defects and to monitor or predict therapeutic responses [
5
].
A wide range of synthetic or natural polymers have been investigated for drug delivery systems [
6
]. Among them, polysaccharides have received increasing attention in biomedical research because of their biocompatibility, biodegradability, low toxicity, and low cost [
7
]. Chitosan is a nontoxic, low-immunogenic, biodegradable, and biocompatible linear polysaccharide comprising copolymers of glucosamine and
N
-acetylglucosamine [
8
]. Typically, chitosan can be derived by deacetylation of the
N
-acetyl glucosamine units of chitin from crustacean shells, generally by hydrolysis under alkali conditions at high temperature [
9
]. The term chitosan is used to describe a series of chitosan polymers (e.g., different molecular weights ranged from 5.0 × 10
4
to 2.0 × 10
6
, viscosity (1% chitosan in 1% acetic acid, <2000 mPa·S), and degree of deacetylation (40–98%)) [
10
]. Due to its remarkable biological properties, chitosan has been widely applied to the pharmaceutical and biomedical fields for drug delivery [
11
], tissue engineering [
12
], and inhibition of bacterial infection [
13
]. However, chitosan is normally insoluble in water above pH 6 and requires acid to ensure the protonation of the primary amine. Its solubility is dependent on the deacetylation (and thereby the pKa value of the chitosan) and the pH. Chitosan with 40% of deacetylation is soluble up to pH 9, whereas chitosan with about 85% of deacetylation is soluble only up to pH 6.5 [
10
]. Additionally, it is slightly soluble in organic solvents, such as dimethyl sulfoxide (DMSO) and
p
-toluene sulfonic acid [
14
]. This poor solubility is a limitation for the processing of chitosan and its chemical modification. Therefore, various chemical modifications (i.e., quaternization, and grafting succinic acid or ethylene glycol) have been introduced to increase the water solubility of chitosan [
8
]. GC is a chitosan derivative conjugated with hydrophilic ethylene glycol branches, and it is water soluble at a neutral/acidic pH where the pendent ethylene glycol branches on polymer increase both aqueous solubility of the native chitosan and provide steric stabilization [
15
]. Additionally, the presence of reactive functional groups, including amine and hydroxyl groups in the GC backbone, offers flexibility for various chemical modifications [
16
]. Through numerous synthetic strategies, GC can be easily modified to afford a large number of derivatives for drug delivery. These GC derivatives form self-assembled nanostructures and can be used as drug delivery systems to carry therapeutic drugs and diagnostic agents [
5
]. In this review, we summarize the versatile chemical modification methods used to prepare various GC derivatives (e.g., various GC derivatives as drug carriers, GC-drug conjugates using a crosslinker, specific receptor-targeted GC, and stimuli-responsive GC) and describe the recent progress in GC-based drug delivery carriers for disease therapy.
2. Versatile Chemical Derivatizations of Glycol Chitosan
3. Conclusions
In this review, we described the versatile chemical modification methods that can be used to develop GC-based drug carriers for disease therapy. GC and its derivatives have attracted attention and have been extensively investigated for use in a wide range of biomedical applications because of their biocompatibility, biodegradability, and low toxicity. Additionally, due to the large number of reactive free amine and hydroxyl groups on the GC backbone, GC can be easily modified using various synthetic methods to afford a wide range of GC derivatives. GC derivatives can be synthesized via versatile chemical reactions of GC with various hydrophobic moieties (e.g., DOCA, CA, hydrotropic oligomers, and photosensitizers) and form self-assembled nanoparticles in aqueous media. Due to their amphiphilic properties and positive charge, they can readily encapsulate various kinds of drugs including anticancer drugs, peptides, nucleic acids, or photosensitizers. Compared to small drugs or soluble polymers, GC-based nano-sized drug carriers can more specifically deliver many types of drugs to diseased sites, leading to better therapeutic effects. Additionally, to improve the specific recognition and binding to diseased tissues, GC-based drug carriers can be further modified with specific targeting ligands, such as peptides or small molecular ligands. Moreover, many researchers have attempted to solve several of the drawbacks, including inferior pharmacokinetics, premature drug release in the blood stream, unwanted accumulation in normal tissues, and uncontrollable drug release at target sites by chemical modifications of GC with pH sensitive moieties, acid-labile bonds, disulfide bonds, or light-sensitive moieties. These endogenous or external stimuli-responsive GC derivatives can effectively deliver various drugs (e.g., anticancer drugs, siRNA, or poly-siRNA) by controlling drug release at specific diseased tissues rather than normal tissues. As described in this review, versatile chemical modifications of GC are able to produce various GC-based drug carriers or imaging agents with multi-functionality for the treatment of cancers, rheumatoid arthritis, or atherosclerosis. Except for the application of GC derivatives as drug carriers, recently, novel GC derivatives have still been developed for other biomedical applications. For example, an
N
-hexanoyl GC derivative as a thermo-reversible hydrogel can be useful as a convenient method for the development of in vitro 3D cell culture systems when used to coat the surfaces of cell culture dishes [
88
]. GC-EDTA (ethylenediaminetetraacetic acid) derivative was developed as an efficient metalloenzyme inhibitor to protect peptides and proteins from enzymatic degradation [
89
]. Conclusively, the development of novel GC derivatives using various synthetic approaches will be very helpful to design and optimize advanced and innovative drug carriers for personalized medicine.
Acknowledgments
This research was supported in part by the National Research Foundation of Korea (NRF), the Ministry of Education, Science and Technology (grant number 2015R1A2A2A07027863), the High Value-added Food Technology Development Program, the Ministry of Agriculture, Food and Rural Affairs (MAFRA), Republic of Korea (316058-3, 315063-3), the Functional Districts of the Science Belt support program, Ministry of Science, ICT and Future Planning, Republic of Korea (2017K000017), and the Ewha Womans University Research Grant of 2015.
Author Contributions
J.-K.R. and K.P. conceived this review. S.E.K., H.-J.K., J.-K.R., and K.P. collected and wrote the paper, and reviewed the final paper.
Conflicts of Interest
The authors declare no conflict of interest.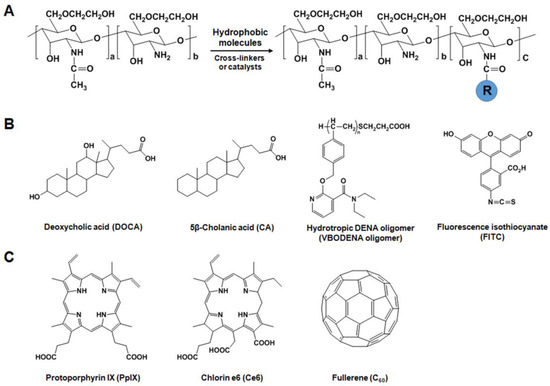 Figure 1. (A) General preparation methods of hydrophobically modified glycol chitosan (HGC) derivatives. HGC derivatives were chemically modified with various hydrophobic molecules in the presence of crosslinkers or catalysts. R means hydrophobic moieties. (B) Examples of hydrophobic molecules for preparation of HGC-based drug carriers. (C) Several photosensitizers such as PpIX, Ce6 or C60 can be coupled to GC for photodynamic therapy.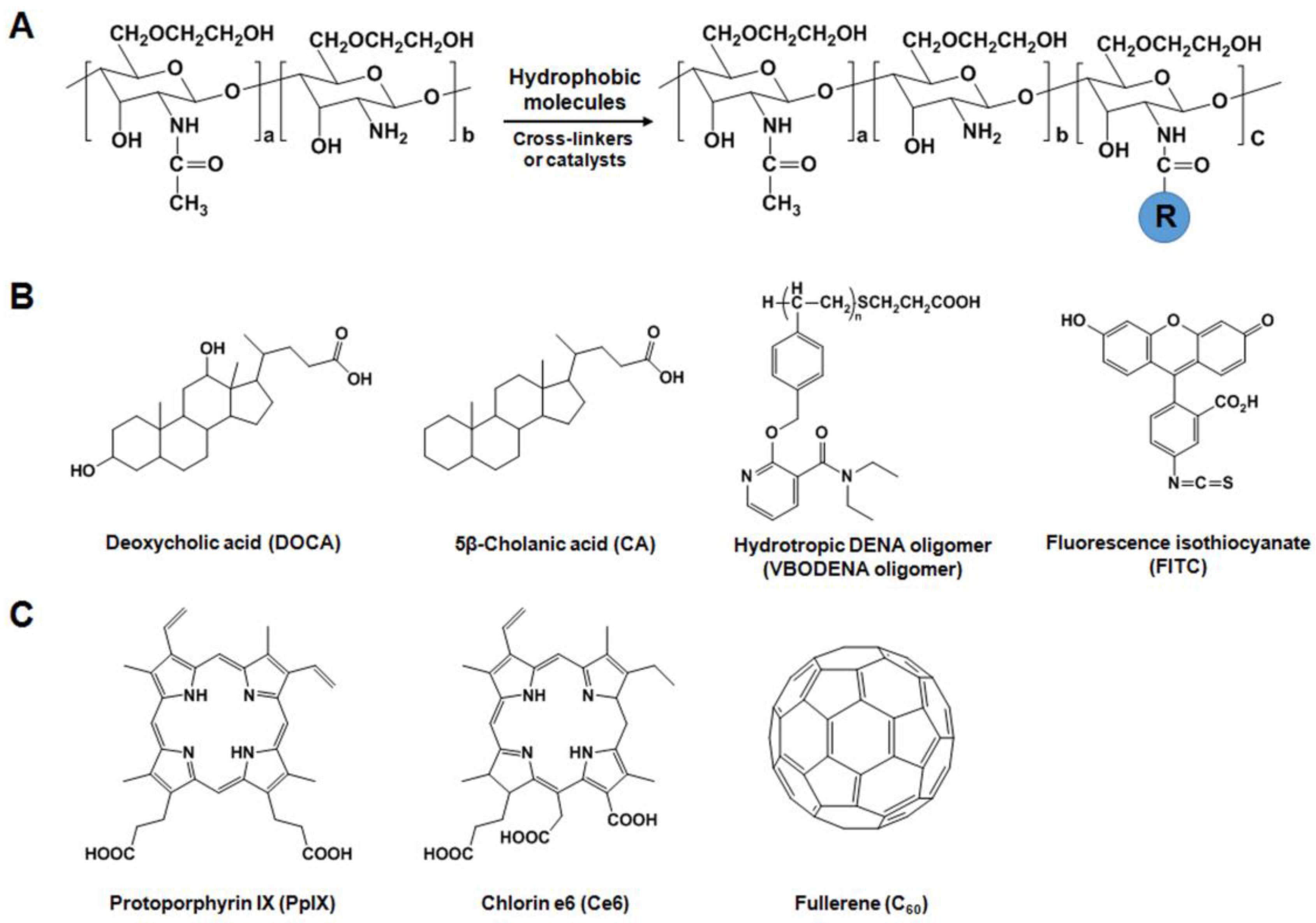 Figure 2. Specific receptor targetable GC derivatives. (A) Specific receptor targetable peptides such as IL-4R- and S2-peptide can be coupled to GC-CA150 nanoparticles using SMCC as a crosslinker. (B) Chemical structure of macrophage mannose receptor-targeting nanoparticles (MMR).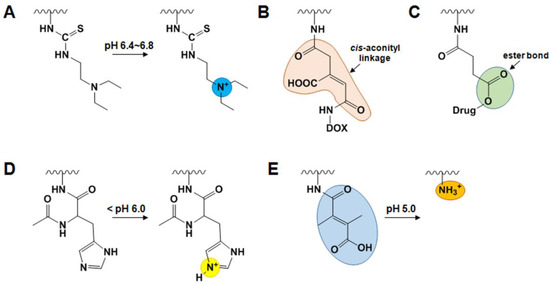 Figure 3.
pH sensitive GC derivatives. (
A
) Self-assembled GC-DEAP in neutral pH drastically underwent conformational changes at acidic extracellular pH via the dissociation after protonation of DEAP moiety in GC. (
B
,
C
) Polymer-drug conjugates which were linked through
cis
-aconityl linkage or ester linkage were cleaved at acidic intracellular pH environment, leading to release of drugs into the cytosol. (
D
) Under endosomal pH (below pH 6.0), the imidazole group of NAcHis in NAcHis-GC derivatives were protonated to destabilize the self-assembled nanostructures of NAcHis-GC. (
E
) DMA (2,3-dimethylmaleic anhydride) moiety conjugated to GC was stable at neutral pH. Once it is exposed to acidic endosomal pH 5.0, the amides between GC and DMA were hydrolyzed to regenerate the positively charged amine group.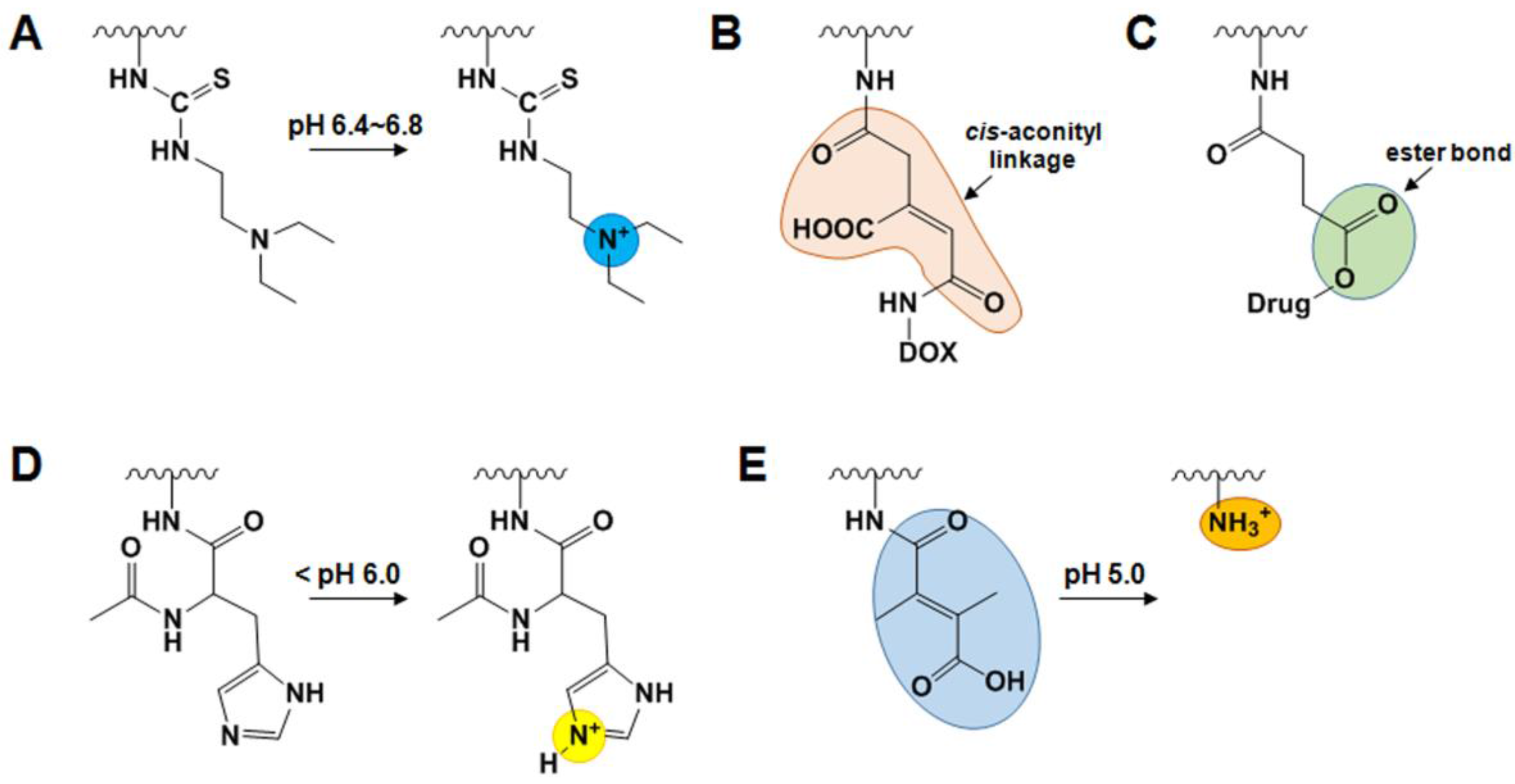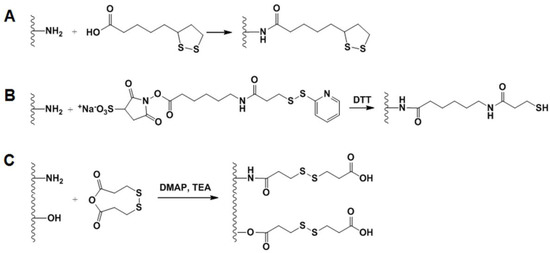 Figure 4. (A) Synthetic schemes for preparation of GC-lipoic acid (GC-LA). Due to hydrophobic property of LA, GC-LA can encapsulate hydrophobic drug and further core-crosslinking using DTT. (B) Thiolated GC (tGC) derivative was prepared by conjugating GC with Sulfo-LC-SPDP, followed by treating DTT. The tGC was further cross-linked to various poly-siRNA with dithiol end groups. (C) To synthesize bioreducible PEI-GC as a gene delivery carrier, DTDPA was conjugated to GC through amide or ester bonds in the presence of DMAP and TEA.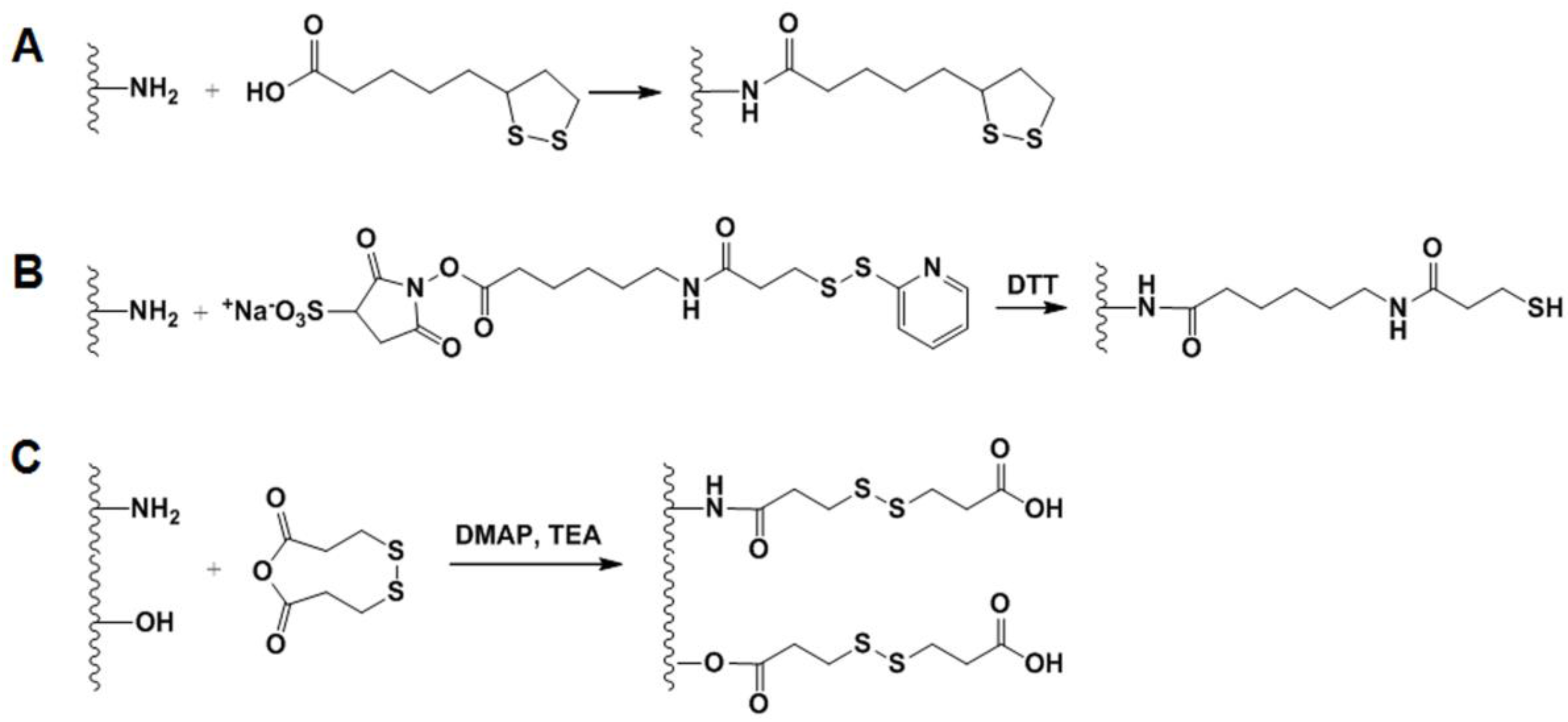 © 2017 by the authors. Licensee MDPI, Basel, Switzerland. This article is an open access article distributed under the terms and conditions of the Creative Commons Attribution (CC BY) license (http://creativecommons.org/licenses/by/4.0/).