Open Access This article is
freely available
re-usable
Article
Novel Anti-Tuberculosis Nanodelivery Formulation of Ethambutol with Graphene Oxide
1
Mycobacteria Research Laboratory, Department of Biological Sciences, Institute of Structural and Molecular Biology (ISMB), Birkbeck, University of London, Malet Street, London WC1E 7HX, UK
2
Material Synthesis and Characterization Laboratory, Institute of Advanced Technology (ITMA), Universiti Putra Malaysia (UPM), Serdang 43400, Selangor, Malaysia
3
Laboratory for Vaccine and Immunotherapeutics, Institute of Biosciences, Universiti Putra Malaysia (UPM), Serdang 43400, Selangor, Malaysia
4
Department of Neurology (Ward No. 18) Jinnah Postgraduate Medical Center/Jinnah Sindh Medical, University Karachi, Karachi 75510, Pakistan
5
Department of Human Anatomy Faculty of Medicine and Health Sciences, University Putra Malaysia (UPM), Serdang 43400, Selangor, Malaysia
†
These authors contributed equally to this work.
*
Author to whom correspondence should be addressed.
Received: 26 August 2017 / Accepted: 13 September 2017 / Published: 12 October 2017
Abstract
:
Tuberculosis (TB) is a bacterial disease responsible for millions of infections and preventable deaths each year. Its treatment is complicated by patients' noncompliance due to dosing frequency, lengthy treatment, and adverse side effects associated with current chemotherapy. However, no modifications to the half-a-century old standard chemotherapy have been made based on a nanoformulation strategy to improve pharmacokinetic efficacy. In this study, we have designed a new nanodelivery formulation, using graphene oxide as the nanocarrier, loaded with the anti-TB antibiotic, ethambutol. The designed formulation was characterized using a number of molecular analytical techniques. It was found that sustained release of the drug resulted in better bioavailability. In addition, the designed formulation demonstrated high biocompatibility with mouse fibroblast cells. The anti-TB activity of the nanodelivery formulation was determined using whole-cell resazurin microtiter plate assay, modified-spot culture growth inhibition assay, and biofilm inhibition assay. The nanodelivery formulation showed good anti-mycobacterial activity. The anti-mycobacterial activity of Ethambutol was unaffected by the drug loading and release process. The results of this study demonstrated the potential of this new nanodelivery formulation strategy to be considered for modifying existing chemotherapy to yield more efficacious antibiotic treatment against TB.
Keywords:
graphene oxide; nanocarrier; ethambutol; tuberculosis; nanodelivery formulation
Acknowledgments
ERS Short-Term Research Training Fellowship 2016 (ID Number STRTF 2016-7461) for BS at BIOL and UPM-MOHE Nanomite grant vot No. 9443100 is gratefully acknowledged. A.M. would like to thank Wellcome Trust-Birkbeck Anniversary studentship for funding her Ph.D. studies. S.B. is a Cipla Distinguished Fellow in Pharmaceutical Sciences.
Author Contributions
B.S., S.B., S.F. and M.Z.H. conceived and designed the project; B.S., B.N., A.C., A.M. performed the experiments; B.S. and A.M. wrote the first complete draft of the manuscript. All other authors reviewed and contributed significantly to improve the manuscript for its final submission.
Conflicts of Interest
The authors declare no conflict of interest.
Sample Availability: Samples of the compounds ETB-GO nanoformulation are available from the authors.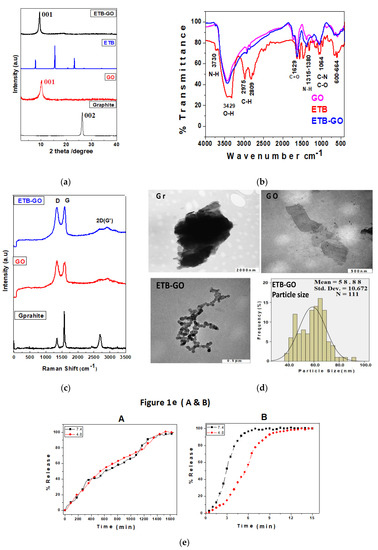 Figure 1. (a) XRD patterns of graphite (Gr), Graphene oxide (GO), ETBambutol (ETB), and the nanodelivery formulation ETB-GO. (b) FTIR spectra of the nanocarrier GO, free drug ETB, and ETB-GO; (c) Raman spectra of Gr, GO, and ETB-GO. (d) Transmission electron micrographs of Gr, GO, and ETB-GO, and the particle size distribution of ETB-GO. (e) (A) In vitro release of ETB from the nanodelivery formulation ETB-GO in PBS solution of pH 7.4 and PBS solution of pH 4.8. In vitro release profile of free drug ETB in PBS solution of pH 7.4 and pH 4.8 (e) (B).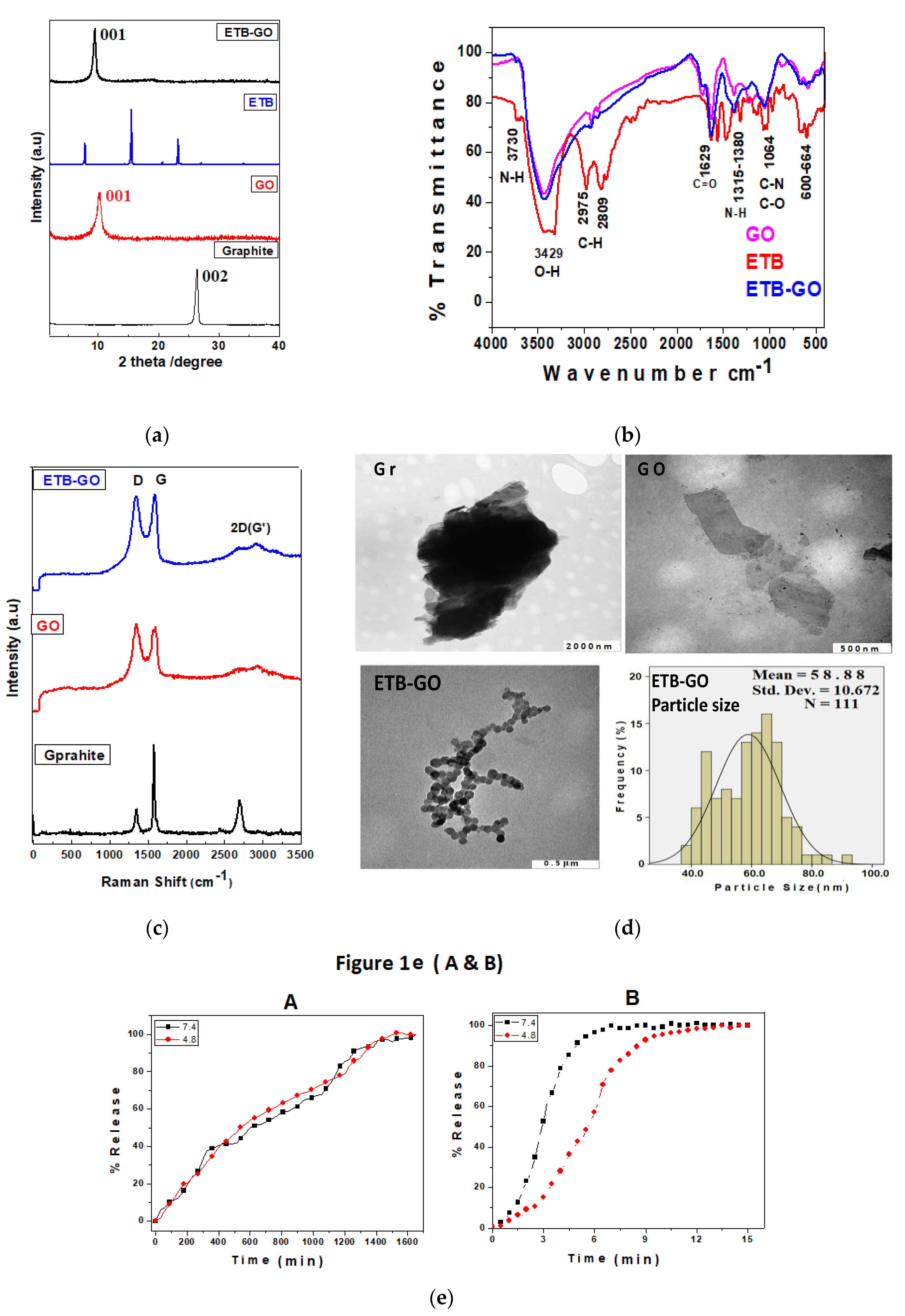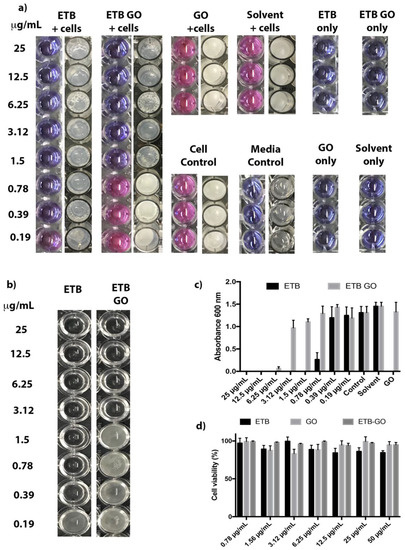 Figure 2.
(
a
) REMA and SPOTi results based on ethambutol (ETB) and the multifunctional nanoformulation ETB-GO tested on
M. smegmatis
. (
b
)
M. smegmatis
biofilm treated with ETB and ETB-GO. The MIC of ETB-GO was found to be 1.5 μg/mL, however, when treating biofilm, the MIC was found 1 fold higher (3.12 μg/mL). (
c
) Quantification of concentration-dependent biofilm of ETB and ETB-GO by crystal violet. (
d
) Cell viability of 3T3 cells after 72 h incubation with ETB, GO, and ETB-GO.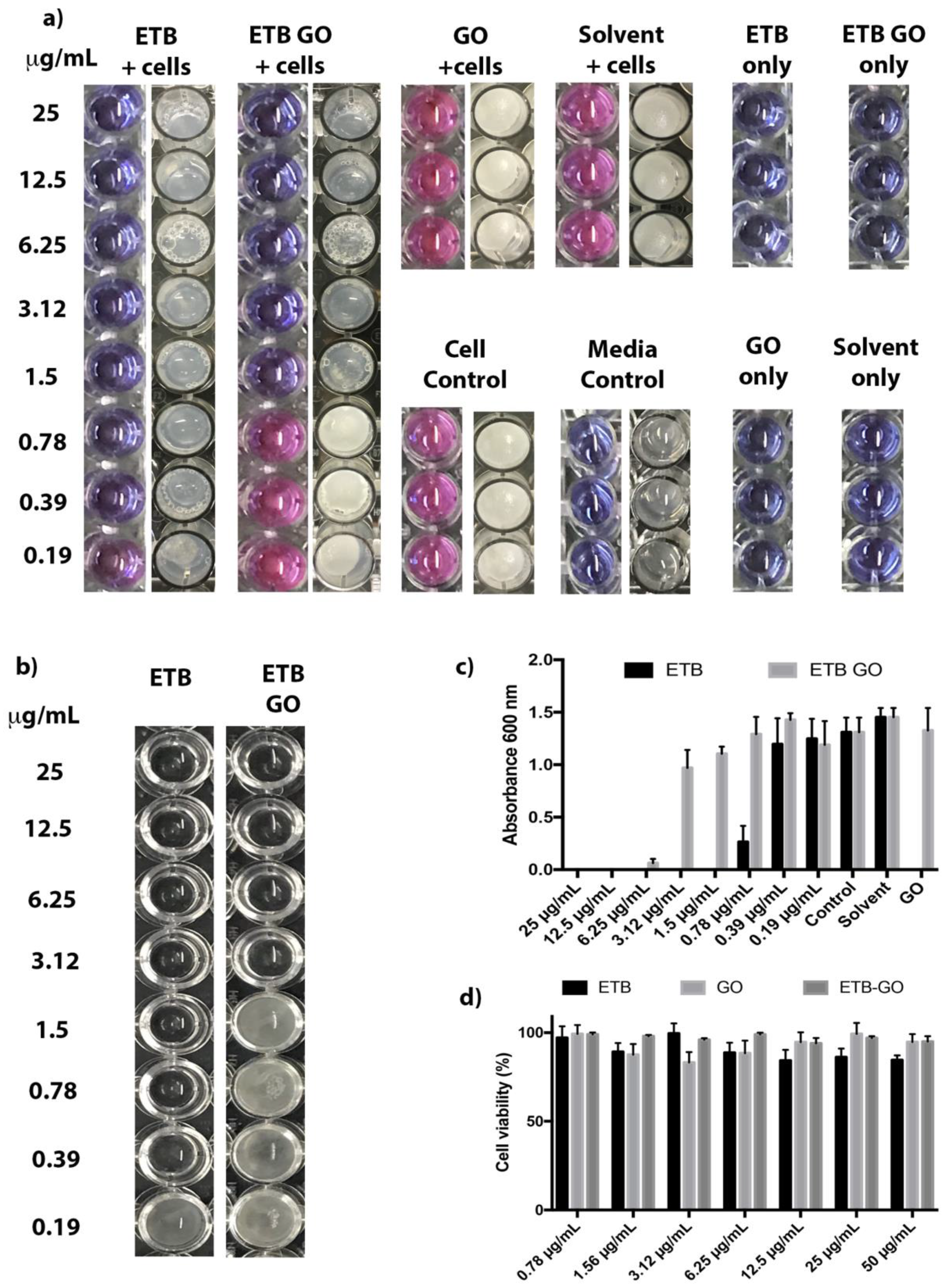 Table 1.
The minimum inhibitory concentration of the compounds tested based on the liquid culture REMA assay with
M. smegmatis
.
Table 1. The minimum inhibitory concentration of the compounds tested based on the liquid culture REMA assay with

M. smegmatis

.
Compound
REMA
Modified SPOTi
Observed MIC (µg/mL)
Effective MIC (µg/mL)
Observed MIC (µg/mL)
Effective MIC (µg/mL)
ETB
0.39
0.39
0.39
0.39
ETBGO
1.5
0.72
1.5
0.72
© 2017 by the authors. Licensee MDPI, Basel, Switzerland. This article is an open access article distributed under the terms and conditions of the Creative Commons Attribution (CC BY) license (http://creativecommons.org/licenses/by/4.0/).