Alkyl-Substituted δ-Lactones Derived from Dihydrojasmone and Their Stereoselective Fungi-Mediated Conversion: Production of New Antifeedant Agents
1
Department of Chemistry, Wroclaw University of Environmental and Life Sciences, Norwida 25, Wrocław 50-375, Poland
2
Bioprocess and Biomedical Engineering Division, Wroclaw University of Technology, Norwida 4/6, Wrocław 50-373, Poland
3
Department of Invertebrate Zoology, Nicolaus Copernicus University, Lwowska 1, Toruń 87-100, Poland
4
Department of Botany and Ecology, University of Zielona Góra, Szafrana 1, Zielona Góra 65-516, Poland
*
Author to whom correspondence should be addressed.
Academic Editor: Tobias A. M. Gulder
Received: 18 July 2016 / Revised: 4 September 2016 / Accepted: 8 September 2016 / Published: 13 September 2016
Abstract
A chemoenzymatic method was applied to obtain optically pure alkyl-substituted δ-lactones. First, chemical Baeyer–Villiger oxidation of dihydrojasmone (
1
) was carried out, affording two new alkyl-substituted δ-lactones: 3,4-dihydro-5-methyl-6-pentyl-2
H
-pyran-2-one (
2
) and 5-methyl-6-pentyl-1,13-dioxabicyclo[4.1.0]heptan-2-one (
3
). In the next step, fungal strains were investigated as biocatalysts to enantioselective conversion of δ-lactones (
2
) and (
3
). The fungal cultures:
Fusarium culmorum
AM10,
Fusarium equiseti
AM15 and
Beauveria bassiana
AM278 catalyzed the stereoselective hydration of the double bond of lactone (
2
) (ee = 20%–99%) while
Didymosphaeria igniaria
KCh6670 proved to be the best biocatalyst for the reduction of carbonyl group in the epoxylactone (
3
) (ee = 99%). In both cases, chiral oxyderivatives were obtained in low to high yields (7%–91%). The synthetic lactones (
2
), (
3
) and its derivatives (
4
), (
5
) were tested for their antifeedant activity towards larvae and adults of lesser mealworm (
Alphitobius diaperinus
Panzer) and peach potato aphid (
Myzus persicae
[Sulzer]) and some of them were active towards studied insects.
View Full-Text
►

▼

Figures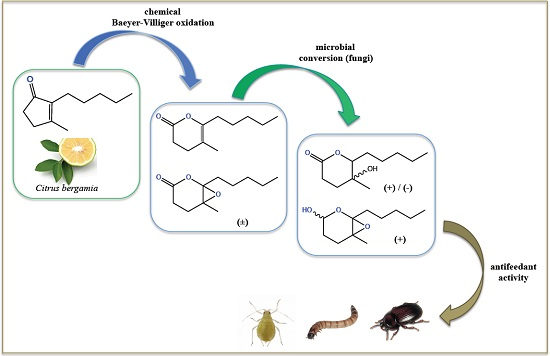 Graphical abstract
This is an open access article distributed under the
Creative Commons Attribution License
which permits unrestricted use, distribution, and reproduction in any medium, provided the original work is properly cited (CC BY 4.0).

Share & Cite This Article
MDPI and ACS Style
Gliszczyńska, A.; Semba, D.; Szczepanik, M.; Dancewicz, K.; Gabryś, B. Alkyl-Substituted δ-Lactones Derived from Dihydrojasmone and Their Stereoselective Fungi-Mediated Conversion: Production of New Antifeedant Agents. Molecules 2016, 21, 1226.
Note that from the first issue of 2016, MDPI journals use article numbers instead of page numbers. See further details here.
Related Articles
Comments
[Return to top]