β-Keto-enol Tethered Pyridine and Thiophene: Synthesis, Crystal Structure Determination and Its Organic Immobilization on Silica for Efficient Solid-Liquid Extraction of Heavy Metals
1
Laboratoire de Chimie Appliquée et Environnement (LCAE), Faculté des Sciences, Université Mohamed I, Oujda 60 000, Morocco
2
Centre de l'Oriental des Sciences et Technologies de l'Eau (COSTE), Université Med I, Oujda 60 000, Morocco
3
Unité Matériaux et Transformations (UMET) - UMR CNRS 8207 Université Lille 1, 59655 Villeneuve d'Ascq Cedex, France
4
Univ. Lille, CNRS, Centrale Lille, ENSCL, Univ. Artois, UMR 8181–UCCS–Unité de Catalyse et Chimie du Solide, F-59000 Lille, France
5
Laboratoire de Chimie du Solide Minéral et Analytique, Faculté des Sciences, Université Mohamed I, Oujda 60 000, Morocco
6
Institut Charles Gerhardt—AIME, UMR 5253, CC1502, Université de Montpellier, 2 place Eugène Bataillon, 34095 Montpellier Cedex 5, France
7
Department of Chemistry, Faculty of Science, King Saud University, P.O. Box 2455, Riyadh 11451, Saudi Arabia
*
Author to whom correspondence should be addressed.
Academic Editor: Derek J. McPhee
Received: 27 May 2016 / Revised: 23 June 2016 / Accepted: 1 July 2016 / Published: 7 July 2016
Abstract
Molecules bearing β-keto-enol functionality are potential candidates for coordination chemistry. Reported herein is the first synthesis and use of a novel designed ligand based on β-keto-enol group embedded with pyridine and thiophene moieties. The product was prepared in a one-step procedure by mixed Claisen condensation and was characterized by EA,
m
/
z
, FT-IR, (
1
H,
13
C) NMR and single-crystal X-ray diffraction analysis. The new structure was grafted onto silica particles to afford a chelating matrix which was well-characterized by EA, FT-IR, solid-state
13
C-NMR, BET, BJH, SEM and TGA. The newly prepared organic-inorganic material was used as an adsorbent for efficient solid-phase extraction (SPE) of Cu(II), Zn(II), Cd(II) and Pb(II) from aqueous solutions and showed a capture capacity of 104.12 mg·g
−1
, 98.90 mg·g
−1
, 72.02 mg·g
−1
, and 65.54 mg·g
−1
, respectively. The adsorption capacity was investigated, in a batch method, using time of contact, pH, initial concentration, kinetics (Langmuir and Freundlich models), and thermodynamic parameters (ΔG°, ΔH° and ΔS°) of the system effects.
View Full-Text
►

▼

Figures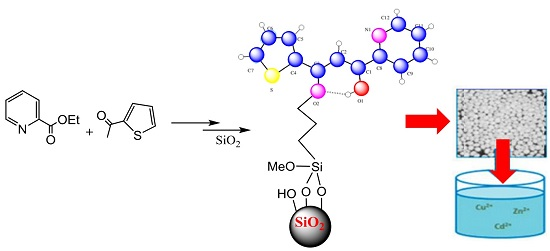 Graphical abstract
This is an open access article distributed under the
Creative Commons Attribution License
which permits unrestricted use, distribution, and reproduction in any medium, provided the original work is properly cited (CC BY 4.0).

Share & Cite This Article
MDPI and ACS Style
Radi, S.; Tighadouini, S.; Bacquet, M.; Degoutin, S.; Dacquin, J.-P.; Eddike, D.; Tillard, M.; Mabkhot, Y.N. β-Keto-enol Tethered Pyridine and Thiophene: Synthesis, Crystal Structure Determination and Its Organic Immobilization on Silica for Efficient Solid-Liquid Extraction of Heavy Metals. Molecules 2016, 21, 888.
Note that from the first issue of 2016, MDPI journals use article numbers instead of page numbers. See further details here.
Related Articles
Comments
[Return to top]