Identification of the Structural Features of Guanine Derivatives as MGMT Inhibitors Using 3D-QSAR Modeling Combined with Molecular Docking
Beijing Key Laboratory of Environmental & Viral Oncology, College of Life Science and Bioengineering, Beijing University of Technology, Beijing 100124, China
†
These authors contributed equally to this work.
*
Author to whom correspondence should be addressed.
Academic Editor: James W. Gauld
Received: 10 May 2016 / Revised: 8 June 2016 / Accepted: 18 June 2016 / Published: 23 June 2016
Abstract
DNA repair enzyme O
6
-methylguanine-DNA methyltransferase (MGMT), which plays an important role in inducing drug resistance against alkylating agents that modify the O
6
position of guanine in DNA, is an attractive target for anti-tumor chemotherapy. A series of MGMT inhibitors have been synthesized over the past decades to improve the chemotherapeutic effects of O
6
-alkylating agents. In the present study, we performed a three-dimensional quantitative structure activity relationship (3D-QSAR) study on 97 guanine derivatives as MGMT inhibitors using comparative molecular field analysis (CoMFA) and comparative molecular similarity indices analysis (CoMSIA) methods. Three different alignment methods (ligand-based, DFT optimization-based and docking-based alignment) were employed to develop reliable 3D-QSAR models. Statistical parameters derived from the models using the above three alignment methods showed that the ligand-based CoMFA (Q
cv
2
= 0.672 and R
ncv
2
= 0.997) and CoMSIA (Q
cv
2
= 0.703 and R
ncv
2
= 0.946) models were better than the other two alignment methods-based CoMFA and CoMSIA models. The two ligand-based models were further confirmed by an external test-set validation and a Y-randomization examination. The ligand-based CoMFA model (Q
ext
2
= 0.691, R
pred
2
= 0.738 and slope
k
= 0.91) was observed with acceptable external test-set validation values rather than the CoMSIA model (Q
ext
2
= 0.307, R
pred
2
= 0.4 and slope
k
= 0.719). Docking studies were carried out to predict the binding modes of the inhibitors with MGMT. The results indicated that the obtained binding interactions were consistent with the 3D contour maps. Overall, the combined results of the 3D-QSAR and the docking obtained in this study provide an insight into the understanding of the interactions between guanine derivatives and MGMT protein, which will assist in designing novel MGMT inhibitors with desired activity.
View Full-Text
►

▼

Figures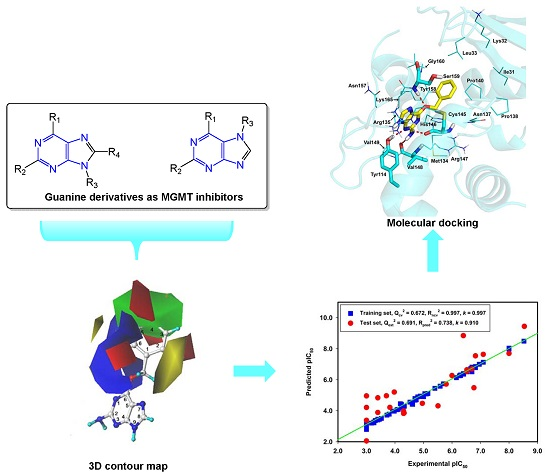 Graphical abstract
This is an open access article distributed under the
Creative Commons Attribution License
which permits unrestricted use, distribution, and reproduction in any medium, provided the original work is properly cited (CC BY 4.0).

Share & Cite This Article
MDPI and ACS Style
Sun, G.; Fan, T.; Zhang, N.; Ren, T.; Zhao, L.; Zhong, R. Identification of the Structural Features of Guanine Derivatives as MGMT Inhibitors Using 3D-QSAR Modeling Combined with Molecular Docking. Molecules 2016, 21, 823.
Note that from the first issue of 2016, MDPI journals use article numbers instead of page numbers. See further details here.
Related Articles
Comments
[Return to top]