An Aqueous Extract of
Tuberaria lignosa

Inhibits Cell Growth, Alters the Cell Cycle Profile, and Induces Apoptosis of NCI-H460 Tumor Cells

1

Department of Biological Sciences, FFUP—Faculty of Pharmacy of the University of Porto, Rua de Jorge Viterbo Ferreira 228, Porto 4050-313, Portugal

2

i3S—Instituto de Investigação e Inovação em Saúde da Universidade do Porto, Rua Alfredo Allen 208, Porto 4200-135, Portugal

3

Cancer Drug Resistance Group, IPATIMUP—Institute of Molecular Pathology and Immunology of the University of Porto, Porto 4200-135, Portugal

4

ICBAS-UP—Institute of Biomedical Sciences Abel Salazar, University of Porto, Porto 4050-313, Portugal

5

Department of Pathology and Oncology, FMUP—Faculty of Medicine of the University of Porto, Alameda Prof. Hernâni Monteiro, Porto 4200-319, Portugal

6

Mountain Research Centre (CIMO), Polytechnic Institute of Bragança, Apartado 1172, Bragança 5301-855, Portugal

*

Authors to whom correspondence should be addressed.

Academic Editor: Derek J. McPhee

Received: 16 April 2016 / Revised: 28 April 2016 / Accepted: 30 April 2016 / Published: 6 May 2016
Abstract
Tuberaria lignosa
(Sweet) Samp. is found in European regions, and has antioxidant properties due to its composition in ascorbic acid and phenolic compounds. Given its traditional use and antioxidant properties, the tumor cell growth inhibitory potential of aqueous extracts from
T. lignosa
(prepared by infusion and decoction) was investigated in three human tumor cell lines: MCF-7 (breast adenocarcinoma), NCI-H460 (non-small cell lung cancer), and HCT-15 (human colorectal adenocarcinoma). Both extracts inhibited the growth of these cell lines; the most potent one being the
T. lignosa
extract obtained by infusion in the NCI-H460 cells (GI
50
of approximately 50 μg/mL). Further assays were carried out with this extract in NCI-H460 cells. At 100 μg/mL or 150 μg/mL it caused an increase in the percentage of cells in the G0/G1 phase and a decrease of cells in S phase of the cell cycle. Additionally, these concentrations caused an increase in the percentage of apoptotic cells. In agreement, a decrease in total poly (ADP-ribose) polymerase (PARP) and pro-caspase 3 levels was found. In conclusion, the
T. lignosa
extract obtained by infusion was more potent in NCI-H460 cells, altering the cell cycle progression and inducing apoptosis. This work highlights the importance of
T. lignosa
as a source of bioactive compounds with tumor cell growth inhibitory potential.
View Full-Text
►

▼

Figures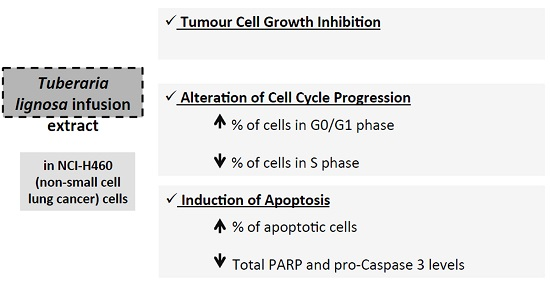 Graphical abstract
This is an open access article distributed under the
Creative Commons Attribution License
which permits unrestricted use, distribution, and reproduction in any medium, provided the original work is properly cited (CC BY 4.0).

Share & Cite This Article
MDPI and ACS Style
Pereira, J.M.; Lopes-Rodrigues, V.; Xavier, C.P.R.; Lima, M.J.; Lima, R.T.; Ferreira, I.C.F.R.; Vasconcelos, M.H. An Aqueous Extract of Tuberaria lignosa Inhibits Cell Growth, Alters the Cell Cycle Profile, and Induces Apoptosis of NCI-H460 Tumor Cells. Molecules 2016, 21, 595.
Note that from the first issue of 2016, MDPI journals use article numbers instead of page numbers. See further details here.
Related Articles
Comments
[Return to top]