Synthesis, Spectral Analysis and Preliminary
in Vitro

Evaluation of Some Tetrapyrrolic Complexes with 3d Metal Ions

1

Ilie Murgulescu" Institute of Physical Chemistry, Romanian Academy, 202 Splaiul Independentei, 77208 Bucharest, Romania

2

Victor Babeş" National Institute for Pathology and Biomedical Sciences, 99-101 Splaiul Independenţei, 050096 Bucharest, Romania

3

Faculty of Pharmacy, "Carol Davila" University of Medicine and Pharmacy, 6 Traian Vuia St., 020956 Bucharest, Romania

4

Molecular Physical Chemistry Center and Institute of Nanoscience and Nanotechnology, Instituto Superior Técnico, University of Lisbon, Av. Rovisco Pais, Lisbon 1049-001, Portugal

5

Interdisciplinary Coordination for Research and Innovation, School of Technology and Management, Polytechnic Institute of Portalegre, Lugar da Abadessa, Apartado 148, Portalegre 7301-901, Portugal

†

These authors contributed equally to this work.

*

Authors to whom correspondence should be addressed.

Academic Editor: Jean Jacques Vanden Eynde

Received: 20 July 2015 / Revised: 13 August 2015 / Accepted: 18 August 2015 / Published: 26 August 2015
Abstract
In this paper, two tetrapyrrolic complexes, Zn(II)-5-(3-hydroxyphenyl)-10,15,20-tris-(4-acetoxy-3-methoxyphenyl)porphyrin and Cu(II)-5-(3-hydroxyphenyl)-10,15,20-tris-(4-acetoxy-3-methoxyphenyl)porphyrin were synthesized, and characterized from a spectral and biological point of view. The study provided data concerning the behavior of identical external substituents
vs.
two different core insertions. Some of the properties of the proposed tetrapyrrolic structures were highlighted, having photodynamic therapy of cancer as a targeted biomedical application. Elemental analysis, NMR, FTIR and UV-Vis data in various solvents were provided. A preliminary
in vitro
study on normal and cancer cultured cells was carried out for biocompatibility assessment in dark conditions. The preliminary
in vitro
study performed on human peripheral mononuclear cells exposed to tetrapyrrolic compounds (2 µM) showed that the proposed compounds had a convenient cytotoxic profile on human normal peripheral blood mononuclear cells under dark conditions. Meanwhile, the investigated compounds reduced the number of metabolically active breast tumor MCF-7 cells, with the exception of Zn(II) complex-containing a symmetrical ligand. Accordingly, preliminary
in vitro
data suggest that the proposed tetrapyrrolic compounds are good candidates for PDT, as they limit tumor expansion even under dark conditions, whilst sparing normal cells.
View Full-Text
►

▼

Figures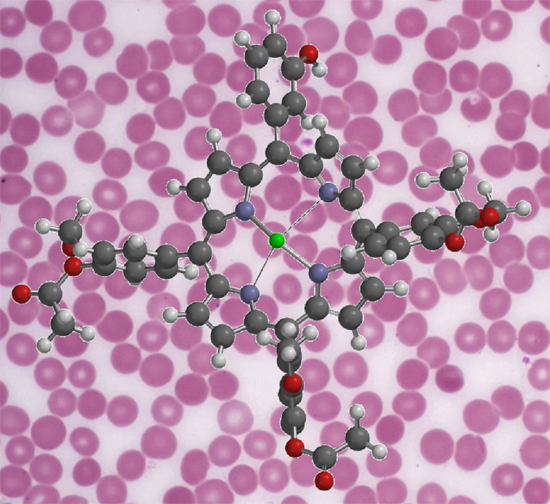 Graphical abstract
This is an open access article distributed under the
Creative Commons Attribution License
which permits unrestricted use, distribution, and reproduction in any medium, provided the original work is properly cited (CC BY 4.0).

Share & Cite This Article
MDPI and ACS Style
Socoteanu, R.; Manda, G.; Boscencu, R.; Vasiliu, G.; Oliveira, A.S. Synthesis, Spectral Analysis and Preliminary in Vitro Evaluation of Some Tetrapyrrolic Complexes with 3d Metal Ions. Molecules 2015, 20, 15488-15499.
Related Articles
Comments
[Return to top]