Synthesis and Photophysical Properties of Polycarbo-Substituted Quinazolines Derived from the 2-Aryl-4-chloro-6-iodoquinazolines
1
Department of Chemistry, College of Science, Engineering and Technology, University of South Africa, P.O. Box 392, Pretoria 0003, South Africa
2
Computational Chemistry Group, Department of Chemistry, Faculty of Science, University of Mauritius, Réduit 80837, Mauritius
*
Author to whom correspondence should be addressed.
Academic Editor: Philippe Belmont
Received: 3 July 2015 / Revised: 3 August 2015 / Accepted: 7 August 2015 / Published: 13 August 2015
Abstract
The reactivity of the 2-aryl-4-chloro-6-iodoquinazolines towards palladium catalyzed sequential (Sonogashira/Suzuki-Miyaura) and one-pot two-step cross-coupling (bis-Sonogashira, and successive Sonogashira/Stille) reactions to afford novel unsymmetrical polycarbo-substituted quinazolines has been evaluated. In contrast to the chloro-bromo substituted quinazolines in which selectivity has been previously found to generally favor substitution at the more activated C(4)-Cl bond over the weaker C
sp
2
-Br bond, substitution in the case of the chloro-iodo derivatives favors cross-coupling through the intrinsically more reactive C
sp
2
-I bond. The electronic absorption and emission properties of the prepared 2,3-diaryl-6-(phenylethynyl)quinazolines were studied in solvents of different polarity (dichloromethane, toluene, DMF, methanol) and CH
2
Cl
2
-TFA mixture using UV-Vis and emission spectroscopic techniques complemented with density functional theory method to establish the effect of substituents on intramolecular charge transfer properties.
View Full-Text
►

▼

Figures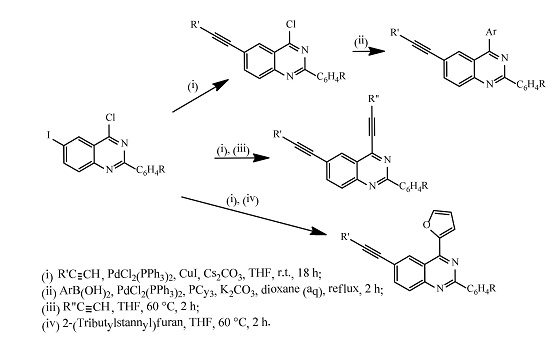 Graphical abstract
This is an open access article distributed under the
Creative Commons Attribution License
which permits unrestricted use, distribution, and reproduction in any medium, provided the original work is properly cited (CC BY 4.0).

Share & Cite This Article
MDPI and ACS Style
Mphahlele, M.J.; Paumo, H.K.; Rhyman, L.; Ramasami, P. Synthesis and Photophysical Properties of Polycarbo-Substituted Quinazolines Derived from the 2-Aryl-4-chloro-6-iodoquinazolines. Molecules 2015, 20, 14656-14683.
Related Articles
Comments
[Return to top]