Neuroprotective Effects of Mitochondria-Targeted Plastoquinone and Thymoquinone in a Rat Model of Brain Ischemia/Reperfusion Injury
1
Belozersky Institute of Physico-Chemical Biology, Lomonosov Moscow State University, Leninskye Gory, House 1, Building 40, 119992 Moscow, Russia
2
Institute of Mitoengineering, Lomonosov Moscow State University, Leninskye Gory, House 1, Building 73A, 119992 Moscow, Russia
3
International Laser Center, Lomonosov Moscow State University, Leninskye Gory, House 1, Building 62, 119992 Moscow, Russia
4
Faculty of Chemistry, Lomonosov Moscow State University, Leninskye Gory, House 1, Building 3, 119992 Moscow, Russia
5
Faculty of Fundamental Medicine, Lomonosov Moscow State University, Lomonosovsky Prospekt, House 31-5, 117192 Moscow, Russia
6
Faculty of Physics, Lomonosov Moscow State University, Leninskye Gory, House 1, Building 2, 119992 Moscow, Russia
*
Author to whom correspondence should be addressed.
Academic Editor: Peter Koulen
Received: 1 July 2015 / Revised: 3 August 2015 / Accepted: 5 August 2015 / Published: 11 August 2015
Abstract
We explored the neuroprotective properties of natural plant-derived antioxidants plastoquinone and thymoquinone (2-demethylplastoquinone derivative) modified to be specifically accumulated in mitochondria. The modification was performed through chemical conjugation of the quinones with penetrating cations: Rhodamine 19 or tetraphenylphosphonium. Neuroprotective properties were evaluated in a model of middle cerebral artery occlusion. We demonstrate that the mitochondria-targeted compounds, introduced immediately after reperfusion, possess various neuroprotective potencies as judged by the lower brain damage and higher neurological status. Plastoquinone derivatives conjugated with rhodamine were the most efficient, and the least efficiency was shown by antioxidants conjugated with tetraphenylphosphonium. Antioxidants were administered intraperitoneally or intranasally with the latter demonstrating a high level of penetration into the brain tissue. The therapeutic effects of both ways of administration were similar. Long-term administration of antioxidants in low doses reduced the neurological deficit, but had no effect on the volume of brain damage. At present, cationic decylrhodamine derivatives of plastoquinone appear to be the most promising anti-ischemic mitochondria-targeted drugs of the quinone family. We suggest these antioxidants could be potentially used for a stroke treatment.
View Full-Text
►

▼

Figures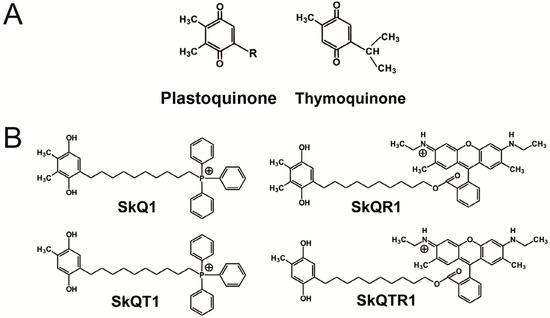 Figure 1
This is an open access article distributed under the
Creative Commons Attribution License
which permits unrestricted use, distribution, and reproduction in any medium, provided the original work is properly cited (CC BY 4.0).

Share & Cite This Article
MDPI and ACS Style
Silachev, D.N.; Plotnikov, E.Y.; Zorova, L.D.; Pevzner, I.B.; Sumbatyan, N.V.; Korshunova, G.A.; Gulyaev, M.V.; Pirogov, Y.A.; Skulachev, V.P.; Zorov, D.B. Neuroprotective Effects of Mitochondria-Targeted Plastoquinone and Thymoquinone in a Rat Model of Brain Ischemia/Reperfusion Injury. Molecules 2015, 20, 14487-14503.
Related Articles
Comments
[Return to top]