Open Access This article is
freely available
re-usable
Review
Lectins with Potential for Anti-Cancer Therapy
1
Department of Neurobiology, Physiology, and Behavior, University of California, Davis, CA 95616, USA
2
School of Biomedical Sciences, Faculty of Medicine, The Chinese University of Hong Kong, Shatin, New Territories, Hong Kong, China
*
Author to whom correspondence should be addressed.
Academic Editor: Derek J. McPhee
Received: 2 December 2014 / Accepted: 15 February 2015 / Published: 26 February 2015
Abstract
:
This article reviews lectins of animal and plant origin that induce apoptosis and autophagy of cancer cells and hence possess the potential of being developed into anticancer drugs. Apoptosis-inducing lectins encompass galectins, C-type lectins, annexins,
Haliotis discus discus
lectin,
Polygonatum odoratum
lectin, mistletoe lectin, and concanavalin A, fucose-binding
Dicentrarchus labrax
lectin, and
Strongylocentrotus purpuratus
lectin,
Polygonatum odoratum
lectin, and mistletoe lectin,
Polygonatum odoratum
lectin, autophagy inducing lectins include annexins and
Polygonatum odoratum
lectin.
Keywords:
lectins; cancer cells; apoptosis; autophagy
1. Introduction
Research concerning lectins has aided in further discovery of their useful properties for cancer treatment. Not all proteins in the lectin family necessarily need to induce apoptosis to be considered for cancer therapy. Many lectins show potential as biomarkers indicating early detection of malignant growth or as autophagy inducers. Autophagy is a cellular mechanism that involves the catabolic breakdown of cytoplasmic components such as proteins or organelles via lysosomes. Its main function is to remove damaged or infected cells thus contributing to the body's immune system. Autophagy, like apoptosis, can be induced through multiple pathways and mechanisms depending on the lectin used.
3. C-Type Lectins
Lectins such as Dendritic Cell-Specific Intercellular adhesion molecule-3-Grabbing Non-integrin (DC-SIGN), Natural killer-receptors (NK-receptors), and selectins including P-selectin, L-selectin, and E-selectin are all part of the superfamily called C-type lectin. C-type lectins are known to be involved in immune response, cell proliferation, and programmed cell death making them expected targets for research. DC-SIGN is one important C-lectin that can be recognized by glycosylated ICAM-2 which binds to form a DC-SIGN-ICAM-2 complex. This complex begins the maturation of dendritic cells that are capable of generating a specific cytotoxic T lymphocyte-modulated immune response which promotes antitumor activity. Another study also found DC-SIGN can recognize and bind to certain Le glycans expressed in human colorectal carcinoma cells leading to increased immunofunctioning [
13
]. Tumor death can be triggered by natural killer (NK) cells through the perforin granzyme pathway or death receptors on tumor cells surfaces like TRAIL and Fas ligands [
14
]. However, NK cells can only be effective cancer treatment options if they can be delivered to the area of the cancerous cells. Unlike the other two C-type lectins previously mentioned, selectins, another group of C-type lectins, are not known to have any apoptotic properties and are more often studied for their role in tumor metastasis through cell adhesion and expression in cancer cells [
9
]. Nevertheless, they are worth mentioning as they hold great potential for this different method of carcinoma treatment.
4. Annexin
Annexins are Ca
2+
-regulated phospholipid-binding proteins that are engaged in regulation of cell growth as well as induction of apoptosis. Researchers have discovered that many animal proteins in the annexin family have apoptotic-inducing properties making them interesting subjects for cancer research. Annexin-1 has been shown to inhibit activation of the NF-κB signal transduction pathway in human cancer cells making it a possible cancer treatment option [
15
]. The NF-κB signal transduction pathway is often enhanced or constitutively active in cancerous cells and can increase their proliferation or protect them from cell death [
16
]. As a result, using Annexin-1 as a pathway inhibitor may be efficacious in cancer therapy. Annexin-6 also holds some prospects, acting as a tumor suppressor through negative regulation of the Ras–Raf–mitogen-activated protein kinase (Ras-Raf-MAPK) signaling pathway [
15
]. The Ras-Raf-MAPK pathway is recognized for its role in cell proliferation, and mutations can create oncogenes associated with the pathway leading to the development of certain cancers [
17
]. One investigation disclosed that annexin-6 impaired tumor growth in mice and another study showed down-regulation of annexin-6 in metastatic melanoma cells [
18
,
19
]. Annexin-7 has been shown to be associated with suppression of prostate cancer cells [
20
]. Additional research should be done in order to discover more about the mechanisms and pathways involved in restriction of cancer growth by annexins. The regulation of annexin expression in cancer cells such as the increased expression of Annexin-1 in prostate cancer cell lines, esophageal cancer, and hepato-carcinoma also merits further investigation of annexins [
9
].
5. Other Animal Lectins
A wide variety of lectins found in invertebrates act as the first line of defense against pathogens through binding and neutralization or by promoting phagocytosis from other cells [
48
].
6. Marine Animal Lectins
There are a few available studies that have shown isolated marine lectins with the ability to induce apoptosis in cancer cells. However, marine lectins show great potential for anti-cancer treatment due to the fact many of them possess the ability to bind to terminal sugars of glycolipids or glycoproteins, an essential role in marine innate immunity.
6.1. Sialic Acid Binding Haliotis Discus Discus Lectin (HddSBL)
Lectins, extracted and purified from
Haliotis discus discus
, also known as disk abalone, are important in the innate immunity process of cells including cell recognition and defense. HddSBL was found to have significant growth obstruction at high enough dosages on Hep3B—a hepatocellular carcinoma cell line, SW480—a colorectal cancer cell line, and A549 and H1299—both lung cancer cell lines [
21
]. Analysis through cell lysis and western blotting determined that HddSBL caused down-regulation of Bcl-2, an anti-apoptosis factor, but did not activate capases [
22
]. Capases, also known as cysteine-aspartic proteases or cysteine-dependent aspartate-directed proteases, are important proteins involved in inducing apoptosis in cells.
6.2. Fucose-Binding Dicentrarchus Labrax Lectin (DIFBL)
Dicentrarchus labrax
fucose-binding lectin (DIFBL) is a lectin found in
Dicentrarchus labrax
, more commonly known as the European seabass, and is present in the larvae one month following hatching [
49
]. In a similar experiment to the one conducted testing the anti-tumor abilities of HddSBL, DIFBL was tested against liver cancer cell lines—Hep3B and BEL-7404, A549 lung cancer cells, and SW480, a colorectal carcinoma cell line. Results showed suppressed
in vitro
proliferation of all the cell lines though effectiveness was dependent on the dosage of DIFBL and length of culture time. The mechanism of apoptosis induction, the cause of proliferation suppression in the cell lines, was found to be through down-regulation of Bcl-2 and XIAP, anti-apoptosis factors, in Hep3B cells which were chosen to be the model studied. Further examination suggested involvement of the PRMT5-E2F-1 pathway in DIFBL induced apoptosis in Hep3B cells despite no up-regulation of caspases [
50
].
6.3. Rhamnose-Binding Strongylocentrotus Purpuratus Lectin (SpRBL)
Rhamnose-binding
Strongylocentrotus purpuratus lectin
(SpRBL) was also found to undergo a mechanism similar to DIFBL to induce apoptosis in Hep3B cells involving the same PRMT5-E2F pathway and likewise down regulating Bcl-2 and XIAP [
50
]. However, SpRBL was found to be more effective than DIFBL after 72 h of incubation, and while DIFBL has been seen to concentrate in membranous areas and organelles of cells, SpRBL does not show the same localization. Little literature concerning the effects of SpRBL as a cancer therapy option is available, but as it shows consistent results as with other marine lectins, it is an area of lectin research that should be considered for further experimentation.
7. Other Plant Lectins
The greatest amount of research on lectin proteins concerns plant lectins due to their widespread occurrence and relatively similar defensive properties. Here we cover the plant lectins that have been found to hold the greatest potential for anti-cancer growth including
Polygonatum odoratum
lectin, mistletoe lectin from a variety of sources, and concanavalin A (Con A). Plant lectins affect both apoptosis and autophagy by modulating representative signalling pathways involved in Bcl-2 family, caspase family, p53, PI3K/Akt, ERK, BNIP3, Ras-Raf and ATG families, in cancer [
51
].
7.1. Polygonatum Odoratum Lectin (POL)
Polygonatum odoratum
lectin (POL) is a lectin categorized as part of the GNA-related family—a group of lectins all sharing a common three dimensional structure despite having differences in primary amino acid sequence. All GNA-related family lectins specifically bind to the monosaccharide mannose due to a specific amino acid sequence that is present in all such lectins which might be linked to their anti-cancerous properties [
23
]. POL has been found to induce signs of apoptosis in A549 lung cancer cells without affecting healthy HELF lung cells which did not exhibit signs of membrane blebbing, volume reduction, and DNA fragmentation. The selectivity of apoptosis induction in the malignant A549 cells but not standard HELF cells portends potential tumor suppression. In an experiment, the inhibitory rate was almost 50% after incubating A549 cells for 24 h when a concentration of 23 µg/mL of POL was used and it was determined that apoptosis was induced by means of suppressing a mitochondrial-mediated pathway known as Akt-NF-κb pathway. In addition, autophagy, another form of stopping cancer cell proliferation, was found to be induced by blocking the Akt-mTOR pathway [
24
]. Another experiment also found POL's 50% inhibitory rate of L929 murine fibrosarcoma cells to be at a concentration of 25 μg/mL after 24 h of incubation. It was further determined that POL induced apoptosis in the L929 rodent cells through the involvement of a caspase-dependent pathway—consistent with the results found using A549 cells, Fas mediating apoptotic pathway—a death-receptor pathway, and a mitochondrial pathway [
25
]. Even more promising, POL was shown to enhance the effects of TNFα, a tumor necrosis factor, in the same experiment. POL triggered apoptosis and autophagy in human MCF-7 breast cancer cells by targeting epidermal growth factor receptor-mediated Ras-Raf-MEK-ERK signaling pathway [
26
].
7.2. Mistletoe (Viscum Album) Lectin
Extracts of lectins from mistletoe plant species have been well studied due to their widespread effectiveness on a variety of neoplastic cells, yet it is one of the more controversial lectins when regarding cancer treatment. Many studies show pro-apoptosis effects when certain dosages of mistletoe lectins are given, while other concentrations produce anti-apoptotic consequences [
27
]. Genes implicated in glioblastoma progression and malignancy including transforming growth factor-β and matrix-metalloproteinases manifested downregulation and tumor growth in glioblastoma xenograft bearing mice was retarded after treatment with the lectin-containing mistletoe extract ISCADOR[
28
]. Mistletoe lectin extracts are composed primarily of mistletoe lectin I, II, and III though the differences in each one have yet to be studied thoroughly. Research studies have found that lectin purified from the Korean mistletoe, known as
Viscum album
var. coloratum agglutinin (VCA), has positive effects when trials were carried out on human breast cancer cells. Even stronger programmed cell death results were found when the VCA lectin was combined with doxorubicin (DOX), though its clinical uses are limited as DOX is known to have toxic side effects including cardiotoxicity and myelosuppression [
29
]. Stimulation of proteins inducing apoptosis such as Bax and Puma and inhibition of Bcl-2 was seen when using the combination of VCA and DOX [
41
]. Korean mistletoe lectin (
Viscum album
L.
coloratum
agglutinin) elicited apoptosis in SK-Hep-1 (p53-positive) and Hep 3B (p53-negative) human hepatocarcinoma cells through p53- and p21-independent pathways, by down-regulation of Bcl-2 and telomerase and up-regulation of Bax functioning upstream of caspase-3 in both cell lines [
30
].
Chinese mistletoe lectin-1 (CM-1) is an additional lectin that can induce apoptosis in colorectal cancer cells through down-regulation of miR-135a&b expression and up-regulation of expression of the adenomatous polyposis coli (APC) gene leading to reduced activity of Wnt signaling, a gene downstream of APC. Wnt signaling controls β-catenin levels thus affecting gene expression and interference with this signal has been linked to 90% of colorectal cancer cases [
7
]. Other human cancer cell lines affected by mistletoe lectins include acute lymphoblastic leukemia cells (NALM-6), glioblastoma cells through NK-mediated cell lysis, hepatoma carcinoma cells through a p53- and p21-independent mitochondrial controlled pathway, peripheral blood mononuclear cells via enhanced pro-apoptotic proteins, monocytic tumour cell lines via activating expression of individual interleukin mRNA, and epidermoid carcinoma cells (A253) by inducing dephosphorylation of Akt [
31
,
32
]. Recombinant mistletoe lectin increased the survival rate and survival time of severe combined immunodeficient (SCID) mice which had received transplantation of human ovarian cancer cells [
33
].
7.4. Soybean (Glycine Max) Lectin
Soybean lectin elicited apoptosis, autophagy, and DNA damage in HeLa cells via the generation of reactive oxygen species. N-acetylcysteine which scavenges scavenger, reactive oxygen species attenuated the action of soybean lectin [
53
].
7.5. Clematis Montana Lectin
7.6. Sclerotium Rolfsii Lectin
The lectin from the phytopathogenic fungus
Sclerotium rolfsii
strongly inhibited proliferation and induced apoptosis of MCF-7 and ZR-75 human breast cancer cells but only weakly inhibited proliferation of non-tumorigenic MCF-10A and HMEC human breast cells. Botin-labelled
Sclerotium rolfsii
lectin showed little binding to normal human breast tissue but intense binding to cancer issues [
56
].
8. Cellular Targeting of Lectins
9. Lectins for Apoptosis-Induced Chemotherapy
With the many natural sources of lectins and the wide supporting evidence for their anti-cancer properties, it seems unwise not to further current research on using lectins for cancer treatment. In this review, we have discussed only a few of the many lectins that researchers have found to have the ability to halt tumor growth through type-I programmed cell death, also known as apoptosis. Cells that have been mutated in a way such that they lose their ability to undergo apoptosis are unable to die and maintain cell homeostasis [
66
]. These cells are likely to become malignant tumors and will continue to proliferate uncontrollably. Lectin insertion, however, can induce cellular pathways that allow apoptosis to occur and therefore are a viable option for terminating neoplastic growth. Studying the mechanisms by which specific lectins induce apoptosis in cancer cells is important for understanding their effectiveness on different cancer cell lines and should be further examined. Further research on how lectins can be implemented as a drug to patients is also just as important for successful treatment as clinical trials are a necessary step in developing lectins as an anti-cancer drug. Apoptotic means are not the only way to inhibit harmful proliferation. Type-II programmed cell death, more commonly referred to as autophagy, has been documented as a mechanism by which certain lectins prevent further cancerous growth as well as through ribosomal deactivation. This review not only aims to support the necessity for further investigation of specific lectin potential, but to also aid in starting the foundation for studies on lectin effects on malignant cell growth.
Understanding the process and mechanisms by which lectins affect cancerous cell growth is impertinent if we are to use lectins in future clinical cancer therapy. It is important to realize the discrepancies between animal model experiments and the results found in humans when considering the use of lectins for cancer treatment. Lectins are known to have some toxic effects at high concentrations creating some complications when regarding their use for therapy. Mistletoe lectins are a standard example of a potential anti-tumor compound that produces debatable effects when examined in cancer patient prospective studies. While research studies
in vivo
and
in vitro
involving mistletoe lectins both show anti-tumor effects, clinical studies have yet to support such findings. Positive trends have been seen in studies using mistletoe lectins on breast cancer patients, but literature reviews of earlier studies have shown little conclusive evidence for the benefits of mistletoe lectins on survival or quality of life of patients but data from recent years tend to suggest a benefit [
67
,
68
,
69
,
70
,
71
,
72
,
73
,
74
,
75
,
76
,
77
]. However, this does not mean we should refute all experimental lectin trials as many such prospective studies lacked proper methodological practices and were possibly subjected to potential bias. Furthermore, as previously stated, all lectins are known to have varying degrees of effectiveness based on dosage or specific type of lectin extracted which must be taken into consideration when reviewing the literature of human clinical trials. Investigations using
in vivo
lectin experiments may provide a better indication on how a specific lectin may react in a clinical setting and what cytotoxic effects the lectin may hold. Con A is a case in which the lectin has anti-neoplastic effects but can also have toxic effects on cells [
78
].
Besides being vital areas for drug testing, lectins also hold potential for use as cancer markers and predictors. Certain single nucleotide polymorphisms found in the genes coding for C-type lectins have been found to be associated with increased risk of developing colorectal cancer and its severity if established though further studies are warranted [
79
]. Many galectins including galectin-1 and galectin-3 have also shown a correlation with tumor development and can be used as markers of potential cancerous growth [
80
]. Both galectin-1 and galectin-3 interact with oncogenic Ras, a proto-oncogene known to be mutated and constantly expressed in tumor cells rendering these two galectins to be favorable targets for therapy [
81
]. Thus, directing research at such lectins for cancer treatment can be potentially significant and merits further research not only to determine the use of lectins for apoptotic induction, but also to predict and prevent malignant cell growth.
10. Autophagy: Another Possibility for Lectin-Mediated Cancer Therapy
Autophagy is an important component in lectin research as a mechanism for inhibiting neoplastic growth. Though this review is concerned mainly the mechanisms of apoptosis induction, it is important to consider the possibilities autophagy presents in lectin cancer therapy. Autophagy is the process by which a cell will destroy its organelles through the use of autophagosomes and lysosomes. While there are two main types of autophagy—microautophagy and macroautophagy—the general term autophagy is commonly used to refer to the process of macroautophagy. In microautophagy, cytoplasm is engulfed directly at the surface of lysosomes, whereas macroautophagy creates autophagosomes by isolating part of the cytoplasm to create a separate vesicle. This autophagosome then fuses with a lysosome for degradation. Autophagy is not only associated with cancer and has been shown to play an important role in anti-aging, cell development, and antigen presentation thus linking autophagy with immune response [
82
,
83
,
84
,
85
,
86
].
Studies have shown autophagy defects are linked to tumorous growth through various genes. Beclin 1, a gene in mammals similar to the Atg 6 gene in yeast, is a part of a type-III phosphatidylinositol 3-kinase complex that is necessary for autophagic vesicle formation for tumor suppression. DNA sequencing of human breast and ovarian cancer has shown that Beclin 1 is often lost leading to neoplasm [
87
]. Tumor suppressor genes, p53 and PTEN, both stimulate autophagy and are common targets for cancer therapy. Autophagic mechanism damage leads to genome instability which often further proceeds to the uncontrolled and malignant cell growth of tumors. In some cancer cell lines that are apoptosis-resistant or defective, autophagy-induced cell death can be stimulated through chemotherapy treatments such as arsenic trioxide, resveratrol, and tamoxifen [
88
].
In reference to specifically discussed lectins in this review, autophagy can play a key role in their success in inducing cancerous cell death. Con A can bind to mannose glycoproteins and inhibit growth and is suspected to take on an autophagic pathway in heptatoma ML-1 cells [
37
]. Formation of LC3-II, an autophagy marker, and double-layer vesicles and induction of BNIP3, a protein associated with autophagy, support such conclusions [
59
,
89
]. The animal lectin, Annexin-5, has been shown to induce autophagy as well as inhibit endocytosis [
90
]. Though not discussed in this review, another lectin, 9
Polygonatum cyrtonema
lectin (PCL), was found to induce both autophagy and apoptosis through a mitochondria-mediated ROS–p38–p53 pathway in human melanoma A375 cells [
91
].
Another approach involving the use of autophagy in cancer treatment involves the connection between autophagy and apoptosis. Atg5, a specific autophagic protein, has been found to active an apoptotic program when cleaved [
92
]. Thus the study of autophagic mechanisms may be instrumental in determining successful mechanisms of neoplastic cell death.
Figure 1
presents the mechanisms of apoptosis and autophagy induced by lectins in cancer cells.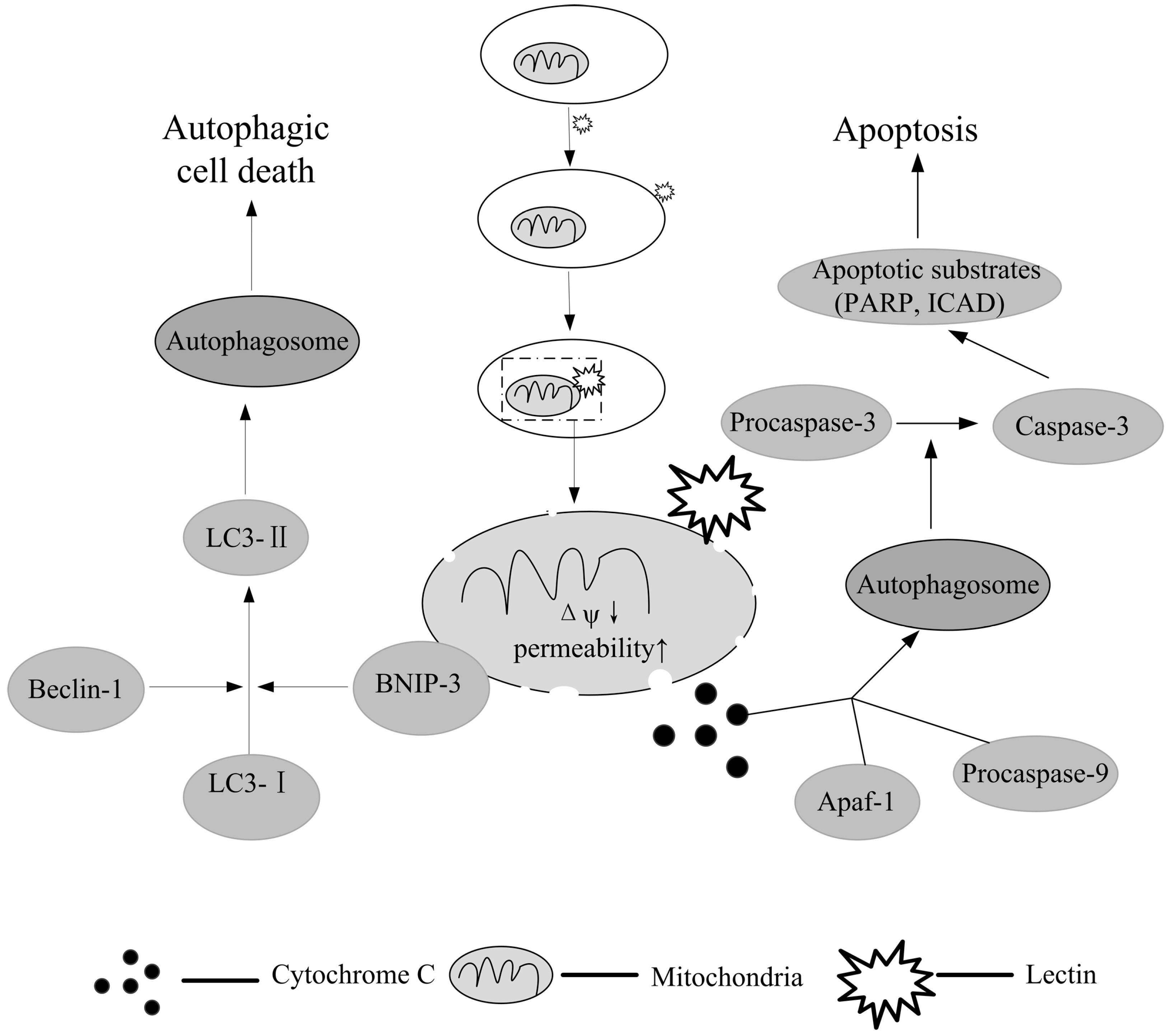 11. Conclusions
In summary, the use of lectins obtained from natural plant and animal sources shows great promise and potential for use in future cancer therapy. Current research has found strong anti-cancer effects of many lectins as shown in this article. Both apoptosis and autophagy are important factors that influence the success of lectin chemotherapy. Additional research should be funded in order to better understand the mechanisms of lectins in both apoptosis and autophagy and aid in the transition from research to clinical application.
In vitro
laboratory and
in vivo
animal studies show promising results, but it is clear that clinical studies are necessary to advance cancer research in utilizing lectins for chemotherapeutic treatment. Mistletoe extract containing lectin has been used clinically at low doses in the treatment of different cancers without serious side effects and the action seems to be beneficial in some cases [
93
,
94
,
95
,
96
].
Author Contributions
Tammy Yau wrote the bulk of the manuscript. Xiuli Dan and Charlene Ng assisted in preparation of the reference list including arrangement and formatting of the references and proofreading of the manuscript. Tzi Bun Ng initiated the review, wrote part of the manuscript and proofread the manuscript.
Conflicts of Interest
The authors declare no conflict of interest.
© 2015 by the authors. Licensee MDPI, Basel, Switzerland. This article is an open access article distributed under the terms and conditions of the Creative Commons Attribution license ( http://creativecommons.org/licenses/by/4.0/).