Inhibitors of the AAA+ Chaperone p97
Department of Pharmacology and Toxicology, College of Pharmacy, University of Arizona, Tucson, AZ 85721-0207, USA
*
Author to whom correspondence should be addressed.
Academic Editor: Derek J. McPhee
Received: 8 December 2014 / Accepted: 3 February 2015 / Published: 12 February 2015
Abstract
It is remarkable that a pathway as ubiquitous as protein quality control can be targeted to treat cancer. Bortezomib, an inhibitor of the proteasome, was first approved by the US Food and Drug Administration (FDA) more than 10 years ago to treat refractory myeloma and later extended to lymphoma. Its use has increased the survival rate of myeloma patients by as much as three years. This success was followed with the recent accelerated approval of the natural product derived proteasome inhibitor carfilzomib (Kyprolis
®
), which is used to treat patients with bortezomib-resistant multiple myeloma. The success of these two drugs has validated protein quality control as a viable target to fight select cancers, but begs the question why are proteasome inhibitors limited to lymphoma and myeloma? More recently, these limitations have encouraged the search for additional targets within the protein quality control system that might offer heightened cancer cell specificity, enhanced clinical utility, a lower rate of resistance, reduced toxicity, and mitigated side effects. One promising target is p97, an ATPase associated with various cellular activities (AAA+) chaperone. p97 figures prominently in protein quality control as well as serving a variety of other cellular functions associated with cancer. More than a decade ago, it was determined that up-regulation of p97 in many forms of cancer correlates with a poor clinical outcome. Since these initial discoveries, a mechanistic explanation for this observation has been partially illuminated, but details are lacking. Understandably, given this clinical correlation, myriad roles within the cell, and its importance in protein quality control, p97 has emerged as a potential therapeutic target. This review provides an overview of efforts towards the discovery of small molecule inhibitors of p97, offering a synopsis of efforts that parallel the excellent reviews that currently exist on p97 structure, function, and physiology.
View Full-Text
►

▼

Figures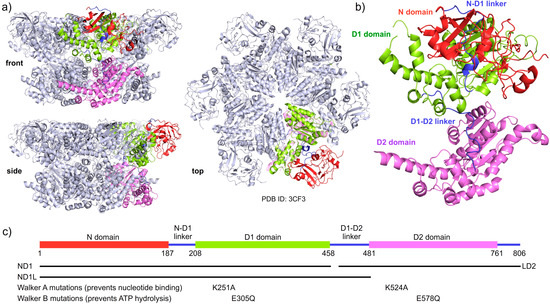 Figure 1
This is an open access article distributed under the
Creative Commons Attribution License
which permits unrestricted use, distribution, and reproduction in any medium, provided the original work is properly cited (CC BY 4.0).

Share & Cite This Article
MDPI and ACS Style
Chapman, E.; Maksim, N.; De la Cruz, F.; La Clair, J.J. Inhibitors of the AAA+ Chaperone p97. Molecules 2015, 20, 3027-3049.
Related Articles
Comments
[Return to top]