New Diethyl Ammonium Salt of Thiobarbituric Acid Derivative: Synthesis, Molecular Structure Investigations and Docking Studies
1
Department of Chemistry, College of Science, King Saud University, P. O. Box 2455, Riyadh 11451, Saudi Arabia
2
Department of Chemistry, College of Science & Arts, King Abdulaziz University, P. O. Box 344,Rabigh 21911, Saudi Arabia
3
Department of Chemistry, Faculty of Science, Alexandria University, P. O. Box 426, Ibrahimia, Alexandria 21321, Egypt
4
Pharmaceutical Organic Chemistry Department, Faculty of Pharmacy, Suez Canal University, Ismailia 41522, Egypt
5
Department of Pharmaceutical Chemistry, College of Pharmacy, King Saud University, P. O. Box 2457, Riyadh 11451, Saudi Arabia
6
X-ray Crystallography Unit, School of Physics, Universiti Sains Malaysia, Penang 11800, Malaysia
7
Department of Biochemistry, Abdul Wali Khan University, Mardan-23200, Pakistan
8
Department of Chemistry, Science College, Al-Najah National University, P. O. Box 7, Nablus 0097, Palestine
9
School of Science and Technology, Georgia Gwinnett College, 1000 University Center Lane, Lawrenceville, GA 30043, USA
†
These authors contributed equally to this work.
*
Author to whom correspondence should be addressed.
Academic Editor: Derek J. McPhee
Received: 21 October 2015 / Revised: 7 November 2015 / Accepted: 11 November 2015 / Published: 19 November 2015
Abstract
The synthesis of the new diethyl ammonium salt of diethylammonium(
E
)-5-(1,5-
bis
(4-fluorophenyl)-3-oxopent-4-en-1-yl)-1,3-diethyl-4,6-dioxo-2-thioxohexaydropyrimidin-5-ide
3
via a regioselective Michael addition of
N
,
N
-diethylthiobarbituric acid 1 to dienone
2
is described. In
3
, the carboanion of the thiobarbituric moiety is stabilized by the strong intramolecular electron delocalization with the adjacent carbonyl groups and so the reaction proceeds without any cyclization. The molecular structure investigations of
3
were determined by single-crystal X-ray diffraction as well as DFT computations. The theoretically calculated (DFT/B3LYP) geometry agrees well with the crystallographic data. The effect of fluorine replacement by chlorine atoms on the molecular structure aspects were investigated using DFT methods. Calculated electronic spectra showed a bathochromic shift of the π-π* transition when fluorine is replaced by chlorine. Charge decomposition analyses were performed to study possible interaction between the different fragments in the studied systems. Molecular docking simulations examining the inhibitory nature of the compound show an anti-diabetic activity with Pa (probability of activity) value of 0.229.
View Full-Text
►

▼

Figures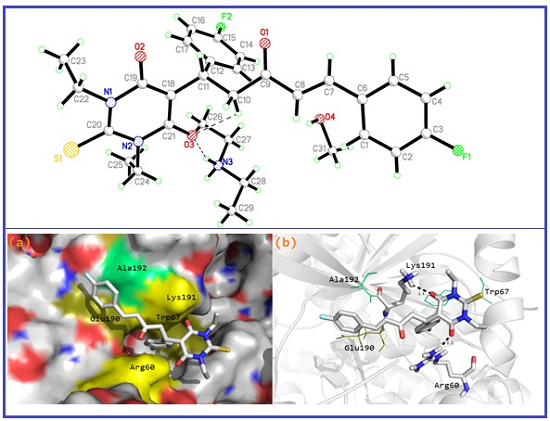 Graphical abstract
This is an open access article distributed under the
Creative Commons Attribution License
which permits unrestricted use, distribution, and reproduction in any medium, provided the original work is properly cited (CC BY 4.0).

Share & Cite This Article
MDPI and ACS Style
Barakat, A.; Al-Majid, A.M.; Soliman, S.M.; Lotfy, G.; Ghabbour, H.A.; Fun, H.-K.; Wadood, A.; Warad, I.; Sloop, J.C. New Diethyl Ammonium Salt of Thiobarbituric Acid Derivative: Synthesis, Molecular Structure Investigations and Docking Studies. Molecules 2015, 20, 20642-20658.
Related Articles
Comments
[Return to top]