Synthesis, Hydrolysis, and Protonation-Promoted Intramolecular Reductive Breakdown of Potential NRTIs: Stavudine α-
P

-Borano-γ-

P

-

N

-l-tryptophanyltriphosphates

Shaw Department of Chemistry, Duke University, Durham, NC 27708, USA

*

Author to whom correspondence should be addressed.

Academic Editor: Ramon Eritja

Received: 16 August 2015 / Revised: 15 September 2015 / Accepted: 21 September 2015 / Published: 16 October 2015
Abstract
Phosphorus-modified prodrugs of dideoxynucleoside triphosphates (ddNTPs) have shown promise as pronucleotide strategies for improving antiviral activity compared to their parent dideoxynucleosides. Borane modified NTPs offer a promising choice as nucleoside/nucleotide reverse transcriptase inhibitors (NRTIs). However, the availability of α-
P
-borano-γ-
P-
substituted NTP analogs remains limited due to challenges with synthesis and purification. Here, we report the chemical synthesis and stability of a new potential class of NRTI prodrugs: stavudine (d4T) 5′-α-
P
-borano-γ-
P
-
N
-L-tryptophanyltriphosphates. One-pot synthesis of these compounds was achieved via a modified cyclic trimetaphosphate approach. Pure
R
p and
S
p diastereomers were obtained after HPLC separation. Based on LC-MS analysis, we report degradation pathways, half-lives (5–36 days) and mechanisms arising from structural differences to generate the corresponding borano tri- and di-phosphates, and H-phosphonate, via several parallel routes in buffer at physiologically relevant pH and temperature. Here, the major hydrolysis products, d4T α-
P
-boranotriphosphate
R
p and
S
p isomers, were isolated by HPLC and identified with spectral data. We first propose that one of the major degradation products, d4T H-phosphonate, was generated from the d4T pronucleotides via a protonation-promoted intramolecular reduction followed by a second step nucleophilic attack. This report could provide valuable information for pronucleotide-based drug design in terms of selective release of target nucleotides.
View Full-Text
►

▼

Figures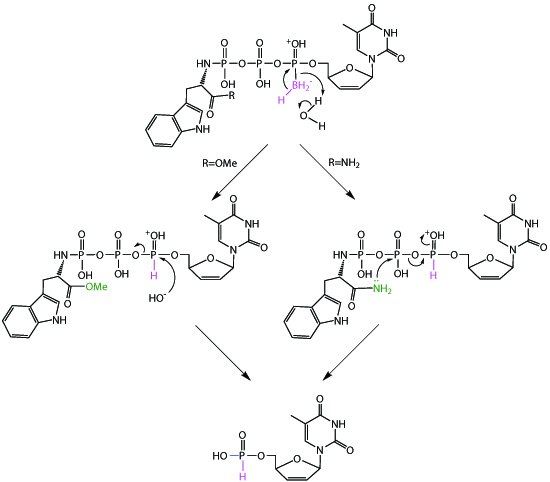 Graphical abstract
This is an open access article distributed under the
Creative Commons Attribution License
which permits unrestricted use, distribution, and reproduction in any medium, provided the original work is properly cited (CC BY 4.0).

Share & Cite This Article
MDPI and ACS Style
Xu, Z.; Shaw, B.R. Synthesis, Hydrolysis, and Protonation-Promoted Intramolecular Reductive Breakdown of Potential NRTIs: Stavudine α-P-Borano-γ-P-N-l-tryptophanyltriphosphates. Molecules 2015, 20, 18808-18826.
Related Articles
Comments
[Return to top]