Challenges and Opportunities of MicroRNAs in Lymphomas
1
Haematology Unit, National Cancer Research Centre, Istituto Tumori "Giovanni Paolo II", Bari 70124, Italy
2
Haematology and Bone Marrow Transplantation Unit, Antonio Perrino Hospital, Brindisi 72100, Italy
3
Medical Oncology Unit, National Cancer Research Centre, Istituto Tumori "Giovanni Paolo II", Bari 70124, Italy
4
Clinical Institute "Prof. R. De Blasi", Reggio Calabria 89100, Italy
*
Author to whom correspondence should be addressed.
Received: 29 April 2014 / Revised: 22 August 2014 / Accepted: 22 August 2014 / Published: 17 September 2014
Abstract
MicroRNAs (miRNAs) are small non-coding RNAs that control the expression of many target messenger RNAs (mRNAs) involved in normal cell functions (differentiation, proliferation and apoptosis). Consequently their aberrant expression and/or functions are related to pathogenesis of many human diseases including cancers. Haematopoiesis is a highly regulated process controlled by a complex network of molecular mechanisms that simultaneously regulate commitment, differentiation, proliferation, and apoptosis of hematopoietic stem cells (HSC). Alterations on this network could affect the normal haematopoiesis, leading to the development of haematological malignancies such as lymphomas. The incidence of lymphomas is rising and a significant proportion of patients are refractory to standard therapies. Accurate diagnosis, prognosis and therapy still require additional markers to be used for diagnostic and prognostic purpose and evaluation of clinical outcome. The dysregulated expression or function of miRNAs in various types of lymphomas has been associated with lymphoma pathogenesis. Indeed, many recent findings suggest that almost all lymphomas seem to have a distinct and specific miRNA profile and some miRNAs are related to therapy resistance or have a distinct kinetics during therapy. MiRNAs are easily detectable in fresh or paraffin-embedded diagnostic tissue and serum where they are highly stable and quantifiable within the diagnostic laboratory at each consultation. Accordingly they could be specific biomarkers for lymphoma diagnosis, as well as useful for evaluating prognosis or disease response to the therapy, especially for evaluation of early relapse detection and for greatly assisting clinical decisions making. Here we summarize the current knowledge on the role of miRNAs in normal and aberrant lymphopoiesis in order to highlight their clinical value as specific diagnosis and prognosis markers of lymphoid malignancies or for prediction of therapy response. Finally, we discuss their controversial therapeutic role and future applications in therapy by modulating miRNA.
View Full-Text
►

▼

Figures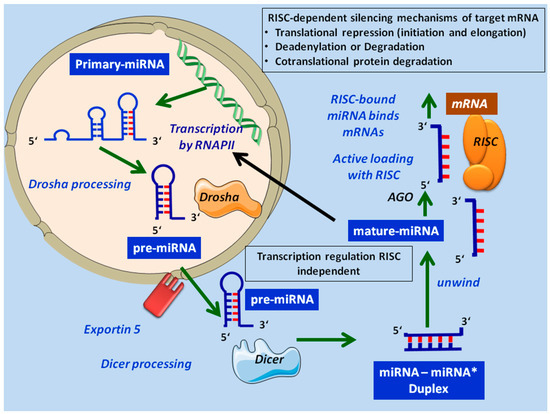 Figure 1

Share & Cite This Article
MDPI and ACS Style
De Tullio, G.; De Fazio, V.; Sgherza, N.; Minoia, C.; Serratì, S.; Merchionne, F.; Loseto, G.; Iacobazzi, A.; Rana, A.; Petrillo, P.; Silvestris, N.; Iacopino, P.; Guarini, A. Challenges and Opportunities of MicroRNAs in Lymphomas. Molecules 2014, 19, 14723-14781.
Related Articles
Comments
[Return to top]