Prebiotic Potential of
Agave angustifolia

Haw Fructans with Different Degrees of Polymerization

1

Centro de Desarrollo de Productos Bióticos, Instituto Politécnico Nacional, P.O. Box 24, Yautepec 62730, Morelos, Mexico

2

Departamento de Sistemas Biológicos, Universidad Autónoma Metropolitana-Xochimilco, Calzada del Hueso 1100, Col. Villa Quietud, Delegación Coyoacán 04960, D.F., Mexico

3

Escuela Nacional de Ciencias Biológicas, Instituto Politécnico Nacional, Prolongación de Carpio y Plan de Ayala s/n, Col. Santo Tomas, Delegación Miguel Hidalgo 11340, D.F., Mexico

*

Authors to whom correspondence should be addressed.

Received: 13 June 2014 / Revised: 14 July 2014 / Accepted: 5 August 2014 / Published: 19 August 2014
Abstract
Inulin-type fructans are the most studied prebiotic compounds because of their broad range of health benefits. In particular, plants of the
Agave
genus are rich in fructans. Agave-derived fructans have a branched structure with both β-(2→1) and β-(2→6) linked fructosyl chains attached to the sucrose start unit with a degree of polymerization (DP) of up to 80 fructose units. The objective of this work was to assess the prebiotic potential of three
Agave angustifolia
Haw fructan fractions (AFF) with different degrees of polymerization. The three fructan fractions were extracted from the agave stem by lixiviation and then purified by ultrafiltration and ion exchange chromatography: AFF1, AFF2 and AFF3 with high (3–60 fructose units), medium (2–40) and low (2–22) DP, respectively. The fructan profile was determined with high-performance anion exchange chromatography with pulsed amperometric detection (HPAEC-PAD), which confirmed a branched fructan structure. Structural elucidation was performed by Fourier Transform Infra-Red Spectroscopy. The AFF spectrum shows characteristic fructan bands. The prebiotic effect of these fractions was assessed
in vitro
through fermentation by
Bifidobacterium
and
Lactobacillus
strains. Four growth patterns were observed. Some bacteria did not grow with any of the AFF, while other strains grew with only AFF3. Some bacteria grew according to the molecular weight of the AFF and some grew indistinctly with the three fructan fractions.
View Full-Text
►

▼

Figures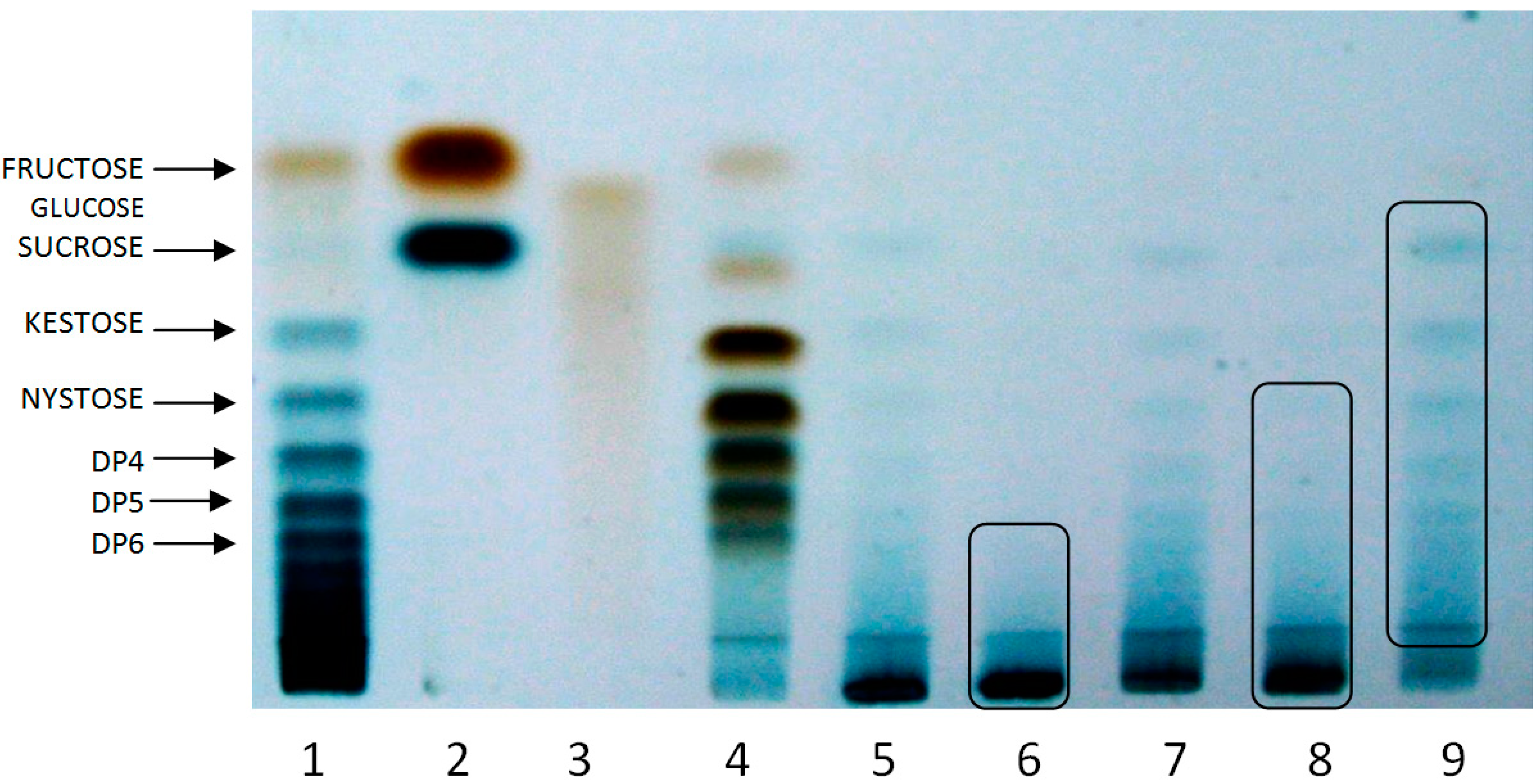 Figure 1

Share & Cite This Article
MDPI and ACS Style
Velázquez-Martínez, J.R.; González-Cervantes, R.M.; Hernández-Gallegos, M.A.; Mendiola, R.C.; Aparicio, A.R.J.; Ocampo, M.L.A. Prebiotic Potential of Agave angustifolia Haw Fructans with Different Degrees of Polymerization. Molecules 2014, 19, 12660-12675.
Related Articles
Comments
[Return to top]