Epigalloccatechin-3-gallate Inhibits Ocular Neovascularization and Vascular Permeability in Human Retinal Pigment Epithelial and Human Retinal Microvascular Endothelial Cells via Suppression of MMP-9 and VEGF Activation
1
Natural Products Research Institute, College of Pharmacy, Seoul National University, 1 Gwanak-ro, Gwanak-gu, Seoul 151-742, Korea
2
Research Center, Samil Pharmaceutical Co. Ltd., 216 Sandan-ro, Danwon-gu, Ansan 425-852, Korea
*
Authors to whom correspondence should be addressed.
Received: 24 June 2014 / Revised: 1 August 2014 / Accepted: 7 August 2014 / Published: 13 August 2014
Abstract
Epigalloccatechin-3-gallate (EGCG) is the main polyphenol component of green tea (leaves of
Camellia sinensis
). EGCG is known for its antioxidant, anti-inflammatory, antiviral, and anti-carcinogenic properties. Here, we identify EGCG as a new inhibitor of ocular angiogenesis and its vascular permeability. Matrix metalloproteinases (MMPs) and vascular endothelial growth factor (VEGF) play a key role in the processes of extracellular matrix (ECM) remodeling and microvascular permeability during angiogenesis. We investigated the inhibitory effects of EGCG on ocular neovascularization and vascular permeability using the retina oriented cells and animal models induced by VEGF and alkaline burn. EGCG treatment significantly decreased mRNA and protein expression levels of MMP-9 in the presence of 12-O-tetradecanoylphorbol-13-acetate (TPA) and tumor necrosis factor alpha (TNF-α) in human retinal pigment epithelial cells (HRPECs). EGCG also effectively protected ARPE-19 cells from cell death and attenuated mRNA expressions of key angiogenic factors (MMP-9, VEGF, VEGF Receptor-2) by inhibiting generation of reactive oxygen species (ROS). EGCG significantly inhibited proliferation, vascular permeability, and tube formation in VEGF-induced human retinal microvascular endothelial cells (HRMECs). Furthermore, EGCG significantly reduced vascular leakage and permeability by blood-retinal barrier breakdown in VEGF-induced animal models. In addition, EGCG effectively limited upregulation of MMP-9 and platelet endothelial cell adhesion molecule (PECAM/CD31) on corneal neovascularization (CNV) induced by alkaline burn. Our data suggest that MMP-9 and VEGF are key therapeutic targets of EGCG for treatment and prevention of ocular angiogenic diseases such as age-related macular degeneration, diabetic retinopathy, and corneal neovascularization.
View Full-Text
►

▼

Figures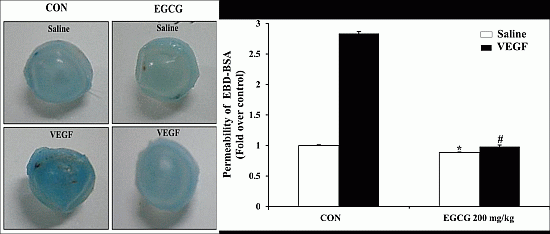 Graphical abstract

Share & Cite This Article
MDPI and ACS Style
Lee, H.S.; Jun, J.-H.; Jung, E.-H.; Koo, B.A.; Kim, Y.S. Epigalloccatechin-3-gallate Inhibits Ocular Neovascularization and Vascular Permeability in Human Retinal Pigment Epithelial and Human Retinal Microvascular Endothelial Cells via Suppression of MMP-9 and VEGF Activation. Molecules 2014, 19, 12150-12172.
Related Articles
Comments
[Return to top]