Reduction of the Nitro Group to Amine by Hydroiodic Acid to Synthesize
o

-Aminophenol Derivatives as Putative Degradative Markers of Neuromelanin

1

Department of Chemistry, Fujita Health University School of Health Sciences, Toyoake, Aichi 470-1192, Japan

2

Department of Applied Molecular Biosciences, Graduate School of Bioagricultural Sciences, Nagoya University, Furo-cho, Chikusa-ku, Nagoya 464-8601, Japan

3

Institute of Biomedical Technologies, National Research Council of Italy, Via Cervi, 93, Segrate, Milano 20090, Italy

*

Author to whom correspondence should be addressed.

Received: 4 May 2014 / Revised: 5 June 2014 / Accepted: 6 June 2014 / Published: 16 June 2014
Abstract
Neuromelanin (NM) is produced in dopaminergic neurons of the substantia nigra (SN) and in noradrenergic neurons of the locus coeruleus (LC). The synthesis of NM in those neurons is a component of brain aging and there is the evidence that this pigment can be involved in the pathogenesis of neurodegenerative diseases such as Parkinson's disease. NM is believed to derive from the oxidative polymerization of dopamine (DA) or norepinephrine (NE) with the participation of cysteine, dolichols and proteins. However, there are still unknown aspects in the chemical structure of NM from SN (SN-NM) and LC (LC-NM). In this study, we designed a new method to synthesize
o
-aminophenol compounds as putative degradation products of catecholamines and their metabolites which may be incorporated into NM. Those compounds are aminohydroxyphenylethylamine (AHPEA) isomers, aminohydroxyphenylacetic acid (AHPAA) isomers and aminohydroxyethylbenzene (AHEB) isomers, which are expected to arise from DA or NE, 3,4-dihydroxyphenylacetic acid (DOPAC) or 3,4-dihydroxyphenylmandelic acid (DOMA) and 3,4-dihydroxyphenylethanol (DOPE) or 3,4-dihydroxyphenylethyleneglycol (DOPEG), respectively. These
o
-aminophenol compounds were synthesized by the nitration of phenol derivatives followed by reduction with hydroiodic acid (HI), and they could be identified by HPLC in HI hydrolysates of SN-NM and LC-NM. This degradative approach by HI hydrolysis allows the identification of catecholic precursors unique to SN-NM and LC-NM, which are present in catecholaminergic neurons.
View Full-Text
►

▼

Figures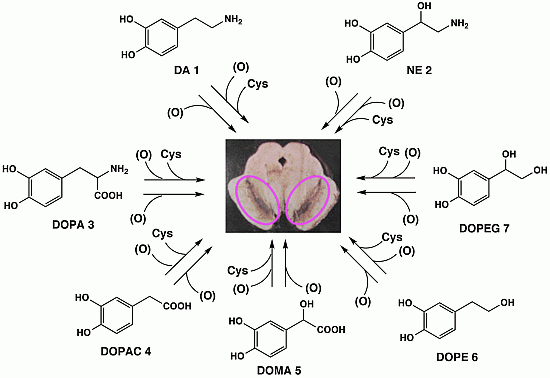 Graphical abstract

Share & Cite This Article
MDPI and ACS Style
Wakamatsu, K.; Tanaka, H.; Tabuchi, K.; Ojika, M.; Zucca, F.A.; Zecca, L.; Ito, S. Reduction of the Nitro Group to Amine by Hydroiodic Acid to Synthesize o-Aminophenol Derivatives as Putative Degradative Markers of Neuromelanin. Molecules 2014, 19, 8039-8050.
Related Articles
Comments
[Return to top]