MicroRNAs in Cervical Cancer: Evidences for a miRNA Profile Deregulated by HPV and Its Impact on Radio-Resistance
1
Instituto Nacional de Cancerología, Laboratorio de Genómica, Mexico DF 14080, Mexico
2
Universidad Nacional Autónoma de México UNAM, FES-Iztacala, UBIMED, Tlalnepantla, Estado de México 54090, Mexico
3
INCMNSZ, Unidad de Bioquímica, Mexico DF 14080, Mexico
4
Unidad de Investigación Biomédica en Cáncer, Instituto Nacional de Cancerología (INCan)-Instituto de Investigaciones Biomédicas, UNAM, Mexico DF 14080, Mexico
5
Instituto Nacional de Salud Pública, INSP. Centro de Investigación en Enfermedades Infecciosas, CISEI, Cuernavaca 62100, Mexico
6
UACM, Posgrado en Ciencias Genómicas, Mexico DF 06720, Mexico
7
Instituto Politécnico Nacional, Escuela Nacional de Ciencias Biologicas, Departamento de Microbiología, México DF 07738, Mexico
8
Instituto Nacional de Cancerología, Unidad de Genómica y Secuenciación Masiva (UGESEM-INCan), Mexico DF 14080, Mexico
*
Author to whom correspondence should be addressed.
Received: 16 February 2014 / Revised: 24 April 2014 / Accepted: 30 April 2014 / Published: 16 May 2014
Abstract
Cervical carcinoma (CC) is one of the most common cancers and a leading cause of mortality in women worldwide. Epidemiologic and experimental data have clearly demonstrated a causal role of high-risk Human Papillomavirus (HR-HPV) types in CC initiation and progression, affecting the cellular processes by targeting and inactivating p53 and pRB host proteins. HR-HPV E5, E6 and E7 oncoproteins have the ability to deregulate several cellular processes, mostly apoptosis, cell cycle control, migration, immune evasion, and induction of genetic instability, which promote the accumulation of mutations and aneuploidy. In this scenario, genomic profiles have shown that aberrant expression of cellular oncogenic and tumor suppressive miRNAs have an important role in CC carcinogenesis. It has been stated that HPV infection and E6/E7 expression are essential but not sufficient to lead to CC development; hence other genetic and epigenetic factors have to be involved in this complex disease. Recent evidence suggests an important level of interaction among E6/E7 viral proteins and cellular miRNA, and other noncoding RNAs. The aim of the current review is to analyze recent data that mainly describe the interaction between HR-HPV established infections and specific cellular miRNAs; moreover, to understand how those interactions could affect radio-therapeutic response in tumor cells.
View Full-Text
►

▼

Figures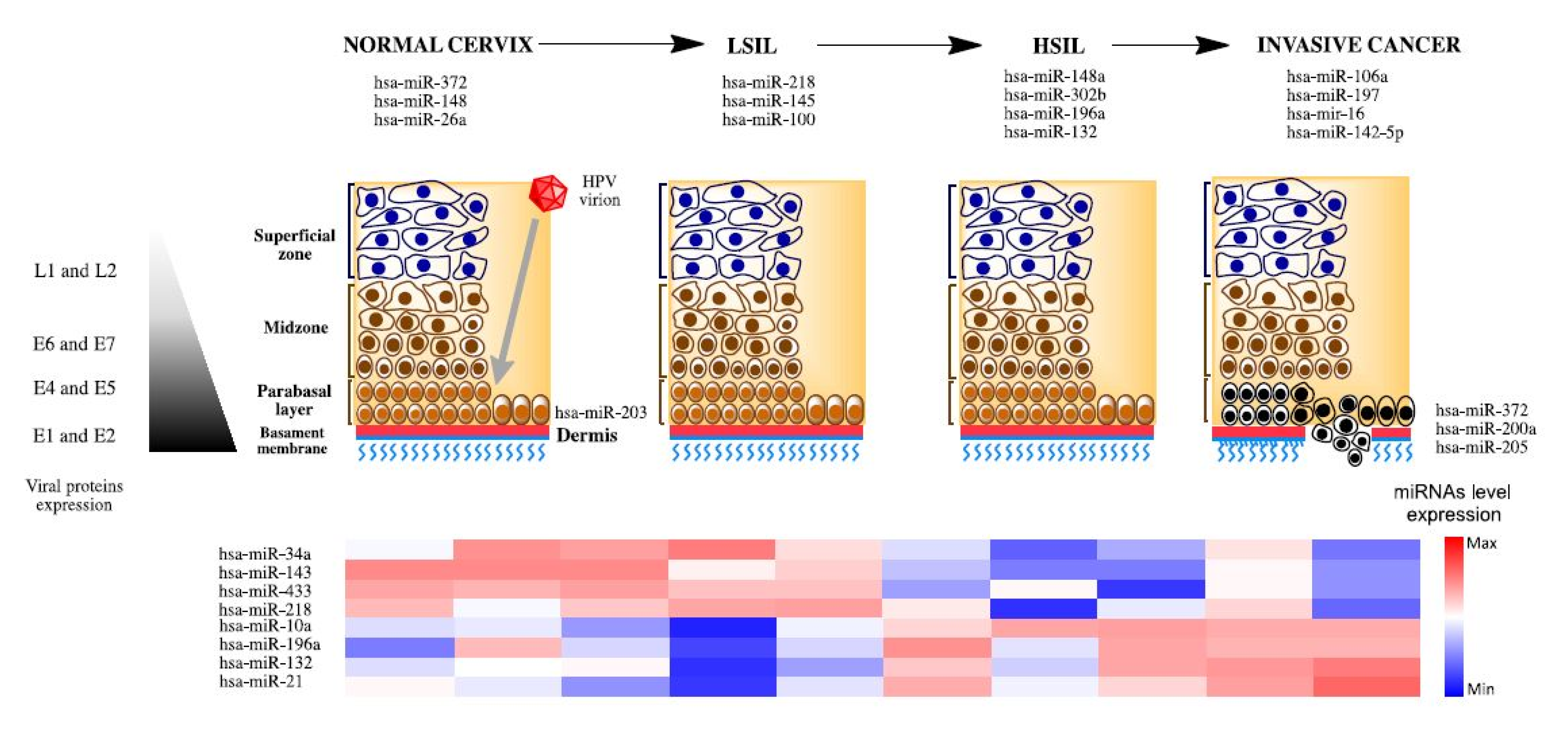 Figure 1

Share & Cite This Article
MDPI and ACS Style
Pedroza-Torres, A.; López-Urrutia, E.; García-Castillo, V.; Jacobo-Herrera, N.; Herrera, L.A.; Peralta-Zaragoza, O.; López-Camarillo, C.; De Leon, D.C.; Fernández-Retana, J.; Cerna-Cortés, J.F.; Pérez-Plasencia, C. MicroRNAs in Cervical Cancer: Evidences for a miRNA Profile Deregulated by HPV and Its Impact on Radio-Resistance. Molecules 2014, 19, 6263-6281.
Related Articles
Comments
[Return to top]