Triptolide Induces S Phase Arrest and Apoptosis in Gallbladder Cancer Cells
1
Institute of Biliary Tract Disease, Xinhua Hospital, Affiliated to Shanghai Jiao Tong University, School of Medicine, No. 1665 Kongjiang Road, Shanghai 200092, China
2
Laboratory of General Surgery, Xinhua Hospital, Affiliated to Shanghai Jiao Tong University, School of Medicine, No. 1665 Kongjiang Road, Shanghai 200092, China
3
Department of General Surgery, Shanghai Jiao Tong University, School of Medicine, No. 1665 Kongjiang Road, Shanghai 200092, China
4
Gastrointestinal Surgery, Shaoxing People's Hospital (Shaoxing Hospital of Zhejiang University), No. 568 Zhongxing North Road, Shaoxing 312000, China
†
These authors contributed equally to this work.
*
Authors to whom correspondence should be addressed.
Received: 31 December 2013 / Revised: 13 February 2014 / Accepted: 13 February 2014 / Published: 24 February 2014
Abstract
Gallbladder carcinoma is the most common malignancy of the biliary tract, with a very low 5-year survival rate and extremely poor prognosis. Thus, new effective treatments and drugs are urgently needed for the treatment of this malignancy. In this study, for the first time we investigated the effects of triptolide on gallbladder cancer cells and identified the mechanisms underlying its potential anticancer effects. The MTT assay showed that triptolide decreased cell viability in a dose- and time-dependent manner. The results of the colony formation assay indicated that triptolide strongly suppressed colony formation ability in GBC-SD and SGC-996 cells. Flow cytometric analysis revealed that triptolide induced S phase arrest in gallbladder cancer cells. In addition, triptolide induced apoptosis, as shown by the results of annexin V/propidium iodide double-staining and Hoechst 33342 staining. Furthermore, triptolide decreased mitochondrial membrane potential (ΔΨm) in a dose-dependent manner. Finally, western blot analysis of triptolide-treated cells revealed the activation of caspase-3, caspase-9, PARP, and Bcl-2; this result demonstrated that triptolide induced apoptosis in gallbladder cancer cells by regulating apoptosis-related protein expression, and suggests that triptolide may be a promising drug to treat gallbladder carcinoma.
View Full-Text
►

▼

Figures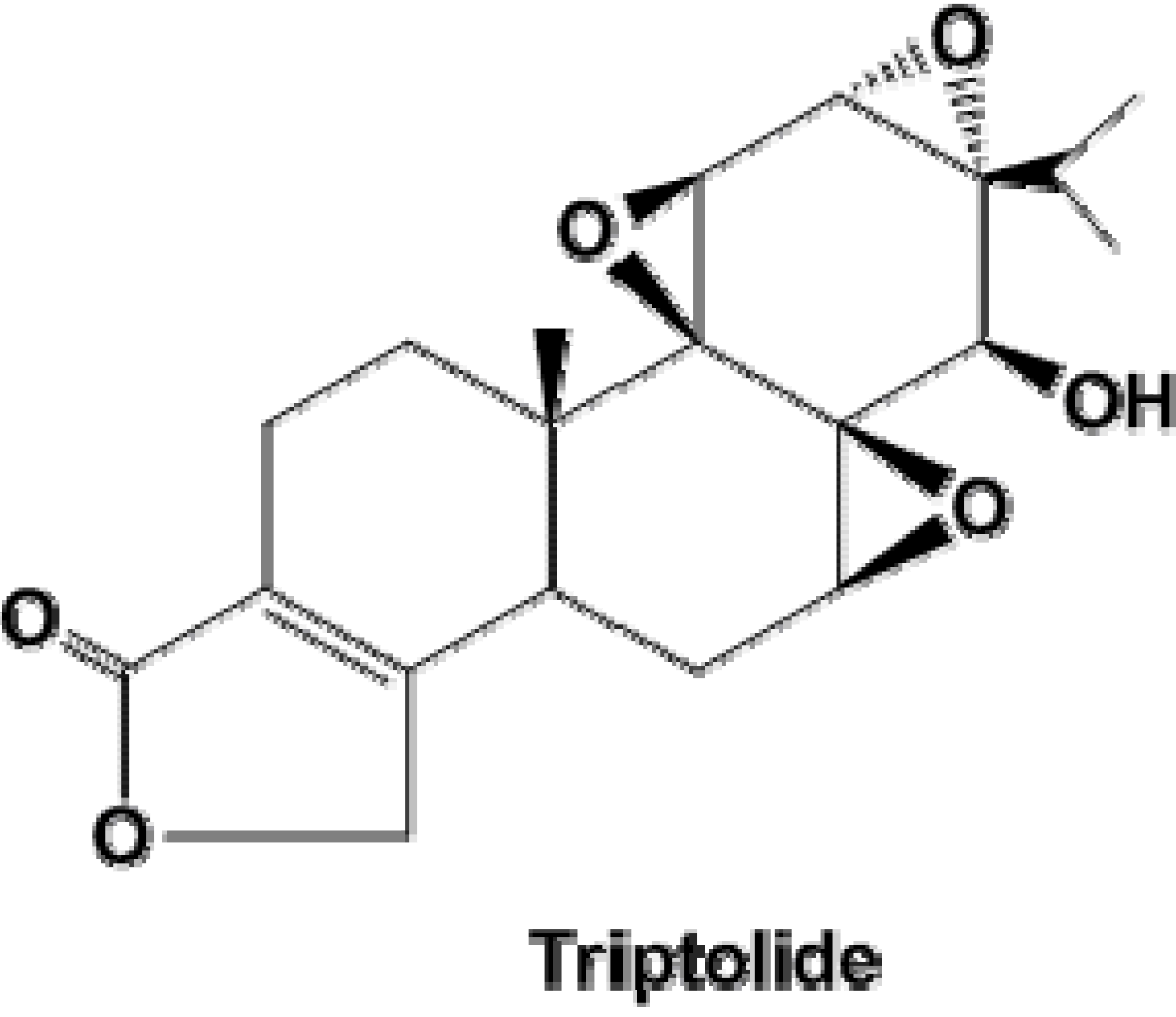 Figure 1

Share & Cite This Article
MDPI and ACS Style
Hu, Y.-P.; Tan, Z.-J.; Wu, X.-S.; Liu, T.-Y.; Jiang, L.; Bao, R.-F.; Shu, Y.-J.; Li, M.-L.; Weng, H.; Ding, Q.; Tao, F.; Liu, Y.-B. Triptolide Induces S Phase Arrest and Apoptosis in Gallbladder Cancer Cells. Molecules 2014, 19, 2612-2628.
Related Articles
Comments
[Return to top]