Anti-Proliferative Effects of
Siegesbeckia orientalis

Ethanol Extract on Human Endometrial RL-95 Cancer Cells

1

Institute of Biotechnology and Chemical Engineering, I-Shou University, Kaohsiung 84001, Taiwan

2

Department of Obstetrics & Gynecology, E-Da Hospital, E-Da Hospital/I-Shou University, Kaohsiung 82445, Taiwan

3

Department of Nutrition, I-Shou University, Kaohsiung 82445, Taiwan

4

Department of Biomedical Engineering, I-Shou University, Kaohsiung 82445, Taiwan

*

Author to whom correspondence should be addressed.

Received: 13 September 2014 / Revised: 18 November 2014 / Accepted: 21 November 2014 / Published: 1 December 2014
Abstract
Endometrial cancer is a common malignancy of the female genital tract. This study demonstrates that
Siegesbeckia orientalis
ethanol extract (SOE) significantly inhibited the proliferation of RL95-2 human endometrial cancer cells. Treating RL95-2 cells with SOE caused cell arrest in the G2/M phase and induced apoptosis of RL95-2 cells by up-regulating Bad, Bak and Bax protein expression and down-regulation of Bcl-2 and Bcl-xL protein expression. Treatment with SOE increased protein expression of caspase-3, -8 and -9 dose-dependently, indicating that apoptosis was through the intrinsic and extrinsic apoptotic pathways. Moreover, SOE was also effective against A549 (lung cancer), Hep G2 (hepatoma), FaDu (pharynx squamous cancer), MDA-MB-231 (breast cancer), and especially on LNCaP (prostate cancer) cell lines. In total, 10 constituents of SOE were identified by Gas chromatography-mass analysis. Caryophyllene oxide and caryophyllene are largely responsible for most cytotoxic activity of SOE against RL95-2 cells. Overall, this study suggests that SOE is a promising anticancer agent for treating endometrial cancer.
View Full-Text
►

▼

Figures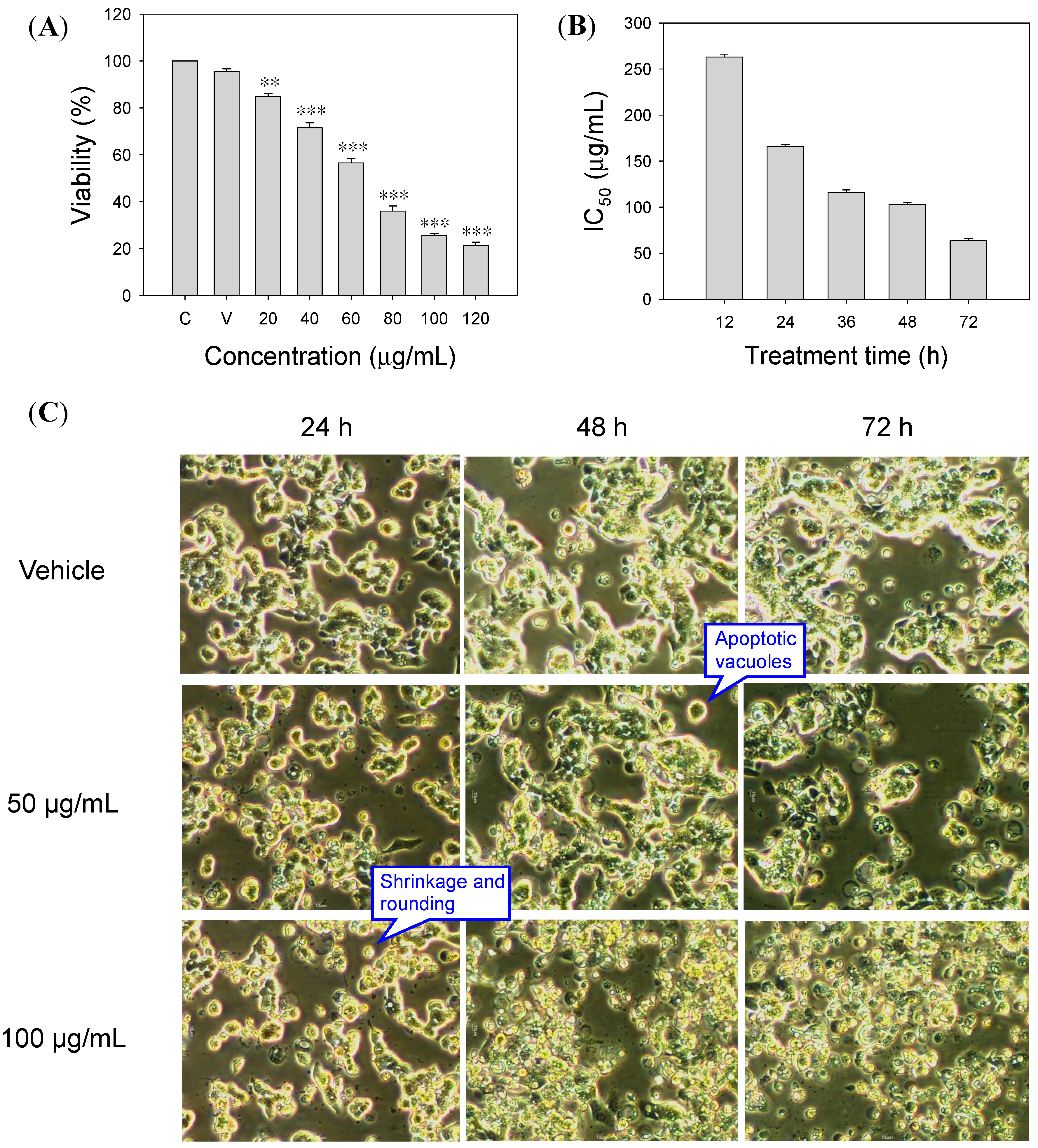 Figure 1
This is an open access article distributed under the
Creative Commons Attribution License
which permits unrestricted use, distribution, and reproduction in any medium, provided the original work is properly cited (CC BY 4.0).

Share & Cite This Article
MDPI and ACS Style
Chang, C.-C.; Hsu, H.-F.; Huang, K.-H.; Wu, J.-M.; Kuo, S.-M.; Ling, X.-H.; Houng, J.-Y. Anti-Proliferative Effects of Siegesbeckia orientalis Ethanol Extract on Human Endometrial RL-95 Cancer Cells. Molecules 2014, 19, 19980-19994.
Related Articles
Comments
[Return to top]