Exogenous Spermidine Improves Seed Germination of White Clover under Water Stress via Involvement in Starch Metabolism, Antioxidant Defenses and Relevant Gene Expression
College of Animal Science and Technology, Sichuan Agricultural University, Ya'an 625014, China
*
Author to whom correspondence should be addressed.
Received: 19 September 2014 / Revised: 27 October 2014 / Accepted: 27 October 2014 / Published: 5 November 2014
Abstract
This study was designed to determine the effect of exogenous spermidine (Spd) (30 μM) on white clover seed germination under water stress induced by polyethylene glycol 6000. Use of seed priming with Spd improved seed germination percentage, germination vigor, germination index, root viability and length, and shortened mean germination time under different water stress conditions. Seedling fresh weight and dry weight also increased significantly in Spd-treated seeds compared with control (seeds primed with distilled water). Improved starch metabolism was considered a possible reason for this seed invigoration, since seeds primed with Spd had significantly increased α-amylase/β-amylase activities, reducing sugar, fructose and glucose content and transcript level of β-amylase gene but not transcript level of
α-amylase gene. In addition, the physiological effects of exogenous Spd on improving seeds' tolerance to water deficit during germination were reflected by lower lipid peroxidation levels, better cell membrane stability and significant higher seed vigour index in seedlings. Enhanced antioxidant enzyme activities (superoxide dismutase, peroxidase, catalase and ascorbate peroxidase), ascorbate-glutathione cycle (ASC-GSH cycle) and transcript level of genes encoding antioxidant enzymes induced by exogenous Spd may be one of the critical reasons behind acquired drought tolerance through scavenging of reactive oxygen species (ROS) in water-stressed white clover seeds. The results indicate that Spd plays an important function as a stress-protective compound or physiological activator.
View Full-Text
►

▼

Figures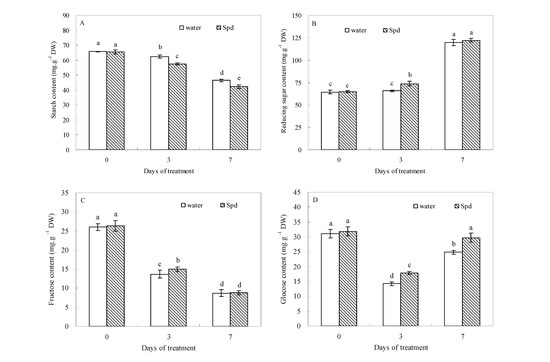 Figure 1
This is an open access article distributed under the
Creative Commons Attribution License
which permits unrestricted use, distribution, and reproduction in any medium, provided the original work is properly cited (CC BY 4.0).

Share & Cite This Article
MDPI and ACS Style
Li, Z.; Peng, Y.; Zhang, X.-Q.; Ma, X.; Huang, L.-K.; Yan, Y.-H. Exogenous Spermidine Improves Seed Germination of White Clover under Water Stress via Involvement in Starch Metabolism, Antioxidant Defenses and Relevant Gene Expression. Molecules 2014, 19, 18003-18024.
Related Articles
Comments
[Return to top]