Open Access This article is
freely available
re-usable
Article
The Anthraquinone Derivatives from the Fungus
Alternaria
sp. XZSBG-1 from the Saline Lake in Bange, Tibet, China
1
School of Chemistry and Chemical Engineering, Sun Yat-sen University, Guangzhou 510275, China
2
Tibet Plateau Institute of Biology, Lhasa 850001, China
3
Zhongshan School of Medicine, Sun Yat-sen University, Guangzhou 510275, China
*
Authors to whom correspondence should be addressed; Tel./Fax: +86-20-8403-9623 (Y.L.).
Received: 7 August 2014; in revised form: 17 September 2014 / Accepted: 19 September 2014 / Published: 14 October 2014
Abstract
:
Four new anthraquinone derivatives
1
–
4
were obtained along with seven known compounds
5
–
11
from the extracts of the fungal strain
Alternaria
sp. XZSBG-1 which was isolated from the sediments of the carbonate saline lake in Bange, Tibet, China. Their structures were determined by spectroscopic methods, mainly by 2D NMR spectra. Compound
1
is a novel tetrahydroanthraquinone with an epoxy ether bond between C-4a and C-9a. In the primary bioassays, compound
3
(alterporriol T) exhibited inhibition of a-glucosidase with a IC
50
value 7.2 μM, and compound
9
showed good inhibitory activity against the HCT-116 and HeLa cell lines, with IC
50
values of 3.03 and 8.09 μM, respectively.
Keywords:
Alternaria
; secondary metabolites; anthraquinones; alterporriols; altersolanols; cytotoxicity; enzyme inhibitory activity
1. Introduction
In 2002, we reported research on the metabolites of a fungal strain from a saline lake locates in the Bahamas [
1
]. Since that time, it seems that that little research on fungal metabolites from saline lakes has been published. Recently, we have been interested in the microorganisms from Tibetan saline lakes, which live under the special plateau habitat conditions, including low temperatures and high salt levels that are similar to those of the ocean, and we have thus obtained some unique and significant compounds.
The fungus
Alternaria
sp. XZSBG-1 collected from the sediment of the salt lake in Bange, Tibet, China was studied. We found that this fungus contained abundant anthraquinone compounds. Four new anthraquinone and tetrahydroanthraquinone derivatives
1
–
4
, were isolated from this fungus along with seven known compounds (
5
–
11
) (
Figure 1
). Compound
1
, a novel tetrahydroanthraquinone with an epoxy ether bond between C-4a and C-9a, and compound
2
, a tetrahydroanthraquinone dimer with a C-4-C-4' linkage, are rare.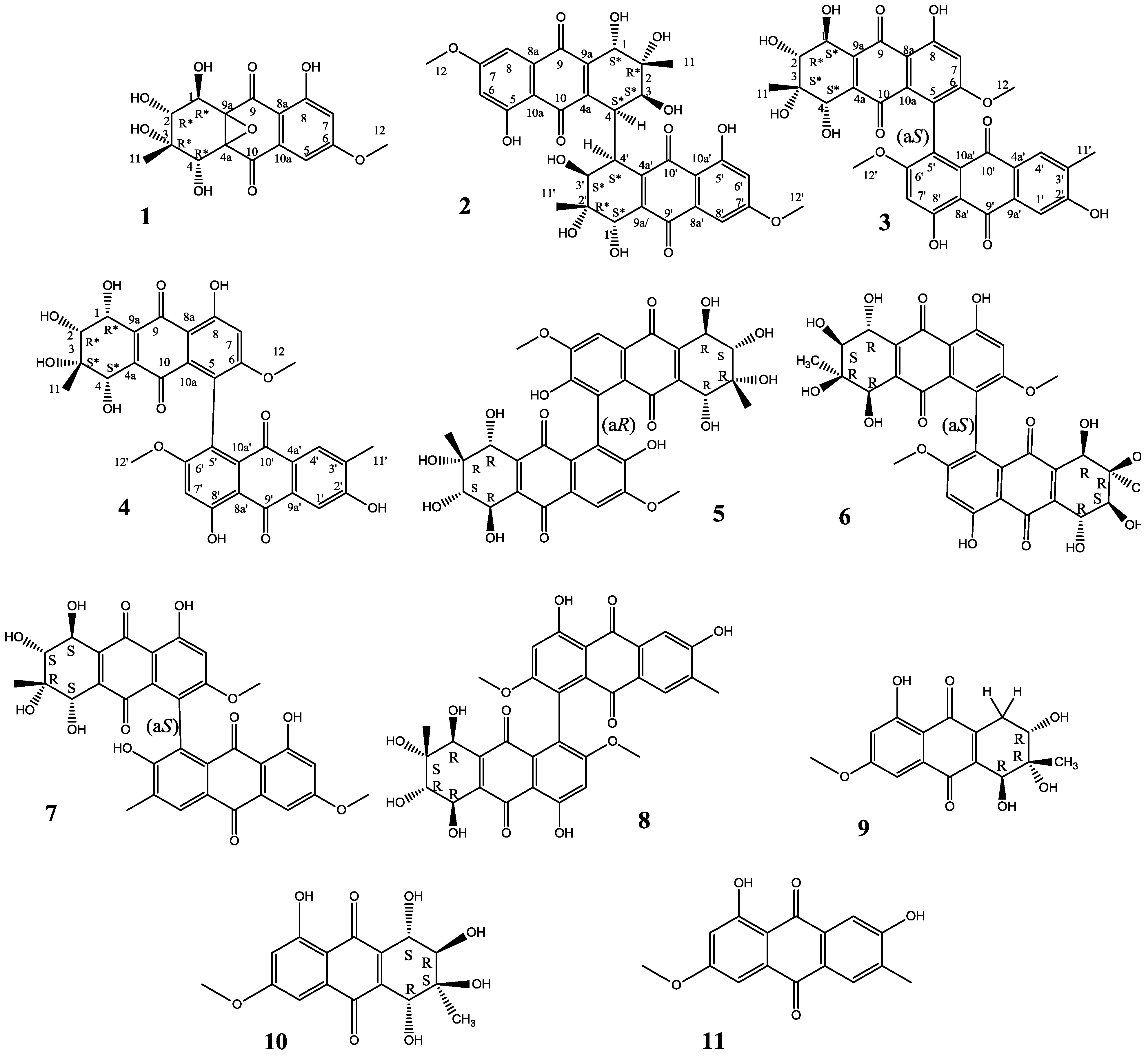 Anthraquinones and tetrahydroanthraquinones are widely distributed as secondary metabolites in natural biosources, and show important biological activities [
2
,
3
,
4
,
5
]. So far, 18 compounds of alterporriol family [
6
,
7
,
8
,
9
,
10
,
11
,
12
] and 14 compounds of altersolanol family [
9
,
13
,
14
,
15
,
16
] have been reported. Herein, we report that the isolation, elucidation and biological activities of the anthraquinone and tetrahydroanthraquinone derivatives from
Alternaria
sp. XZSBG-1.
2. Results and Discussion
3. Experimental Section
3.1. General Procedures
Column chromatography (CC) was performed using silica gel (200–300 mesh, Qingdao Marine Chemical, Qingdao, China). The HPLC system consisted of a Waters 2010 series (Waters, Milford, MA, USA). A mini ODS column (250 × 10 mm, 10 μm particle size) was used. Melting points were determined on an X-4 micro-melting point apparatus and were uncorrected. Circular dichroism was measured on a Schmidt Haensch Polartronic HH W5 polarimeter (Schmidt, Germany) and was uncorrected. UV spectra were measured on a Shimadzu UV-3501 PC spectrophotometer (Shimadzu, Japan). 1H (400 MHz) and 13C-NMR (100 MHz) data were recorded on a Bruker AVANCE 400 spectrometer (Bruker, Switzerland) with TMS as internal standard. LC/MS data were acquired using an Applied Biosystems/MDS Sciex (Applied Biosystems, Grand Island, NY, USA) and ana ESI source. HR-ESIMS were measured on a Shimadzu LCMS-IT-TOF.
3.2. Fungal Material
The fungal strain
Alternaria
sp. XZSBG-1 was isolated from a piece of sediment involving rotten branches and leaves, which was collected from the saline carbonate lake of Bamucuo, in Bange county, Tibetan Autonomous Region, China in July 2007. The strain was deposited in the Guangdong Province Key Laboratory of Functional Molecules in Oceanic Microorganism, School of Chemistry and Chemical Engineering, Sun Yat-sen University of China, Guangzhou, China.
3.3. Identification of Fungal Cultures
The fungal strain was identified as an
Alternaria
sp. according to morphologic traits and a molecular biological protocol by DNA amplification and sequencing as described [
12
,
20
]. The sequence data have been submitted to GenBank, accession number HM622756, and the strain was identified as
Alternaria
sp. Its 591 base pair ITS sequence had 99% sequence identity to that of
Alternaria
sp. IA249 (AY154699).
3.4. Fermentation, Extraction, and Isolation of Alternaria sp. XZSBG-1
3.5. Biological Assays
3.5.1. Antitumor Activity
in Vitro
Cell Culture
MCF-7/ADR, HeLa, HCT-116 cell lines were cultured in Dulbeccos' modification Eagle's medium (DMEM, Invitrogen, Carlsbad, CA, USA) supplemented with 10% fetal bovine serum (FBS, Hyclone, Logan, UT, USA), 2 mM L-glutamine, 100 μg/mL streptomycin and 100 U/mL penicillin (Invitrogen). The cells were incubated at 37 °C in a humidified atmosphere with 5% CO2.
Assessment of Antitumor Activity by MTT Assay
Cells were harvested during logarithmic growth phase and seeded in 96-well plates at a density of 1 × 10
4
cells/mL, and cultured at 37 °C in a humidified incubator (5% CO
2
) for 24 h, followed by exposure to various concentrations of compounds tested for 48 h. Subsequently 20 μL of MTT (Genview, Houston, TX, USA) solution (5 mg/mL) was added to each well and mixed, the cells were then incubated for an additional 4 h. Culture supernatant was moved, 150 μL of DMSO (Sangon Biotech, Shanghai, China) was added to each well to fully dissolve the MTT-formazan crystals. Cell growth inhibition was determined by measuring the absorbance (Abs) at λ = 570 nm using a microplate reader and calculated according to the following equation:
Growth inhibition = (1 − OD of treated cells/OD of control cells) × 100%
3.5.2. Enzyme Assays
Alpha-glucosidase activity was assayed using 50 mM phosphate buffer at pH 7.0, and the appropriate PNP glycoside (at 1 mM) were used as substrates. The concentration of the enzyme was specified in each experiment. Curcuminoids at the designated concentration was added to the enzyme solution and incubated at 37 °C for 30 min, and the substrate was then added to initiate the enzyme reaction. The enzyme reaction was carried out at 37 °C for 30 min. Product (PNP) was monitored spectrophotometrically by measuring the absorbance (λ = 400 nm) [
19
].
4. Conclusions
Alternaria
sp. XZSBG-1 is a prolific producer of anthraquinones. Eleven more compounds have been isolated from this strain, including one new altersoanol and three new alterporriols. Compound
1
is a novel tetrahydroanthraquinone with an epoxy ether bond between C-4a and C-9a. In the primary bioassays, compound
9
showed good inhibitory activity against HCT-116 and HeLa cells and compound
3
showed good inhibitory activity on α-glucosidase. Although these new compounds showed no real activity in our primary bioassay, except
3
, in view of the structural features of these compounds, it is valuable further to study their other biological activities, especially for compound
1
.
Supplementary Files
Supplementary File 1
Acknowledgments
This work was supported by the 863 Foundation of China (2006AA09Z422, 2007AA), Supported by grant from China's Marine Commonweal Research Project (201005022-2), and Supported by the National Natural Science Foundation of China (20772162, 21272286, 2126203), and supported by grant from The Key Project in Tibet Autonomous Region (2011).
Author Contributions
YC Lin designed research; B Chen, Q Shen and X Zhu performed research and analyzed the data; B Chen and YC Lin wrote the paper. All authors read and approved the final manuscript.
Conflicts of Interest
The authors declare no conflict of interest.
Sample Availability

: Sample of the compound 4 is available from the authors.
© 2014 by the authors. Licensee MDPI, Basel, Switzerland. This article is an open access article distributed under the terms and conditions of the Creative Commons Attribution license ( http://creativecommons.org/licenses/by/4.0/).