Arbutus unedo

L.: Chemical and Biological Properties

1

IBB-Centro de Biotecnologia Vegetal, Faculdade de Ciências e Tecnologia, Universidade do Algarve Edif. 8, Campus de Gambelas, Faro 8005-139, Portugal

2

IBB-Centro de Biomedicina Molecular e Estrutural, Faculdade de Ciências e Tecnologia, Universidade do Algarve, Edif. 8, Campus de Gambelas, Faro 8005-139, Portugal

*

Author to whom correspondence should be addressed.

Received: 21 July 2014 / Revised: 22 September 2014 / Accepted: 22 September 2014 / Published: 30 September 2014
Arbutus unedo
L. (strawberry tree) has a circum-Mediterranean distribution, being found in western, central and southern Europe, north-eastern Africa (excluding Egypt and Libya) and the Canary Islands and western Asia. Fruits of the strawberry tree are generally used for preparing alcoholic drinks (wines, liqueurs and brandies), jams, jellies and marmalades, and less frequently eaten as fresh fruit, despite their pleasing appearance. An overview of the chemical composition of different parts of the plant, strawberry tree honey and strawberry tree brandy will be presented. The biological properties of the different parts of
A. unedo
and strawberry tree honey will be also overviewed.
2. Chemical Composition of
A. unedo
2.3. Stems
Catechin and epicatechin are monomers constituting the proanthocyanidin also known as condensed tannins, a broad family of oligomers and polymers belonging to the flavonoid class. The stems of
A. unedo
L. from Algeria after extraction using a water/methanol/acetone mixture and structural analysis by
1
H-NMR,
13
C-NMR, IR and mass spectra using an ion-trap spectrometer, operating on an ESI mode showed the presence of (+)-catechin, (+)-afzelechin and (3,4-dihydroxyphenyl)-5,7-dihydroxychroman-3-yl 4-hydroxybenzoate [
53
].
2.4. Roots
The roots of
Arbutus unedo
L. from the Terni forest (Tlemcen, Algeria) extracted with a water/methanol/acetone mixture had two major compounds identified by NMR spectroscopy: (+)-catechin and (+) catechin gallate. Other phenolic compounds were also identified by GC-MS such as benzoic acid, 4-(acetyloxy)-3-methoxy-, methyl ester; 4-hydroxyphenyl acetic acid; caffeic acid; gallic acid; protocatechic acid and
bis
(2-ethylhexyl) phthalate [
54
].
2.5. Seeds
The triacylglycerol characterisation of
A. unedo
seeds made by [
55
] revealed low saturated fatty acids, high content of oleic acid, a significant presence of ω6 and ω3 unsaturated fatty acids with a low ω6/ω3 fatty acid ratio. The distribution of fatty acids among the three
sn
-positions of triacylglycerol is asymmetric, nevertheless with a high incorporation of essential fatty acids in the
sn
-2-position, which is very important from a nutritional point of view [
55
].
2.6. Entire Plant
From the hydro-alcoholic extract of the entire plant of
A. unedo
collected in a Mediterranean woodland coppice, located in Central Italy, 12 phenolic compounds were identified: ethyl gallate, arbutin and two arbutin derivatives (
p
-hydroxybenzoyl arbutin and galloyl arbutin) and eight flavonoids (gallocatechin, catechin, kaempferol 3-
O
-α-
l
-rhamnoside, quercetin 3-
O
-α-
l
-rhamnoside, myricetin 3-
O
-α-
l
-rhamnoside, kaempferol 3-
O
-β-
d
-arabinoside, quercetin 3-
O
-β-
d
-arabinoside, and myricetin 3-
O
-β-
d
-arabinoside) [
56
].
3. Biological Properties and Applications
3.3. Roots
The aqueous extract of roots had antibacterial activity on
Escherichia coli
comparable to that of piperacilline (diamter of inhibition zone = 30 mm in both cases) [
54
]. Moderate antibacterial activity was reported by [
78
] for water extract and phenolic fractions of
A. unedo
collected in Tlemcen (Algeria) against
E. coli
(MIC = 200 μg/mL) and
Staphylococcus aureus
(MIC = 200 μg/mL for a fraction obtained by column chromatography after elution with 50% methanol/water (v/v) containing 0.1% (v/v) acetic acid. Such activity could be attributed to the secondary metabolites detected in samples such as quinones, anthraquinones, flavonoids, tannins and anthocyanins [
78
].
The biological properties of root extracts from diverse locations are largely referred. Hypoglycemiant effect of aqueous extracts of
A. unedo
from Morocco in neonatal streptozotocin-induced diabetic rats under chronic treatment [
79
]. Chronic treatment with aqueous extracts of
A. unedo
roots reduced hypertension development; prevented the myocardial hypertrophy; ameliorated vascular reactivity and renal functional parameters caused by
l
-NG-Nitroarginine methyl ester (L-NAME) of male Wistar rats [
80
]. The extracts also improved the sensitivity of the arterial baroreceptor controlling the heart rate to acute increases of arterial pressure [
80
].
3.4. Entire Plant
Anti-inflammatory activity of entire plant extracts of strawberry tree was also reported by Carcache-Blanco
et al.
[
57
], through the inhibition of cyclooxygenase-2 (COX-2). This property was more evident for some compounds isolated from extracts: 7β-hydroxystigmast-4-en-3-one, (−)-catechin, lupeol, betulinic acid, and α-amyrin acetate.
4. Other Products Obtained from
A. unedo
4.1. Honey
Strawberry tree honey is a known product of Mediterranean regions which is characterized for its "bitter taste" [
81
]. Homogentisic acid (2,5-dihydroxyphenylacetic) has been considered as a chemical marker of the botanical origin of strawberry tree honey [
82
,
83
] along with (±)-2-
cis
,4-
trans
-abscisic acid (
c,t
-ABA), (±)-2-t
rans
, 4-
trans
-abscisic acid (
t,t
-ABA) and unedone [
84
]. From the aromatic profile of strawberry tree honey from Sardinia (Italy) and Canary islands (Spain) some authors [
85
,
86
] reported that norisoprenoids such as α-isophorone, β-isophorone and 4-oxoisophorone (
Figure 8
) could be considered specific floral origin markers. Proline was found to be the main free amino acid, followed by glutamic acid, arginine, alanine and phenylalanine in strawberry tree honey [
87
]. The antioxidant and anti-radical activities [
88
,
89
,
90
,
91
] of strawberry tree honey have been attributed to the homogentisic acid [
91
].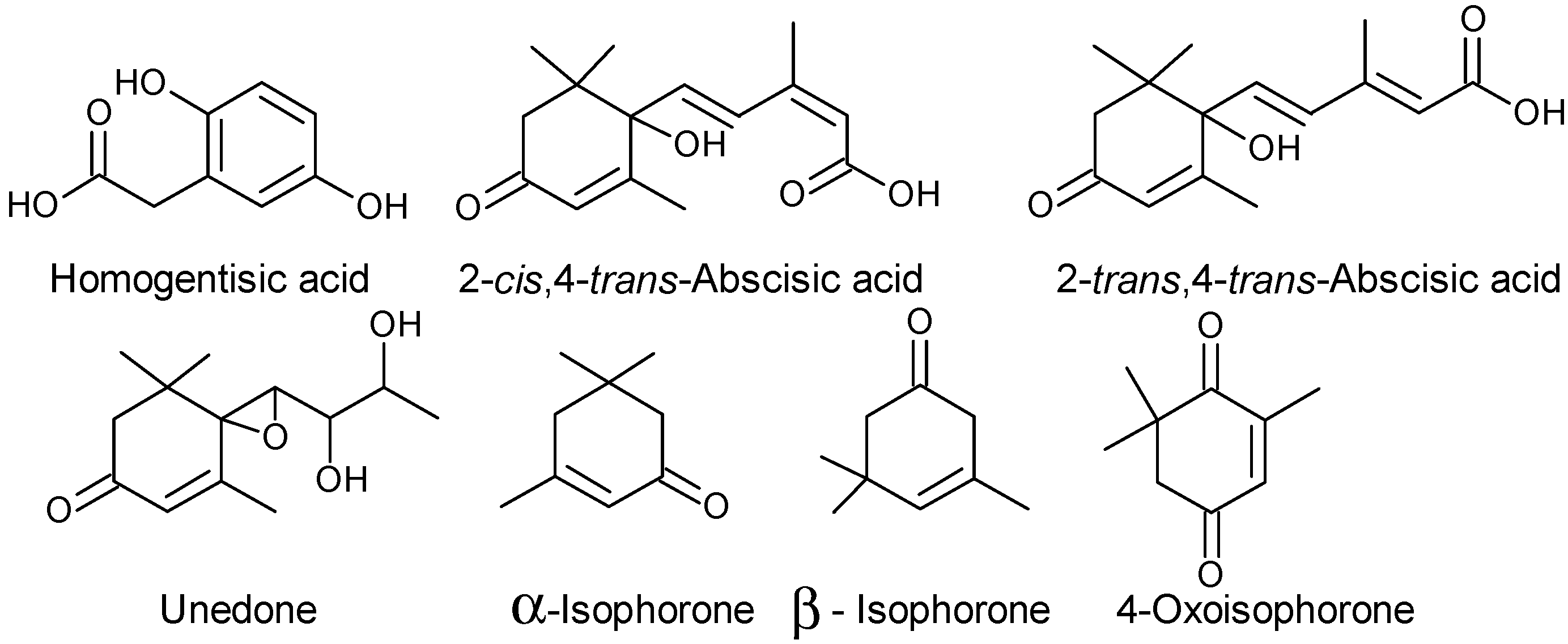 5. Conclusions
From ancient times, leaves and fruits of
A. unedo
L. have been used in folk medicine. Fruits have also been used for making brandies, jams, jellies and marmalades, and less frequently eaten as fresh fruit. The chemical composition of fruits and leaves, in which phenolic acids, flavonoids, tannins, anthocyanins, vitamins are present, may be responsible for the reported biological properties. More recently, the antioxidant activity of fruit extracts has also been used in meat industry to preserve the quality and prevent oxidation of lipids and proteins.
Arbutus
honey has also been chemically characterized and specific floral origin markers have been tentatively found. The biological properties of honey, particularly the antioxidant ability, have been attributed to their phenols and even to homogentisic acid, one of the possible chemical markers. The chemical characterization of distilled beverage obtained from fruits of
A. unedo
has been established and regulated. Studies regarding the increased shelf life periods of fruits started recently. All of these approaches have as main goal to increase the utilization of fruits and/or derivatives in human nutrition due to their beneficial properties to human health.
Acknowledgments
Authors are grateful to FCT-Fundação para a Ciência e Tecnologia (PEst-OE/EQB/LA0023/2013).
Author Contributions
Maria G. Miguel and Adriana C. Guerreiro compiled information and wrote about chemical composition of different parts of
A. unedo
. Maria L. Faleiro, Maria G. Miguel and Maria D. Antunes compiled information and wrote about biological properties of
A. unedo
. Maria D. Antunes and Adriana C. Guerreiro compiled information and wrote about the products obtained from
A. unedo
. All authors read and approved the final manuscript.
Conflicts of Interest
The authors declare no conflict of interest.
© 2014 by the authors. Licensee MDPI, Basel, Switzerland. This article is an open access article distributed under the terms and conditions of the Creative Commons Attribution license ( http://creativecommons.org/licenses/by/4.0/).