Gold Nanoparticles Decorated with Mannose-6-phosphate Analogues
Institut des Biomolécules Max Mousseron UMR 5247 UM2-UM1-CNRS-ENSCM 8 rue de l'Ecole Normale, Montpellier cedex 5 34296, France
*
Author to whom correspondence should be addressed.
Received: 25 November 2013 / Revised: 7 January 2014 / Accepted: 10 January 2014 / Published: 17 January 2014
Abstract
Herein, the preparation of neoglycoconjugates bearing mannose-6-phosphate analogues is described by: (a) synthesis of a cyclic sulfate precursor to access the carbohydrate head-group by nucleophilic displacement with an appropriate nucleophile; (b) introduction of spacers on the mannose-6-phosphate analogues via Huisgen's cycloaddition, the Julia reaction, or the thiol-ene reaction under ultrasound activation. With the resulting compounds in hand, gold nanoparticles could be functionalized with various carbohydrate derivatives (glycoconjugates) and then tested for angiogenic activity. It was observed that the length and flexibility of the spacer separating the sugar analogue from the nanoparticle have little influence on the biological response. One particular nanoparticle system substantially inhibits blood vessel growth in contrast to activation by the corresponding monomeric glycoconjugate, thereby demonstrating the importance of multivalency in angiogenic activity.
View Full-Text
►

▼

Figures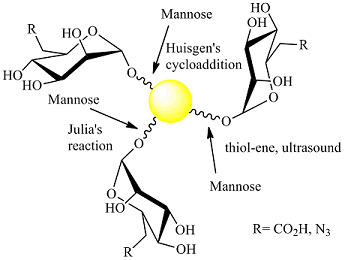 Graphical abstract

Share & Cite This Article
MDPI and ACS Style
Combemale, S.; Assam-Evoung, J.-N.; Houaidji, S.; Bibi, R.; Barragan-Montero, V. Gold Nanoparticles Decorated with Mannose-6-phosphate Analogues. Molecules 2014, 19, 1120-1149.
Related Articles
Comments
[Return to top]