Sex Differences in the Hepatic Cholesterol Sensing Mechanisms in Mice
1
Center for Functional Genomics and Bio-Chips, Institute of Biochemistry, Faculty of Medicine, University of Ljubljana, SI-1000 Ljubljana, Slovenia
2
Medical Experimental Centre, Institute of Pathology, Faculty of Medicine, University of Ljubljana, SI-1000 Ljubljana, Slovenia
3
Department of Animal Science, Biotechnical Faculty, University of Ljubljana, SI-1000 Ljubljana, Slovenia
4
National Institute of Chemistry, SI-1000 Ljubljana, Slovenia
5
Department of Laboratory Medicine, Division of Clinical Chemistry, Karolinska Institute, Karolinska University Hospital, SE-141 86 Huddinge, Sweden
*
Author to whom correspondence should be addressed.
Received: 25 July 2013 / Revised: 2 September 2013 / Accepted: 5 September 2013 / Published: 10 September 2013
(This article belongs to the Special Issue
Steroids
)
Abstract
Cholesterol is linked to many multifactorial disorders, including different forms of liver disease where development and severity depend on the sex. We performed a detailed analysis of cholesterol and bile acid synthesis pathways at the level of genes and metabolites combined with the expression studies of hepatic cholesterol uptake and transport in female and male mice fed with a high-fat diet with or without cholesterol. Lack of dietary cholesterol led to a stronger response of the sterol sensing mechanism in females, resulting in higher expression of cholesterogenic genes compared to males. With cholesterol in the diet, the genes were down-regulated in both sexes; however, males maintained a more efficient hepatic metabolic flux through the pathway. Females had higher content of hepatic cholesterol but this was likely not due to diminished excretion but rather due to increased synthesis and absorption. Dietary cholesterol and sex were not important for gallbladder bile acids composition. Neither sex up-regulated
Cyp7a1
upon cholesterol loading and there was no compensatory up-regulation of
Abcg5
or
Abcg8
transporters. On the other hand, females had higher expression of the
Ldlr
and
Cd36
genes. These findings explain sexual dimorphism of cholesterol metabolism in response to dietary cholesterol in a high-fat diet in mice, which contributes to understanding the sex-basis of cholesterol-associated liver diseases.
View Full-Text
►

▼

Figures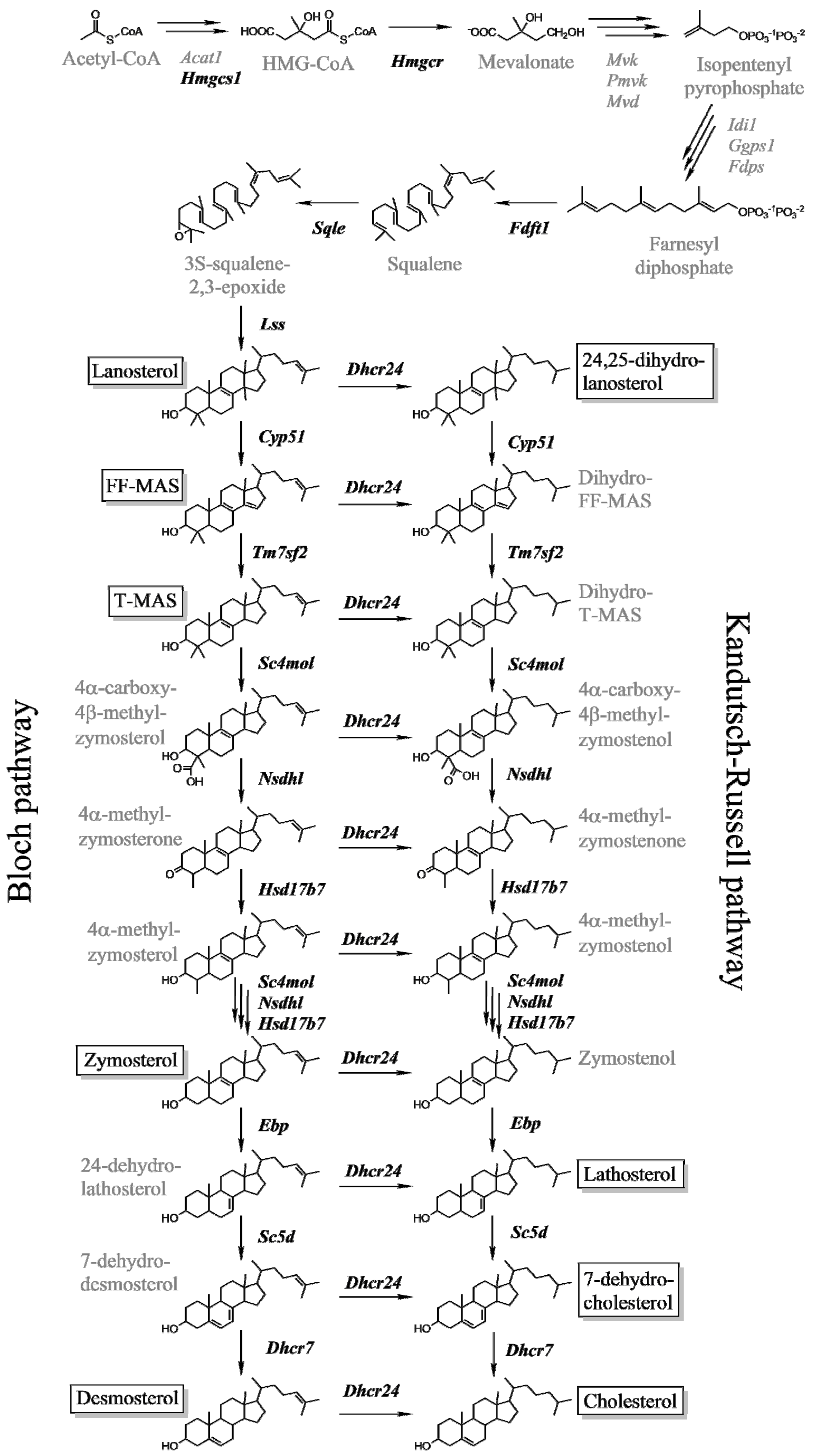 Figure 1

Share & Cite This Article
MDPI and ACS Style
Lorbek, G.; Perše, M.; Horvat, S.; Björkhem, I.; Rozman, D. Sex Differences in the Hepatic Cholesterol Sensing Mechanisms in Mice. Molecules 2013, 18, 11067-11085.
Related Articles
Comments
[Return to top]