The Skin Secretion of the Amphibian
Phyllomedusa nordestina

: A Source of Antimicrobial and Antiprotozoal Peptides

1

Laboratório de Espectrometria de Massa, EMBRAPA, Recursos Genéticos e Biotecnologia, Brasília, DF 70770-900, Brazil

2

Pesquisa em Biodiversidade e Biotecnologia, Biotec, Campus Parnaíba, Universidade Federal do Piauí, UFPI, Parnaiba, PI 64202-320, Brazil

3

Bolsista de Desenvolvimento Científico Regional, DCR, FAPEPI/CNPq, Campus Parnaíba, Universidade Federal do Piauí, UFPI, Parnaiba, PI 64202-320, Brazil

4

Programa de Doutorado em Biotecnologia, RENORBIO, Universidade Federal do Piauí, UFPI, Teresina, PI 64001-020, Brazil

5

Laboratório de Pesquisas em Leishmanioses, Instituto de Doenças Tropicais Natan Portela, IDTNP, Teresina, PI, 64001-450, Brazil

6

Laboratório de Imunologia Celular, Área de Patologia, Faculdade de Medicina, Universidade de Brasília, UnB, Brasília, DF 70910-900, Brazil

7

REQUIMTE, Departamento de Química e Bioquímica, Faculdade de Ciências da Universidade do Porto, Rua do Campo Alegre 4169-007 Porto, Portugal

*

Author to whom correspondence should be addressed.

Received: 6 May 2013 / Revised: 6 June 2013 / Accepted: 7 June 2013 / Published: 17 June 2013
Abstract
Antimicrobial peptides (AMPs) from the dermaseptin and phylloseptin families were isolated from the skin secretion of
Phyllomedusa nordestina
, a recently described amphibian species from Northeastern Brazil. One dermaseptin and three phylloseptins were chosen for solid phase peptide synthesis. The antiprotozoal and antimicrobial activities of the synthetic peptides were determined, as well as their cytotoxicity in mouse peritoneal cells. AMPs are being considered as frameworks for the development of novel drugs inspired by their mechanism of action.
View Full-Text
►

▼

Figures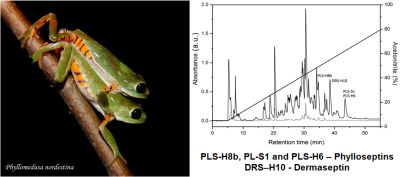 Graphical abstract

Share & Cite This Article
MDPI and ACS Style
Brand, G.D.; Santos, R.C.; Arake, L.M.; Silva, V.G.; Veras, L.M.C.; Costa, V.; Costa, C.H.N.; Kuckelhaus, S.S.; Alexandre, J.G.; Feio, M.J.; Leite, J.R.S.A. The Skin Secretion of the Amphibian Phyllomedusa nordestina: A Source of Antimicrobial and Antiprotozoal Peptides. Molecules 2013, 18, 7058-7070.
Related Articles
Comments
[Return to top]