Cyclic
versus

Hemi-Bastadins. Pleiotropic Anti-Cancer Effects: from Apoptosis to Anti-Angiogenic and Anti-Migratory Effects

1

Laboratoire de Toxicologie, Faculté de Pharmacie, Université Libre de Bruxelles (ULB), Campus de la Plaine, Boulevard du Triomphe, 1050 Brussels, Belgium

2

Laboratoire de Pharmacie Galénique et de Biopharmacie, Faculté de Pharmacie, Université Libre de Bruxelles (ULB), Campus de la Plaine, Boulevard du Triomphe, 1050 Brussels, Belgium

3

Service de Neurochirurgie, Hôpital Erasme, ULB, Route de Lennik, 1070 Brussels, Belgium

4

Institute of Pharmaceutical Biology and Biotechnology, Heinrich-Heine University Düsseldorf, Universitätsstrasse 1, 40225 Düsseldorf, Germany

*

Author to whom correspondence should be addressed.

Received: 16 January 2013 / Revised: 4 February 2013 / Accepted: 8 March 2013 / Published: 19 March 2013
Abstract
Bastadins-6, -9 and -16 isolated from the marine sponge
Ianthella basta
displayed
in vitro
cytostatic and/or cytotoxic effects in six human and mouse cancer cell lines. The
in vitro
growth inhibitory effects of these bastadins were similar in cancer cell lines sensitive to pro-apoptotic stimuli
versus
cancer cell lines displaying various levels of resistance to pro-apoptotic stimuli. While about ten times less toxic than the natural cyclic bastadins, the synthetically derived 5,5'-dibromohemibastadin-1 (DBHB) displayed not only
in vitro
growth inhibitory activity in cancer cells but also anti-angiogenic properties. At a concentration of one tenth of its
in vitro
growth inhibitory concentration, DBHB displayed actual antimigratory effects in mouse B16F10 melanoma cells without any sign of cytotoxicity and/or growth inhibition. The serum concentration used in the cell culture media markedly influenced the DBHB-induced antimigratory effects in the B16F10 melanoma cell population. We are currently developing a specific inhalation formulation for DBHB enabling this compound to avoid plasmatic albumin binding through its direct delivery to the lungs to combat primary as well as secondary (metastases) tumors.
View Full-Text
►

▼

Figures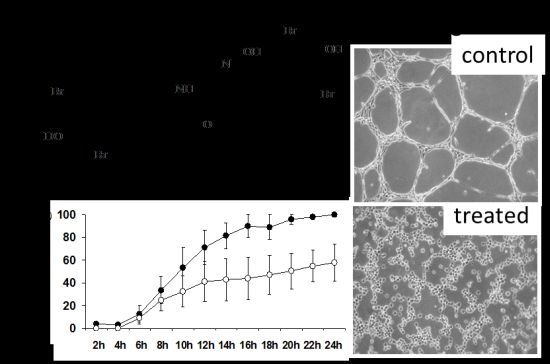 Graphical abstract

Share & Cite This Article
MDPI and ACS Style
Mathieu, V.; Wauthoz, N.; Lefranc, F.; Niemann, H.; Amighi, K.; Kiss, R.; Proksch, P. Cyclic versus Hemi-Bastadins. Pleiotropic Anti-Cancer Effects: from Apoptosis to Anti-Angiogenic and Anti-Migratory Effects. Molecules 2013, 18, 3543-3561.
Related Articles
Comments
[Return to top]