Relationship between Mood Change, Odour and Its Physiological Effects in Humans While Inhaling the Fragrances of Essential Oils as well as Linalool and Its Enantiomers
Department of Health Science, Prefectural University of Hiroshima, Hiroshima 734-8558, Japan
*
Author to whom correspondence should be addressed.
Received: 25 January 2013 / Revised: 6 March 2013 / Accepted: 8 March 2013 / Published: 13 March 2013
Abstract
Humans can detect and discriminate a vast number of odours. The number perceived as distinguishable is estimated to be more than ten thousand. Humans are capable of distinguishing even slight alterations in the structure of an odorous molecule. A pair of enantiomers of an odorant, which possess the same molecular structures except for the chiral position, can trigger profoundly different odour perceptions. How precisely can humans and their olfactory system detect and discriminate such a great variety of odours and such subtle differences in the molecular structures? In a series of studies, we have attempted to examine the relationship between mood change, odour and its physiological effects, by focusing on the possible verbal and non-verbal changes in humans induced by smelling the fragrances of essential oils as well as linalool and its enantiometric isomers. In this article, we provide an overview of our recent verbal and non-verbal studies. We then discuss how our findings may contribute to the assessment of psychophysiological responses of essential oils as well as how our research can contribute to the study of human chemoreception science, by shedding light on the sophistication of the olfactory system in its ability to detect and discriminate odors.
View Full-Text
►

▼

Figures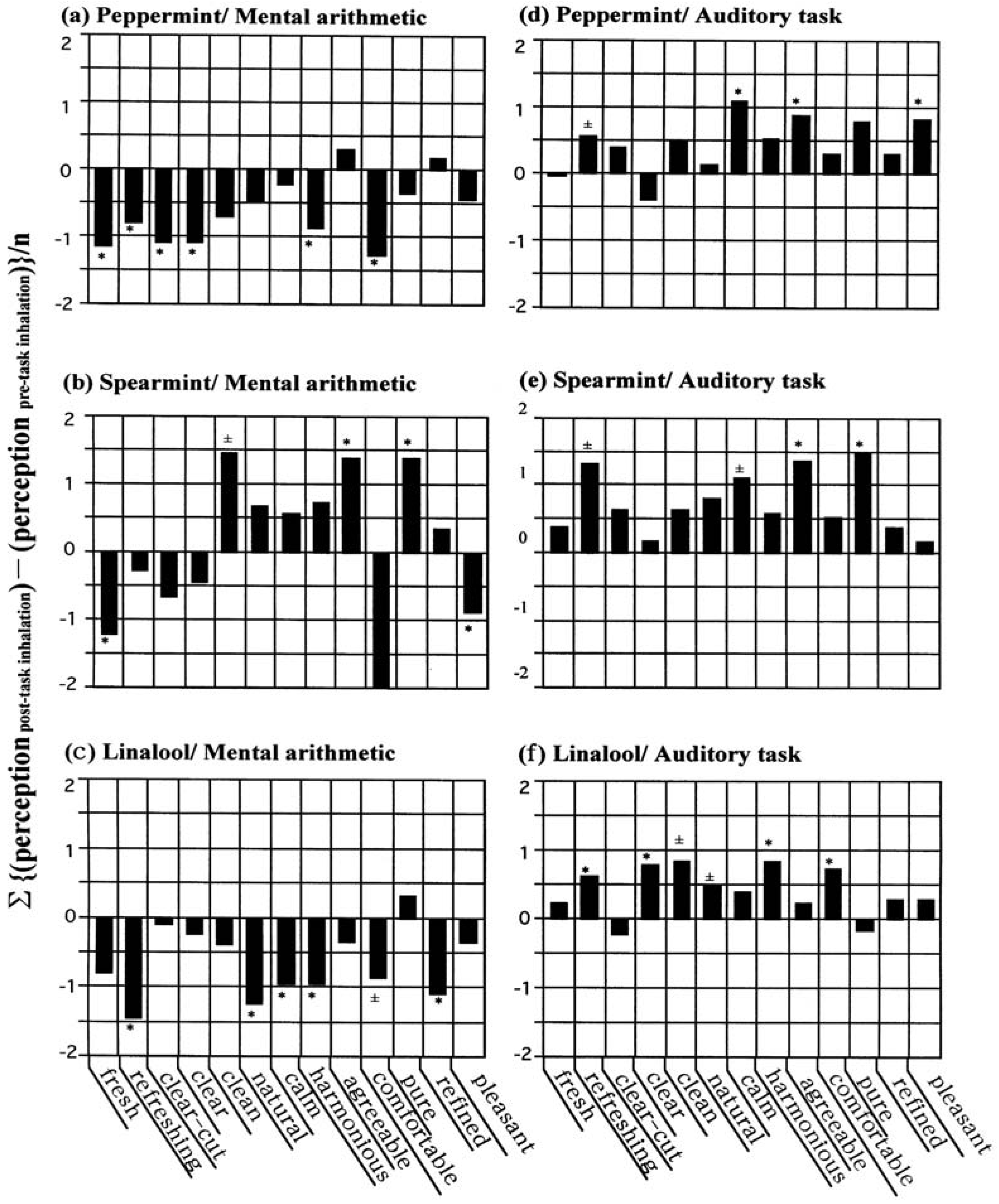 Figure 1

Share & Cite This Article
MDPI and ACS Style
Sugawara, Y.; Shigetho, A.; Yoneda, M.; Tuchiya, T.; Matumura, T.; Hirano, M. Relationship between Mood Change, Odour and Its Physiological Effects in Humans While Inhaling the Fragrances of Essential Oils as well as Linalool and Its Enantiomers. Molecules 2013, 18, 3312-3338.
Related Articles
Comments
[Return to top]