Synthesis, DNA Binding and Topoisomerase I Inhibition Activity of Thiazacridine and Imidazacridine Derivatives
1
Laboratório de Planejamento e Síntese de Fármacos, Departamento de Antibióticos, Universidade Federal de Pernambuco (UFPE), Recife 50670-901, PE, Brazil
2
Laboratório de Imunopatologia Keizo Asami (LIKA) and Departamento de Bioquímica, Universidade Federal de Pernambuco (UFPE), Recife 50670-901, PE, Brazil
3
Faculdade de Ciências, Educação e Tecnologia de Garanhuns (FACETEG), Universidade de Pernambuco (UPE), Garanhuns 55290-000, PE, Brazil
4
Laboratório de Bioensaios para Pesquisa de Fármacos, Departamento de Antibióticos, Universidade Federal de Pernambuco (UFPE), Recife 50670-901, PE, Brazil
5
Universidade Estadual da Paraíba (UEPB), Campus Campina Grande 58429-500, PB, Brazil
*
Author to whom correspondence should be addressed.
Received: 22 September 2013 / Revised: 27 November 2013 / Accepted: 2 December 2013 / Published: 6 December 2013
Abstract
Thiazacridine and imidazacridine derivatives have shown promising results as tumors suppressors in some cancer cell lines. For a better understanding of the mechanism of action of these compounds, binding studies of 5-acridin-9-ylmethylidene-3-amino-2-thioxo-thiazolidin-4-one, 5-acridin-9-ylmethylidene-2-thioxo-thiazolidin-4-one, 5-acridin-9-ylmethylidene-2-thioxo-imidazolidin-4-one and 3-acridin-9-ylmethyl-thiazolidin-2,4-dione with calf thymus DNA (ctDNA) by electronic absorption and fluorescence spectroscopy and circular dichroism spectroscopy were performed. The binding constants ranged from 1.46 × 10
4
to 6.01 × 10
4
M
−1
. UV-Vis, fluorescence and circular dichroism measurements indicated that the compounds interact effectively with ctDNA, both by intercalation or external binding. They demonstrated inhibitory activities to human topoisomerase I, except for 5-acridin-9-ylmethylidene-2-thioxo-1,3-thiazolidin-4-one. These results provide insight into the DNA binding mechanism of imidazacridines and thiazacridines.
View Full-Text
►

▼

Figures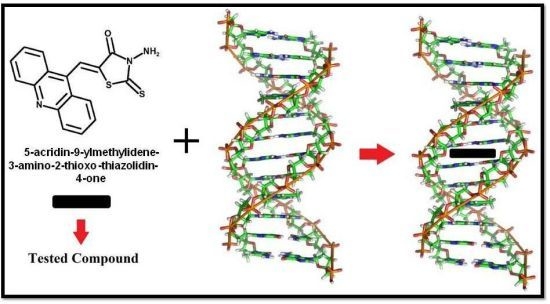 Graphical abstract

Share & Cite This Article
MDPI and ACS Style
Lafayette, E.A.; Vitalino de Almeida, S.M.; Da Rocha Pitta, M.G.; Carneiro Beltrão, E.I.; Gonçalves da Silva, T.; Olímpio de Moura, R.; Da Rocha Pitta, I.; De Carvalho, L.B., Júnior; Do Carmo Alves de Lima, M. Synthesis, DNA Binding and Topoisomerase I Inhibition Activity of Thiazacridine and Imidazacridine Derivatives. Molecules 2013, 18, 15035-15050.
Related Articles
Comments
[Return to top]