Antioxidant and Antimicrobial Activities of 7-Hydroxy-calamenene-Rich Essential Oils
from

Croton cajucara

Benth.

1

Chemistry Institute, Federal University of Rio de Janeiro (UFRJ), CT, Ilha do Fundão, Rio de Janeiro 21941-909, RJ, Brazil

2

EMBRAPA Western Amazon, Rodovia AM 10, km 29, Manaus 69010-970, AM, Brazil

3

Institute of Microbiology Paulo de Góes, Federal University of Rio de Janeiro (IMPG-UFRJ), CCS, Ilha do Fundão, Rio de Janeiro, RJ 21941-590, Brazil

4

EMBRAPA Food Agroindustry, Avenida das Américas 29501, Rio de Janeiro 23020-470, RJ, Brazil

5

Center for Research in Environmental Sciences, Catholic University of Pernambuco, Rua do Príncipe 526, Recife 50050-900, PE, Brazil

*

Author to whom correspondence should be addressed.

Received: 29 November 2012 / Revised: 4 January 2013 / Accepted: 11 January 2013 / Published: 16 January 2013
Abstract
Croton cajucara
is a shrub native to the Amazon region locally known as "sacaca". Two morphotypes are known: white and red "sacaca". The essential oils (EO) obtained by hydrodistillation from leaves of the red morphotype were, in general, rich in 7-hydroxycalamenene (28.4%–37.5%). The effectiveness of these EO regarding the antimicrobial activity against pathogenic microorganisms
was initially investigated by the drop test method, showing significant inhibition zones. Among the microorganisms tested, the essential oils rich in 7-hydroxycalamenene were more effective against methicillin resistant
Staphylococcus aureus
(MRSA),
Enterococcus faecalis
,
Mycobacterium tuberculosis
,
M. smegmatis
,
Mucor circinelloides
and
Rhizopus oryzae
. The minimum inhibitory concentrations (MIC) of the oils were determined using the broth dilution assay. It was possible to observe that 7-hydroxycalamenene-rich oils presented high antimicrobial activity, with MIC of 4.76 × 10
−3
μg/mL for MRSA, 4.88 μg/mL for
M. tuberculosis
, 39.06 μg/mL for
M. smegmatis
, and 0.152 μg/mL for
R. oryzae
and 3.63 × 10
−8
μg/mL for
M
.
circinelloides
. The antioxidant activity of this EO suggests that 7-hydroxycalamenene provides more antioxidant activity according with EC
50
less than 63.59 μg/mL. Considering the bioactive potential of EOs and 7-hydroxycalamenene could be of great interest for development of antimicrobials for therapeutic use in treatment of bacterial and fungal infections in humans and/or veterinary practice.
View Full-Text
►

▼

Figures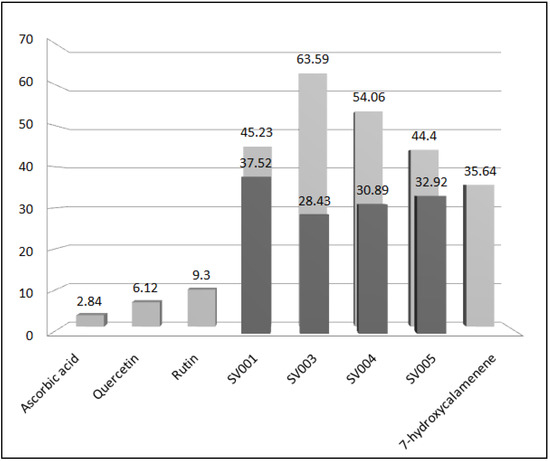 Figure 1

Share & Cite This Article
MDPI and ACS Style
Azevedo, M.M.B.; Chaves, F.C.M.; Almeida, C.A.; Bizzo, H.R.; Duarte, R.S.; Campos-Takaki, G.M.; Alviano, C.S.; Alviano, D.S. Antioxidant and Antimicrobial Activities of 7-Hydroxy-calamenene-Rich Essential Oils from Croton cajucara Benth.. Molecules 2013, 18, 1128-1137.
Related Articles
Comments
[Return to top]