A Convenient Ultrasound-Promoted Synthesis of Some New Thiazole Derivatives Bearing a Coumarin Nucleus and Their Cytotoxic Activity
1
Department of Chemistry, Faculty of Science, University of Cairo, Giza 12613, Egypt
2
Chemistry Department, Faculty of Science, University of Kuwait, P.O. Box 5969, Safat13060, Kuwait
*
Author to whom correspondence should be addressed.
Received: 25 June 2012 / Revised: 18 July 2012 / Accepted: 24 July 2012 / Published: 3 August 2012
Abstract
Successful implementation of ultrasound irradiation for the rapid synthesis of a novel series of 3-[1-(4-substituted-5-(aryldiazenyl)thiazol-2-yl)hydrazono)ethyl]-2
H
-chromen-2-ones
5a
–
h
,
via
reactions of 2-(1-(2-oxo-2
H
-chromen-3-yl)ethylidene) thiosemicarbazide (
2
) and the hydrazonoyl halides
3
(
4
), was demonstrated
.
Also, a new series of 5-arylidene-2-(2-(1-(2-oxo-2
H
-chromen-3-yl)ethylidene)hydrazinyl)thiazol-4(5
H
)-ones
10a
–
d
were synthesized from reaction of
2
with chloroacetic acid and different aldehydes. Moreover, reaction of 2-cyano-
N'
-(1-(2-oxo-2
H
-chromen-3-yl)ethylidene)-acetohydrazide (
12
) with substituted benzaldehydes gave the respective arylidene derivatives
13a
–
c
under the conditions employed. The structures of the synthesized compounds were assigned based on elemental analyses and spectral data. Also, the cytototoxic activities of the thiazole derivative
5a
was evaluated against HaCaT cells (human keratinocytes). It was found that compound
5a
possess potent cytotoxic activity.
View Full-Text
►

▼

Figures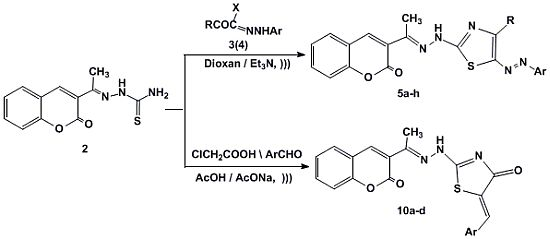 Graphical abstract

Share & Cite This Article
MDPI and ACS Style
Gomha, S.M.; Khalil, K.D. A Convenient Ultrasound-Promoted Synthesis of Some New Thiazole Derivatives Bearing a Coumarin Nucleus and Their Cytotoxic Activity. Molecules 2012, 17, 9335-9347.
Related Articles
Comments
[Return to top]